2 Fast & Easy Ways to Recover Snapchat Messages on Android
Every Snapchat users are disturbed by one problem - how to recover Snapchat messages on Android. That's because the photos and chats on this App are deleted automatically after the recipient receives and views them. And when the recipient fails to open them, they will be deleted after one day.
You possibly want to know:
Then is it possible to recover Snapchat messages on Android? If possible, how can achieve your goal? This article will tell you all the answers.
Is It Possible to Recover Snapchat Messages?
The good news for Snapchat users is that it is possible to recover their chats on the App. Although the messages may disappear from Snapchat, they stay hidden in the phone being used. They actually exit though you cannot see it. However, if one has not saved them, they could be lost forever.
To restore Snapchat messages, you can select to get the data from cache data or turn to a Snapchat messages recovery tool. Each of these options have their own set of advantages and disadvantages so that you need to consider before using them to recover deleted items from Snapchat.
Maybe you also want to learn:
Recover Snapchat Messages on Android from Snapchat Cache
Snapchat cache is one of the places where one can recover Snapchat history and messages. The cache provides storage space for all recently used data, including those that make other Apps run smoothly.
The advantage with this method is that it's easy to use. It does require the use of an external storage as well as a computer to work well but it doesn't require the use of additional resources, such as an internet connection of a third-party application.
Detailed steps to recover Snapchat messages from Android:
Step 1. Connect your Android phone to a computer using a USB cable.
Step 2. Once you have a successful connection, click on your phone's icon to open it. This will bring forward another window with the phone's internal storage. Sometimes it would be labeled SD card.
Step 3. Go to internal storage and open it. Then find out and click on a folder named "Android" from the listed files.
Step 4. Choose "Data" > "com.snapchat.android.folder". This is where all your Snapchat files are stored.
Step 5. You'll find several Snapchat files, including photos and messages. Just choose messages and remove the extension at the end in order to restore them.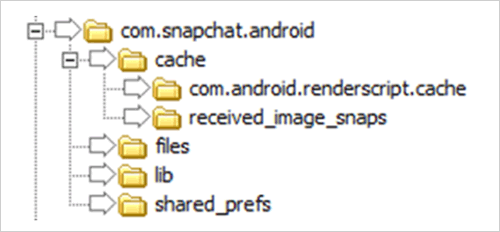 How to Recover Snapchat Messages on Android without Backup?
Supposed that you have not made a backup for your Snapchat messages in advance, then you can only get back your chats with the help of a third-party software. In this case, Snapchat Messages Recovery for Android is a good assistant here. This software equips lots of features and one of them enables you to retrieve deleted Snapchat messages from Android.
Not only Snapchat messages, other file types like contacts, call logs, WhatsApp data, photos, videos, audios, documents, etc. are supported by this tool as well. As a recovery tool, this application also good at getting back data lost in different scenarios, such as an addcidental deletion, OS/rooting error, device failure, system crash, virus attack and so on. What's more important, this program is compatible with almost all Android devices, including Samsung, HTC, Motorola, LG, Sony, Google, etc.
All in all, Snapchat Messages Recovery for Android is a professional tool that can help you restore lost data on Android easily. If you need to extract some deleted files, just don't hesitate to click the icon below to download and install the Snapchat recovery App onto your computer. After downloading and install the software, you can continue following the steps to recover your Snapchat history.
Tutorial to retrieve deleted Snapchat messages on Android:
Step 1. Open the program on your computer and then connect your Android phone to the PC using a USB cable.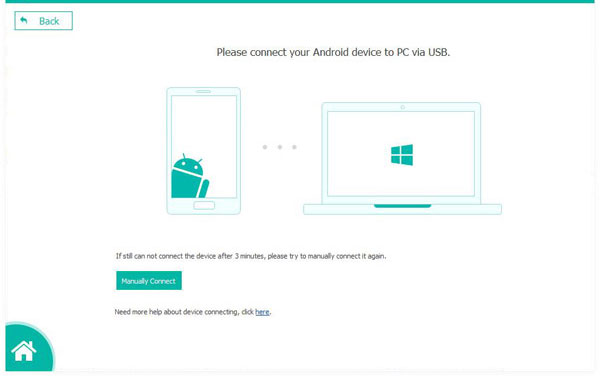 Step 2. After the connection, you need to go with the on-screen prompts to let the connected mobile phone recognized.
Step 3. When the device is successfully recognized, you will see that all the recoverable files on your Android are listed on the program.
Step 4. Select "Contact & Messages" > "Messages" from the listed file types. Then the software will root your Android device automatically.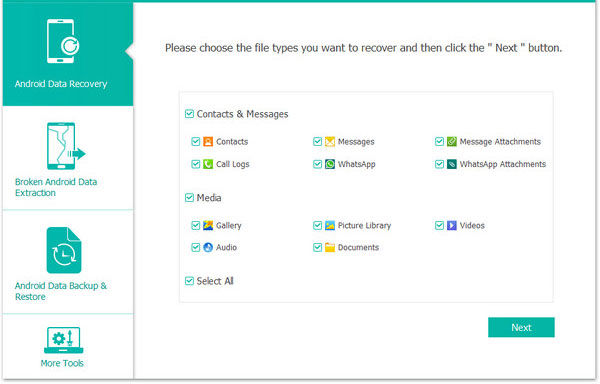 Step 5. Now you are able to see the deleted Snapchat messages. Just preview and check the messages that you want to recover and finally hit the "Recover" button to undelete Snapchat messages on Android.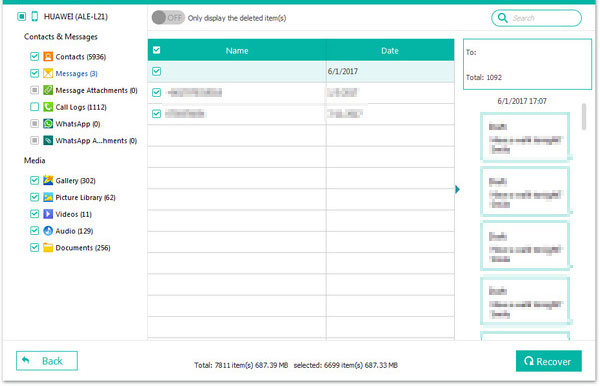 Also click to learn:
Words in the End
One of the similarities with the methods above is that they make it easy for users to recover Snapchat messages on Andorid. They all have simple steps that are easy to understand and follow, which makes them ideal for all users, including those who are not technology savvy. So when you wish to retrieve your Snapchat messages from Android, you can choose one that seems more appropriate to you after going through their features. You can also make a decision depending on the function you want it to complete.
Supposed that you have any problem about these two methods during the recovery process, please feel free to contact us.
Related Articles:
[Solved!] Your Android Phone Won't Turn on? 13 Ways to Fix
5 Easy Ways to Get Pictures off a Broken Phone that Won't Turn on
[Productive Tips]How to Recover Data after Factory Reset Android Phone?
5 High-rated Android Recovery Apps to Help You Restore Lost Data
Android SMS Transfer - 4 Ways to Transfer Text Messages from Android to Computer
How to Transfer Contacts from Android to Computer? (4 Ways Included)