How to Restore WhatsApp Backup from iCloud to Android [3 Easy Methods]
Restoring WhatsApp backup from iCloud to an Android phone/tablet can be a bit tricky due to the different platforms. And the fact that Android OS isn't compatible with iCloud is known to all. If you've saved your WhatsApp backup on the Cloud, you might be wondering if you can copy the backup to Android directly.
Unfortunately, it's not possible owing to the incompatibility between iCloud's encoding and the Android operating system. However, there are at least three clever ways to restore WhatsApp backup from iCloud to Android. Now, let's dive in.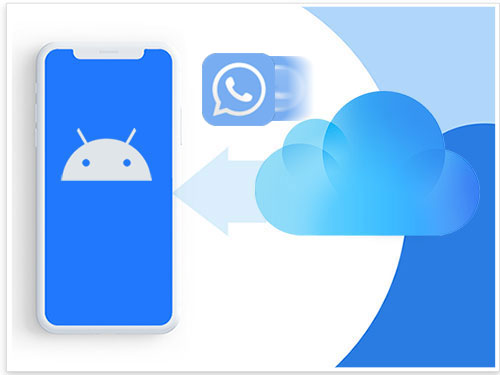 Part 1: Requirements for Restoring iCloud WhatsApp Backup to Android
As mentioned in the preface, you cannot restore iCloud WhatsApp backup to Android straightforwardly. Next, we shall let you know the 3 basic concise phases in common ways:
Phase 1: Enable iCloud Drive: Navigate to "Settings" > tap [your name] at the top > look for "iCloud" from a list of menus > turn on "iCloud Drive".
Phase 2: Back up WhatsApp to iCloud: Run WhatsApp and proceed to "Settings" > "Chats" > "Chat Backup". Next, go for "Auto Backup" > "Back Up Now". Choose to exclude file types like videos or images from the backup. (How to back up WhatsApp on iPhone without iCloud?)
Tips: At timed intervals, auto backup lets you keep a copy of your WhatsApp chats. It's better to enable this option. Yet, you can now pick "Back Up Now" to create the latest backup. For a new iPhone or one you just did a reset on it, just skip to the next step.
Phase 3: Restore WhatsApp backup to Android: Do a clean reinstallation of WhatsApp to make sure it works perfectly. Then it will prompt you that a backup has been found. Restore that backup to your iPhone. Next, you can copy WhatsApp to your Android.
Click to Know:
Part 2: Restore WhatsApp Backup from iCloud to Android via WhatsApp Transfer
Well, it's pretty simple to transfer WhatsApp backup to iPhone from iCloud when you have such a recipient available. Then you'll have the option to download WhatsApp backup from iCloud to Android by copying the restored chats from the iDevice. In this section, we would advise you to give WhatsApp Transfer a try. The all-rounder allows you to copy WhatsApp data between devices, irrespective of the OSes they are running. And it gets along well with some other social apps as well.
Why pick WhatsApp Transfer?
Restore WhatsApp from iPhone to Android after downloading the backup from iCloud.
Transfer WhatsApp data from Android to iPhone, iPhone to iPhone, and Android to Android.
Let you preview and transfer WhatsApp photos, videos, and stickers easily.
Back up LINE, Viber, Kik, and WeChat chat history without hassle.
Restore your WhatsApp data, maintaining the original quality.
Work well with almost all iOS devices, covering iPhone 14/14 Plus/14 Pro (Max), iPhone 13/13 Pro (Max)/13 mini/12/12 Pro (Max)/12 mini, iPhone 11/11 Pro/11 Pro Max, iPhone X/XR/Xs/Xs Max, iPhone 8/8 Plus, iPhone 7/7 Plus, iPhone 6/6S/6 Plus, iPod touch, iPad, Samsung, Xiaomi, OPPO, Sony, Motorola, Google, LG, HTC, Huawei, etc.
It won't disclose your privacy.
How to get WhatsApp backup from iCloud to Android with WhatsApp Transfer?
Step 1. Restore WhatsApp from iCloud to iPhone. Download and install the program on your computer. Then connect your iPhone and Android devices to your computer via USB cables for automatic detection.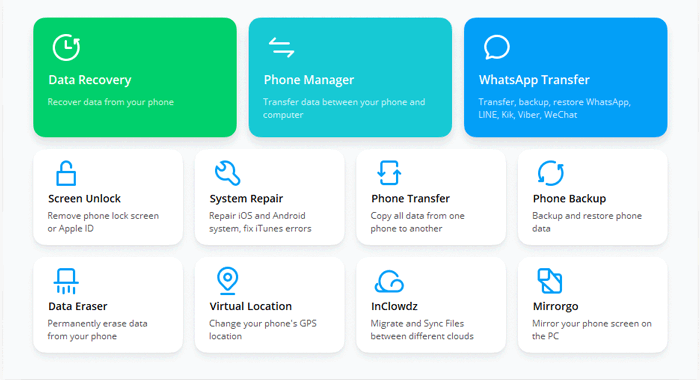 Step 2. From the left menu, select the "WhatsApp" section. Then choose the "Transfer WhatsApp messages" module from the right column.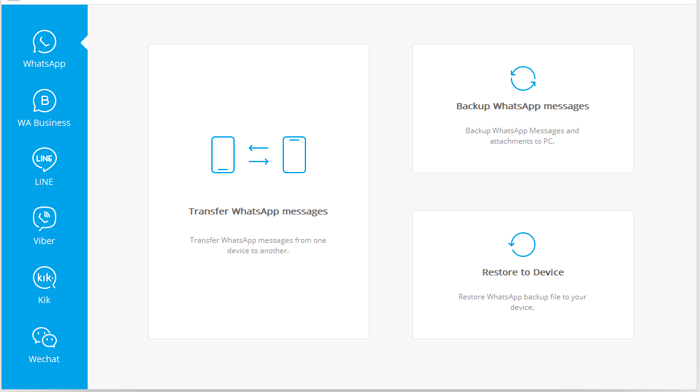 Step 3. Your devices will turn up on the interface soon. Make sure that your Android phone is the destination device. If not, tap the "Flip" button to put it in the right place.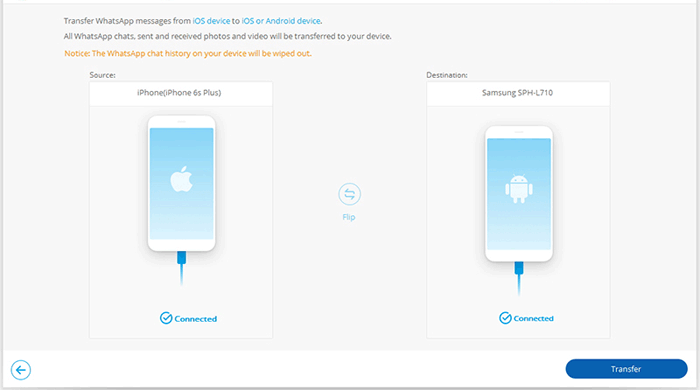 Step 4. Hit the "Transfer" button and confirm the action. The progress bar will tell you the process. Once done, you'll see the interface below. Just tap "Restore" to restore WhatsApp conversation from iPhone to Android.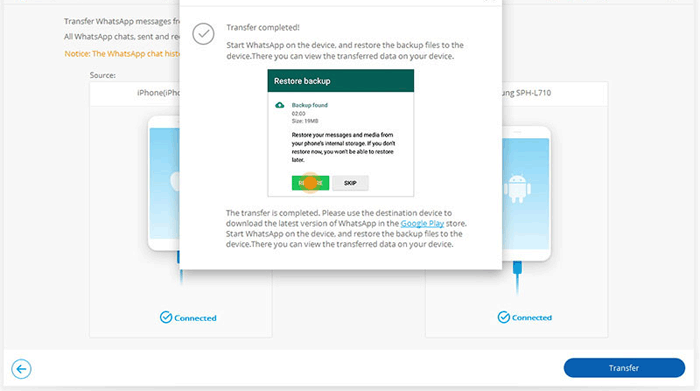 Part 3: Restore iCloud WhatsApp Backup in Android over Email
When transferring WhatsApp conversations from iPhone to Android, you cannot exactly copy everything, like media files or other attachments. Regarding WhatsApp chats, you cannot sync them in your WhatsApp application when transferring from iPhone to Android. Moreover, you will get separate items for each WhatsApp contact.
How to transfer WhatsApp backup from iCloud to Android with Email?
Launch WhatsApp and select the conversation you want to export.
Tap on the contact name at the top of your iPhone screen.
Scroll down to the "Export Chat" option and tap on it.
A pop-up will ask you whether to "ATTACH MEDIA" or "WITHOUT MEDIA "; select your preference.

Select "Mail" to share the chat via email.
The conversation and attachment data will be attached to your email. Enter the target email in the "To" section and hit "Send".
To view the messages in the TXT file, sign in to the target email on your Android device where you have just sent your chat backup.
You can view the backup in your inbox, but you cannot simply sync these messages to your Android WhatsApp app.
See More:
Part 4: Get WhatsApp Backup from iCloud to Android via Smart Switch
Assuming you are using a Samsung phone, simply try to pick Smart Switch to transfer iCloud WhatsApp backup to it. Smart Switch is an application developed by Samsung that allows Samsung users to transfer data from an iOS, Android, BlackBerry, or Windows device to a Samsung phone. Before checking the user guide, see some more tips about this service:
Samsung Smart Switch only works with Android OS 4.0 or above and iOS 9.0 or higher.
Some users have reported data corruption after transfer completion.
Smart Switch is not compatible with some devices.
It does not support two-way data transfer between Android and iOS. (Does Smart Switch transfer WhatsApp?)
How to download WhatsApp backup from iCloud via Smart Switch?
Download the app from Google Play on Samsung.
Open the app and go for "WIRELESS".
Then tap "RECEIVE" and choose the "iOS" option.
Tap "SIGN IN" to your Apple ID and password.

Next, select the WhatsApp chats to transfer from iCloud to Samsung and press "IMPORT".
Extra: How to Fix "Unable to Restore WhatsApp Backup from iCloud to Android"
You may encounter "iCloud backup failed", and you cannot restore WhatsApp from within. So, just run a backup of your WhatsApp data and try again.
Ensure you have used the same phone number for both backup and restore.
Check if your Android phone has enough space for WhatsApp data.
Try to use WhatsApp Transfer to accelerate the transmission by restoring WhatsApp backup from iCloud to Android via USB after copying data to an iPhone.
Finally, let us know if you have any questions or concerns by leaving a message below.
Related Articles:
iCloud Photos to Android: How to Transfer Photos from iCloud to Android?
[Tips in 2023] How to Back Up to iCloud from Android?
17 Tricks to Fix WhatsApp Couldn't Download Video/Photo/Doc on iPhone
How to Recover Deleted WhatsApp Contacts on Android with/without Backup?
WhatsApp Downloaded Failed? Here Are 20 Solutions to Fix It!