[Solved!] How to Save WhatsApp Messages from Android to PC?
Android OS often gets slower and slower after running for a period of time, and may thus not be performing at its best. In most cases, for the sake of releasing the phone memory, you'll probably choose to clean up the mobile cache and junk files. And of those memory consuming programs, WhatsApp messages, coupled with attachments of images and even videos, take up a large proportion. It is often the case that there are some vital messages on WhatsApp, which creates a new question: how to keep WhatsApp chat safe prior to cache clearing?
Well, if you want to keep them on computer, then do you know how to back up WhatsApp messages from Android to PC? OK, It is a wise decision to go through this post, for you'll have 4 solutions to choose from.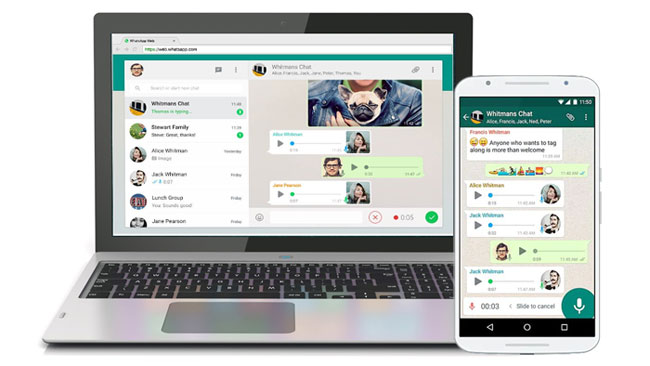 Option 1: How to Back Up WhatsApp Messages from Android to PC via WhatsApp Backup Manager
It is a brilliant move to make a backup for WhatsApp messages to computer in case of unforeseen data loss. In an attempt to make a permanent preservation, you just need an all-around software like WhatsApp Backup Manager. While running it, you'll find the existing or deleted WhatsApp messages by the deep scan. Then you can simply preview the results of the scan, and select the messages you want to recover or back up to computer. Of course, you are also allowed to select the deleted WhatsApp messages and retrieve them within one touch.
What Can WhatsApp Backup Manager Do for You:
- One-tap to trigger the backup task for WhatsApp messages, contacts, call logs, documents, etc.
- Do great management on Android media files on computer briskly.
- Breezily recover deleted data from Android internal memory or SD card to computer.
- Work well on Windows 10/8.1/8/7/XP and Mac OS X 10.7 or above.
- Run smoothly on various Android phones and tablets (with Android 4.0 and up), including the latest Samsung, Huawei, HTC, Sony, Motorola, LG, Xiaomi, Meizu, OPPO, Vivo, and so on.
Now, read the following guideline to learn how to back up WhatsApp to PC with WhatsApp Backup Manager:
Step 1. Run WhatsApp Backup Manager and get Android phone connected
Click one of the above buttons to download the right version of the tool as needed, and mount and open the program on computer. Next, connect Android to computer through a USB cable. Then, turn on USB debugging on Android, and after the connection is generated, choose "Android Data Recovery" mode on the primary interface.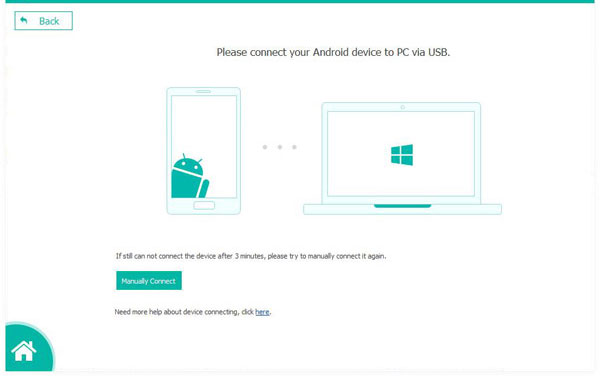 Step 2. Scan all WhatsApp messages on your Android phone
Tap on "WhatsApp" > "Next" to move ahead. Here, in order to fully detect your WhatsApp messages from your Android for backup, you may need to have your Android phone rooted now.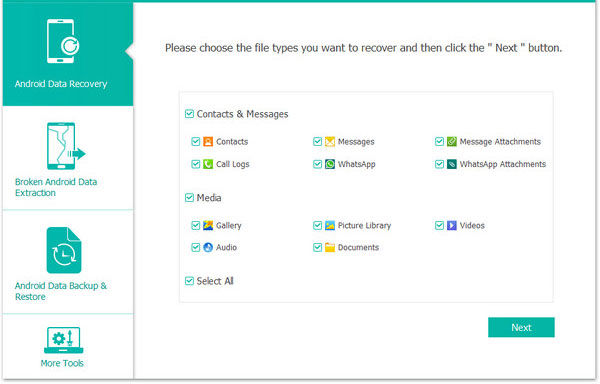 Step 3. Select WhatsApp messages for backup
After that, you are allowed to preview WhatsApp messages by tapping "WhatsApp" option from the left panel. Then you are required to tick off the specific WhatsApp chat from the message list. Now, to know how to back up WhatsApp chat to PC, simply press "Recover" button and save messages on computer.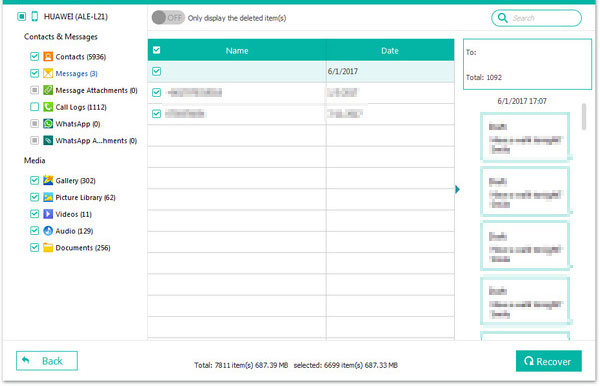 More Related:
Option 2: How to Save WhatsApp Messages from Android to PC with WhatsApp Web
In this section, It is straightforward to scan the QR code provided by the web page of WhatsApp with your Android phone, log in to the page and find the WhatsApp chat you need, and then download them to computer for a successful backup. In general, this operation is not complicated, but time consuming, for you have no access to save the messages to PC in bulk.
To know how to save WhatsApp chat on PC with WhatsApp Web, just read on please:
Step 1. Visit the official website of WhatsApp Web from any browser of your computer. Then you'll see the QR code and other instructions on the page.
Step 2. Start the WhatsApp on Android device, and hit the menu to find "WhatsApp Web". Next, press the icon of the Web to scan the QR code displayed on the screen of the computer.
Step 3. Opt for "Contacts" and you'll see all the WhatsApp conversations. Now preview and select a desired message. (you can also search for the messages you want from the search box). Finally, select the "Download" button at the top right to give the message a download to computer.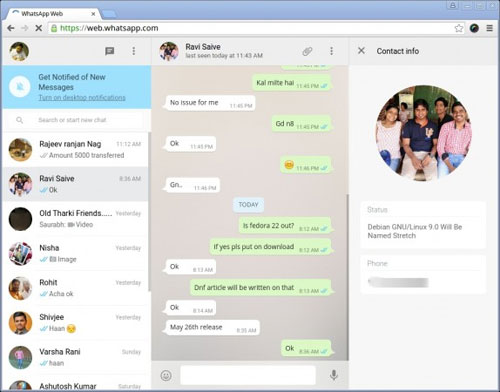 Option 3: How to Transfer WhatsApp Messages from Android to PC Using Email
To make use of the built-in "export" function of WhatsApp, messages can be sent to the mail first, and then can be downloaded by logging into the same email info on computer. However, as you will see, you have to dully repeat the same operation over and over again, if you are to back up a great many messages.
Below is how to back up WhatsApp to computer using Email:
Step 1. Run the WhatsApp from your Android device, and choose a message on it for processing.
Step 2. Click "Settings" option (3 vertical lines) from the top right corner. Then select "More" from the coming list. Now the "Export Chat" will come into view.
Step 3.There are many means for message backup, and here you should select Gmail as the way to send the chat via. Then type in your Gmail info, and then press "Send" to move WhatsApp chat to the mail account.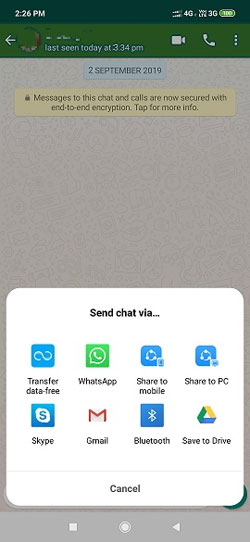 Step 4. Open any browser from your computer to visit the mail account, and log in the same mail ID and password to get access to WhatsApp. Then you can save them to computer lightly.
Can't Miss:
Option 4: How to Copy WhatsApp Messages from Android to PC Directly from Phone Memory
WhatsApp messages are stored in the memory of the phone (or in rare cases they will be on the SD card). And generally, the storage path is: Internal storage/WHATSAPP/Databases (or sdcard/WhatsApp/Databases). To back them up to computer, you just need to find the storage location, and copy and paste the folder to computer. However, the backup files cannot be previewed directly. By the way, photos and other media files can also be moved to computer with this method.
It is easy to get how to back up WhatsApp on computer. And just go with the tutorial below.
Step 1. Get your Android linked to the computer via a USB cord. Then set the suitable USB connection type as MTP on your phone as prompted.
Step 2. Double-click the icon of "This Computer"/"My Computer" from the computer desktop. You'll then find the name of your Android device. Now just open it, and you'll find the Internal memory. Tap on "Internal (shared) storage". Then you should find the folders with WhatsApp databases.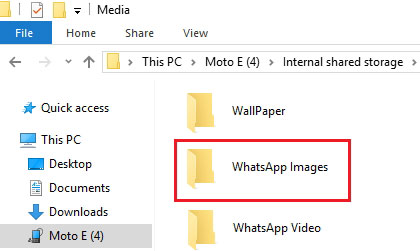 Step 3. Simply right-click the folders to choose "Copy", and then paste them to your wanted location of your computer.
The files are saved as .sme format. If you wanna preview them, try following: Open the excel and select File (at the top left corner) > Open > find the inverted triangle icon at the bottom right > select .sme file(s) > go with Text Import Wizard > Next > Done.
Final Words
OK, it's time to conclude the last words now. Considering how to take WhatsApp backup on PC, WhatsApp Backup Manager, undoubtedly, is your optimum option. This instant messaging software lets you to preview and back up your desired WhatsApp messages selectively; and securely make backups and recovery tasks related to other types of Android files, compared with other solutions.
Plus, WhatsApp Backup Manager is highly reliable and takes less time. In conclusion, keeping it at hand, you can explore its benefits precisely at any point.
Related Articles:
5 Ways to Backup WhatsApp on iPhone Effectively
How to Delete WhatsApp Chat History on Android
How to Restore WhatsApp Chat History from A Broken Samsung?
[Updated] How to Retrieve Deleted WhatsApp Messages on Android?
WhatsApp Notification Not Working on Mobile, How to Solve It?