3 Proven Ways to Restore WhatsApp Messages from iCloud with Ease
WhatsApp is one of the most popular social apps today. Because we can do many things with it, like share text messages, photos, videos, GIFs, emojis, etc. But if you are one of those many users who accidentally deleted some WhatsApp messages and then need to restore them for different reasons, then you should pay attention to what we share below. Here we will tell you how to restore WhatsApp from iCloud.
We all know that iCloud automatically syncs data and keeps them for as long as possible. We can use the chat backup option to back up WhatsApp messages on iCloud. Now, it's time to find a way to restore WhatsApp backup from iCloud. Dig deep into this article, there is always a way for you to somehow save and restore deleted WhatsApp conversations.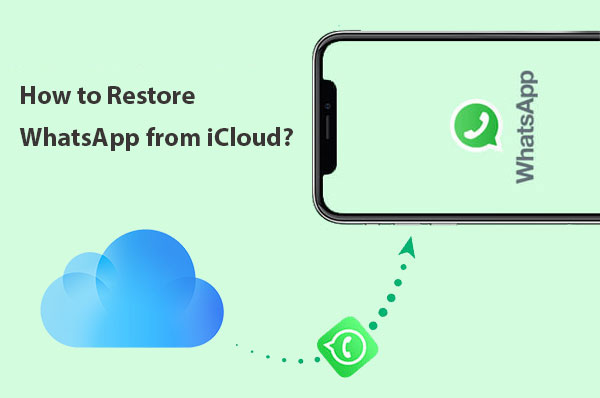 Part 1: How to Restore WhatsApp Chat History on iPhone from iCloud Directly
First, you can restore your WhatsApp chats directly on your iPhone. No matter why you deleted WhatsApp conversations, as long as you have WhatsApp backup to iCloud turned on (WhatsApp backup stuck?), all you need to do is to follow the steps below to restore from iCloud backup. Note that here you can only restore WhatsApp backup data to the same account.
Steps on how to restore WhatsApp backup on iPhone:
On your iPhone, open WhatsApp and go to "Settings" > "Chat Settings" > "Chat Backup" to check if there is an iCloud backup for your WhatsApp chat history to restore.

If you are sure that you have iCloud backup for WhatsApp chat, just uninstall WhatsApp from your phone, and then reinstall it again.
After installing WhatsApp again, type in your phone number bounded with your account, and then follow the onscreen directions to restore WhatsApp from iCloud.
Again, to successfully restore your WhatsApp chat history from iCloud, the iPhone number used in the backup and the restored number must be the same.
Read Also:
Part 2: How to Restore WhatsApp Backup via iPhone Settings
If you have backed up your WhatsApp messages on your iPhone settings, then you can restore WhatsApp chat history from iCloud on iPhone settings. But this method requires you to factory reset your iPhone device and restore the entire iCloud backup containing WhatsApp messages to your iPhone. Therefore, this method is only recommended for new device, and you'd better back up WhatsApp data on computer.
Follow the steps below to restore WhatsApp messages from the entire iCloud backup:
First, go to your iPhone's "Settings" > "Apple ID" > "iCloud", to make sure the WhatsApp option is turned on. This ensures that your WhatsApp messages are backed up to iCloud.
Now, turn to your target iPhone device, navigate to "Settings" > "General" > "Reset" > "Erase all Contents and Settings".

Tap on "Erase Now" and confirm the operation with your password.
Set up your iPhone. From the "Apps & Data" screen, select the "Restore from iCloud Backup" option and sign in with the same Apple ID you used to back up your iPhone.
Choose the backup file that contains the deleted WhatsApp messages, and you will have all your original iPhone data, including your WhatsApp backup, restored to your iPhone.
Read Also:
Part 3: How to Restore WhatsApp from iCloud with iOS Data Recovery
If you are having trouble restoring WhatsApp chats from iCloud using your iPhone or iPhone settings, then the most effective solution is to use iOS Data Recovery software, through which you can scan your iCloud backup thoroughly, search for your deleted WhatsApp messages, and then restore WhatsApp from backup with one click. It is worth mentioning that using this software to extract WhatsApp conversations from iCloud backup does not delete data on your iPhone.
What Can iOS Data Recovery Do for You:
Restore WhatsApp messages from iCloud backup without deleting iPhone data.
It also recovers WhatsApp/Viber/Facebook Messenger/Line data, SMS, contacts, call logs, pictures, notes, etc.
It allows you to preview the recoverable data before recovery.
It supports to recover data from iOS device directly, from iCloud backup or from iTunes backup.
Compatible with almost all iOS devices, including iPhone 14/14 Pro (Max), iPhone 13/13 Pro (Max), iPhone 12/11/11 Pro (Max), iPhone X/XS/XR/XS Max, iPhone 8/8 Plus, iPhone 7/7 Plus, iPhone 6/6s/6 Plus, iPad Pro, iPad Air/4, iPad mini, and iPod touch.
How to Restore WhatsApp Messages from iCloud Backups?
Step 1. After downloading and installing the iPhone Data Recovery software on your PC or Mac, launch it and choose the recovery mode of "Recover data from iCloud backup" in the primary window. Then login into your iCloud account.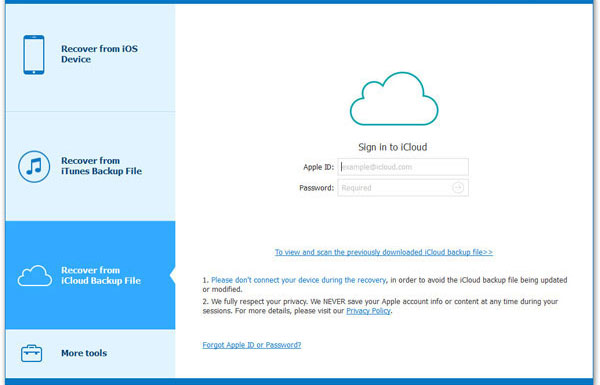 Step 2. In the next window, select the backup file that contains the WhatsApp messages you need, and click the "Download" button. Then, choose "WhatsApp" or "WhatsApp Attachments" and click "Next". This will begin downloading WhatsApp chat history from the backup.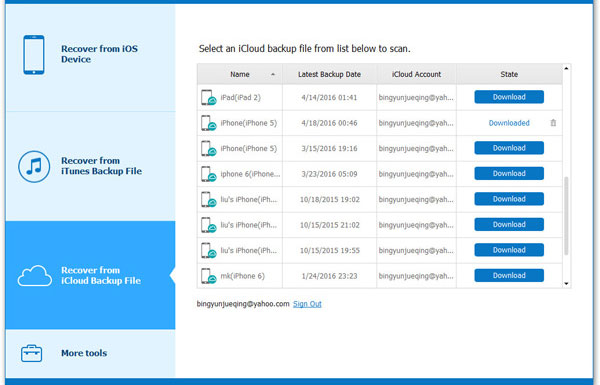 Step 3. Once the download is complete, you can preview the results in details. Tick the messages or attachments one by one, and click the "Recover" button to save them on your computer.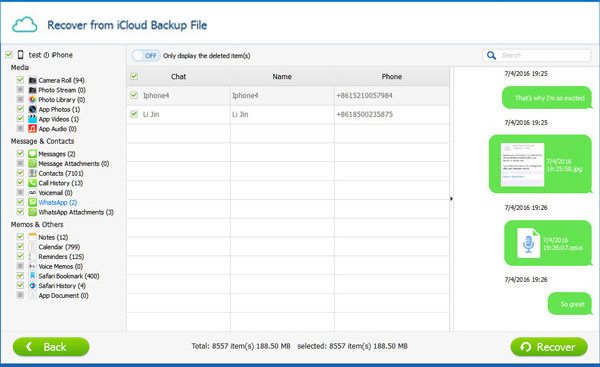 Bonus: What to Do if You Failed to Restore WhatsApp from iCloud?
However, things often don't always go so smoothly. Maybe you encounter this error message when restoring WhatsApp: WhatsApp restored from iCloud not working. This is very frustrating for you. Don't worry, you can use the following tips to solve this problem.
Tip 1. Check Internet Connection
Sometimes, it might just be a network issue. Stable network conditions are guaranteed to complete backups and restores. Therefore, you need to check the network connection and rerun the configuration, or consider changing to another stronger network environment.
Tip 2. Check the Phone Number and iCloud ID
Make sure that when restoring WhatsApp from iCloud, use the same phone number and iCloud ID that you used to back up WhatsApp to iCloud.
Tip 3. Check Your iCloud Storage
If your iCloud account does not have enough storage space, iCloud will not be able to restore backups. You can check the remaining space by going to your device's "Settings" > "iCloud" > "Storage". To ensure a successful restore, it is recommended that you have at least 2 times the size of the backup you want to restore on your iCloud.
Tip 4. Check Your iCloud Drive
If your WhatsApp chats are backed up on iCloud Drive, make sure your phone is using iOS 9 or later. You can check your iOS version by going to "Settings" > "General" > "About" > "Version" on your iPhone.
Ending Words
Well, this article shares three ways for you to restore WhatsApp from iCloud. You can try one by one until you succeed. All in all, method one is prone to various WhatsApp failures (How to fix all WhatsApp problems?). And the second method requires you to reset the device, which makes you lose all data on your iPhone. Therefore, the iOS Data Recovery software recommended in method three is the best tool to restore WhatsApp from iCloud backup. It lets you selectively restore the data you want without erasing anything on your device. This great tool is highly recommended, it will never let you down.
Related Articles:
[3 Ways] How to Transfer All WhatsApp Chats from Android to Android?
How to Access WhatsApp Backup on Local, Google Drive, iCloud, etc.?
3 Simple Steps to Transfer WhatsApp Backup from Google Drive to iCloud
How to Fix Google Drive Not Working on Android? [Basic & Advanced Troubleshooting]
How to Recover Deleted WhatsApp Videos from Android & iPhone?
How to Transfer WhatsApp Data from iPhone to iPhone? [Updated in 2023]