How to Access WhatsApp Backup on Local, Google Drive, iCloud, etc.?
- "Can I view my WhatsApp backup on Google Drive"
- "How do I access WhatsApp on my iCloud"
- "How to access WhatsApp backup on PC"
iCloud and iTunes are important services/tools for many iPhone owners to back up WhatsApp chats. And Android users often secure WhatsApp messages via local backup or Google Drive. Interestingly, many people tend to check the chats on iPhone, Android, PC, or Mac to verify whether the backup is complete or error-free, but they may find it tough to access the data separately.
Well, this post is going to discuss how to access WhatsApp backup on four locations. And at the end of the article, you will get the best solution to back up WhatsApp content on PC/Mac.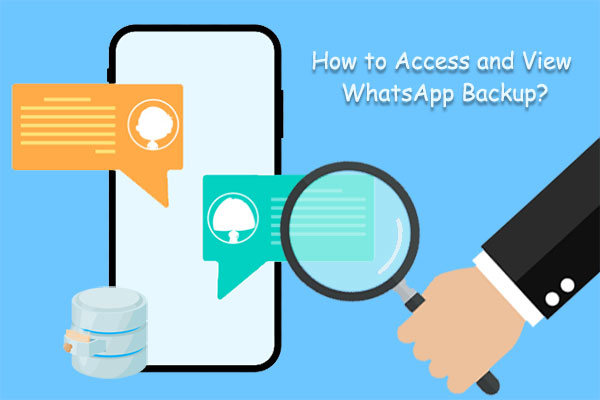 Part 1: How to Access WhatsApp Backup on iCloud
Where is WhatsApp backup in iCloud? To find it, you should first go to your iPhone Settings > switch on "iCloud for WhatsApp" > your name [Apple ID] > iCloud > APPS USING Storage. Then you could check iCloud WhatsApp backup on your iPhone or your Mac as follows.
How to Check iCloud WhatsApp backup on your iPhone:
Ensure you've taken a backup of WhatsApp on iCloud in advance (Go to iPhone Settings > Chats > Chat Backup > Back Up Now).
Then go to iPhone Settings > Apple ID > iCloud > Manage Storage.
You should see "WhatsApp Messages" under "Documents & Data".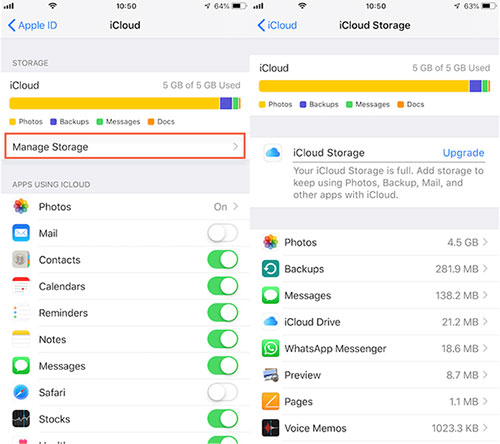 How to check iCloud WhatsApp backup on Mac:
Enable iCloud Drive on your Mac by going to System Preferences > iCloud > turn on iCloud Drive.
Waiting for the iCloud sync to complete. (see the iCloud sync progress in Finder)
On your Mac with macOS Sierra or older, head to System Preferences > iCloud > Manage Storage.
If the macOS is High Sierra or later, open System Preferences > iCloud > iCloud Drive > Options.
You will now find "WhatsApp Messenger".

Now, disable Optimize Mac Storage > enable "Desktop & Documents Folders" > tap "Done". And by doing so, you'll be allowed to use WhatsApp Messenger on Mac to extract and recover WhatsApp chats with WhatsApp Pocket.
You May Wonder:
Part 2: How to Find WhatsApp Messages in Google Drive
We've covered the solution to the question, "how to access WhatsApp backup on iPhone and Mac". Now let's fix the issue, "where in Google Drive is WhatsApp backup".
Before going any further, ensure you have made a backup of WhatsApp on Google Drive. (open WhatsApp, go to its Settings > Chats > Chat Backup > Back Up to store WhatsApp backup with Google Drive). Next, let's explore where to find WhatsApp backup file in/on Google Drive.
How do I view/see my WhatsApp backup on Google Drive?
Visit drive.google.com on any system and sign in to your Google account.
Click the gear icon on the upper-right corner of the page.
Go to the Google Drive Settings.
Head to the "Managing Apps" section and go to the "WhatsApp" tab.
You'll now see the backup records, from which you can find "WhatsApp Messenger".
Navigate the backup or delete it by visiting the "Options" tab.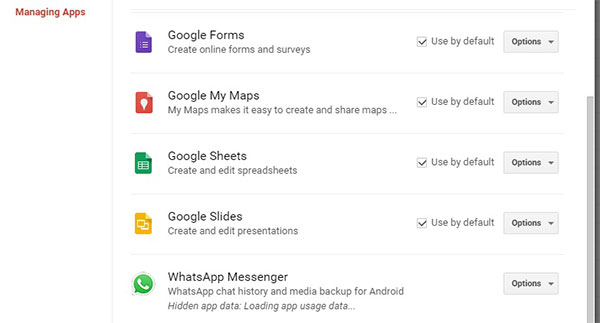 Since the WhatsApp data is protected by end-to-end encryption, you cannot check Google Drive WhatsApp backup in detail or extract what you want.
Part 3: How to Check WhatsApp Backup on iTunes
Some may keep the WhatsApp backup on iTunes, so where does WhatsApp backup store there? OK, it's easy to find the whole iTunes backup.
Yet, if you want to view the particulars of WhatsApp conversations on iTunes, you need to download, install iTools, open it, find the Toolbox, and then run the "iTunes Backup Manager".
Quick guide to access WhatsApp and other backups on iTunes:
On Windows 10, Windows 8, Windows 7, and Windows Vista: C:\Users\Your username\AppData\Roaming\Apple Computer\MobileSync\Backup\ or C:\Users\Your user name\Apple\MobileSync\Backup\.
On Windows XP: C:\Users\Your user name\Application Data\Roaming\Apple Computer\MobileSync\Backup\.
On Mac: ~/Library/Application Support/MobileSync/Backup/
For more details, you can get into the page: where does iTunes store backups?

Read Also:
Part 4: How to Access Local WhatsApp Backup
We've learnt how to access WhatsApp backup on Gmail, iCloud, iTunes. Now, what is the situation for local WhatsApp backup?
You know, WhatsApp creates an automatic backup locally each day by default if you have done something on WhatsApp Settings. You can access the specific backup by going to the WhatsApp backup location, renaming the file. Then reinstall the app and restore the backup when prompted.
How to check local WhatsApp backup?
Download File Manager app on Google Play.
Install and open the app on your device.
Go to this path "sdcard/WhatsApp/Databases".
If there's no SD card in your phone, the path can be in "internal storage" or "main storage".
Rename the backup file as you wish to restore from "msgstore-YYYY-MM-DD.1.db.crypt12" to "msgstore.db.crypt12".

For more details, you can uninstall the WhatsApp application and install it again.
Press "Restore" as prompted, and it'll restore the backup soon.
Extra Tip: The Best Way to Back Up WhatsApp Data
Do you want to make your WhatsApp backups easier to access? If so, it is recommended that you use WhatsApp Transfer to back up all WhatsApp content, including attachments like photos and videos, etc., to your computer. This dedicated software is proficient in doing the backup for WhatsApp and other social apps and restores the stuff to almost all Android and iOS devices with simple clicks.
In addition, it helps transfer data from one device to another without limitations.
Main Characteristics of WhatsApp Transfer:
Back up and restore WhatsApp data between iPhone and PC/Mac.
Transfer WhatsApp chats between iOS/Android devices, from Android to iPhone, and vice versa.
Back up iPhone Viber, LINE, WeChat, Kik chat history.
Apply to almost all iOS devices, including iPhone 12, iPhone 11/11 Pro/11 Pro Max, iPhone X/XR/XS/XS Max, iPhone 8/8 Plus, iPhone 7/7 Plus, iPhone 6/6S/6 Plus, iPod, iPad, etc.
It doesn't track any of your privacy.
Brief tutorials to back up iPhone WhatsApp data on a computer via WhatsApp Transfer:
Step 1. Install and launch the tool on your computer. Click "WhatsApp" > "Backup WhatsApp messages". Now, link your iPhone to the computer via a USB cable, and the program will recognize the device soon.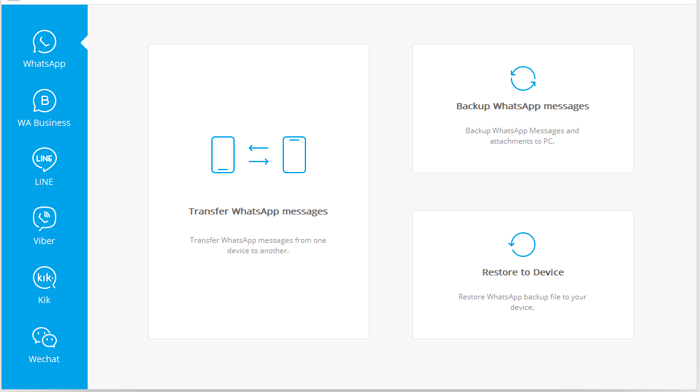 Step 2. The tool will detect your iPhone and start to run a scan on it. Once completed, the program will start to back up your WhatsApp chats automatically.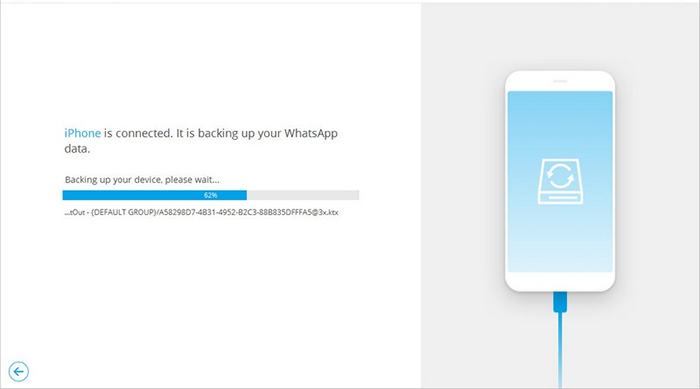 Step 3. After that, you can sort through the backed-up WhatsApp content. Select the backup folder to manage and tap "View" and then "Next".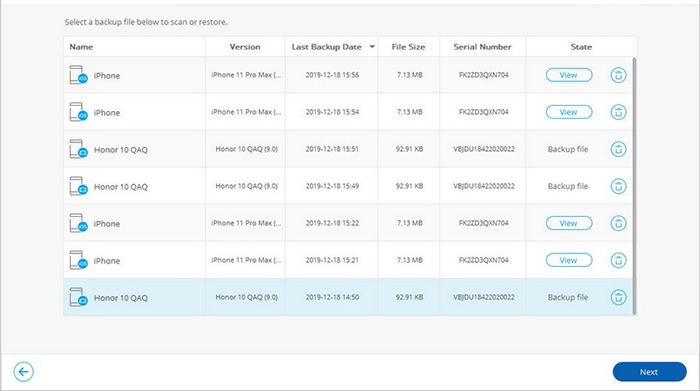 Step 4. On the next window, check the chat list and WhatsApp attachments you want. Then click "Recover to computer" to get the data onto your computer. Finally, you can access WhatsApp backup on PC/Mac with ease.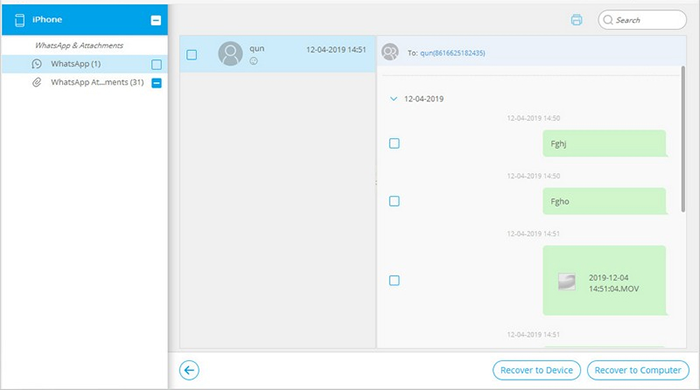 Words in the End
WhatsApp lets you run a backup of your chats on iCloud, Google Drive, iTunes, or local backup, etc., but they are not always readily accessible. And the tools or services might result in backup failure or file corruption occasionally.
Instead of worrying about how to access/check WhatsApp backup on any of the locations above, you might as well give WhatsApp Transfer a download and make a copy of WhatsApp chats on your computer for a simple, complete, and secure backup.
Related Articles:
How to Back Up WhatsApp on iPhone without iCloud? 3 Solutions are Here!
Top 4 iPhone Backup Browsers/Viewer You Can't Miss
Methods to Back up WhatsApp Messages for Android and iPhone
3 Simple Steps to Transfer WhatsApp Backup from Google Drive to iCloud
[Full Guide] How to Transfer WhatsApp Data from iPhone to Android
WhatsApp Notification Not Working on Mobile Phone, How to Solve It?