How to See Deleted WhatsApp Messages on iPhone [Guide 2023]
Are you trying to find out how to see deleted WhatsApp messages on iPhone? You are not alone! Many people are trying to find out the same thing. Seeing deleted WhatsApp messages on your iPhone can be easily done! All you need to do is implement a method that can do so in an effective, safe, and smooth manner. Contrary to popular believe, WhatsApp message recovery solutions are not made equal. There are some better than others. Only a few of them can hit the ball out of the park, per se. Guess what? We know which ones!
Way 1: How to See Deleted WhatsApp Messages on iPhone with WhatsApp Recovery
How can I see the deleted messages in WhatsApp on iPhone? iPhone WhatsApp Recovery has what it takes to retrieve every deleted WhatsApp message and conversation that you want. Straight out of the oven, it rapidly acquired a loyal following. It can export them to your computer, without a hassle. People are raving about it left and right. This is not surprising at all though. It is a multitasker! It can recover iPhone notes, reminders, Safari bookmarkers, call history, videos, music, voice memos, photos, and contacts. You name it...it recovers it!
iPhone WhatsApp Recovery Method's Noteworthy Pros:
No backup is necessary to recover deleted WhatsApp messages from iPhone.
Retrieve various types of data, including text messages, contacts, call history, notes, calendars, reminders, voice memos, Safari history, and more.
It permits you to preview a WhatsApp message before recovering it.
Recover WhatsApp and other files from iTunes/iCloud backup without data overwritten.
It is structured using advanced technology to ensure a high success rate.
It is compatible with almost every iOS device, covering iPhone 14/14 Plus/14 Pro (Max), iPhone 13/13 Pro (Max)/13 mini/12/12 Pro (Max)/12 mini, iPhone 11/11 Pro/11 Pro Max, iPhone X/XR/Xs/Xs Max, iPhone 8/8 Plus, iPhone 7/7 Plus, iPhone 6/6S/6 Plus, iPod touch, iPad Pro, iPad Air, iPad mini, iPad 4, iPad 3, iPad 2, etc.
It protects your privacy at all times.
How to recover deleted WhatsApp messages on iPhone with iPhone WhatsApp Recovery?
Step 1. Download the iPhone WhatsApp Recovery on your computer. Using a USB cable, connect your iPhone to your computer and then launch this program.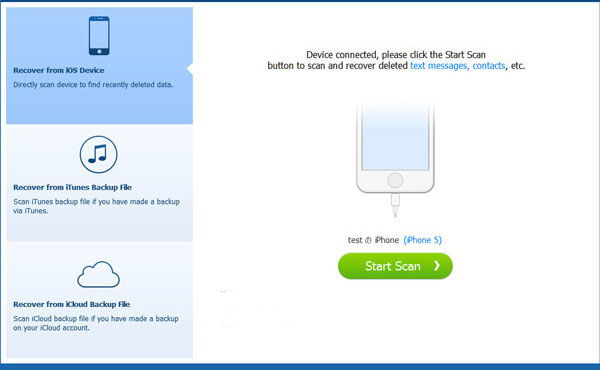 Step 2. Click on "Recover from iOS Device," followed by clicking on "Start Scan." You will note the connecting and analyzing process.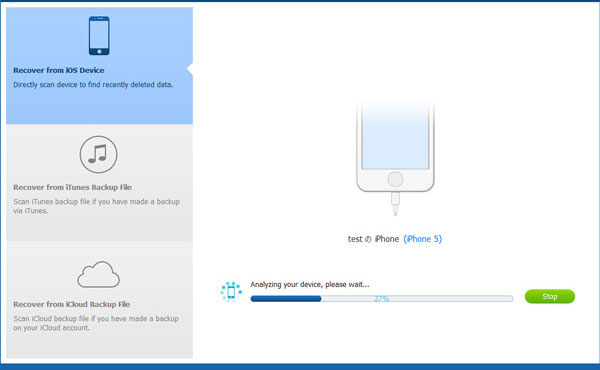 Step 3. Click on the "WhatsApp" folder to preview contents. Mark the WhatsApp messages that you want to recover and then click on "Recover" to save them to your device.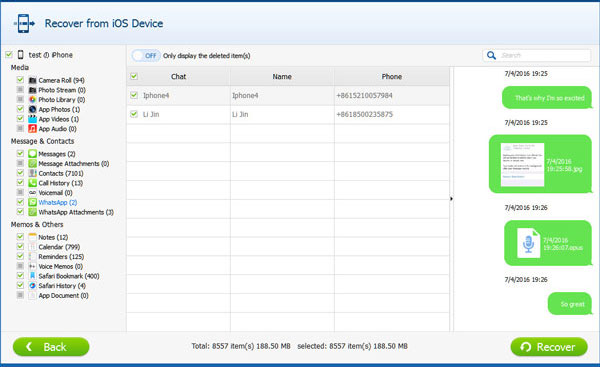 You May Take an Interest in:
Way 2: How to See Deleted WhatsApp Messages iPhone via WhatsApp Backup
WhatsApp Back is often the first option people resort to. Unfortunately, unless you had created a backup before you messages were deleted, it will not work for you. If you did not do this, what a bummer, huh? Do not worry! As you can see, one effective method is above and several others follow!
Verify that you have a backup by opening WhatsApp. Click on "Settings" and then "Chats," followed by "Chat Backup."

Uninstall the WhatsApp and then reinstall it.
Launch WhatsApp and set up an account. Phone verification is next.
On the Restore Backup page, click on "Restore" for WhatsApp backup to be restored.
You May Take an Interest in:
Way 3: How to See Deleted Messages on WhatsApp on iPhone via iCloud Backup
Ever heard of how easy it is to learn how to see deleted messages on WhatsApp iPhone with the help of iCloud backup? If you have not heard about iCloud backup, you have probably been living under a rock, or in a very dark cave in the middle of a desert. The iCloud backup has helped people recover their data when they thought there was no hope. It provides hope, but unfortunately, it does so only to those who have used it beforehand. Since it entails resetting iPhone to factory settings, if you are not sure if you will be able to see your deleted messages, we suggest trying another listed method. It is always better to prevent than lament. Don't you agree?
Go to Settings and then click on "General," "Transfer or Reset iPhone," and then "Erase All Content and Settings."

After your iPhone has been reset to factory settings, set up your device again until you note the Apps & Data screen.
Click on "Restore from iCloud Backup."

After messages are restored, install the WhatsApp application. (Set up account utilizing the same phone number in order to then see your messages.)
Way 4: How to See the Deleted Messages in WhatsApp on iPhone via iTunes backup
When iTunes was first introduced on the market, most people thought it was only good for one thing. It later turned out that it is a multitasker. So, just as one would expect, its popularity keeps increasing every day. There are no signs of this ever stopping. It can also recover your deleted WhatsApp messages. Even so, your messages had to been backed to iTunes beforehand. Now, if you never did this, not all hope is lost. Yes, there is still hope for you to learn how to see deleted WhatsApp messages iPhone effectively. Keep on scrolling!
Open "Finder" on Mac, or iTunes on computer.
Connect iPhone to your computer.
When it appears in the window, select your iPhone.
Click on "Restore Backup."

Choose a backup and then click on "Restore."
Way 5: How to See Deleted WhatsApp Messages on iPhone from Friends
How to see deleted messages on WhatsApp on iPhone with the help of a friend always makes things easier. As they say... two is always better than one! You can always recover any vital WhatsApp message on iPhone by getting it back from your friend's chat history. Did you ever think about this? What a genius idea, right? You can ask your friend to export the WhatsApp messages and send them directly to you. It is super simple! Of course, if you had an argument with your friend or are not that close to him or her, you might think that this method is not a good option. If after evaluating the friendship you realize that it is a very weak one, then...still try it! You know...it never hurts to ask; does it?
On your iPhone device, open WhatsApp and find the WhatsApp chat conversation that needs to be exported.
Click on "More Options" (three dots in the right corner). Click on "More" and then click on "Export Chat."
Follow on-screen instructions to complete the export.
Say What's Up Again to Any WhatsApp Deleted Message
Your deleted WhatsApp messages are not forever gone. As you can see, there are ways to retrieve them. There is a method to meet every preference. There are some solutions that do require that you have a backup prior to message deletion, but there are also those that do not have any requirements, such as the iPhone WhatsApp Recovery. It is free to download. A lot to gain; not much to lose, huh?
Related Articles:
Full Guide to Retrieve Deleted Text Messages on iPhone 14/13/12/11/X/8/7
3 Well-tried Ways to Restore Text Messages from iCloud - iCloud Messages Recovery
8 Best Contact Recovery Software/Apps for Android [Few People Know]
Android Message Recovery - How to Retrieve Deleted Text Messages on Android
[Fixed] Where Are WhatsApp Messages Stored on Android/iPhone/PC?
How to Transfer WhatsApp Stickers to New Phone (Android/iOS)?