3 Methods to Back up WhatsApp Messages for Android and iPhone
As one of the simplest and best cross-platform messaging apps, WhatsApp is welcomed by many people so the users of WhatsApp have been increased. This app enables you to communicate and send files over network connection and with the growing increase of the usage of WhatsApp as one of the primary means of connecting with others, it becomes more and more important to make a back up your important messages. Otherwise, it will be painful to lose these messages by accidents of because of misoperation. Here we will introduce you 4 different methods to back up WhatsApp messages.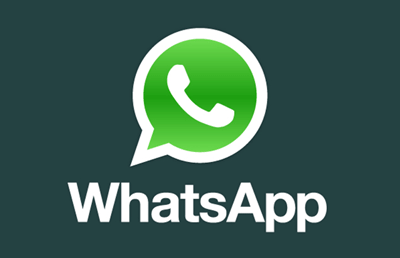 Method One - Back up Android WhatsApp online with Google Drive
If you are Android uses, please follow the steps below. Before that, you need to register a Google account that can be activated on your mobile phones. Then we can use the Google Drive to make the backup of WhatsApp.
Step 1. Start the WhatsApp on your device.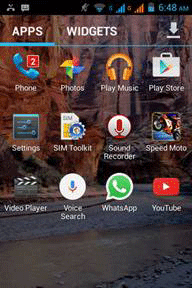 Step 2. Head to the Menu button and then clicking on the Setting > Chats and calls > Chat backup button in turns.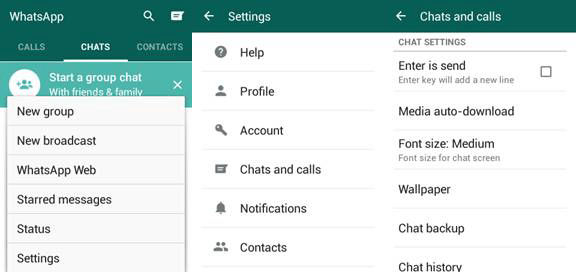 Step 3. Click on the option - Back up to Google Drive and then select the backup frequency as you like.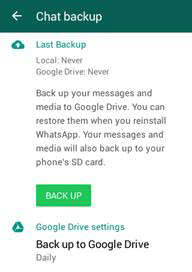 Step 4. Finally, just hit the BACK UP button and then wait for a while, your messages will be transferred to Google Drive soon.
It is an easy method that requires only a few clicks to get your backup done. But this method works only for Android devices and you cannot choose the specific messages to back up. So if you don't want to backup the whole Android WhatsApp messages, you can take a free trial on the best Android Data Recovery software. With it, you can easily get access to your Android's internal memory on the desktop computer, and select your needed messages for backup as you like. And this tool can also help you restore and save the deleted WhatsApp messages and attachments to the desktop computer without hassle. Cool, right?
Method Two - Steps to Back up WhatsApp online on iPhone
If you are iPhone uses, you can refer to the tutorial below. It is easy to make a backup of WhatsApp with the iCloud on your iPhone. Besides, you need to click on Settings > iCloud and then switch on the Documents & Data if you are iOS 7 users. And if you're iPhone runs the iSO 8, then you need to click on iPhone Settings > iCloud and then switch on the iCloud Drive. For the iOS 5.1 or later users, you should sign into iCloud and make sure that there is enough space for the new files.
Step 1. Start WhatsApp on your iPhone.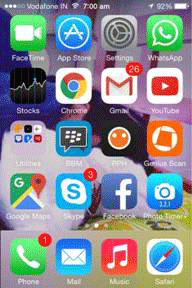 Step 2. Head to Settings and then click on Chats > Chats Backup and then select the Back Up Now option.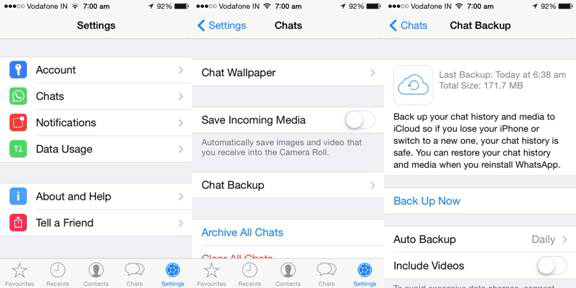 Step 3. If you want to back up WhatsApp messages online, you can click on the option of Auto Backup and then select the frequency of backups.
Finally it is an easy method for all users but you need the help of iCloud. But this method also has disadvantages. You have no control over what messages to back up and iCloud sometimes may case issues later. So we could like to strongly recommend this powerful yet prominent iPhone Data Recovery software as your assistant. With it, you can backup WhatsApp messages from iPhone selectively or in a batch, and it is a desktop application, that have been tested for hundreds yet thousands of times before releasing. So you can perform it by yourself without any doubt.
Method Three - How to backup WhatsApp messages via Email
You can also use Email to back up your chat history on phone. You are able to transfer your selected WhatsApp messages to the appointed email inbox and you can follow the detailed steps below.
Step 1. Launch WhatsApp
Start your WhatsApp and then select the Setting option and choose the calls option. Then click on the Chat History option.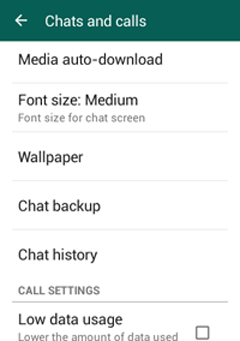 Step 2. Head to Email Chat
Then you should click on Email Chat option and a message will pop up. You can click on the WITHOUT MEDIA or ATTACH MEDIA as you like.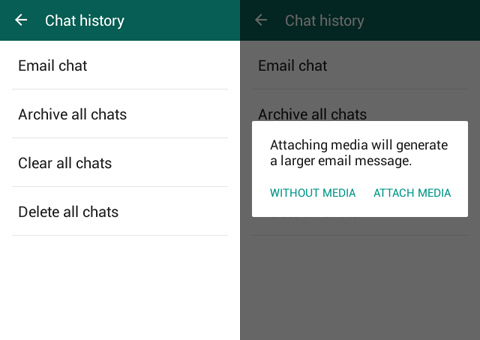 Step 3. Select How to Mail it.
Finally choose the method to mail it. By the way, the data will be backed up in txt file format.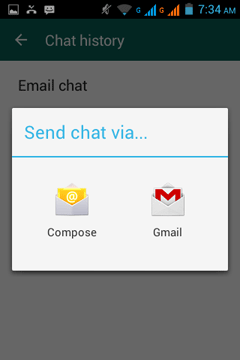 This method can only enable you to send about ten thousand messages at most one time and you cannot recover the chat history from the exported txt file.
Related Articles:
How to Use the HTC Sync Manager Alternative
Backup Bookmarks on Android
Top 5 Free Wallpaper Apps for Android