How to Transfer WhatsApp Stickers to New Phone (Android/iOS)?
WhatsApp stickers are a feature within the WA application, with which users can send pre-designed or custom-made stickers in their chats. They are a fun way to express emotions or convey messages more visually.
When you intend to change phones, back up WhatsApp photos/videos/stickers, or share humorous emotions with your friends, you may want to copy the stickers from one device to another. This brings us to today's topic - how to transfer WhatsApp stickers to new phone without error? OK, go through this tutorial to see the easy methods to make the migration quickly, and you're always in control.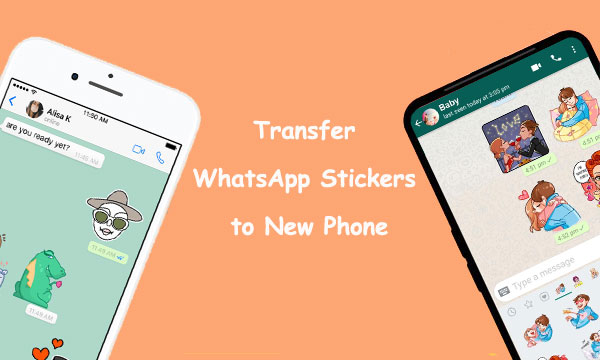 Way 1: Transfer WhatsApp Stickers to New Phone via WhatsApp Transfer (Android/iOS)
Is there any tool that can copy all WhatsApp chats, including stickers, with just a couple of clicks? WhatsApp Transfer surely deserves your attention. With its user-friendly interface and simple transmission mode, it makes WhatsApp stick copy a breeze. What's more, this utility can also be used to back up and restore WhatsApp and other social platforms.
Why pick WhatsApp Transfer?
Transfer WhatsApp stickers to new phone, maintaining them damage-free.
Copy WhatsApp messages, photos, and videos in no time.
Move WhatsApp/WhatsApp Business chats from Android to Android, Android to iPhone, iPhone to Android, and iPhone to iPhone.
Quickly back up your LINE, Viber, WeChat, and Kik chat history.
Work well with almost Android and iPhone devices, including Samsung, Motorola, Google, Sony, OPPO, Acer, Huawei, LG, Xiaomi, HTC, iPhone 14/14 Plus/14 Pro (Max), iPhone 13/13 Pro (Max)/13 mini/12/12 Pro (Max)/12 mini, iPhone 11/11 Pro/11 Pro Max, iPhone X/XR/Xs/Xs Max, iPhone 8/8 Plus, iPhone 7/7 Plus, iPhone 6/6S/6 Plus, iPod touch, iPad, etc.
It won't interfere with your privacy.
As mentioned earlier, this software can transfer WhatsApp between two phones with the same or different operating systems. Next, we shall take Android-to-Android WhatsApp sticker migration as an example to know how to transfer WhatsApp stickers to new phone via WhatsApp Transfer:
Step 1. Install the program on your computer and launch it. Then, select the "WhatsApp Transfer" section from the primary screen.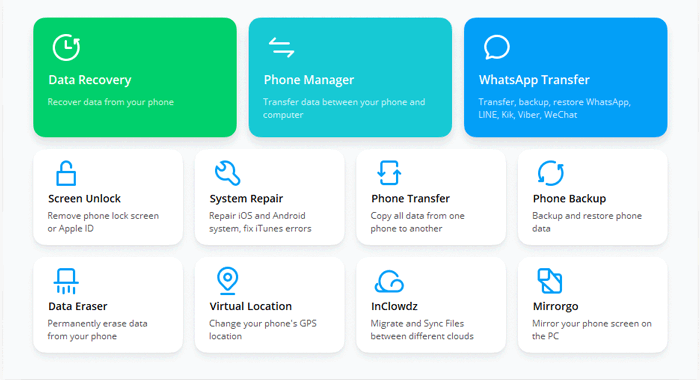 Step 2. From the left menu bar, choose the "WhatsApp" tab and select "Transfer WhatsApp messages" from the next window.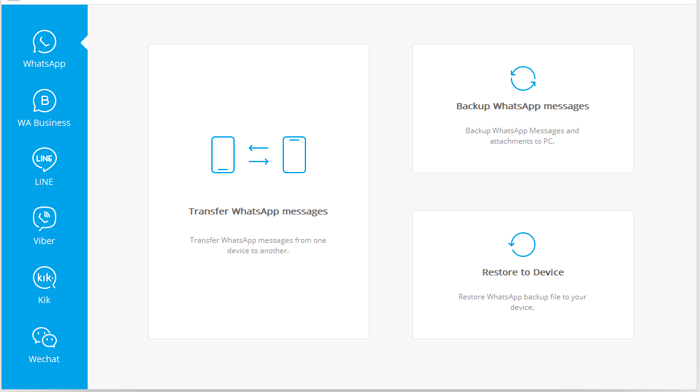 Step 3. Plug your Android phones into your computer via USB. The product will detect the devices and display them on its window. Make sure they are in the right positions, or use the "Flip" button to switch them as needed.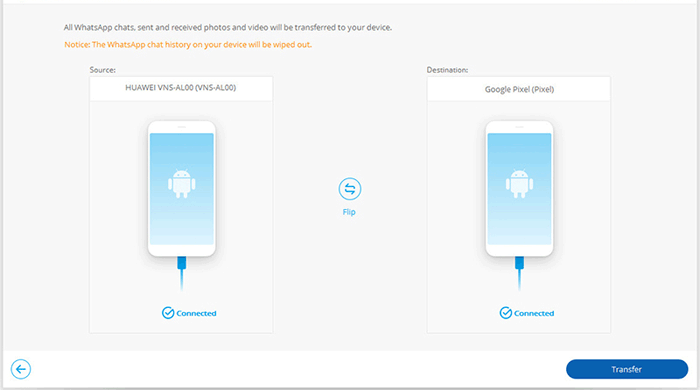 Step 4. Click the "Transfer" button to copy WhatsApp conversations, including the WA stickers, to the new phone. You can monitor the transfer progress with the progress bar.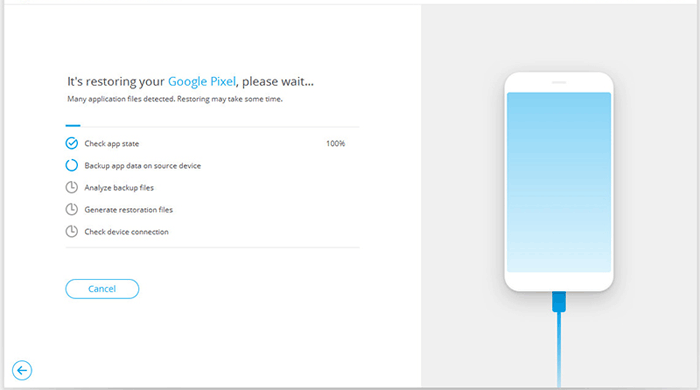 Step 5. Once done, unplug the two phones from your computer and restart WhatsApp on your new Android phone. You should see a message prompting you to restore your WhatsApp data. Click "Restore" to commence.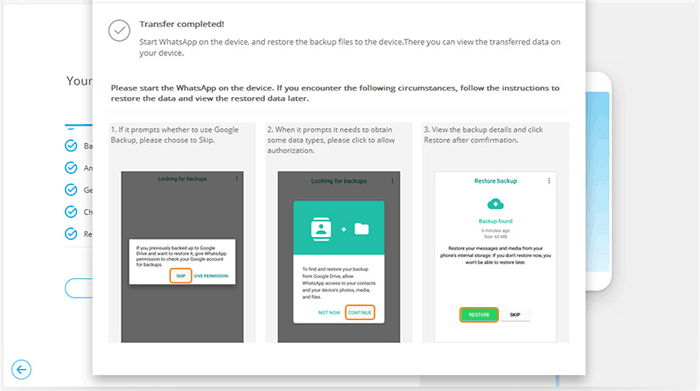 You Might Be Interested in:
Way 2: Transfer WhatsApp Stickers from Android to iPhone by Sending Them to Friends (Android/iOS)
Regularly chatting with your friends means you can also send them stickers on WhatsApp and ask them to send them back to you, which can be done using any phone. However, this way not be suitable if you want to transfer a large number of stickers. Here are the easy steps to transfer WhatsApp stickers from Android to iPhone or reversely by sending files to friends:
Run WhatsApp on your old Android phone.
Look through your contacts until you find the friend you want to send your stickers.
Send the stickers you want to transfer to them.
Install WhatsApp on the iPhone from App Store.
After installation, open the app and log in.
Ask your friend to send all the stickers back to the new device.

Finally, long-press the stickers, and you will be prompted with the option to add them to your favorites.
Way 3: Transfer Stickers from WhatsApp to New Phone by Copy & Paste (Android)
Would you like to transfer WhatsApp stickers from an old to a new Android phone without any tool? You can do so by copying the "WhatsApp Stickers" folder from the old phone and pasting it into the same location on the new phone. (You can then even move WhatsApp data to an SD card) How do I transfer my WhatsApp stickers to another phone by copy-n-paste:
Connect the old and new Android phones to your computer and trust the connections.
Open File Explorer and locate the old phone.
Click on the Android folder and select "Media".
Scroll down and find the "WhatsApp" folder before clicking on it.
Locate and open the "Media" folder.

Look for the WhatsApp Stickers folder and right-click on it.
Select "Copy" from the drop-down menu.
Return to the main interface of Windows File Explorer and click the new phone.
Reach the Media folder in the WhatsApp folder of the new phone by following the drill above.
Finally, paste the WhatsApp Stickers folder you copied into the new phone's Media folder.
Important: This method only transfers your previously used stickers and not the entire pack collection. Also, the location of the WhatsApp folder may vary depending on the phone's manufacturer and model.
You May Also Need:
Way 4: Transfer Stickers from WhatsApp to New Phone via Google Backup & Restore (Android)
With a built-in backup feature on WhatsApp, Android users can utilize it to back up conversations, including WhatsApp stickers, to Google Drive. You can then restore the backup to your new Android phone, which will transfer all your stickers. Now, check out the drill below to see how to transfer WhatsApp stickers to new phone (Android):
Open WhatsApp and your old phone, click the three-dot icon, and proceed to "Settings" > "Chats" > "Chat backup".
Under "Back up to Google Drive", opt for "Only when I tap Back up" and tap the "BACK UP" button. (Google Drive not working on Android?)

On your new Android phone, run WhatsApp, log in with the same old phone number, and ensure you're signed into the same Google credentials.
WhatsApp will automatically detect the backup data from the Drive and ask if you want to restore it. Tap "Restore".
Once done, you should see all your stickers on your new gadget.
Way 5: Transfer WhatsApp Stickers to New Phone with iCloud (iOS)
Initially, please ensure your iCloud has enough storage to save the full backup of your iPhone, including WhatsApp chats and stickers. When the backup completes, you'll have the option to restore the backup you just made to the destination iPhone. In the following, we'll explain how to transfer stickers from WhatsApp to new phone via iCloud:
Ensure iCloud backup is enabled on both your old and new iPhones.
On your sending device, launch WhatsApp and go to "Settings" > "Chats" > "Chat Backup" > "Back Up Now".

The WhatsApp backup will initiate, and please wait for the backup process to complete.
On your target iPhone, run WhatsApp and log in using the same phone number you used on the old phone.
WhatsApp will automatically detect the backup from iCloud. If the service asks whether you want to restore from iCloud, tap "Restore".
Closing Remarks
There you have it! Going through the passage, we can reach the following conclusion:
If you don't mind possible chat history leaks, it's a good idea to ask for help from your friends.
By copying and pasting, you can transfer WhatsApp stickers to new phone on a computer, but it only works for Android devices.
When transferring WhatsApp stickers via Google or iCloud, you might be in for a long wait, and chances are that it'll overwrite current WhatsApp data on the target phone.
WhatsApp Transfer can be used in almost any condition, ensuring fast transfer and the integrity of the content.
Related Articles:
Messenger Backup for Facebook: How to Back Up Messenger Messages in 5 Options?
How to Retrieve WhatsApp Messages from Lost Phone without Backup? [iPhone/Android]
Photos Didn't Transfer to New iPhone 14/13/12? Reasons & Awesome Solutions
6 Ways to Transfer Contacts to New Phone Easily and Safely
[Fixed] Where Are WhatsApp Messages Stored on Android/iPhone/PC?
Does Smart Switch Transfer WhatsApp? Here Are the Answer & Transfer Methods