Top 5 Contacts Recovery Apps for Android (2021)
Android contacts recovery is just as important as backup because without it you cannot get back the contact info you copied. And to get back your lost contacts, you need to turn to some reliable as well as powerful contacts recovery Apps for Android.
To get more ways about recovering Android contacts, you can go to the page:
3 Ways to Recover Deleted Contacts from Android (#1 is Awesome)
However, for majority of people, finding a suitable App is a difficult task - there are too many applications on the market and it is time-consuming to compare them. So to help you get rid of the trouble, we will introduce 5 easy-to-use and secure Android contacts recovery Apps to you.
Top 1. Deleted Contact Recovery
Deleted Contact Recovery receives a high score in Google Play Store - 4.4 out of 5 starts. That's because it aids in recovering files that have been deleted accidentally or even formatted. In addition, it has a simple user interface that is easy to understand and can work well without needing any additional hardware support. That is to say, it can help users to get back the lost contacts easily.
But it is a pity that this App only supports recovering contacts but doesn't support to restore other file types. So for the users who just want to restore contacts from Android, this can be a good option. If you wish to retrieve other files meanwhile, you need to ask other tools for help.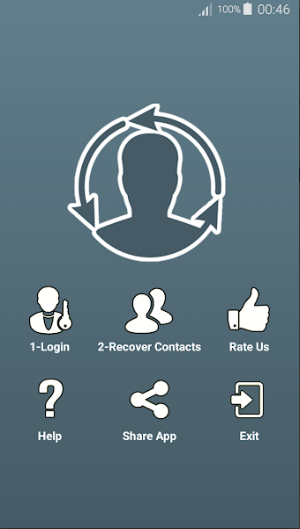 Top 2. Recovery Deleted Contacts
Another well-received App is Recovery Deleted Contacts. This application not only equips the recovery function but also has the ability to create a backup at the same time. You can restore the contacts deleted from the address book as well as SIM card. Meanwhile, you are able to create a backup file for the contacts saved in phonebook and SIM card. Its easy-to-use interface makes it easy to follow and you can navigate to the features you need without hassles. This simplicity means that a user doesn't have to be technology savvy to use the App.
It is worth mentioning that the App is available for free and is easily accessible from Google Play Store. So you can simply download it from Play Store and freely try it.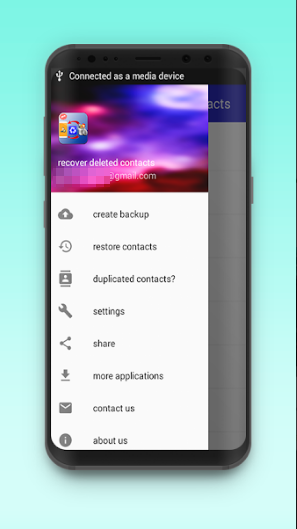 Top 3. Recover All Deleted Contact & Sync
Recover All Deleted Contact & Sync is the next App we would like to introduce. Also, this tool doesn't need a PC to function - it does this by restoring the files from the phone's internal database and putting them back to the original storage location. You can get back the contacts even if you haven't backed up your files prior to the loss. And while recovering the files, you can select to restore one at a time or all at the same time.
Apart from restoring and recovering deleted files, you can also use the application to copy contacts to cloud service of your choice or to your email address.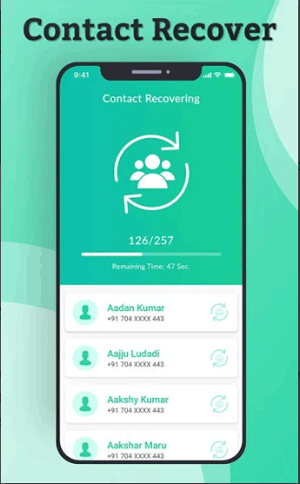 Top 4. GT Contact Recovery
GT Contact Recovery is an App only works with rooted devices, something some people consider it a disadvantage. However, it still has many other features that make it great at what it does. For example, it can restore lost contacts from the Android phone's internal memory and restore them to the ideal space. What's more important, the size of this App is very small and it won't take up a lot of space in the device's memory.
Although it works well with Android, it may not be compatible with other Apps installed in your phone. In that case you may have to delete them first before using this application.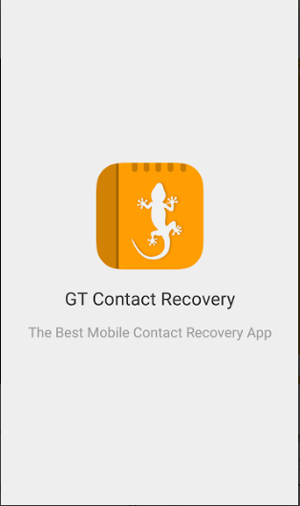 You can also click to learn:
How to Root Android Device Easily?
Easily & Safely Recover Android Data without Rooting [Proven Tips]
Top 5. Recover Contacts
The final suggested App is Recover Contacts. This recovery App can only restore the recently lost contacts. This means that you have to use it as soon as you realize that you have lost your contacts. It works by going through the phone's database and identifying the files that have been deleted recently. After scanning and identifying the lost data, it will then put them back where they belong.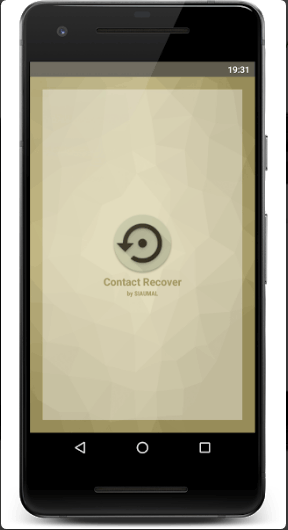 How to Recover Deleted Files from Android without Backup?
You can see that the contacts recovery Apps for Android introduced above are only available for recovering Android contacts. So if you wish to restore other kinds of files like text messages, call logs, etc. from Android device, you need to find other Android recovery Apps.
Here, we would like to suggest you to use the MobiKin Doctor for Android - a professional Android data recovery program. It enables you to retrieve different types of files from Android devices and the whole recovery process can be completed with simple clicks. You can easily get the software by clicking the icon below and then follow the tutorial "Recover Lost Data/Files from Android Phone" to simply get back your Android files.
Conclusion
Contacts recovery App is essential tool for Android users especially when the data is accidentally deleted or lost. This kind of App offers the most convenient way of recovering your phone and continuing with your normal operations. Hence, it is necessary for you to choose an application that's most appealing to you from above. And meanwhile, you are strongly recommended to develop a habit of backing contacts on Android - sometimes you may fail to get back your lost data with any tool.
Related Articles:
[Solved!] Your Android Phone Won't Turn on? 13 Ways to Fix
5 Easy Ways to Get Pictures off a Broken Phone that Won't Turn on
Recover Data from Broken or Damaged Android Phone
[SOLVED] How to Recover Deleted Photos/Pictures from Android?
Android Call History Recovery - Recover Call Logs on Android
Samsung Galaxy Recovery: How to Recover Deleted Data on Samsung Galaxy?