[Fixed] Where Are WhatsApp Messages Stored on Android/iPhone/PC?
WhatsApp, the most popular communication tool, stores a lot of our private information. "Where are WhatsApp messages stored" can be the question you may wonder when you choose to preserve the chat history. Then many mobile users want to restore the backup if they need to without security risk. Well, this page tells you where WhatsApp messages are stored and how to schedule periodic backups locally or to Google/iTunes/iCloud/PC.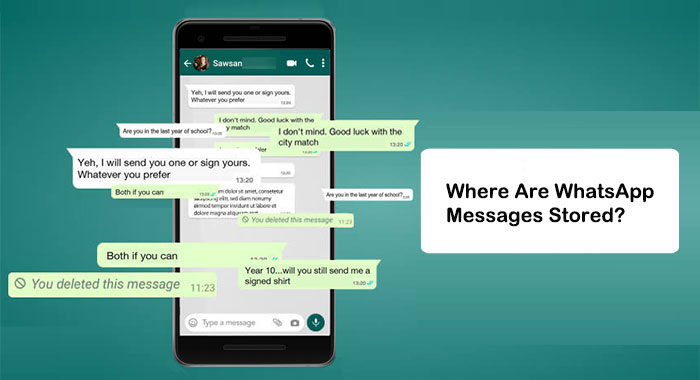 Part 1: Where Are WhatsApp Messages Stored on Android
WhatsApp messages are stored locally or in Google Drive on Android. To check the locations, you have to get a file manager app and go to SD card/WhatsApp/Databases. Besides, you need to check "internal storage" or "main storage" if your messages are not stored on the card.
Where do WhatsApp messages get stored on Android?
Launch WhatsApp on your phone and go to its "Settings".
Click on "Chats" > "Chat backup".
From the same window, go to "Accounts" and choose the Google account to save the data. (If accounts don't appear, check if you are logged in; if not, please sign in and tap on the "BACK UP" options. (Can't sign in to Google account on Android?)

The app will take a backup to your Google Drive. You can choose the type of data you wish to include or exclude from the backup.
Remember to set the backup frequency from the options offered or set a custom choice to turn on automatic backup in the future.
To use WiFi only, tap the toggle that is next to WiFi to back up. Alternatively, you can choose backup via cellular data but beware of the costs on the data charges.
Read Also:
Part 2: Where Does WhatsApp Store Data on iPhone (Using iTunes)
As a native solution for storing WhatsApp messages and other data, iTunes gives you the option to transfer and manage iOS devices. Yet, this tool tends to store items in the device rather than selecting the necessary WhatsApp chats.
Where are WhatsApp messages stored on an iPhone? (using iTunes)
Connect your iPhone to a computer through a cable.
Launch the latest version of iTunes on this computer.
Tap on the trust computer on your device and enter the passcode if prompted.
Select the "Device" tab on iTunes' window and choose the "Summary" option.
Click "Back Up Now" to begin storing your WhatsApp messages to your iTunes account.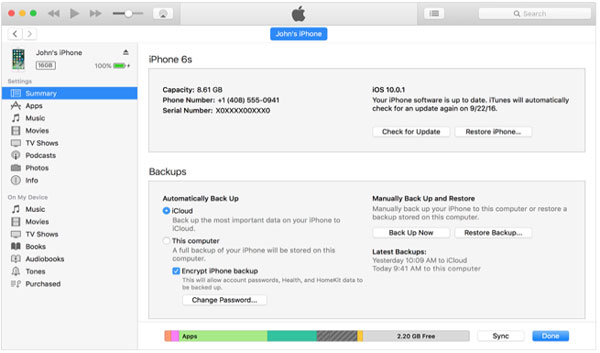 Part 3: Where Is WhatsApp Chat History Stored on iPhone (Using iCloud)
Besides iTunes, another great method to store and restore WhatsApp messages on an iPhone is using iCloud. With this inbuilt feature, you can sync the account across different devices via your Apple ID. That is, if you wipe your iPhone or intend to switch over to a new one, you can use the backups to restore WhatsApp messages.
Where are WhatsApp messages stored in iPhone backup? (using iCloud)
Make sure iCloud Drive is enabled for WhatsApp backups.
Go to iPhone "Settings" and tap on your Apple ID.
Press iCloud and scroll to the bottom of the page.
Turn on the slider nearby WhatsApp to the green position for enabling iCloud access.
Open the WhatsApp app and tap "Settings" > "Chats"/"Chats and Calls" > "Chat Backup".
Click "Back Up Now" to upload the data to iCloud. Or you can choose "Auto Backup" to back up the WhatsApp data automatically.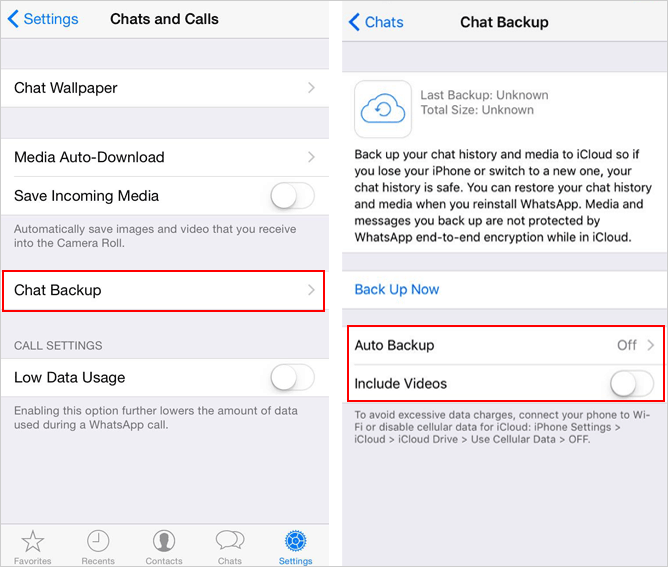 Check If You Need:
Part 4: Where Does WhatsApp Store Data on PC
WhatsApp on PC isn't like that on your mobile phone, and it does not store backups directly on your computer. What you can find are WhatsApp cache files and logs, which hold the temporary data when you use it on your PC. Still, you can search your computer for them.
Where is WhatsApp chat history stored on PC?
Open File Explorer on your PC.
Select "This PC" on the left of the window. This will let you search your entire PC using the search bar.
Next, enter "WhatsApp" in the search bar and press "Enter" on your keyboard.
The search will take a while since it will search your whole computer.
At the end of it, you will see any cache or log files available for WhatsApp.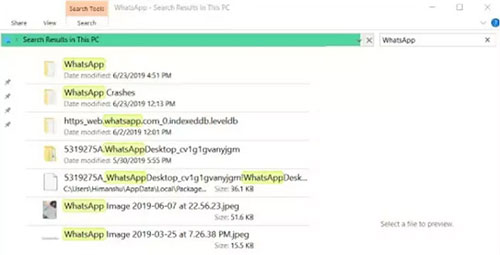 Part 5: Use a Professional Tool to Store iPhone WhatsApp Data Flexibly
It's not a wise move for us to store Android/iPhone WhatsApp data locally or to any cloud storage. On the one hand, it will occupy part of the memory of the phone. On the other hand, cloud space may pose risks to your WhatsApp chats. So, most of us would like to back up WhatsApp and other data to a computer for preservation. In this regard, WhatsApp Transfer is a desirable tool for you.
A brief introduction to WhatsApp Transfer:
Flexibly back up and restore WhatsApp chats between iPhone and PC.
Transfer WhatsApp data from Android to Android, Android to iPhone, iPhone to Android, and iPhone to iPhone.
Back up LINE/Viber/WeChat/Kik chat history.
Work well on various iOS devices, covering iPhone 13/13 Pro (Max)/13 mini/12/12 Pro (Max)/12 mini, iPhone 11/11 Pro/11 Pro Max, iPhone X/XR/Xs/Xs Max, iPhone 8/8 Plus, iPhone 7/7 Plus, iPhone 6/6S/6 Plus, iPad, iPod touch, etc.
It won't let out your privacy.
How to store iPhone WhatsApp messages to a computer with WhatsApp Transfer?
Step 1. Launch WhatsApp Transfer on your computer
Install and run the WhatsApp Transfer tool on a computer after the download. Click the "WhatsApp Transfer" tab from the primary screen.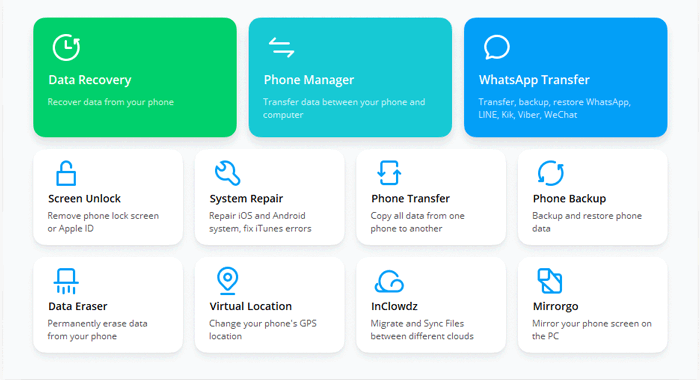 Choose "WhatsApp" > "Backup WhatsApp messages". Next, link your iPhone to the computer via USB, and the tool will recognize your device soon.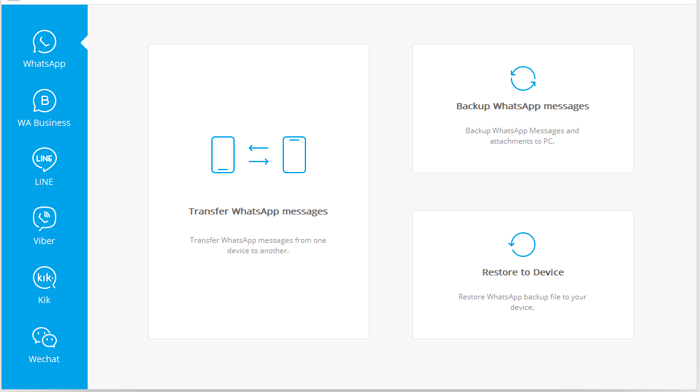 Step 2. Scan and back up your WhatsApp data
WhatsApp Transfer will detect your iPhone device and start to run a scan on it. Once done, the utility will back up your WhatsApp automatically.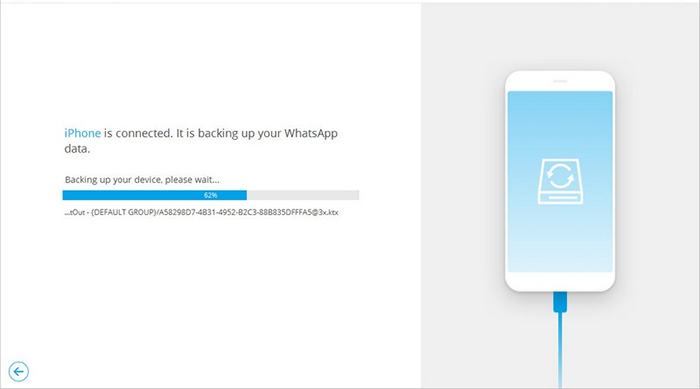 Step 3. Choose WhatsApp chats
After the backup, you can tap "View" and preview the backed-up WhatsApp data. All the backups in your system will be displayed. Then you can hit "View" again from the list and click the "Next" button.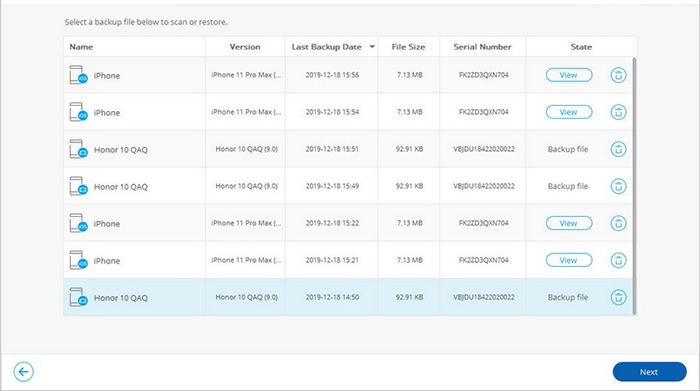 Step 4. Store iPhone WhatsApp messages to the computer
On the incoming window, you can preview and confirm the chat list as well as WhatsApp attachments you want. Finally, please click "Recover to computer" to back them up on this computer.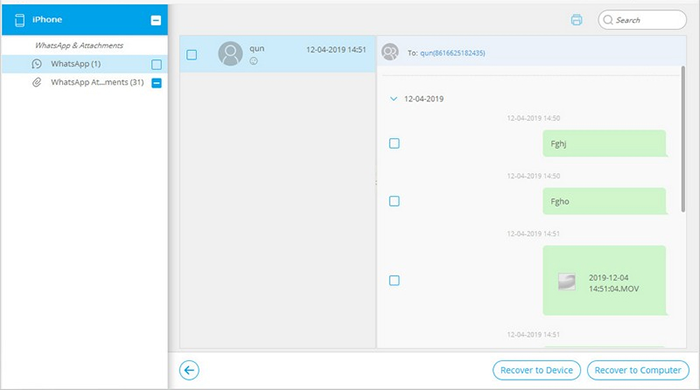 FAQs about WhatsApp Messages
Q1: Is it possible to recover old/deleted WhatsApp chats?
The answer is definitely yes. The best way to do it is to uninstall and reinstall WhatsApp. After that, you'll be prompted to restore the backup, which holds your old WhatsApp conversations. Provided that you set your backup frequency to daily, you are unlikely to lose many conversations. (How to recover 1-year-old WhatsApp messages without backup? (iOS & Android)
Q2: How long are conversations stored on WhatsApp?
Chats are held on WhatsApp servers for 30 days when they are not received after being sent. Namely, while you send a message, it is deleted from its servers once received. But if it is not received, it is stored for 30 days and automatically deleted when it's due.
Q3: What types of data aren't stored on WhatsApp servers?
WhatsApp doesn't store any messages or multimedia on its online servers to preserve the privacy of its users. Encrypted files can be kept on the phone locally or external storage such as a hard drive on your PC or a cloud service.
Summary
As we mentioned in the preface, knowing "where are WhatsApp messages stored on iPhone, Android, PC" is to find a great way to back up important WhatsApp conversations on a device. Further, WhatsApp Transfer is the most secure and flexible tool to help perform the backup and restore anytime you want. Therefore, just give this program a download before trying it out on your own.
Related Articles:
How to Recover Deleted WhatsApp Videos from Android & iPhone?
How to Back Up WhatsApp from iPhone to PC? It's as Easy as Pie
[Solved!] How to Save WhatsApp Messages from Android to PC?
How to Access WhatsApp Backup on Local, Google Drive, iCloud, etc.?
3 Ways to Save Photos from WhatsApp to Android Gallery
Where Are Texts Stored on Android? SMS Location, Backup, Recovery, etc.