What's the Best Alternative to Cisdem iPhone Cleaner?
Summary: Cisdem iPhoneCleaner cannot satisfy all your needs? Want to get an alternative to better serve you? In this passage, you will get a top-notch Cisdem iPhoneCleaner alternative. Just read the passage to know more.
The longer you use your device, the more files you save on your iPhone, the slower it will run. Now, you are facing a memory issue and possibly you would try every means to free up more space on your device and speed it up. After searching on the internet, you will find many solutions and Cisdem iPhoneCleaner is one.
It is a tool for iPhone, iPad and iPod users to clean up all hidden cache files and many other junk files, so as to free up as much space on your device. But according to many user feedbacks, using this software is quite troublesome since the process is too time-consuming. Also, the user interface is a little complex, which could be a big headache especially for those software novices. And the biggest disadvantage of this software is that it is only available for Mac users. That's why many users are looking for an alternative to Cisdem iPhoneCleaner!
Related: iPhone Cleaning Apps You Can't Miss
Here to Get Best Cisdem iPhoneCleaner Alternative
If you are looking for a substitute for Cisdem iPhoneCleaner, this MobiKin Cleaner for iOS (Windows/Mac) software surely can't be missed. Below are the major reasons why this is the best alternative:
- This software has two versions, i.e. Windows and Mac versions to accommodate different users.
- With it, all junk files can be easily removed, including app caches, app crash logs, video caches, photo caches, download temp files and many more.
- This software is fully compatible with all devices of iOS operating systems, including the latest iPhone 7/7 Plus.
- With this almighty software, you can easily free as much space as you can and optimize the device to the best.
- Unlike other professional software with complex user interface, this software has a simple user guide, allowing you to effortlessly clean up your device within 1-2-3 steps.
To name just a few. Want to know more, why not just get the free trial version of this software and give it a try by yourself?
Steps to use this software:
- Make sure to download the right version of this software on the computer. Then open the installed software on the computer and link your iPhone to the computer via the USB cord. Now, you will see the below interface where different modes are arranged on the main interface. Choose the Quick Clean mode and hit the Start option to continue the process.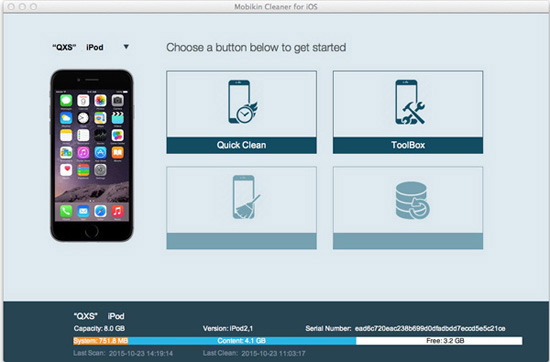 - Now, this software will scan through your device and display all file folders on the main interface. You can now enter the right tab to select the files that you want to clean. Or you can directly tick out the Select All option and then hit the Clean option to begin the process.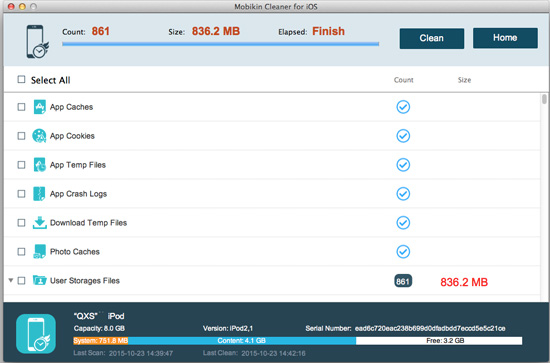 - Finally, on the promo dialogue, remember to hit the OK option to confirm your action.
See, just within 1-2-3 steps, you can easily clean up all useless files from your device and free up as much space on your device. So still stuck in memory issue? Just let this all-in-one software help you out!
Related Articles:
[Fixed!] How to Permanently Delete Text Messages on iPhone?
3 Ways to Delete Photos from Samsung Galaxy Permanently in 2023
How to Permanently Delete Text Messages from My Android Phone?