How to Wipe Photos off Samsung Galaxy S9/S8/S7 Permanently
When you are going to buy a new smart phone, you might be wondering how to erase the data from the old Samsung Galaxy. Thus you can gift the phone to someone or sell it through portals such as eBay but still keep your personal information safety. So here in this article, you are luckily offered the guide to erase the photos from Samsung Galaxy S9/S8/S7/Edge/Note 4/5/6/7/8 permanently.
Solution 1. Delete Photos/Albums from Samsung Galaxy S9/S8 Manually
As we all know, all the photos and pictures that you captured with your phone or download from web are all saved in the Gallery app. You can open the Gallery app to view all the photos you stored in your Samsung Galaxy. You can delete photos from the Gallery directly. But you should be aware that deleted photos can be recovered by Android data recovery software (See how to recover photos from Samsung phones), so it would be ok if you only need to free up your phone storage space.
1. Turn on your Samsung Galaxy phone and go to click the Gallery app.
2. All the pictures and photos will be displayed here. Just select the photos or albums that you want to delete.
3. To remove specific photos from your Samsung phone, you should long tap on the photo (or directly tap on the three dotted icon from the top right corner). Then, tap on the "Delete" option to remove the photos from your Samsung phone.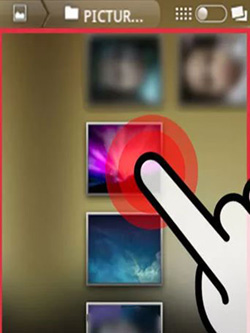 4. To remove albums from your Samsung phone, you should long tap on any folder and click the trash icon showing on the top right corner. Then, choose "Delete" option and the selected album will be wiped away from your phone.
Solution 2. How to Wipe Photos off Samsung Galaxy Permanently?
If you want to wipe off old photos in your Samsung Galaxy phone or Samsung Galaxy Note, even though you can delete them manually, it will disappear completely. Because there is a available data recovery tool to recover old data from phone systems. So, if you wish to remove old photos and other data from your phone with zero opportunity to restore, you'd better to opt for a professional Samsung Photo Eraser software, which also called Android Data Eraser tool.
With it, you can quickly and permanently delete any data off Samsung Galaxy as you like, such as photos, videos, contacts, text messages, and so on. But the problem here is how to find a proper data erasing software as your assistant. Have no idea about it? It will provide users with 3 different erasing levels to wipe the whole contents & settings on your Samsung or other Android devices.
The Samsung Photo Eraser software is available in any technical forums. Hence, as per the operating system that works on your desktop, you could opt for the Window or the Mac version of the same.
Then, how can I wipe photos off Samsung Galaxy Note/S permanently with the help of Android Data Eraser?
Step 1. Launch the software and connect device to pc
Once the software is downloaded on your computer, you need to launch the program with the Samsung device connected to your desktop.
Once the connection is established, you need to click the "Erase" button on the interface.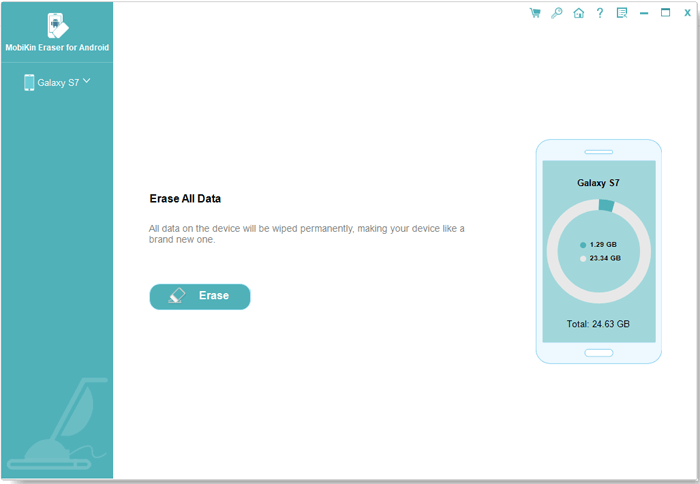 Step 2. Select erasing mode
Tap the the word "Medium" that is next to "Security Level:" and then a window will pop up. In this window, you can select the security level as you like and click "OK" to confirm your option.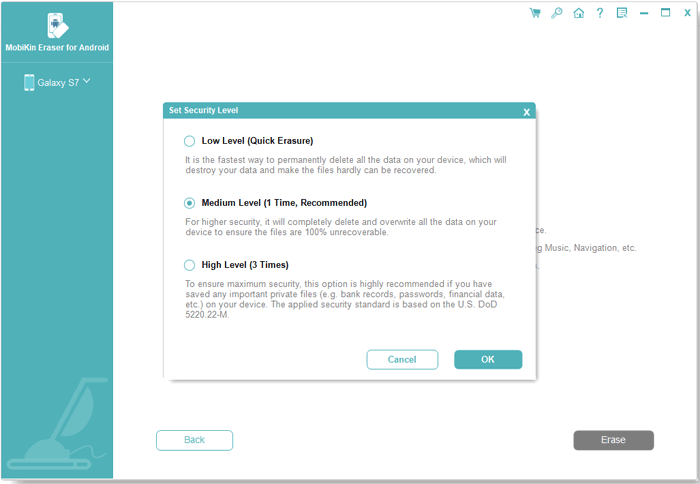 Step 3. Start to erase photos from Samsung
Type in "delete" on the "Erase All Data" interface and then hit "Erase" to begin the erasure.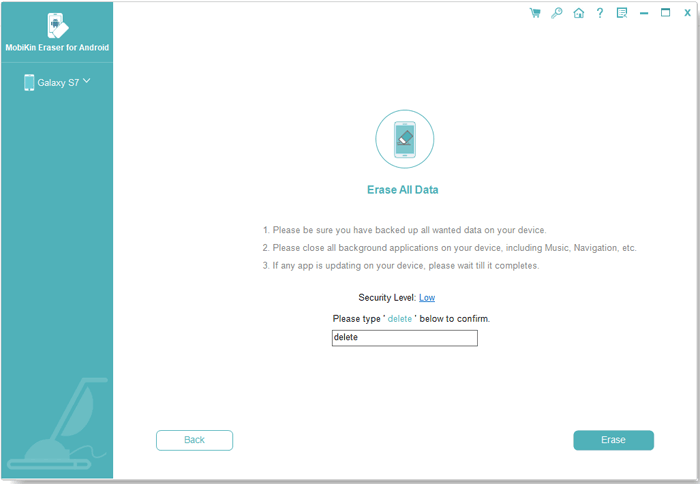 Once the tool has completed its operation, your old Samsung Galaxy phone or Note will be free of old data. All deleted or erased photos will never be restored by any 3rd-party program.
Solution 3. How to Delete Photos from Samsung Cloud?
If you have ever uploaded your photos on Samsung Cloud, you can easily restore the backup files from Samsung Cloud to your Samsung phone. Therefore, if you want to remove photos permanently, you need to delete them from Samsung Cloud.
The steps of deleting photos from Samsung Cloud are pretty simple. Please follow the instructions in the below:
1. Go to Settings on your Samsung phone and choose the options of "Cloud and Accounts" -> "Samsung Cloud".
2. Then tap "Manage Cloud Storage". After that, all data on Samsung Cloud will be displayed on the screen.
3. Tap Gallery and you can remove or delete photos stored on Samsung Cloud.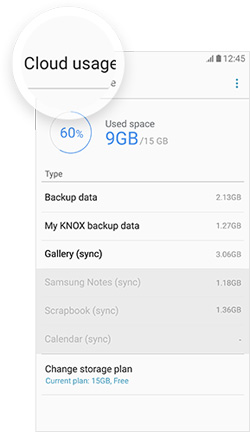 Our Verdict:
After reading the methods shared in this article, you should know how to quickly remove unwanted photos from your Samsung Galaxy S9/S8/S7/S6, Note 8/7/6/5 phone. As I mentioned above, if you just want to make more room for your phone to store other data, any one method is right for you. However, if you want to get rid of the device, it is recommended to use Android Data Eraser to permanently delete data in order to protect the security of your personal data from being compromised.
Related Articles:
How to Erase iPhone Data without Restoring Permanently
How to Wipe Data on Android Devices Easily