How to Delete Podcasts from iPhone 14/13/12/11
Podcasts are a great app that is commonly used to jointly download audio programs over a network for playback on a computer or smartphone. iPhone podcasts are still very popular today, as it allows you to stay up-to-date or get meaningful content that interests you, giving us a lot of enjoyable time in everyday life. However, many people always forget to delete podcasts from iPhone after watching. Over time, more and more podcasts have accumulated on the iPhone, and the storage space is also growing. You might consider removing some podcasts from your iPhone to add new content.
However, deleting podcasts from the iPhone is tricky. Despite this, we have developed three effective ways to remove podcasts from the iPhone XS/XS Max/XR/X/8/8 Plus/7/6S/6. Please review these tips as below.
Way 1: Manually Delete Podcasts from iPhone (Recoverable)
If you have a small number of podcasts that need to be removed from the iPhone and you are not at your computer, you can delete them directly on your iPhone. This method does not require an internet connection and does not require the use of third-party applications. But it will be a little bit tedious and time consuming.
Part 1: Delete Individual Podcast Episodes on iPhone
1. Open the "Podcasts" app from the home screen of your iPhone.
2. Go to the bottom area and tap the "My Podcasts" tab.
3. A list of saved podcasts on your iPhone will appear.
4. Find the episode you want to delete in the list.
5. Swipe an entry from right to left across the episode's title to summon the "Delete" button.
6. Click the "Delete" button to deletes the episode from your iPhone and repeat this process to eliminate the others.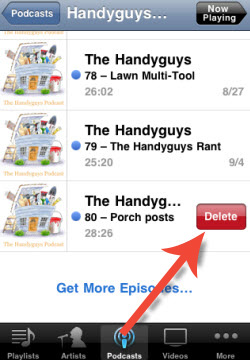 Part 2: Delete Entire Podcasts from iPhone
1. Turn on your iPhone and start the Podcasts app on the iPhone's home screen.
2. Go to choose "My Podcasts" tab from the bottom.
3. Turn to the top ribbon to choose the "Edit" menu.
4. Tap the "X" box in the upper left corner of the desired podcast to delete it.
Part 3: Delete Podcasts from iPhone Using Settings App
1. From the home screen of your iPhone, choose "Settings" > "General" > "Storage & iCloud Usage" and select "Manage Storage" under the Storage area.
2. From the app list of storage, choose "Podcasts" and open the "Info" screen.
3. Locate to the podcast that you want to delete from iPhone and swipe from right to left over it to summon the "Delete" button.
4. Tap on the "Delete" button to delete the desired podcast from iPhone.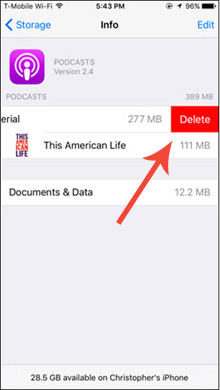 Also Read:
* How to Delete Playlists on iPhone and iPad
* Different Ways to Clear iPhone YouTube History
Way 2: Remove Podcasts from iPhone with iTunes (Recoverable)
iPhone users can use iTunes to search for podcasts they like, and download podcast episodes to the Podcasts app on the iPhone, or use iTunes to download podcasts to the iTunes Podcasts Library and play them on a computer. Similarly, you can use iTunes to delete podcasts from your iPhone.
Step 1. Plug your iPhone in to PC using USB cable and launch iTunes.
Step 2. Go to devices tab from the iTunes screen and click your iPhone.
Step 3. Choose "Podcasts" tab and click the option of "Sync Podcasts".
Step 4. Uncheck all the saved podcasts that you want to erase and click the "Apply" button.
Step 5. Eject your iPhone safely to disconnect it from PC.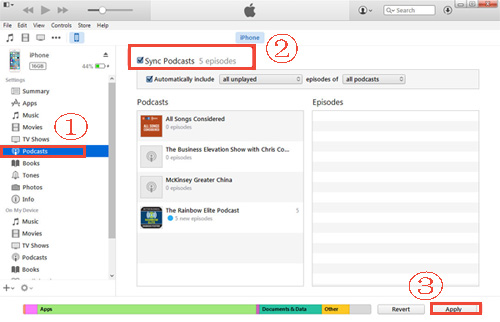 Disadvantages:
Deleting podcasts from iPhone or using iTunes to delete podcasts from your iPhone cannot really make these podcasts disappear. This means that if you use the professional iPhone data recovery tool, these "deleted" podcasts will be restored again. If you not only need to remove podcasts on your iPhone to save space, but also want these podcasts to be permanently deleted, try a more professional tool like below:
Way 3: Delete Podcasts from iPhone in Batch Permanently (100% Unrecoverable)
Using MobiKin Eraser for iOS (Windows/Mac) will help you delete podcasts from your iPhone permanently and effectively. All the files on your iPhone/iPad/iPod that are deleted by the Eraser for iOS can be erased for good, and no one can restore them back by using any data recovery tool. Apart from podcasts, this all-in-one iOS data eraser also allows you to permanently delete other file types from your device, including photos, contacts, emails, reminders, documents, apps, passwords and other mobile data.
This application works with all iOS devices, such as iPhone Xs/Xs Max/XR, iPhone X/8/8 Plus, iPhone 7/7 Plus, iPhone 6s/6s Plus, iPhone 6/6 Plus, iPad Pro, iPad Air, iPad mini, iPad 2, etc. It offers three data erasing levels for you to choose. Now, free download the program via the buttons and follow the steps below to remove unwanted podcasts from iPhone in batches permanently.
Step 1. Connect your iPhone to computer
Launch the installed Eraser for iOS on your computer and connect your iPhone to the computer using a USB cable. After automatic device recognition, you will find the basic information of your iPhone displayed on the main interface.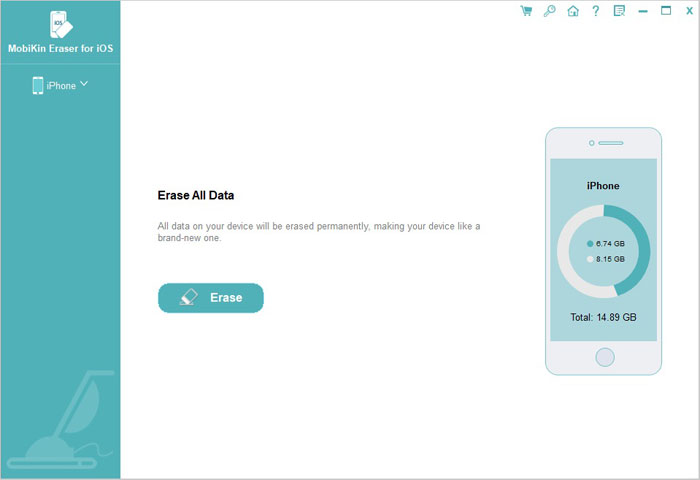 Step 2. Select security level you need
Just tap on "Erase" button on the interface to proceed to the next step. After that, you will be allowed to choose a security level you need by clicking on "Medium", which will bring out a window for you to choose the appropriate data erasing level from low, medium or high.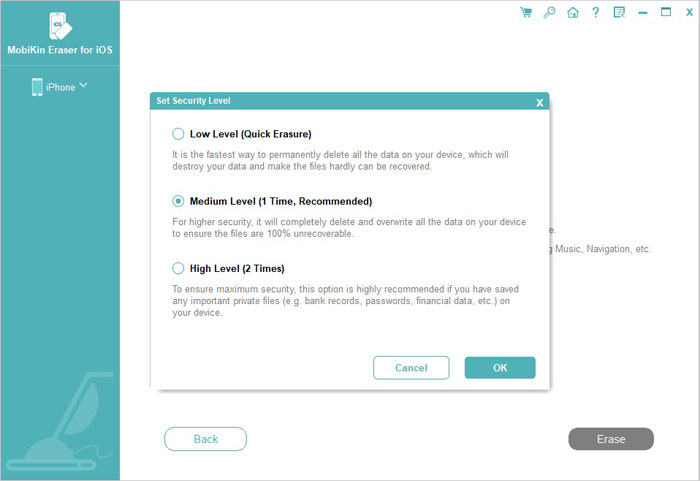 Step 3. Start to delete podcasts from iPhone
Choose the right erasing mode according to your need and type in "Delete" in the input box. Finally, tap on "Erase" button and wait until the wiping process completes.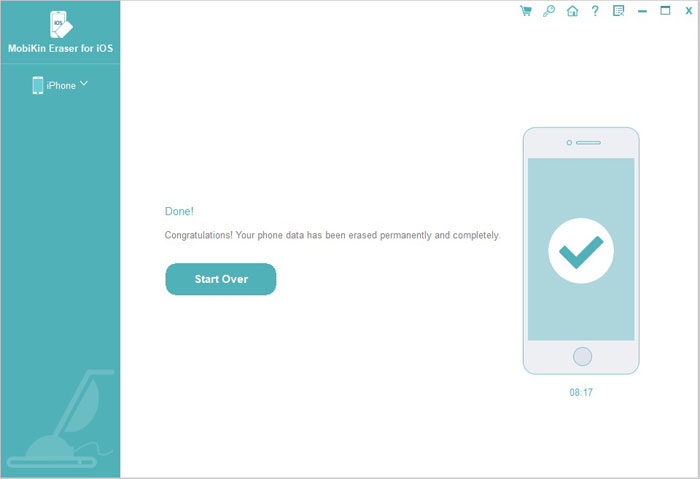 Note: Please do not plug out your device during the erasing process and when the erasing process ends, your iPhone will be restarted.
Bottom Line:
As mentioned above, there are many ways to remove podcasts from your iPhone. Many people often use the first method to quickly delete podcasts, and others will use iTunes to delete them. But with Eraser for iOS, the chances of deleted files are zero. It is the best choice for privacy protection and efficiency. It is recommended that you recommend this software to users who want to completely remove iPhone podcasts.
Related Articles:
5 Dependable Methods to Permanently Delete Photos/Pictures from Android
[Fixed!] How to Permanently Delete Text Messages on iPhone?
2 Ways to Delete Voicemails on iPhone