5 Dependable Methods to Permanently Delete Photos/Pictures from Android
As time passes, our Android devices accumulate not just treasured moments but also redundant or blurry images. Whether you're preparing to wipe Android phone before selling or simply seeking a thorough cleanup, the need to delete photos arises. The desire for privacy protection intensifies, urging us to remove all traces of our personal moments before passing the device on.
This guide is crafted to address precisely how to permanently delete photos from Android. We shall walk you through five effective methods to make your phone pictures disappear completely.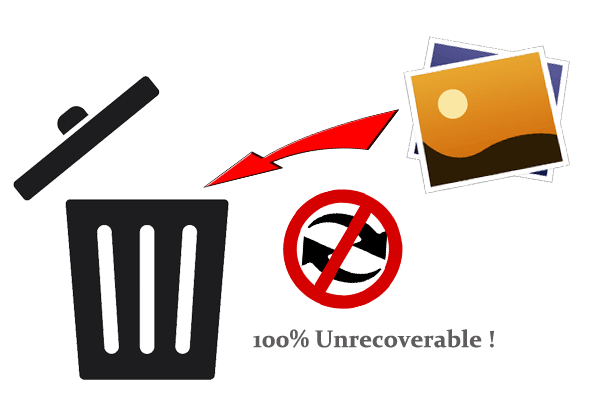 Part 1: How to Permanently Delete Photos from Android via Doctor Eraser for Android (Unrecoverable)
If you intend to give away your old Android phone, don't overlook the importance of wiping all data, not just photos. Even after a factory reset, some private information may still linger on your device. To ensure complete and irreversible erasure, you're recommended to utilize a specialized Android erasing program like MobiKin Eraser for Android without worry.
Main features of MobiKin Eraser for Android:
Permanently delete photos from Android without a trace.
Wipe out both Android internal memory and SD card.
It also erases other data types on Android, including contacts, SMS, call logs, videos, and more.
Come with 3 erasing levels named "Low", "Medium", and "High".
A full-fledged file wiper for almost all Android devices, including Samsung, Motorola, OPPO, Huawei, Xiaomi, HTC, LG, Google, and more.
100% safe to use.

How do you permanently delete photos so that they cannot be recovered? See how to make it with MobiKin Doctor for Android:
Step 1. Install and run Eraser for Android
Get the Eraser for Android program on your computer. Install and launch it and connect your Android device to the same computer through a USB cable. Next, ensure USB debugging is enabled as instructed.
Note: Since this data eraser will delete all your Android content without being recoverable, you might as well back up your Android phone to a PC/Mac for secure preservation.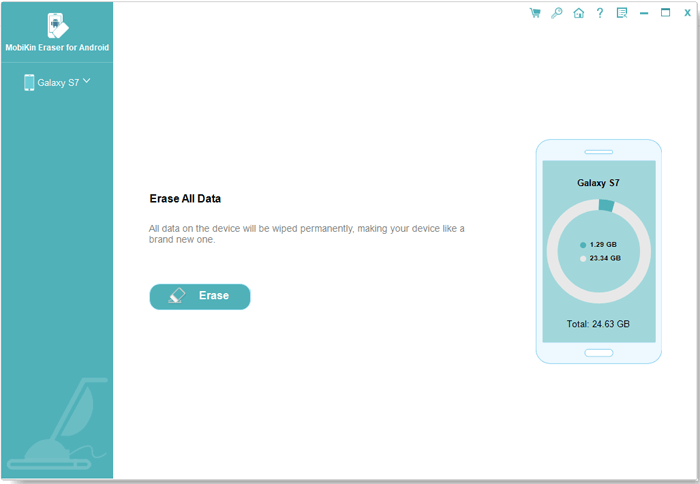 Step 2. Select and confirm the security level
Once your smartphone is detected, click the "Erase" button to proceed to the next window. Choose the desired security level and enter "delete" to confirm.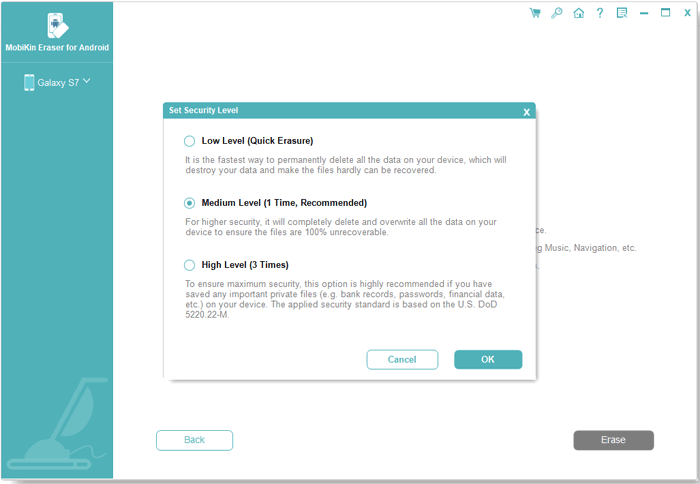 Step 3. Permanently delete photos and other data from Android
Click the "Erase" option to remove all data from your Android phone, including all photos. Wait for the erasing process to complete within a short period.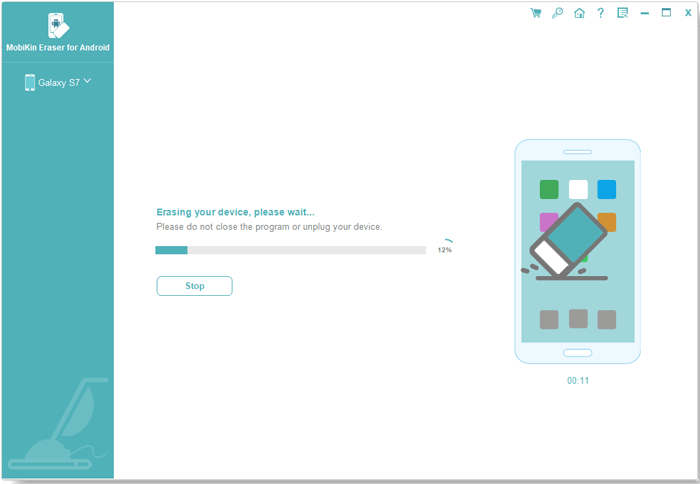 After data erasure, it is recommended to conduct a factory reset on your Android device to clear system data and settings. Follow the prompts for the reset, click "Continue", and all data will be permanently deleted from Android.
You Might Find Them Appealing:
Part 2: How to Delete Pictures Permanently from Android Using Google Photos
Google Photos, developed by Google, is a photo-sharing and storage service. Most are familiar with the basic option, but for those who may not know, your phone's gallery has a Bin or Trash folder that retains deleted photos. Similar to a PC's recycle bin, it's essential to clear this folder after deleting photos. Here's how you can do it:
Launch the Google Photos app on your Android cell phone and log in to your Google Account.
Navigate to the "Library" tab located at the bottom of the screen.

Pick the specific photo(s) or video(s) you wish to permanently remove.
Click on the "Trash" icon positioned at the top-right corner of the screen.
Press "Select" at the top-right corner of the screen.
Choose the files you intend to erase permanently.
Tap the "Delete" icon found at the bottom-left corner of the screen.
Confirm your decision by tapping "Allow".
How to permanently delete photos from Android via Google Photos Web?
Go to photos.google.com on your desktop browser.
Open the desired photo.
Click the "Delete" button in the upper-right corner and confirm.
Choose "Move to trash" for immediate removal from the gallery.
Access "Trash" from the left sidebar.
Select the recently deleted photo.
Click the "Delete" button in the upper-right corner to completely erase the picture. Even so, you can still recover permanently deleted photos from Google Photos afterward.
Part 3: How to Permanently Delete Photos in Android Gallery
The Gallery app is the default location for all cameras and other photos. You can now delete multiple or all photos at once. And if you make a mistake, it's easy to recover and restore them from within.
How to permanently delete photos from Android Gallery?
Open the Gallery application on your Android mobile.
Press the "Menu" button.
Select "Camera Roll" to view all your Android images.
Tap the three-dots button > "Select" > Mark the photos you wish to delete.

Click the "trash" sign and confirm by selecting "OK".
See More:
Part 4: How to Permanently Delete Pictures on Android by Factory Reset
Suitable for situations like selling your phone to its next owner, a factory reset lets you erase all data, but it can still be recovered. To ensure irrecoverability, enable encryption before resetting. Remember to back up important data before proceeding, as this option deletes all data on your phone. Here are the directions for this way:
Access your "Settings" from your Android device.
Navigate to "System" and select "Advanced".
Click on "Reset Options", then choose "Erase All Data (Factory Reset)".

Proceed by clicking "Reset Phone".
Enter a password or PIN when prompted.
Finally, tap "Erase Everything" to start the factory reset. Likewise, users can still recover photos from Android after a factory reset without a backup.
Part 5: How to Delete Photos from Android Permanently by Enabling Hardware Encryption
Hardware encryption safeguards data at the device level using a dedicated processor, either integrated into the main processor or as a separate coprocessor. This physically distinct processor ensures quicker and more secure encryption than software-based methods.
How to delete pictures permanently from Android by turning on Hardware Encryption?
Navigate to "Settings" on your Android phone.
Select "Security" and tap "Encrypt phone". (In some Android versions, you may need to proceed to the "Advanced" > "Encrypt & credentials")

Connect your device to a charger if the battery is low, for this task may take almost an hour.
Once done, tap "Encrypt phone" again. If unsuccessful on the first attempt, try the process a few more times.
In a Nutshell
Do not underestimate the importance of maintaining the confidentiality and security of your pictures. Our galleries contain highly personal and intimate images that could potentially cause trouble if they fall into the wrong hands. As such, to free up phone memory, you can use any of the methods mentioned. However, if you intend to give the phone to someone else while ensuring complete privacy and peace of mind, it's crucial to use MobiKin Eraser for Android to delete all content permanently.

Related Articles:
3 Tested Ways to Wipe Android Phone Permanently before Selling It [with Hot Tips]
4 Techniques to Recover Photos from Old Google Account on Android [2023]
5 Sensible Approaches to Transfer Photos/Pictures from Android to Android
6 Most Recommended Ways to Transfer Photos from Android to iPhone 15/14/13/12/11/X/8
6 Strategies on How to Recover Permanently Deleted Photos on Android
7 Ways to Transfer Photos/Pictures from Computer to Phone (iOS & Android)