How to Delete Playlists on iPhone and iPad
iPhone users can create different playlists to play their favorite songs based on their personal preferences. Having your own playlists has many benefits, and you can listen to tracks from different artists and genres on specific occasion, such as a party, a road trip or in the mornings going to office, with a single click. But when you get tired of these playlists that have been played many times, you may want to delete playlists on iPhone Xs/Xs Max/XR/X/8/8 Plus/7/6S to make room for new playlists for a better music experience.
However, some users will encounter some problems when deleting playlists on the iPhone. The most common problem is that users can't delete playlists from the iPhone, which is very annoying. Normally, the iPhone does not allow you to delete native playlists from your iPhone. But in fact, there are several ways to remove playlists from your iPhone. In this article, we'll cover three ways to delete iPhone playlists easily.
Way 1: Delete Playlists on iPhone Directly (Recoverable)
You can remove playlist from the Music app on your iPhone directly. Follow these simple steps:
Step 1. First of all, open up the "Music" app on the homepage of your iPhone.
Step 2. Tap on the Playlists from the bottom of the screen and choose the playlist that you want to delete from your iPhone.
Step 3. Swipe from right to left and it will show the red delete button.
Step 4. Tap on the "Delete" button to delete the selected playlist from your iPhone.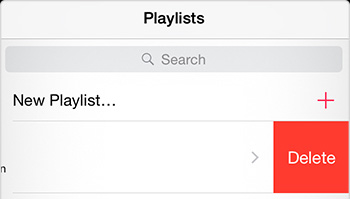 By the way, if you want to delete all music files from your iPhone, you can follow the detailed steps like:
Go to click "Settings" > "General" > "Storage and iCloud Usage" > "Manage Storage" > "Music". Swipe left on "All Songs" and then tap on "Delete" button to erase all music files from iPhone. Here is a detailed guide to tell you how to erase songs from iPhone.
Also Read:
* Guide on How to Erase Music Songs from iPhone
* Different Ways to Clear iPhone YouTube History
Way 2: Remove Playlists from iPhone with iTunes (Recoverable)
You can also use iTunes to delete playlists from your iPhone. However, due to the sync feature of iTunes, if you have turned on automatic syncing of iTunes, once connected to your computer, the iPhone will sync with iTunes. So be careful when using iTunes to delete iPhone playlists. This section will show you how to use iTunes to delete playlists from your iPhone.
Step 1. Connect your iPhone to your computer with a USB cable and iTunes will start automatically. If iTunes does not start automatically, you can manually launch it on your computer.
Step 2. After iTunes detects the connected phone, you need to click the iPhone icon on the left sidebar of iTunes. Then continue to select a music category in the left sidebar.
Step 3. You can see all the playlists you have created. At this time, you need to select "Sync Music", then just select the playlist you want to keep on the iPhone, click the "Sync" button in the lower right corner.
Once the sync is complete, only the playlists you need are kept on your iPhone.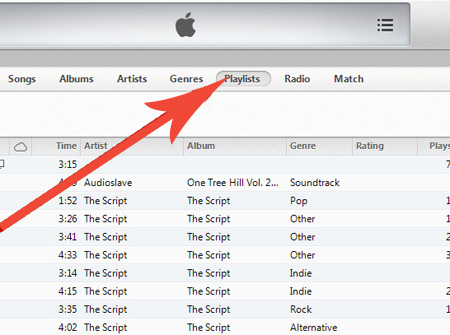 By the way, you can also use the following steps to use another way to delete the iphone playlist using iTunes:
Step 1. Open iTunes and click the music icon in the upper left corner of the iTunes screen. Then you can see all the playlists you have created.
Step 2. Select the playlist you want to delete, right click on it, and then click on "Delete".
iTunes will ask you to confirm if you want to delete the playlist. Deleting a playlist does not delete any songs from your computer. After that, sync your iPhone with iTunes.
Way 3: Delete iPhone Playlists Permanently with Eraser for iOS
If you want a permanent way to delete iPhone playlists, you can use the MobiKin Eraser for iOS (Windows/Mac). This program is specially designed to help iPhone/iPad/iPod users to permanently delete playlists from iOS devices. Apart from playlists, this one-stop iOS data eraser also allows you to permanently delete other file types from your iDevice, including contacts, messages, photos, videos and many more. It even provides three different erasing levels for your choice.
Unlike the two methods I mentioned above, data deleted using MobiKin Eraser for iOS cannot be recovered any more. This software is compatible with almost all generations of iPhone, iPad and iPod, such as iPhone Xs/Xs Max/XR, iPhone X/8/8 Plus, iPhone 7/7 Plus, iPhone 6s/6s Plus, iPhone 6/6 Plus, iPad Pro, iPad Air, iPad mini, iPad 2, etc.
Free download the program via the buttons and follow the steps below to remove outdated playlists from iPhone permanently.
Step 1. Connect your iPhone to computer
Launch the installed Eraser for iOS on your computer and then link your iPhone or iPad to the computer via the USB cord. Once connected, you will find the basic information of your iPhone displayed on the main interface.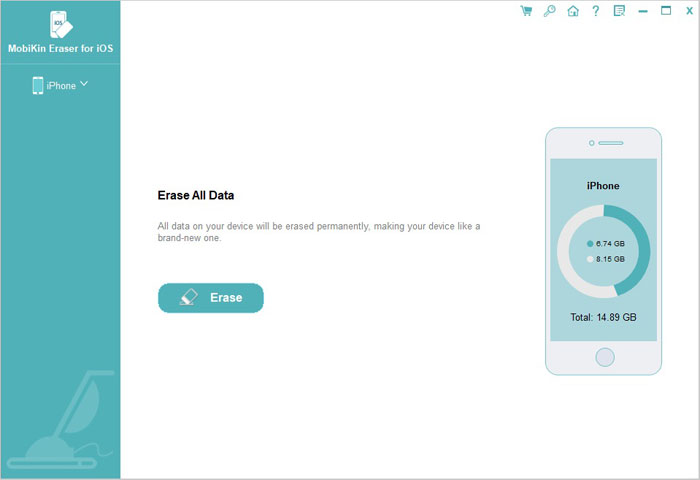 Step 2. Select security level you need
Just tap on "Erase" button on the interface to proceed to the next step. After that, you will be allowed to choose a security level you need by clicking on "Medium", which will bring out a window for you to choose a level: Low - Medium - High.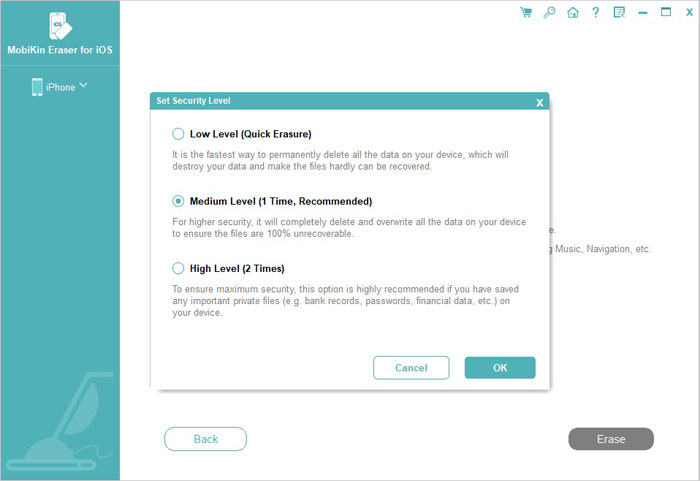 Step 3. Start to delete playlists from iPhone
Choose the right erasing mode according to your need and type in "Delete" in the input box. Finally, tap on "Erase" button and the program will begin to erase the connected iPhone or iPad.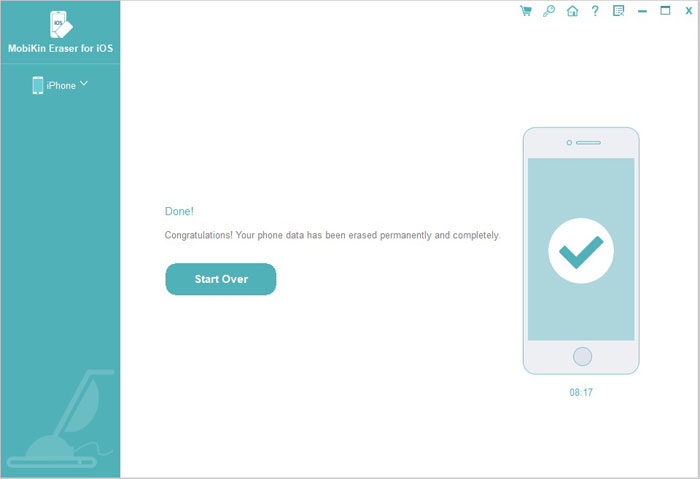 Please do not plug out your device during the erasing process and when the erasing process ends, your iPhone will be restarted.
Bottom Line:
With the help of the three mentioned methods, you are able to delete playlists from iPhone with ease. You must be comparing the pros and cons of these three methods, and you want to choose the method that works best for you. Well, besides playlists, MobiKin Eraser for iOS is also capable of deleting photos, ringtones, videos, and more from your iPhone/iPad/iPod quickly. Have a try on Eraser for iOS now. If you have any questions on this post, you can leave a comment in the sections below.
Related Articles:
Permanently Delete Emails on iPhone/iPad
Free up Enough Space on iOS 9 Devices