How to Clear iPhone Facebook Caches on Windows or Mac OS X
Q: I have noticed that various apps on iOS (iPhone), like FB, Twitter, etc, have a cache and it keeps increasing over time. I have tried everything & searched everywhere for a way to clear those caches, but to no avail. Only option I've been able to find is by uninstalling & reinstalling the app. Any other way to clear the app cache, HELP?
It is not an unique situation to find the fact that apps on iOS always generate caches and it keeps increasing over time. Actually, this is not the headache that only happens to iOS users, but also troubles other smart phone or tablet users frequently. People always find that their phone's storage space are occupied by a large amount of caches which generated by all kinds of applications, so in order to free up more space, more and more users wish to find a way to wipe these app caches on iPhone or other devices. We know that Facebook as the most popular social connecting network, have attracted people all over the world. So as the most frequently used app on your iPhone, it must has created lots of caches and you need to wipe them out, right? That's why we write this article here. We could like to show you an extremely simple way to clear Facebook caches on iPhone 14/13/12/11/XS/XR.
Part 1. How to Clear Cache from Facebook App
Part 2. Delete Facebook Cache from Settings
Part 3. Clear iPhone Facebook Cache with 3rd-Party Tool
1. Clear Cache from Facebook App
- Launch Facebook app on your phone and then tap on More option on the bottom.
- Choose Settings and then Account Settings option from the drop-down menu.
- Tap on Browser to Browser Settings page.
- Click on Clear Data option to conitnue the process.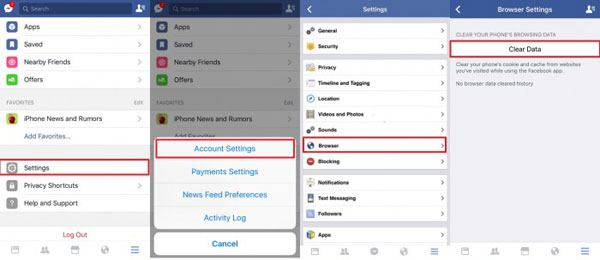 Once the process is done, you have successfully deleted Facebook caches on iPhone/iPad/iPod.
Related: How to Delete Safari Bookmarks on iPhone
2. Delete Facebook Cache from Settings
You can also delete Facebook cache by uninstalling Facebook app and then install it again.
- Open your iPhone and navigate to Settings tab.
- Go to General > Usage > Manage Storage > Facebook.
- Then hit the Delete App option to continue the process.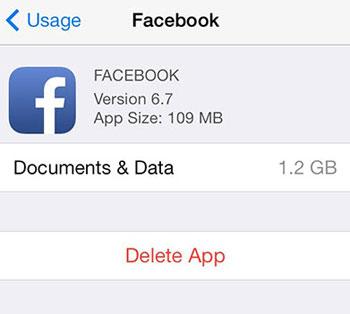 Now, the Facebook app as well as all cache data will be removed from your iPhone. After that, you can install the Facebook app on your device over again.
3. Easier Way to Clear iPhone Facebook Cache
And if you want to get an easiet way to delete all Facebook caches on iPhone as well as other useless junk files like app caches, app crash logs, photo caches and many more, you can rely on this MobiKin iOS Data Cleaner (Windows/Mac). With it, you can easily clear the caches generated by FB, Twitter, YouTube or any other applications with one simple click. And it allows users to delete data like contacts, apps, messages, notes, etc. from your iPhone without restrictions. After using it, you can release your iPhone memory with one simple click. Cool, right? Now, just click the below icon to take a free trial.
Steps to Clean Facebook Caches on iPhone 7/6/5S/5/4S
Step 1. Run the program and make your iPhone detected
Let's assume that your iPhone is connected to computer, and you can launch the best iPhone APP Cleaner after the installation. Then, it will automatically detect the connected device and show you an interface like below: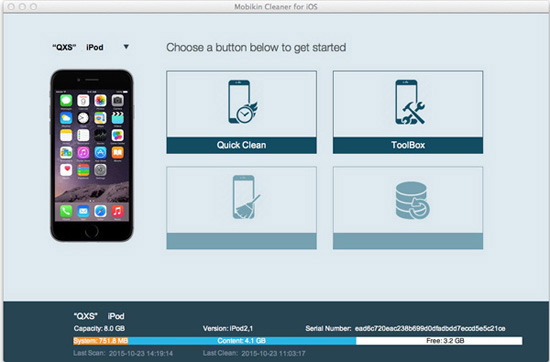 Step 2. Choose the mode to begin scanning for files
Choose "Quick Scan" mode and hit "Start Scan" button to start the whole scanning process and you can check the process in the program as below. Here, you can view the found files and preview them during the process as you like.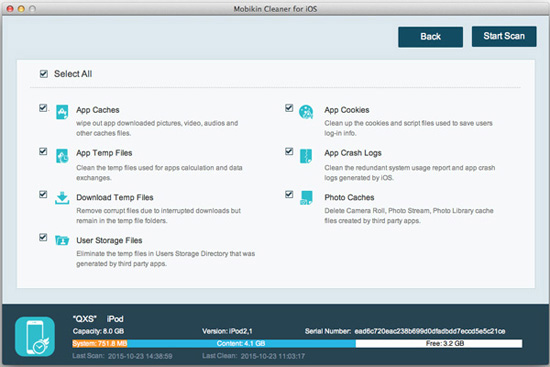 Step 3. Begin to Wipe
Find out the caches you wish to clear and hit "Clean" to start deleting all selected data on your iPhone at once.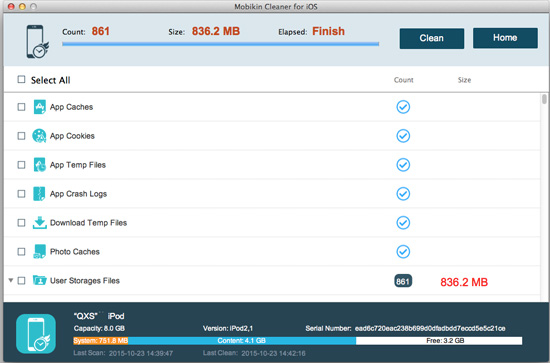 Related Articles:
[Solved] How to Permanently Delete HEIC Photos on iPhone or iPad?
4 Marvelous Ways to Delete Messages from iCloud Storage [Quick Guide]
How to Permanently Delete Text Messages from My Android Phone?