How to Erase iPhone History Completely?
You may have noticed that your smart phone like iPhone will record your searching, contacting, and viewing history on the device automatically, and thanks to these recorded history, you can easily and quickly find your target files in the next time. However, just like the says going "Every coin have two sides". When you're delighted with the easy operation of iPhone, you may also worry about these private iPhone history be leaked out due to lots reasons, especially the risk of losing data become more and more higher in the daily life. Thus, in order to protect your personal iPhone history, you'd better to erase these iPhone history regularly and permanently.
Consideration about Erasing History on iPhone:
First of all, let's figure out what kinds of history you need to clean up.
- Searching history on all kinds of webs;
- Call records;
- Text or other conversations;
- Keyboard history;
- ...
It is no doubt that you can find an "Erase History" or "Clear History" option under every settings, but in most situations, the history deleted in these ways always can be restored with a special iPhone data recovery software. That is mainly because these data are not permanently erased on your iPhone, so your personal info is still facing a high risk of leaking out.
So what will you do now? How to erase iPhone history permanently? Here is a solution for your reference.
How to Erase/Wipe iPhone History on Windows or Mac OS X?
iOS Data Eraser (Windows/Mac) is an iPhone Erasing program, which is not only allows users to erase all kinds of history on the iPhone, but also enables users erase all contents & settings on your iPhone, such as account & password, email address, and so on. Therefore, this tool can greatly protect your personal info in the daily life and work.
Key Functions of the Software:
Now, let's have a brief look on the basic function of this powerful iPhone History Eraser program.
1. Erase all data, or only erase deleted files permanently according to your own needs;
2. Wipe all private data like searching history, call history, text conversations, etc. on iPhone with 1 simple click;
3. Provide users with 3 different erasing levels: High, Medium and Low;
...
Now, let's to start the erasing process on your iPhone X/8/7/6S/6/5, etc. Here, you'd better to backup your iPhone data before erasing to avoid losing files by accident.
Here is the Guide:
Step 1. Connect your iPhone to computer and launch the program to detect your linked iPhone 6S/6/5S/5.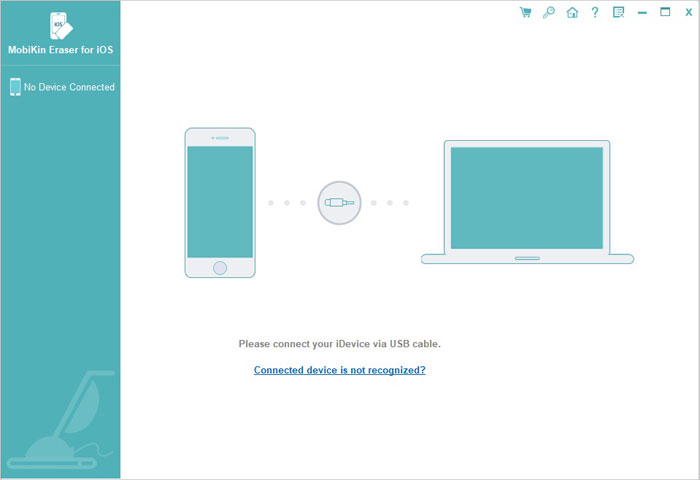 Step 2. Choose the Erase All Data mode according to your own needs.
Step 3. Type "delete" on the box and then decide erasing level and begin the erasing process at once.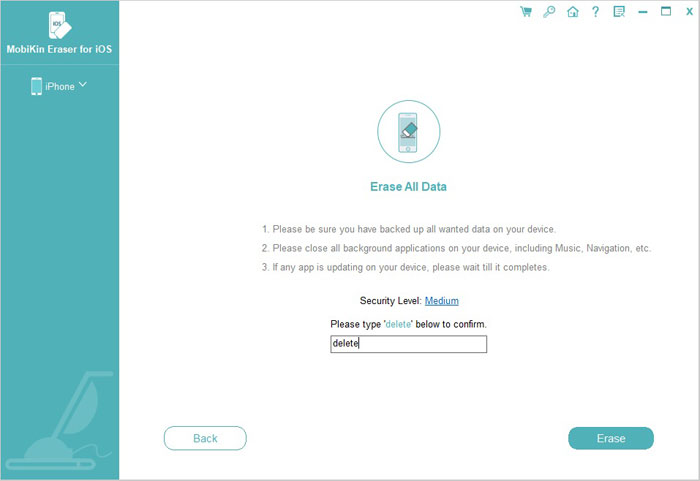 Related Articles:
User Guide: How to Delete Music from Android Phone/Tablet Effectively?
3 Ways to Delete Photos from Samsung Galaxy Permanently in 2023
How to Permanently Delete Text Messages from My Android Phone?