How to Remove Apple ID from iPhone/iPad?
There are more than a handful of reasons as to why people decide to remove Apple ID from iPhone. Deleting previous owner's account to utilize device securely and deleting one's account in order to sell device are two of the most common reasons. Nonetheless, whatever the motive for deletion is, there are steps that one must follow for removal to be successful; thus, conducting this action might seem like a daunting task to undertake, but it is not if you take one of the following effective methods into account.
This article will help you remove the Apple ID from the iPhone, iPad and iPod via different methods.
Tips 1. How to Remove Apple ID from iPhone/iPad in iCloud?
If you know the password for the account that you want to delete on your iOS device, then this method can be of great benefit.
1. Visit "settings" and then tap where there is the photo and name that is linked to account.
2. Scroll down to tap on "sign out". When prompted, confirm you want to delete account from device.
3. Go ahead and enter password. Once this is performed, you will be asked if there is data on device that should be kept. If no, proceed in order for complete deletion to take place.
4. Click on sign out and then sign in with new Apple ID.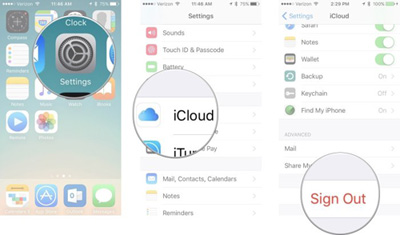 More Useful Articles:
4 Ways to Delete Browsing History from iPad
How to Uninstall Unwanted Apps on iPhone and iPad
Tips 2. How to Remove Apple ID from iPhone/iPad Using iTunes?
If you do not possess a password, this is a method that could work to your advantage. (Since device might get caught in recovery mode, consider this method as a final resort.)
1. Turn off iPhone and then connect it with iTunes on computer.
2. Until iTunes logo is visible on device, hold home button.
3. Now, go ahead and restore iPhone with iTunes.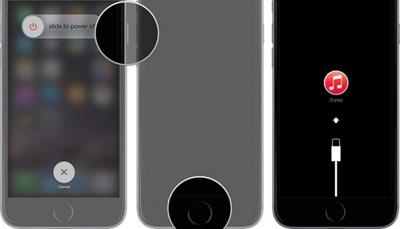 Tips 3. How to Remove Apple ID on iPhone/iPad in Settings?
This method is considered the easiest one to perform in order remove an account once and for all from device. There are only a few steps that one must follow:
1. On device, go to "Settings" and then scroll down to "General". By its side, a new menu will appear. Scroll down to "Reset" and then on the menu that follows click on "Erase all content & settings".
2. Now, visit "Settings" again. Go to "General" and then "Reset" so that you can click on "Reset all settings" right afterward. That is all! After undertaking these steps, Apple ID will no longer be associated with device.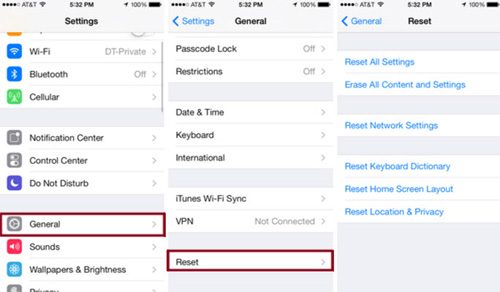 Tips 4. How to Permanently Remove Data from iPhone/iPad?
If you are encountering issues removing Apple ID from iPhone manually or prefer to take a simpler route, then opting for software that could help in this aspect would be a smart move. The market is saturated with an abundant number of software choices that are geared toward removing Apple ID from one's device, making many consumers question as to what solution is the finest in its function. Due to the raving reviews that it has garnered ever since it was introduced to the public, iPhone Data Eraser software has been referred as one of the most useful solutions that have been introduced in recent times.
Main features you can enjoy from the iPhone Data Eraser:
- 1 click to permanently erase your iPhone/iPad/iPod data with zero opportunity to restore;
- Erase selected data in the form of categories, such as contacts, photos, messages and so on;
- Clean up private data with simple clicks and free up spaces on your iDevices.
- Compatible with both iOS and Android device.
Steps to Erase iPhone Data Permanently with iPhone Data Eraser:
It is very easy to utilize iPhone Data Eraser. No experience of any kind required in order to begin taking advantage of the benefits that accompany it. It is a piece of cake to delete data from iPhone using this solution.
Step 1. Both Windows and Mac OS X are supported by it. Once installation has completed, launching it and then connecting device would be the next steps that should be performed.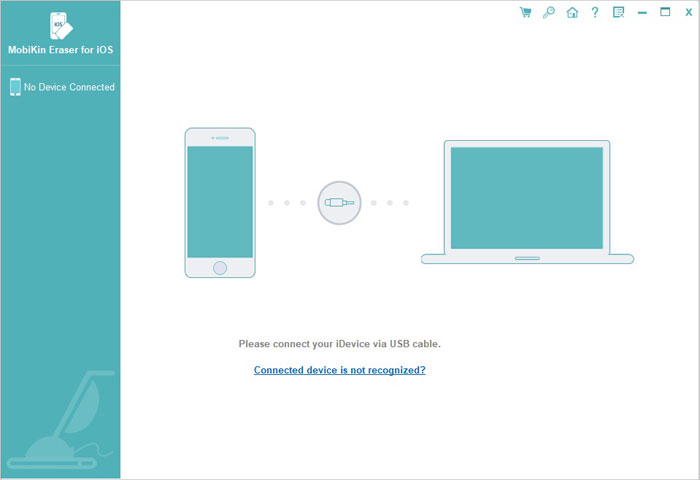 Step 2. Choose the option of "Erase Private Data" on the interface of the program , and then the program will start to scan for all files on the connected device. After the scan, all the scanned out file types that can be erased by the program will be displayed here in list.
Step 3. Afterward, click "Erase Now" to permanently erase data from device. You can count on iPhone Data Eraser to delete all sensitive and private data from your iPhone. You will be notified once data has been erased.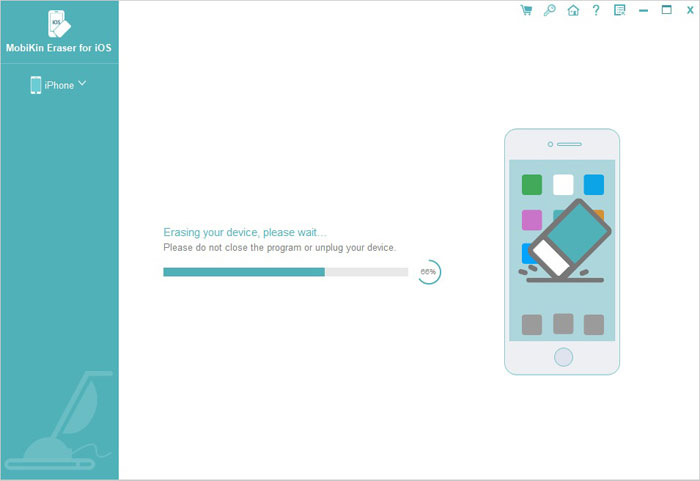 Bottom Line: Remove Apple ID from iPhone/iPad in the Easy Way!
Any of these methods presented can help you remove Apple ID from iPhone and iPad easily so that you can go ahead and sign in to a new account right afterward. Even so, it is important to highlight that having software, like iPhone Data Eraser, on the side can be of great benefit if for some reason Apple ID removal is not taking place. Not only that, but having software that can aid in several tasks is certainly a wise move that ensures the stability of one's device for many years to come.
Related Articles:
How to Wipe Reminders on iPhone
How to Clean up Video Caches from iPhone