[Solved!] How to Unlock iPhone X without Passcode or Face ID?
Summary: Front-facing camera with TrueDepth technology is one of the most exciting features of iPhone X. However, most iPhone users don't want to use the Face ID to unlock their iPhone X due to various reasons. So, this post is here to guide all of you to unlock iPhone X without Face ID.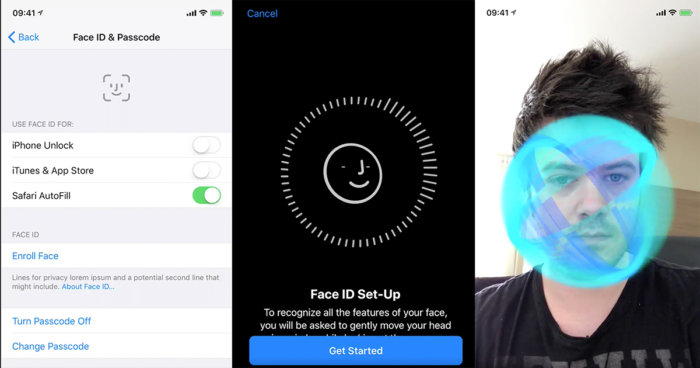 Referring to iPhone X, most of you will talk about its facial recognization, right? It is no doubt that the Face ID has taken a new way of unlocking iPhone and it has been treated as one of the most important feature in the propaganda. However, lots of iPhone X users may doubt the safety of using Face ID to unlock their device, and sometimes the Face ID may fail to unlock the device with unknown reasons, so they want to find another ways to unlock iPhone X without Face ID, and that is also the purpose we write the page.
Actually, Apple provide users with a simple way to disable Touch ID temporarily, you only need to press the Power button five times, then you can quick access to Emergency SOS features and medical information. Never know that? Don't worry, we'll list the detailed steps in the following contents.
Solution 1: How to Unlock iPhone X/Xs Max/XR without Face ID Using iOS Unlock?
If you forget the passcode of your iPhone X, iPhone Xs/Xs Max, XR, and the Face ID isn't working, then, you can take the assistance of a dedicated tool like iOS Unlock. With it, you can enjoy a hassle-free process to unlock any iOS devices without causing any damage to your phone. It should be noted that when using iOS Unlock, existing data on the device will be lost, and the available firmware on the phone will be updated to the latest version, but rest assured that this will not affect its processing.
iOS Unlock: A simple click-through process to unlock any iOS device
Click the following download button to download and install iOS Unlock on your PC or Mac computer. Then, follow the step-by-step guide below to see how to use it to unlock iPhone X without Face ID.
Step 1. Launch the installed iOS Unlock on your computer and select "Unlock" option from the toolbox.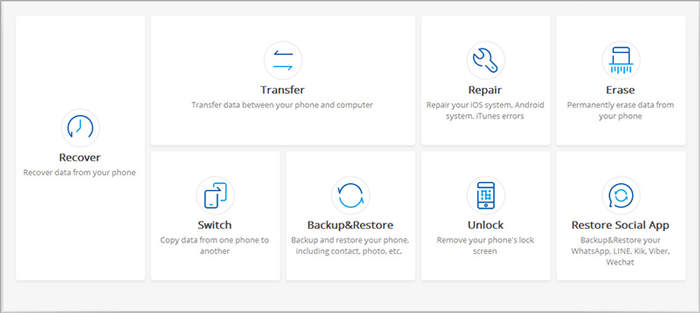 Step 2. Connect your iPhone X to the computer via a USB cable and choose the 'Unlock iOS Screen' option.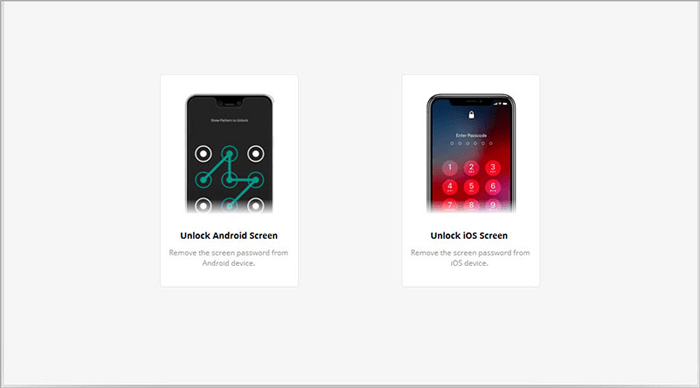 Step 3. Put your iPhone X in the DFU mode by using the correct key combinations. First of all, turn off your iPhone and wait a while. Then, press and hold the side (on/off) + Volume Down button simultaneously for 10 seconds and then release the Side button while still pressing the Volume Down button for another few seconds.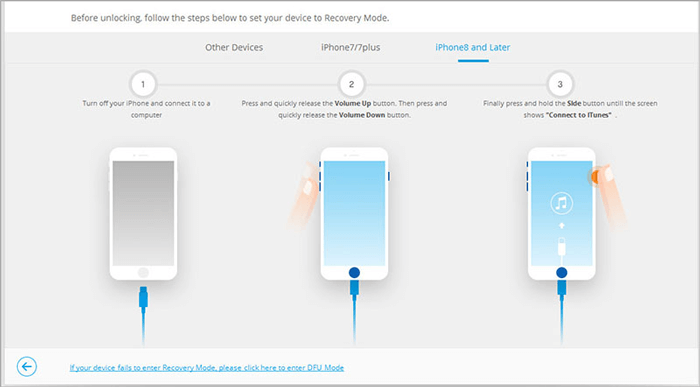 Step 4. Once your iPhone enters the DFU mode, it will be detected by the iOS Unlock program. Next, you need to verify the crucial details related to your iPhone. Just fill your iPhone info, such as iPhone model and system version and then click "Download" button to download the fix package for your iPhone.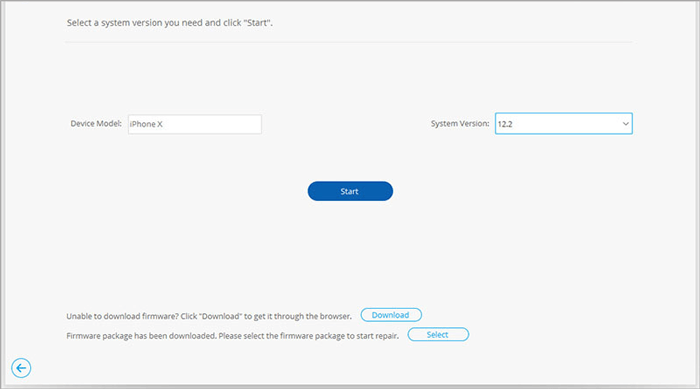 Step 5. When the relevant firmware update has been downloaded, you need to click "Unlock Now" button on the screen to remove the passcode and Face ID on your device.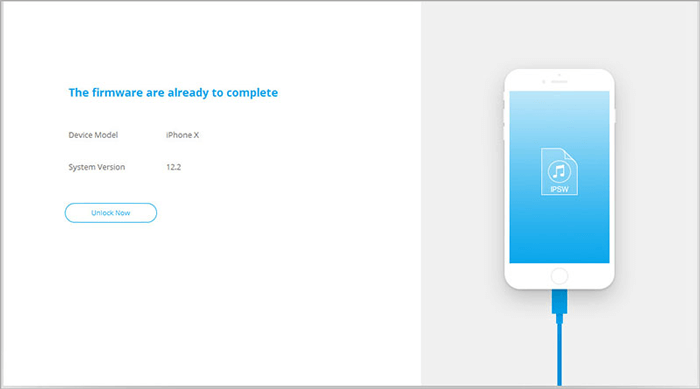 Step 6. Ok, now, the existing lock on your phone would be removed successfully.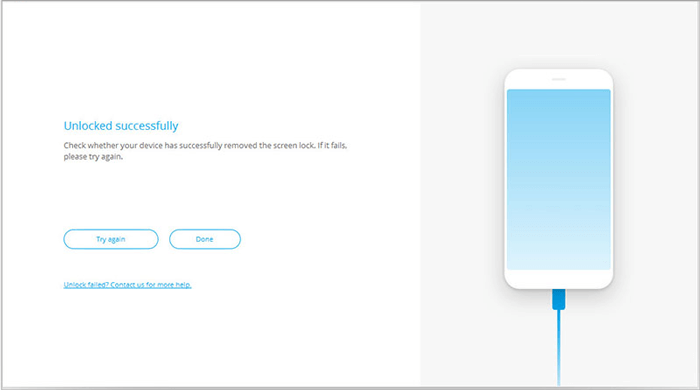 Can't Miss:
Solution 2: How to Unlock iPhone X without Face ID Using Passcode?
You're allowed to use the touch ID or passcode to unlock iPhone X when you opt not to use the facial recognition feature on your iPhone X. But it only can be used as a sole way or supplementary way to unlock your iPhone X during the setup. Now, let's learn 2 methods on how to unlock your phone without Face ID easily by using passcode.
Method 1
Step 1. Holding on both the Volume and Power button for a short while, then you'll see an interface like below: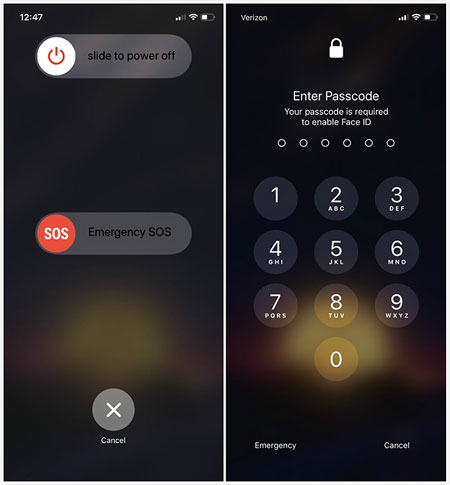 Step 2. Cancel the option of "slide to power off", then you'll be asked to enter your passcode to unlock the device.
Method 2
Step 1. Click the Side button five times quickly, then you'll access to Emergency SOS mode.
Step 2. Here, you can see a countdown mode, just cancel the process, and then you can enter your passcode to unlock your iPhone X.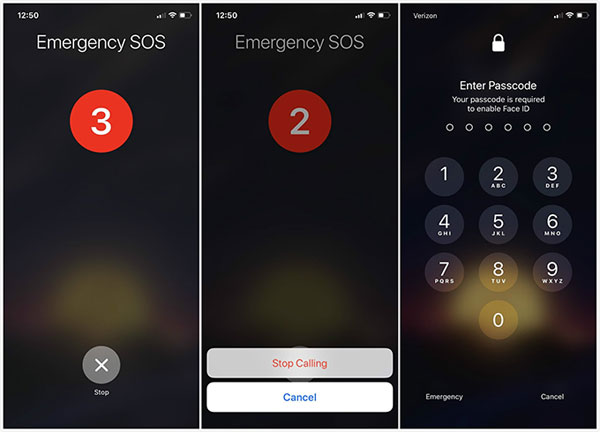 Solution 3: How to Unlock iPhone X without Face ID and Password via Reboot?
You can also reboot your iPhone X so as to unlock iPhone X lock screen without Face ID.
Step 1: Press and fast release the volume up button.
Step 2: Press and fast release the volume down button.
Step 3: Press and keep holding the power button until the Apple logo appears. Then, release the buttons and your iPhone will reboot.
Step 4: After the reboot, you can use a numeric passcode to access your iPhone.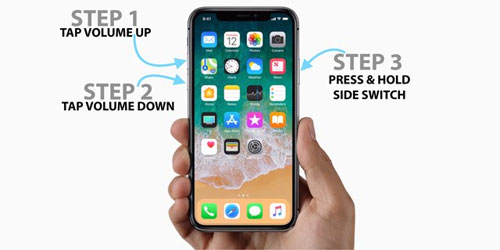 Can't Miss:
Bonus: How to Keep Your Privacy Info Safe on iPhone X/Xs Max/XR?
Undoubtedly, touch ID, Face ID and passcode are all good ways to protect your personal info from viewing, or leaking out without your permission. But sometimes, you may lose or leak out some important data accidentally or unconsciously by yourself. So, here we could like to recommend two useful ways to keep all your privacy info safe on iPhone X.
1. Developing A Habit of Backing Up iPhone X Data Regularly
You may mistakenly delete something important or unaware of the importance until after the deletion, then it is really important for all of you to have a habit of backing up iPhone X data regularly. No matter which kinds of backup methods you're choosing, keeping a backup file of your iPhone X can help you find back your lost data at the first time. And if you have no idea about how to backup iPhone X, you can take a free trial on the MobiKin Assistant for iOS. With it, you can:
Below is a detailed video tutorial to show you how to perform iPhone backup with the iOS Assistant software.
Want to know more info about different iPhone backup software? Top 4 iPhone Backup Software is here >>
2. Erase Unwanted Files from iPhone X Permanently
In most situations, you may not know why your personal info is leaking out, right? And you think that your iPhone is safe because you have deleted or formatted the device before passing to others? Actually, you're totally wrong. Deleting or formatting iPhone data doesn't mean the data is gone forever, these data still can be retrieved by some special program or technical team. That's also one of the reason that your personal info is leaking out. So in order to keep your privacy info safe, you'd better to permanently remove unwanted data from iPhone X.
To reach it, you may need the help of iPhone X Data Eraser software. It can help iPhone X users to erase data selectively and permanently, leave no opportunity to restore. Thus, these deleted privacy info will never be leaking out, right?
Below is the detailed steps of deleting iPhone X data permanently:
Step 1. Connect iPhone X to computer and launch the iPhone X Data Eraser software, then choose "Erase" button from the program interface.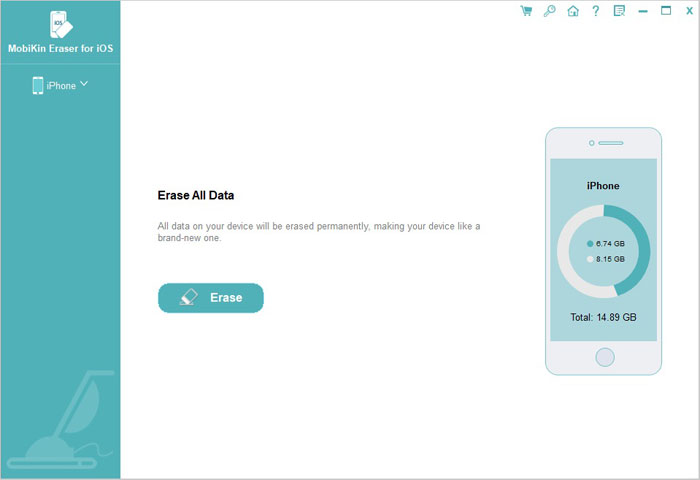 Step 2. Choose a security level and type "delete" in the blank box to confirm. After that, click "Erase" button from the bottom right corner to start erasing your iPhone.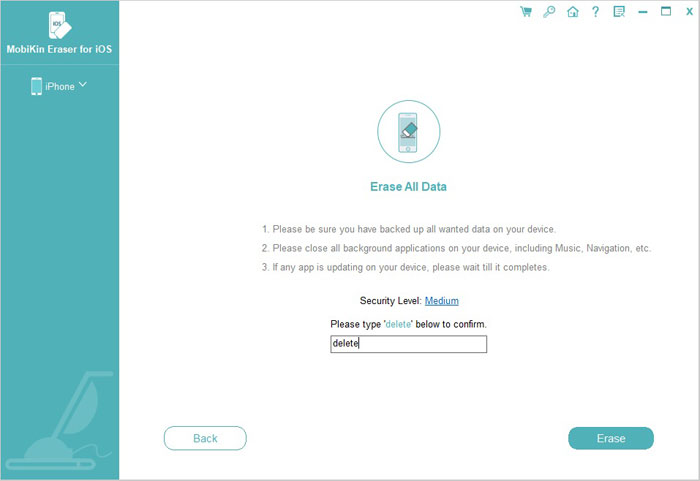 Step 3. After completing the above steps, the software will automatically complete all subsequent steps. When the erase and overwrite processes are completed, you will see the following interface, which means that the data on your device has been successfully erased permanently.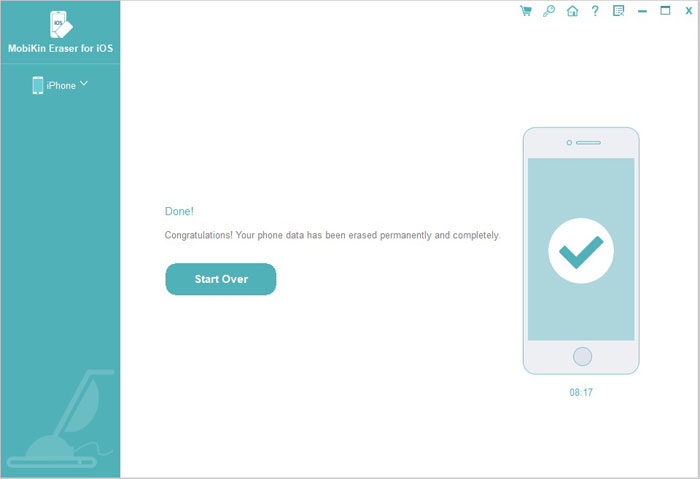 Bottom Line
In this article, we discussed how to unlock iPhone X without passcode or Face ID, and how to secure iPhone X data in different ways. So even if your face recognition doesn't work, or you forget your password at the same time, don't worry, iOS Unlock can help you easily bypass the iPhone's face ID and passcode. If you think the reboot method is not suitable for you, then iOS Unlock is your best choice. Can you unlock iPhone X without Face ID with other methods? Please discuss with us in the area below.
Related Articles:
iPhone Cannot Connect to App Store? Here's A Solution
iOS 11 Screen Recording Is Not Working? Learn How to Fix It
3 Best Ways to Backup and Restore iPhone (#3 is Excellent)
How to Backup Text Messages on iPhone Effectively?
How to Transfer Voice Memos from iPhone to PC