Forgot iPhone Passcode without Restore? Here Are 4 Unlock Schemes
"My little brother forgot iPhone passcode that he set on my iPhone X. He entered the possible password several times. Now my iPhone is disabled. How to fix forgot iPhone passcode without restore? Thanks in advance!"
Setting passcode or other user authentication info for iPhones is one of the main ways for many people to protect phones from intruders. Yet forgetting password can be a headache, for we're locked out of phones then. And sometimes, it's also a nuisance to have a second-hand iPhone with a password.
In both cases, some folks want to bypass iPhone passcode without restore. Can it be accomplished? OK, let's check it right now. At all events, this review explains all flexible methods for you to choose from. I believe you can unlock your iPhone without passcode easily.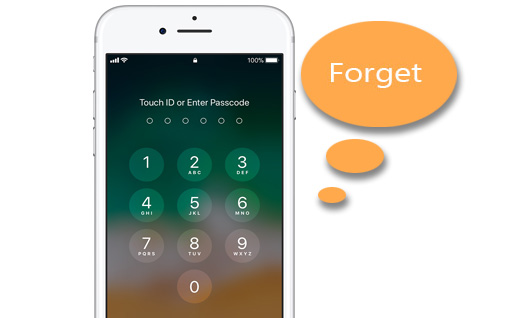 Part 1: Can I Unlock iPhone Passcode without Restore When Forgot It?
To be frank, the answer is No currently, because of the extremely limited access permissions set by Apple Inc. But if you backed up your iPhone, you can bypass iPhone passcode, and restore the data after password removal. Here, to avoid possible failure during the unlocking, let's talk about two ways - iTunes and recovery mode that don't work usually, which might have misled some folks before.
Primarily, it is clear that Find My iPhone would be turned on by default on iPhone, which needs to be turned off when restoring locked iPhone via iTunes. For you guys who have forgotten your passcode, you are unable to enter your phone to disable it.
Next up is recovery mode. Regardless of its complicated operation, you may encounter iPhone stuck in boot loop issue after the recovery. There are various reasons for this problem, and to solve it requires gradual troubleshooting, which doesn't necessarily work.
Now, you can unlock iPhone passcode via some third-party software, iCloud, or Siri (with certain conditions). Again, the last solution is to contact Apple support. Well, the following is detailed from these 4 aspects.
Related Posts:
Part 2: How to Fix Forgot iPhone Passcode without Restore Using iOS Unlock
It won't be hard to remove passcode from iPhone, since you come to know iOS Unlock. It commits itself to unlocking mobile phones, and ensures the success rate. Yet the only pity is that it will erase data from the iPhone/iPad, so having a previous iPhone backup is a wise move. But then again, if you use a second-hand iPhone, you don't have to consider this situation.
iOS Unlock is remarkable for these factors:
Breezily unlock 4-digit passcode, 6-digit passcode, touch ID, face ID on iPhone/iPad.
Remove your forgotten iPhone passcode in few clicks.
You can operate it with no technical requirements on its intuitive interface.
Any of the actions on it will be known only to yourself.
Work well with practically all iDevices, such as iPhone 11/11 Pro (Max), iPhone X/XS/XR/XS Max, iPhone 8/8 Plus, iPhone 7/7 Plus, iPhone 6/6S/6 Plus, iPad Pro/mini/Air, iPod touch, etc.
How do I unlock my iPhone with iOS Unlock if I forgot the passcode?
Step 1. Launch the software after the download and installation. Then select "Unlock" from the modules on the screen.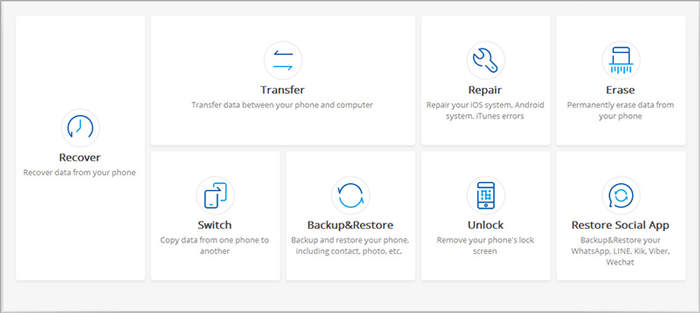 Step 2. Link your iPhone to computer using a USB cable, and click the "Unlock iOS Screen" option.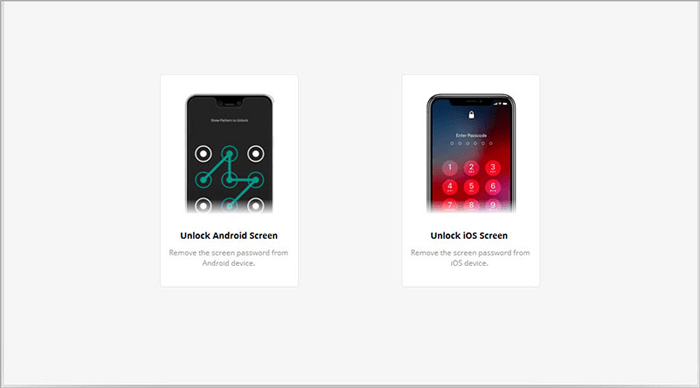 Step 3. The onscreen hints will cue you to put your iPhone into recovery/DFU mode. To do this, just select the specific and easy instruction according to your iPhone version.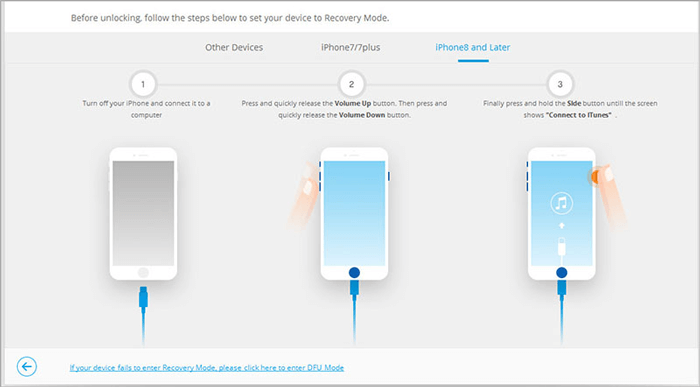 Step 4. While getting into the mode, you have to fill in the blanks with your iPhone model and system version. Then tap on "Download" to download the firmware package for your phone.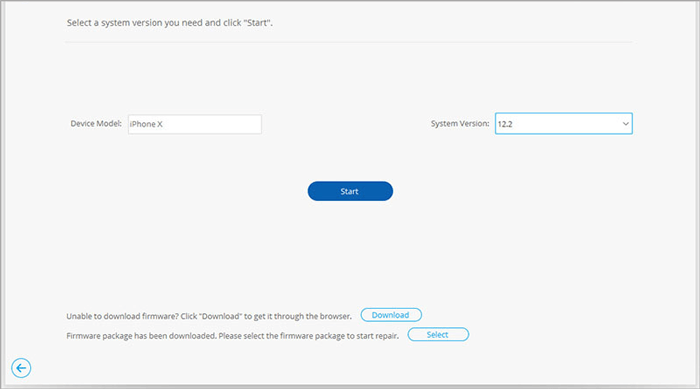 Step 5. After the download, click on "Unlock Now" to proceed. Soon, the unlocking is successful, and your iPhone data will be within your reach.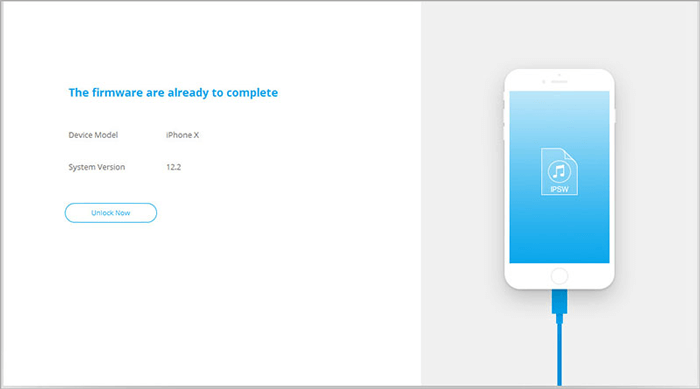 Part 3: How to Bypass iPhone Passcode without Restoring via iCloud
If you made a backup for your iPhone, you can remove iPhone password with iCloud. But make sure that the Find My iPhone in the iCloud is enabled beforehand. Further, this subfunction of iCloud can also be used to wipe iPhone remotely when it's stolen/lost.
How to bypass iPhone passcode without restoring with iCloud?
Step 1. Visit iCloud.com in a browser from any devices.
Step 2. Log in with your iCloud account using your credentials available.
Step 3. Navigate to Find My iPhone and tap "All Devices". All the devices linked to your iCloud ID will appear on the coming list.
Step 4. Choose your iPhone from the list. Then tap "Erase iPhone". After that, just wait for the procedure ends.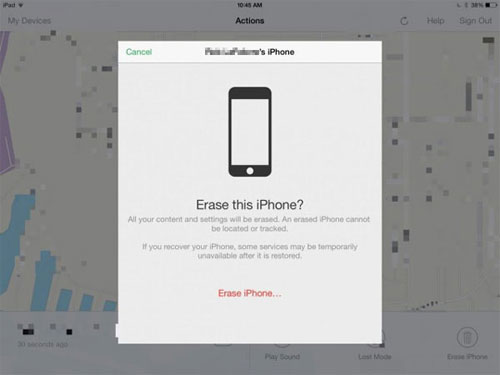 Further Reading:
Part 4: How to Unlock iPhone without Passcode without Restore Using Siri
Siri serves as an intelligent personal assistant for iPhone users. For iPhone with iOS 8.0 to iOS 11, there are more permissions granted to this assistant. You can use Siri on iPhone to bypass the passcode if your mobile running on older OS. Nevertheless, it does not guarantee success even so.
Note: If you have disabled Siri on your locked iPhone, this method is helpless for you, and you can go right to Part 2 for solution.
How to remove passcode from iPhone without restore using Siri:
Step 1. Press and hold the Home button on your iPhone to enable Siri. Now say something simple to it. (e.g. "what's the time now, Siri?")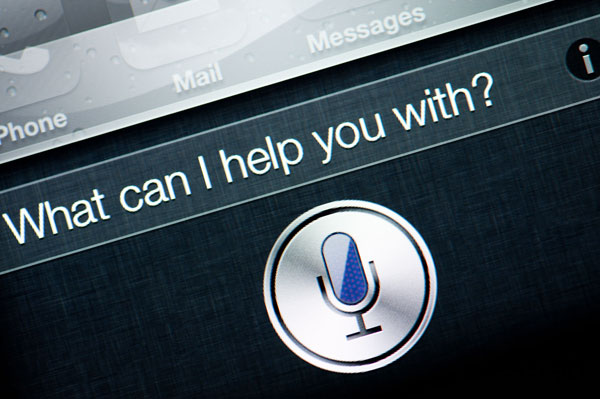 Step 2. Touch the clock as the time displays on the screen. This will bring you the world clock with different time zones you've specified before. Then tap the "+" icon on the screen.
Step 3. Enter some string of text at random in the search box. Then touch the text and hold it. Now you'll see "Select", "Select All" and "Paste" options. Just tap "Select All", followed by "Share".
Step 4. AirDrop will now be activated. You should press "Message" icon, type in a string of text, and go for "Return". Here, tap "+" icon again. And choose "Create new contact".
Step 5. Hit the image placeholder with saying "add photo", then tap "choose photo". Select a picture from Photo Library and wait for a while. Then press Home key again to get access to your iPhone without passcode.
Part 5: How to Remove Passcode from iPhone without Restore? Try to Contact Apple Support
As you know, there's no official way to remove passcode from iPhone without restore, but you can resort to Apple for support. At this point, you should prepare some evidences in advance to prove that your iPhone is an official Apple product.
There are two ways to contact Apple Support in general: one is the Internet, and the other is the local after-sales hotline. Here, take the online help as a demonstration.
To remove your iPhone passcode, simply go to Official Apple Support webpage, and type in some items in accordance with the directions on the page. These contents can be the serial number of your iPhone, AppleCare agreement number, legal sales receipts, or perhaps other proofs.

Final Thoughts
It is unpleasant that you forget your iPhone passcode under some circumstance. Thus, making a routine backup for iPhone is a good practice, enabling you to be better able to handle ups and downs.
In the end, one point should be noted that some methods on the Internet can be delusive. As they say, by using some programs, people can remove passcode from iPhone without restoring their phones. Yet these tools aren't guaranteed to work actually, for every time a new iOS is released, it will strengthen the safety supervision, and fix the previous OS vulnerabilities.
Related Articles:
How to Restore iPhone without Passcode Differently
How to Factory Reset iPhone without Passcode?
Complete Guide about Gmail Password Recovery
3 Verified Ways of How to Back Up Locked/Disabled iPhone
iPhone Is Disabled - How to Unlock A Disabled iPhone?
Tips & Tricks to Remove Swipe Screen to Unlock Android Phone