How to Back Up iPhone before Upgrading to iOS 14: Tips the Experts Swear by
Apple's latest iPhone update, iOS 14, has finally come out. It brings a new home screen design, new main features, updates to existing applications, optimization of Siri, simplification and adjustments of other iOS interfaces. I believe that Apple fans have been deeply attracted by the new features of iOS.
But restrain the urge to tap your way to the debuted iOS. There's a chance that something might go unpredictably awry after the completion of the update, which gives particular importance to taking a secure backup for iPhone. Well, do you have an idea of how to back up iPhone before upgrading it to the new iOS?
OK, this easy and quick tutorial will walk you through this issue. Just follow me to get the ins and outs details please.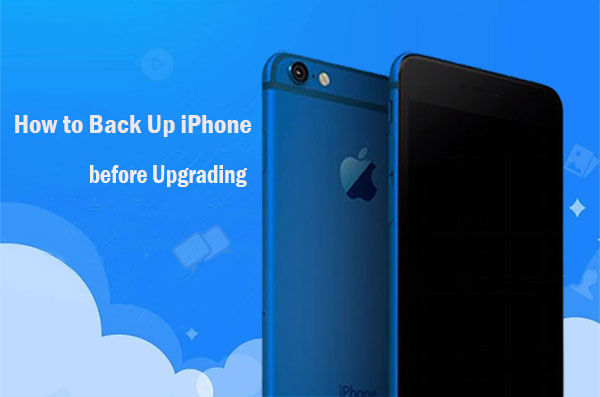 Method 1: Back Up iPhone before Upgrading to iOS 14 with Assistant for iOS
You may not be trapped in the iOS with screaming features and security enhancements, but you'd better ensure that your iPhone is up and running after upgrade. In this connection, it's imperative to get a reliable software with well-deserved reputation as MobiKin Assistant for iOS (Win and Mac) to back up and manage your iPhone. With this all-in-one program, you won't feel like a chore when you want to access, preview, edit or delete various types of data.
Brief overview of MobiKin Assistant for iOS:
- One-touch to back up iPhone data to computer selectively or in bulk.
- Back up iPhone data time and again, and the previous backups will not be covered. (Excellent!)
- The supported types of data: Video, Photo, Music, eBook, Contact, SMS, Note, Safari Bookmark, Voice Memo, Podcast, Ringtone, Playlist, etc.
- Restore backups to your iOS devices securely without data loss.
- Allows you to manage iTunes backup freely. E.g. import iTunes backups from computer to iDevices, or remove unnecessary iTunes backups from computer.
- Run smoothly on almost all the models of iPhone/iPad/iPod, including iPhone 11/11 Pro (Max), iPhone XS (Max), iPhone XR, iPhone X, iPhone SE, iPhone 8 (Plus)/7 (S) (Plus)/6 (S) and so forth.
How to back up iPhone before upgrading to new iOS 14 or to new phone via Assistant for iOS
Step 1. Assuming you have opened the installed program on computer, then have your iPhone connected to computer via a USB cable. Follow the hints on the initial interface of this tool to make your linked iPhone identified. After that, the main interface will show you as below.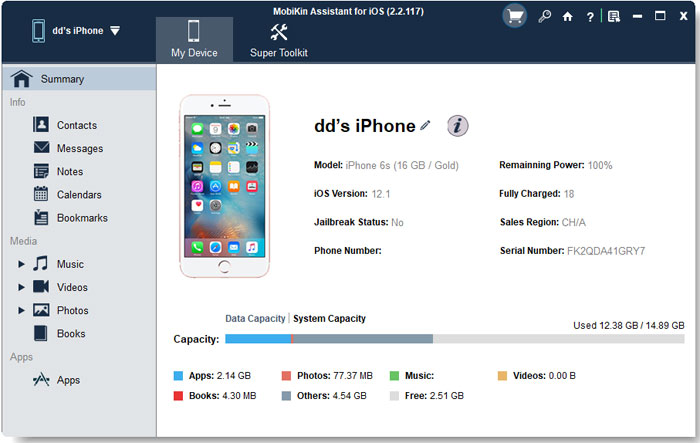 Step 2. Tap on "Super Toolkit" from the top menu to opt for "iTunes Backup & Restore". You'll then get into the window of "iTunes Backup Management" with the name of device(s) shown on the list. Now select "Backup" from the top menu.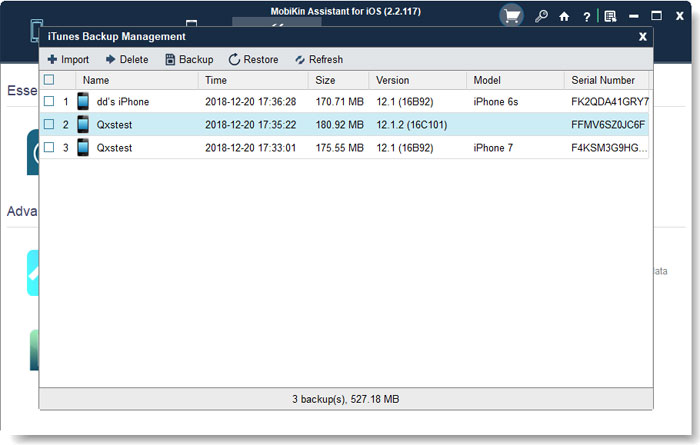 Step 3. Choose your iPhone to back up, and go for the option of "Backup file(s) to default iTunes backup location". Finally, click "OK" to put data to iTunes backup location. (You can also tap "Browse" to customize a folder on computer for backing up iPhone data to computer.)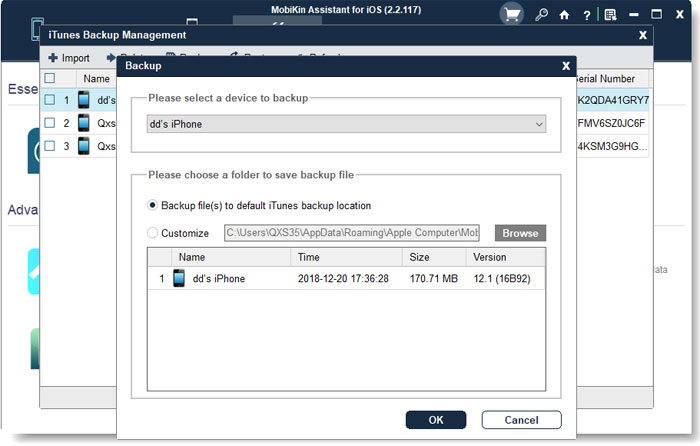 Restore backup data to iPhone: After the backup and upgrading, you can go to "Super Toolkit" > "iTunes Backup & Restore" > "Restore" to choose the iTunes backup to restore after following Step 1 and Step 2.
Back up iPhone data selectively: Assistant for iOS also allows you to preview and back up whatever you want selectively. To do that, you should go to the left sidebar to choose the data types you need, preview the scanned out data on the right, tick off the data you want to back up and finally save them to computer by clicking "Export" button on the top menu.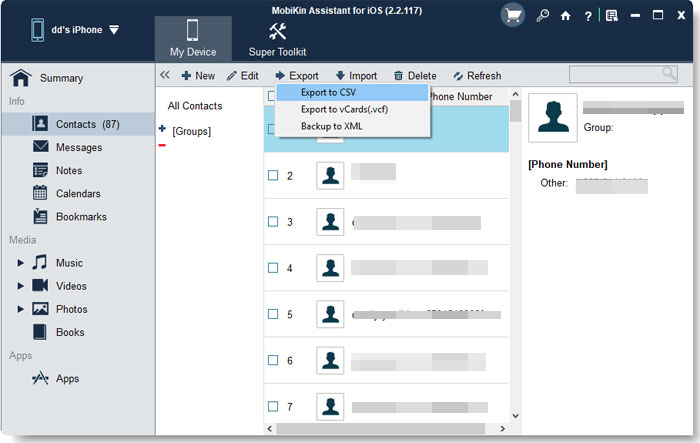 You May Also Like:
Method 2: Back Up iPhone before Upgrading to New Phone/iOS 14 via iCloud
iCloud can also be used to back up iPhone before upgrading to new phone or to new iOS 14. However, it strikes us as a little piecemeal sometimes. With only 5GB of free space, the backup and restore of it are relatively slow and insecure. What's more, iCloud backup requires the input of the account info. Yet, the same account can be used on different iDevices. So it is easy to go wrong or lose data due to improper use of your iCloud account.
How do I back up iPhone before iOS 14 upgrade via iCloud?
Step 1. Make sure the WiFi network you are to connect to is stable, and then unlock your iPhone.
Step 2. For iPhone running on iOS 11 and up, go to "Settings" > [your name] > "iCloud" to turn on "iCloud Backup". And for iPhone with iOS 10.2 or earlier, simply head to "Settings" > "iCloud" > "Backup" to enable "iCloud Backup".
Step 3. Click on "Back Up Now" button and wait for the task to complete.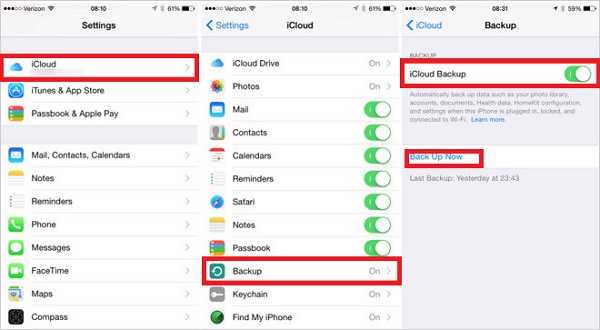 Method 3: How Can I Back Up iPhone before iOS 14 Upgrade Using iTunes
Unlike iCloud, the backup files of iTunes are stored on computer. And iTunes works faster than the former while taking a backup or creating a restoration. Nevertheless, the Windows version of it runs with poor fluency. Besides, you cannot select part of the backup contents for restoring; and the processes of backup and restore are more cumbersome than that of Assistant for iOS.
Below is how to back up iPhone before upgrading to iOS 14 using iTunes:
Step 1. Install the latest version of iTunes on computer, and link your iPhone to computer using a USB cable.
Step 2. Start iTunes and click the iPhone icon from the top left corner. Then go for "Summary", and tick on "This computer" from the "Backups" section. (here, you'll also see "Encrypt iPhone backup". You can tick off it if necessary.)
Step 3. Tap on "Back Up Now" button under the "Manually Back Up and Restore" section to proceed. And this procedure will complete depending on how much data you have on your iPhone.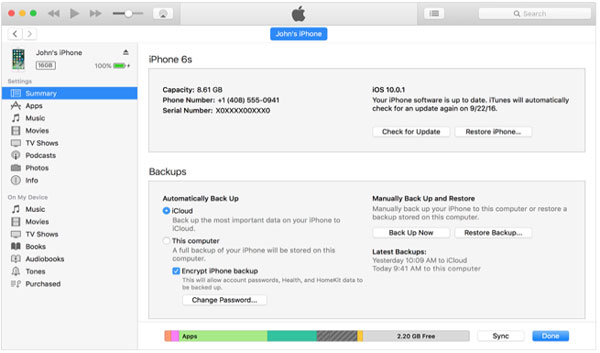 Now, you may wonder: how do I know if my iPhone backup was successful? OK, simply go to iTunes Preferences and choose the Devices tab to check whether the backup is made.
Can't Miss:
The Bottom Line
That's all there's to it! You can choose any of the above 3 methods to back up iPhone before iOS 14 upgrade. But there are uncertain troubles more or less when going for iTunes or iCloud. For instance, After the backup, if you are still using your iPhone, and generate new vital files, they will disappear while restoring the previous backup.
In terms of the system upgrade, the whole new iOS usually takes up more memory than the old one, so it is of utmost importance to sort out the phone data beforehand, such as spending some time purging unwanted apps, videos, etc. Plus, you'd better choose a stable WiFi network, and keep the iPhone's battery capacity at around 60% before upgrading. You know, better safe than sorry. Right?
Related Articles:
iPhone Battery Draining Fast After Upgrading, How to Fix It?
How to Transfer WhatsApp Data from iPhone to iPhone?
Top 4 Ways on How to Transfer Photos from Laptop to iPhone
How to Transfer Photos from iPhone to Samsung?
[Top 5 Methods] How to Transfer Music from Android to iPhone