How to Delete Duplicate Files from iCloud Effectively?
iCloud is a popular Apple-based cloud storage service that provides you with an effective way to automatically sync your files across various devices. You are provided with a maximum of up to 5GB free iCloud storage space once you start using the beneficial service. It is also possible to upgrade to a monthly subscription plan if you wish to purchase additional storage space due to one reason or another.
iCloud, despite its super amazing features, is also vulnerable to certain problems, especially the occurrence of duplicate files which is likely to result in the consumption of even more storage space than required. That is why this article is going to entirely focus on showing you how to effectively delete certain duplicate files from iCloud.
See Also: How to Delete Photos from iCloud
How to Delete Duplicate Files on iCloud?
Situation One: Merge Duplicate Contacts into One
Step 1. To do this, you're required to launch the "Address Book" of your iOS device or Mac computer and scroll down until you come across the "Card" feature. Simply select it to proceed further.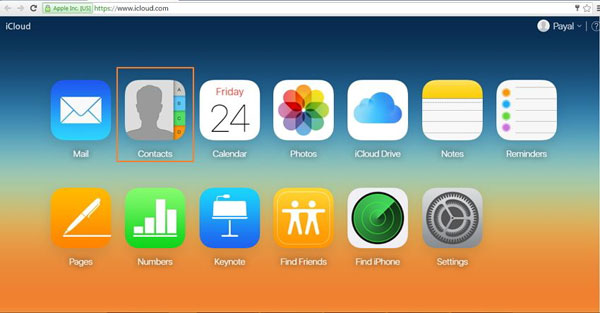 Step 2. Tap on the "Duplicate Contacts" feature once you have activated the "Card" option. This will automatically provide you with a comprehensive list of all the available duplicate contacts.
Step 3. Simply tap or click on the "Merge" button to automatically merge all the available duplicate contacts while waiting to sync them back to iCloud.
Tips: You can also easily delete all duplicate contacts and files from iCloud simply by using a credible third party computer program. "Mergix" is one such semi-automated tool that is guaranteed to help you effectively organize your contact list by helping you eliminate junk contacts across your multiple contact sources as well as eliminate and merge duplicate contact files. The Mergix is guaranteed to work both for your Mac and iDevice.
Situation Two: Delete Duplicate Music Tracks
1st of all, launch iTunes on your Windows or Mac computer, then toggle into "Song View" and select the sort by "Cloud Status" option.
2nd, select the music tracks that have the "simple cloud icon". Then right-click to choose the "Add to iCloud Music Library" feature after selecting the relevant duplicate music tracks. This will, in turn, force the selected music tracks to integrate together into a single set.
Situation Three: Delete Other Duplicate Files on iCloud for Mac
You can achieve this simply by logging in to your iCloud account on your Mac and downloading a reputable duplicate file finder program like "Photos Duplicate Cleaner" or "Gemini." You can then enable the iCloud folder on your personal computer. This will make it a lot easier for the downloaded third party duplicate finder program to identify and get rid of the stubborn files.
Related Articles:
Everything You Should Know about iTunes WiFi Sync
iPhone Won't Connect to WiFi, How to Fix It? [Solved]
How to Transfer Samsung/Android Data Wirelessly
How to Remove iCloud Account from iPhone/iPad without Password? [Fixed]
How to Transfer iPhone Files to PC without iTunes Easily?
[Easy Guide] How to Transfer Data from iPhone to iPhone without iCloud?