How to Bypass, Unlock iCloud Activation Lock on Any iPhone Models?
iCloud activation lock is specially designed to prevent your personal stuff on iPhone from revealing when it is in the wrong hands. Once the "Activation Lock" is enabled, nobody can use your device except for entering your Apple ID and passwords. However, sometimes you may forget the right password for your own device, or accidentally find someone's lost iPhone, or bought a used iPhone from online sources, and find that the activation lock is on, how to easily get rid of this trouble?
See Also: Things You Should Know about iCloud Password
At the beginning, most people think that they can deal with the iCloud activation screen problem well, but the facts have proved that they can't find a proper way to solve it. So they can't access their iPhone and use it as they like unless the proper login credentials are provided. So it is really important for iPhone users to learn how to bypass or unlock iCloud lock by yourself, here we'll give you the best solutions.
How Did the iCloud Lock Issue Happen?
People like to create different password on their iPhone for protecting their personal info. And we have to admit that these new safety protocols have taken lots of improvements in the safety of the iPhone and the iCloud. But at the same time, it also cause a big trouble like iCloud lock issue due to various reasons. And this may make things worse for many people.
No matter why you need to bypass iCloud lock on iPhone, here you have two options to solve it:
- Bypass Activation Lock
This method will help you get access to certain features of iPhone, then you might find some personal information of the owner of the iPhone so that you can contact them to get the right password.
- Remove iCloud Lock
If you cannot find any info about the seller of the device, you can choose to remove the activation lock from the device. And you always need to spend some money for the remover service.
Now, let's turn to check all possible solutions of unlocking iCloud activation lock on iPhone one by one. And we believe that you can find a proper way to get yourself out of the trouble. (Here is also another page to tell you how to reset iCloud password on iPhone or iPad.)
How to Bypass iCloud Activation Lock on iPhone via DNS?
If you only wish to get the info about the previous owner of iPhone, then this method could be the simplest way to bypass iCloud activation lock on iPhone. Below is the details steps:
Step 1. Restart your iPhone and enter the new DNS as follows:
- USA/North America: 104.154.51.7
- Europe: 104.155.28.90
- Asia: 104.155.220.58
- In rest of the world: 78.109.17.60
Step 2. Hit "Back > Done > Activation help. Here, you'll get a pop-up message and inform you that you have successfully connected to my server.
Step 3. Click "Menu" on the top right to see the available apps and select one to get the detailed info about the owner of iPhone.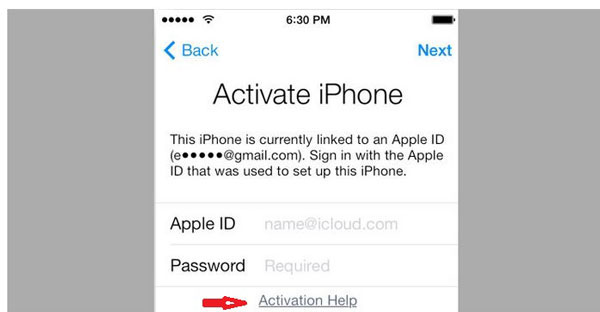 How to Unlock iCloud Lock with Online Remover Service?
Since the iCloud lock issue is happened on Apple's iDevice, so Apple also provide service of unlocking iCloud lock well. But the methods can't be judged simple or complicated with few words. Generally speaking, if your iDevice still have your original invoice and warranty, and it is convenient for you to go to the nearest Apple Store, then you can go to it and ask the technicians to remove the iCloud activation lock on your iPhone directly.
But if your iDevice is out of warranty, and there is too far to Apple Store, then you can try to bypass the iCloud lock as follows.
Step 1. Go to the Official iPhoneUnlock.co.uk, and select "iCloud Unlock" in the left panel.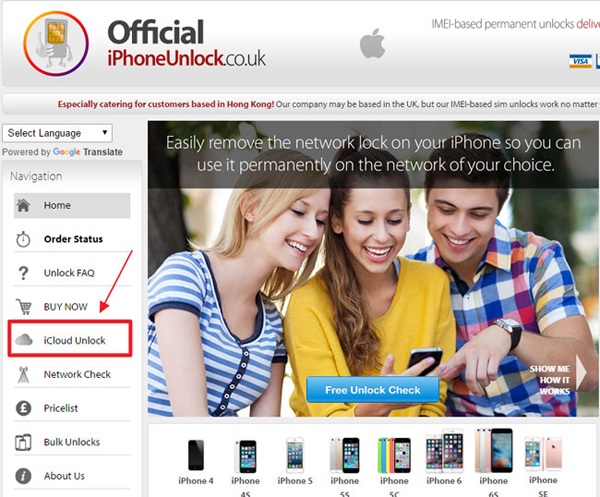 Step 2. Enter your handset type and IMEI number in the spaces and click on the "Add to Cart" icon.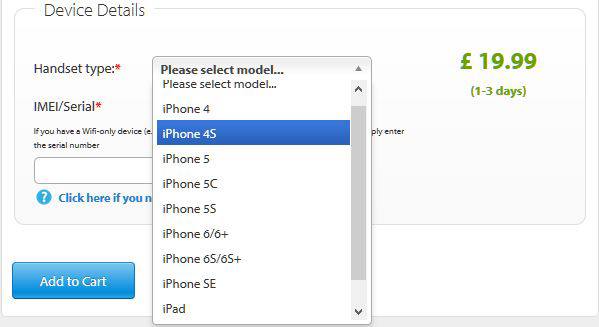 Step 3. When you have done the above steps, a new page with an email option will be opened up. Here, you're required to add your email address and other necessary info, then press "Confirm". Please be sure the email address you have entered is valid.
Step 4. Wait for a few moments while your request is processed. Please be noted that the entire procedure may take up to several hours, and when it is finished, you'll be informed via email.
Step 5. When you have received the email that your iPhone's iCloud lock has been removed, you can create a new iCloud account and new password as you like.
Now, you can use the new created iCloud account to login into your iCloud account and confirm the lock removal easily.
Bonus:
How to Fix A Stuck iCloud Backup Restore [Solved]
My iPhone Cannot Backup to iCloud, How to Fix It?
How Apple iCloud Works on iPhone, iPad or iPod touch
How to Bypass iCloud Activation Lock on iPhone with A Handy Tool?
This is another way to remove iCloud activation lock on your iPhone. Here, you need a tool called "iCloud Activation Bypass Tool Version 1.4" as your assistant. With it, you can easily and quickly bypass iCloud activation without data loss.
Step 1. Download, install and launch the program on your computer, then connect iPhone to the computer via USB cable.
Step 2. This program will detect and scan your device soon, then read the IMEI number.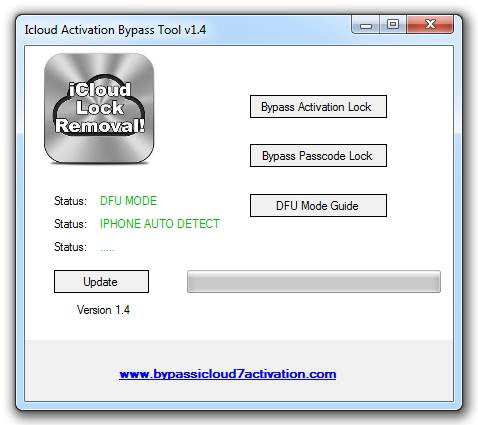 Step 3. Click "Bypass Activation Lock" button on the program, then wait for the end of the process. It will connect to the Apple servers with the help of the IMEI code and delete all linked iCloud accounts of your iPhone.
Step 4. When the process is end, just disconnect the device and restart it. Now, you can find that the iCloud lock has been removed and you can access to iCloud without any restrictions.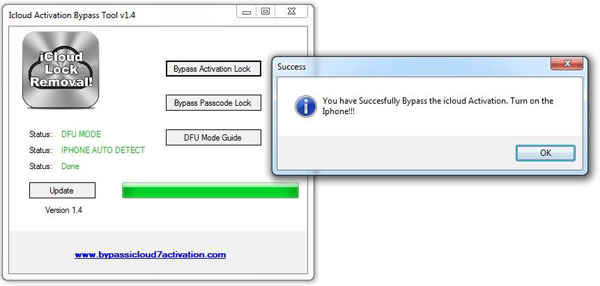 How to Unlock iCloud Lock on iPhone with Apple Solution?
This method comes from Apple community, and you can take a free trial if you don't want to use the above solutions to unlock iCloud lock on iPhone. You can directly do all steps on your device as below:
Step 1. Get access to your device by entering your Apple ID and password. Then, directly go to "Find my iPhone" and turn it off.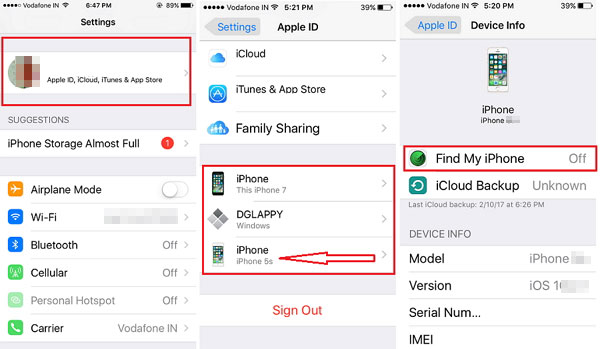 Step 2. Go to "Settings > General > Reset > Erase All Contents and Settings", and your phone will be completely erased and return to factory resetting.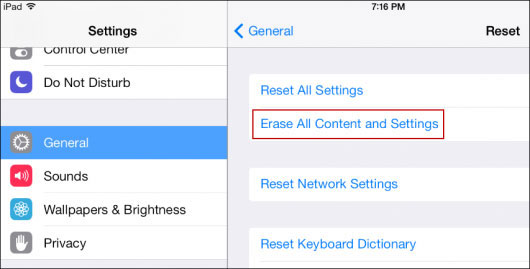 Step 3. After that, you can restore your iPhone contents & settings from iCloud backup easily.
If you have forgotten your password, you can go to Apple ID page and follow its instructions to reset the account.
Can't Miss: How to Restore Data from iCloud without Backup
Write in the End
Bypassing or unlocking the iCloud lock is not a tough task if you can find the right solution on the Internet. In this post, we have discussed four different solutions to help you bypass iCloud activation lock or remove iCloud lock without password by yourself. You can get one of them to bypass iCloud lock on iPhone as you like.
Related Articles:
How to Remove iCloud Account for iPhone
How to Secure iPhone Data When You're Worried about iCloud Security