How to Delete Photos from iCloud?
By now, you've probably heard or read of the news about celebrity iCloud accounts being hacked. As a result, nude photos of these celebrities have been leaked online. You might not be a celebrity, but you probably don't want your private photos to be leaked online for all people to see as well. This is the main reason why you need to delete photos in your iCloud account. You may be thinking that no one will be interested in your photos. One of the things that you should know though is that most of the stolen iCloud photos end up in anonymous and revenge porn sharing sites and forums. So unless you want your private and embarrassing photos to end up in these sites, then it would be a good idea for you to delete your photos in iCloud.
See Also: How to Access to iCloud Photos in Different Ways
Apple has since denied that iCloud has been hacked. But the truth is, hackers don't have to actually break into Apple's servers to steal photos and other files. The only thing that they need to do is to get the password of a particular user. And for the hackers, stealing passwords is not really a difficult thing to do. This means that while iCloud is actually a safe and secure site. Your photos can still be stolen if someone will be able to steal your password. So the best thing to do really is to simple delete all your iCloud photos so even if hackers will be able to gain access to your account they will not be able to get something that will out you in a compromising situation.
The problem with iCloud though is that it can be quite tricky to use. In fact, some people are not aware that they have photos in iCloud to begin with. If you will go to your iCloud account right now, you won't find out your photos there. All you will see are your contacts, emails, and other stuff. This is the reason why deleting photos from iCloud are not that simple as you imagine. However, it can be done definately. And what follows are steps on how to delete photos from iCloud.
Note: Before starting to delete photos from iCloud, we could like to strongly recommend you to backup your iOS data without iCloud.
Steps on Deleting Photos/Pictures on iCloud?
- Delete iCloud Photos on Your iDevice
The first thing that you need to do is to check if your photos are being sent to iCloud. You can do this by going to iOS/iCloud and then scroll down to photos. If it is turned on then that means that all the photos you are taking on your iPhone are being sent to iCloud. You can view the photos being shared in the "My Photo Stream" in the Photos app.
You can start deleting photos from My Photo Stream by simply selecting the photos you want deleted and then pressing the garbage icon on the lower right. You also have the option to select multiple photos or even all of the photos in there. You should be careful when deleting photos in My Photo Stream because photos that are deleted there will be deleted in all your devices. Finally, you can check if the photos are really deleted by checking it in another Apple device.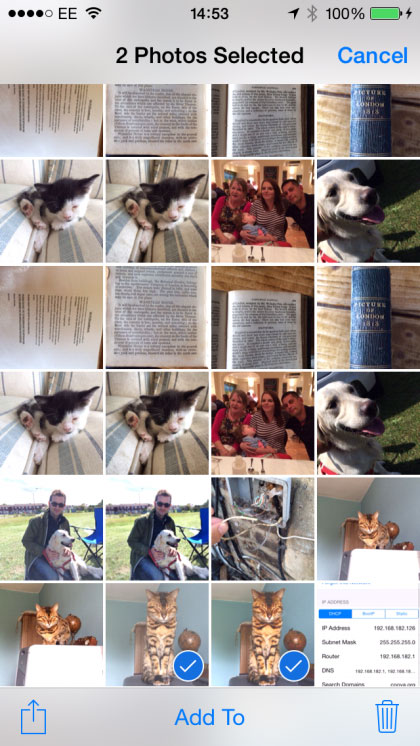 - Delete iCloud Photos on Your Windows or Mac Computer
If you wish to remove iCloud photos on your desktop PC, you can follow the below steps to reach your goal:
1. Type iCloud.com in the browser address bar on your Windows or Mac computer, then login into the iCloud account with your own iCloud ID and password.

2. Now, you need to select a trusted device to receive an authentication code in the Vertify Your Identity box. Then click Next to enter the code you have received on your device.
3. After that, you can find Photo icon in the main page, and here, you can select Albums from the top of the iCloud Photos page.

4. Click All Photos album and continue to tick the Select Photos option. Now, you can select all pictures you wish to delete, and finally click Delete button to remove all of the selected items.

Related Articles:
Something You Should Know about iCloud Password
How to Transfer Music from iPhone to iCloud
How to Recover Deleted Notes from iPhone 14/13/12/11/11 Pro/XR/X?
10 Best iPhone Backup Software in 2023 for PC/Mac