iPhone Sound Not Working: How to Fix iPhone No Sound Issue?
Q: When I try to watch a video on my iPhone 7, there is no sound coming out of the speaker. What can I do to fix this problem? I really would like to hear my friends singing happy birthday to me.
Have you ever met the same problem: you are waiting for something important but find that iPhone sound not working? Actually, this problem is not rare and many users have the same trouble with you. And certainly, there are several methods available for you to fix it so you do not need to be anxious about it at all.
Now let's see what these tips are and how to complete them!
You might also want to read:
Solutions to Fix iPhone Sound Not Working
In this part, several means to settle the problem that sound does not work on iPhone will be provided. Some of them are very basic and easy to operate so you can try them first. If you find that those common tips are not able to solve the problem, just make an attempt to factory reset your device. But remember to backup the data on your iPhone before you begin the resetting process.
Learn more:
iPhone Won't Connect to Wi-fi, How to Fix It? [Solved]
Solution 1. Clean the Speaker Holes
One of the possible reasons for iPhone not working issue is that there is too much dust or dirt covering the speaker holes. Therefore, to solve this problem, the first thing you can try is to clean the speaker holes by using a hairdryer or a dry and clean toothbrush to remove the dust. Then you can try to play a song on your iPhone to see whether the sound can work or not.
Solution 2. Enable the Ring Mode
When you turn the Silent mode on, it is certain that you can hear no any sound from your phone. So you can check the Ring/Silent button on the left side of iPhone. If the button shows the orange line, it means that you have turned the Silent mode on. In this case, you need to switch it to Ring mode. After that, you can check the sound on your device again.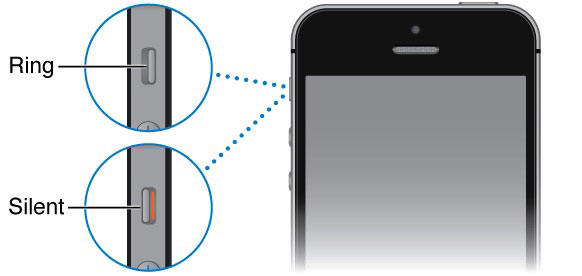 Solution 3. Turn Up Volume on iPhone
Another possibility is that you are using a very low volume. Thus, you can tend to increase the volume on your iPhone. To achieve this goal, you have two ways:
- Launch the Music app or other media files on your device and then press the Volume Up button to increase the sound.
- Go to Settings> Sound to adjust the volume slider in iPhone control center.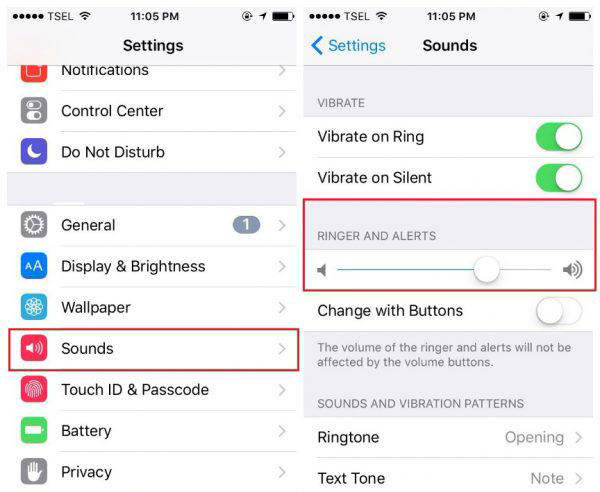 Solution 4. Turn off Bluetooth
The software on iPhone will turn off the speaker when it detects a dock connection or an earphone plugged in. So, it is also an idea to fix iPhone sound problem by turning off Bluetooth. You can accomplish this operation simply- swiping up the iPhone screen to enter the Control center and taping on the icon of Bluetooth to disable it. And also, you can navigate to Settings> Bluetooth and then slip the slider next to Bluetooth to switch off this feature.

Solution 5. Plug out/in Earphone
If you are using an earphone and hear no sound from iPhone, you might be having a loose connection between iPhone and earphone or using a broken or damaged wire. To solve this problem, you only need to plug out the earphone cable and then plug it in again. If it still cannot work, you can try a new cable to receive the sound from your iPhone.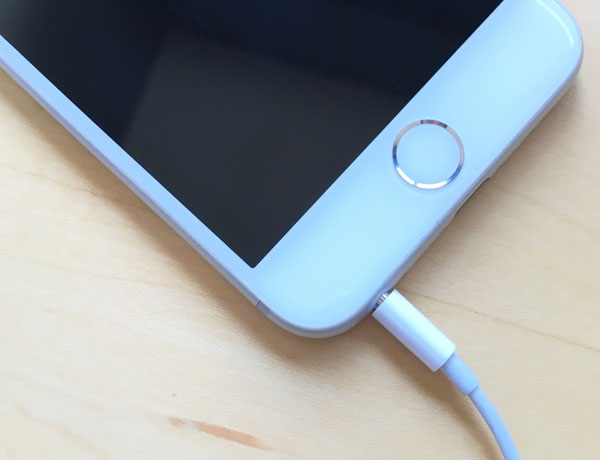 Solution 6. Disable Do Not Disturb Mode
It is probable that you have turned on the "Do Not Disturb" mode while having a rest or meeting and forget to cancel it after finishing them. As a result, it is an advisable attempt to check this mode. Just go to "Settings" and select "Do Not Disturb" option. Then turn off the "Manual" and "Scheduled" option. Or you can just swipe up the screen of iPhone and dim the "Do Not Disturb" icon.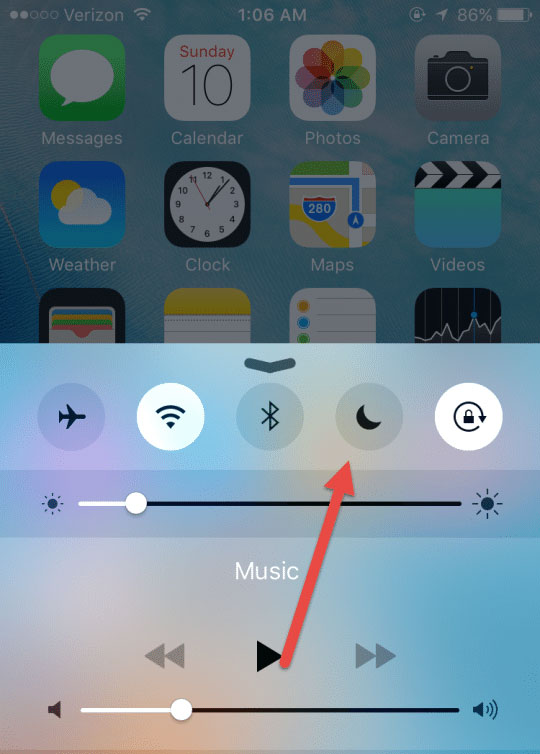 Solution 7. Reboot Your iPhone
Rebooting iPhone is one of the most common way to solve iPhone issues. So you can try it to get rid of the trouble of iPhone sound not working as well. For the users of iPhone 7 or newer generation, you should press and hold the Volume down and Power button to force restart the device. As for iPhone 6S or older version users, you ought to press and hold the Power and Home button to restart iPhone.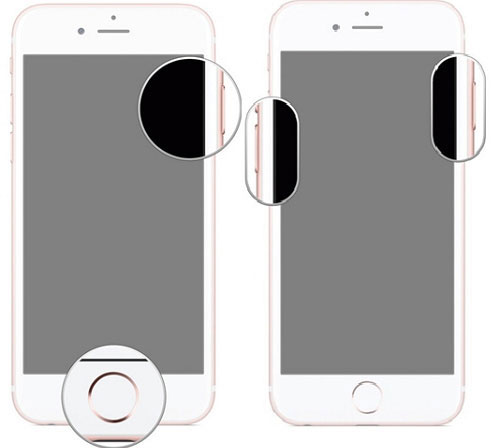 Solution 8. Update iOS version
Another common means to update the iOS version. iPhone will not run well when you use an outdated system so you need to check the iOS update regularly. To do that, you can navigate to Settings, and elect General on this interface. Next choose Software Update option. If there is any new iOS system available to update, it will notice you with a little red dot. Just click on it to download and install the latest iOS version on your device.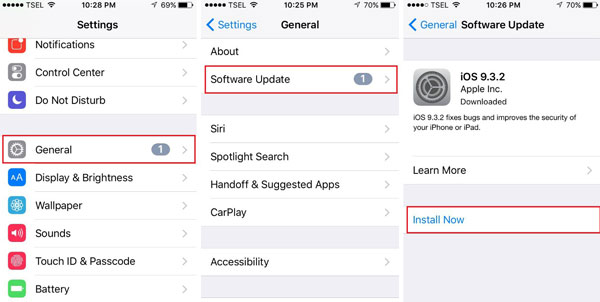 Solution 9. Factory Reset Your iPhone
The last method you can try to fix iPhone no sound issue is to factory reset your iPhone. This solution can settle many iPhone problems but you are advised to use it only when you have tried all the means above and still no sound from iPhone. To factory reset your iPhone, you can visit Settings> General> Reset> Erase All Content and Settings. Then you need to enter your passwords and click on "Erase iPhone" to confirm your selection. After that, all settings and contents on your iPhone will be erased and you need to set up your phone again.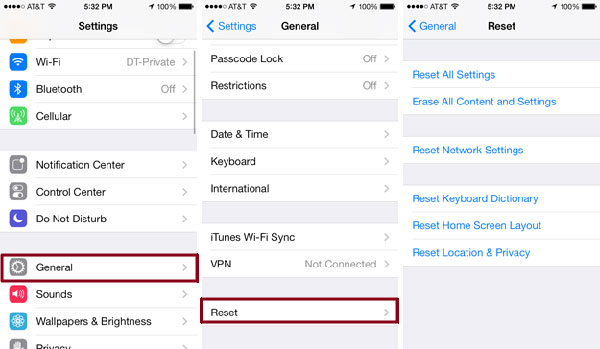 After successfully fixing iPhone no sound issue, don't forget to back up your iPhone data on time. Backing up in advance is the best way to prevent data loss.
Related Articles:
iPhone Getting Hot? Here are Solutions!
[Solved] Something Wrong with My iPhone Charging after iOS 11 Update, How to Fix It?
iPhone Battery Draining Fast After Upgrading, How to Fix It?
How to Transfer WhatsApp Data from iPhone to iPhone?