iPhone Keeps Beeping? Here's Why & How to Fix It in 11 Smart Ways
"My iPhone keeps beeping while on call; it was just two constant beeps, and they were not high-pitched. They were actually pretty low-pitched beeps. I ended the call, and I just want to know how to fix it." -- from Apple Support Community
Even the most advanced devices, like the iPhone can occasionally exhibit perplexing behaviors that leave us searching for answers. Whether you're in the middle of an important call, watching a movie, or trying to concentrate, the frustration of "iPhone keeps beeping" can disrupt your routines, conversations, and peace of mind.
If you've found yourself wondering, "Why is my iPhone beeping/dinging incessantly?" or "How to fix the iPhone beeping error?", go through this page to know the reasons and seek effective solutions to put an end to the constant beeping.
Part 1: Why Does My Phone Keep Beeping?
Incoming Calls: Incoming calls, especially on speakerphone mode, can produce beeping sounds. (How to record phone calls on your iPhone?)
Notifications: Beeping often indicates incoming notifications from apps, messages, emails, or social media.
Low Battery: Your iPhone randomly beeps with no notification when the battery is running low.
Alarms and Timers: If you've set alarms, reminders, or timers on your phone, they could be causing the beeping.
Network Signals: Beeping could occur when your phone connects or disconnects from cellular networks, Wi-Fi, or Bluetooth devices.
Errors or Malfunctions: Some beeping sounds might indicate errors, glitches, or malfunctions within the phone's software or hardware.
Apps Running in the Background: Some apps might produce beeping sounds when running in the background.
Emergency Alerts: In certain regions, phones are programmed to emit emergency alerts for severe weather, AMBER alerts, or other critical events.
Connected Accessories: If you have connected accessories like smartwatches, fitness trackers, or other devices, they might be causing the beeping.
Malware or Adware: In rare cases, malicious software might cause unusual sounds, including beeping.
You May Instigate Interest in:
Part 2: What If Your iPhone Keeps Beeping - 10 Easy Fixes
Fix 1: Use Original Apple Charger/Cable
"Why does my iPhone keep beeping?" is no longer a secret, and here are some of the main solutions to cope with it. First, Apple devices are designed to function well when used with genuine Apple products exclusively. If you're utilizing a non-original cable or charger, it's essential to substitute it with the authentic counterpart. (How to charge an iPhone without a charger?)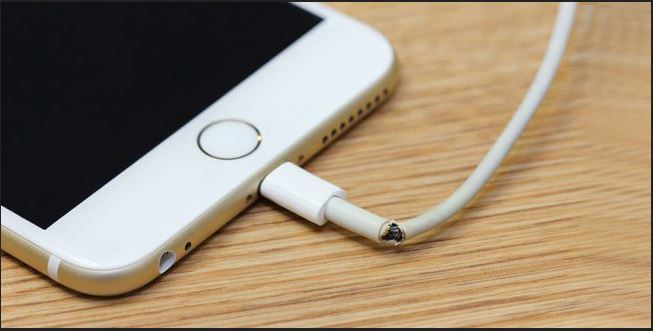 Fix 2: Check Notification Settings on iPhone
Review all apps labeled as "Sounds, Badges" or simply "Sounds".
These apps might produce beeps during iPhone calls even if no onscreen notifications appear.
Click on the app and choose your desired notification preferences.
Make sure to select one or more options under "Alerts".
This adjustment will enable onscreen notifications whenever these apps emit beeps during calls.
Fix 3: Clear History & Website Data in Safari
Once you've exited your applications, it's equally crucial to clear your "Safari History and Website Data", in particular, that Safari is running slow. The advertisement responsible for the beeping on your iPhone might have deposited a cookie within your Safari browser.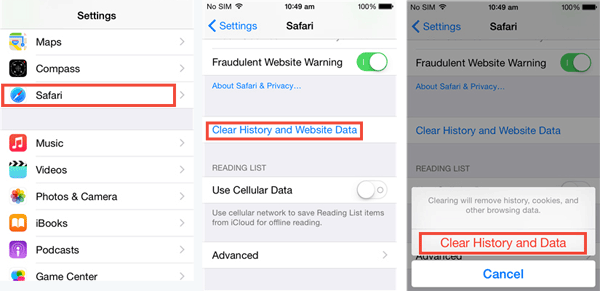 Fix 4: Remove Additional Keyboards
If your iPhone making weird chirping noise persists, consider eliminating any extra keyboards:
Choose "Edit" next to the keyboard you want to eliminate.
Then, press both the "Delete" and "Done" buttons.
Fix 5: Disable Vibration
If you wish to eliminate the iPhone making weird beeping noise while continuing to receive notifications, here's an alternative method:
Access the "Settings" and navigate to the "Sounds" section.
Locate the "Vibrate on Silent " option and switch it to the "Off" position.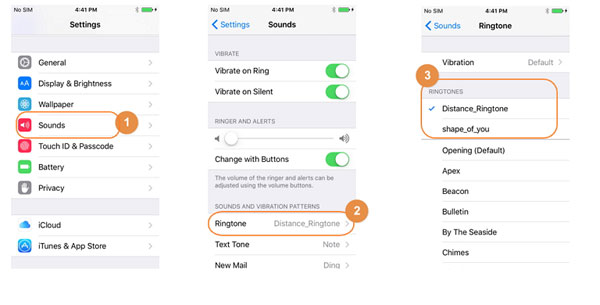 You Might Also Enjoy:
Fix 6: Quit All Apps
Double-press the "Home" button on your iPhone, which will initiate the app switcher.
If your iPhone lacks a "Home" button, navigate to the home screen and swipe upward from the bottom to the middle of the display.
Employ your finger to swipe the apps upwards. After completing this step, the apps will no longer appear in the app switcher.
Fix 7: Reset All Settings on iPhone
An alternative approach to address unexplained iPhone making weird beeping noise on silent is to reset all settings. This can prove effective in resolving certain system issues on your device.
To initiate this process, access the "Settings" on your iPhone.
From there, select "General", followed by "Transfer or Reset iPhone".
Subsequently, opt for the "Reset All Settings" feature and confirm by entering your passcode.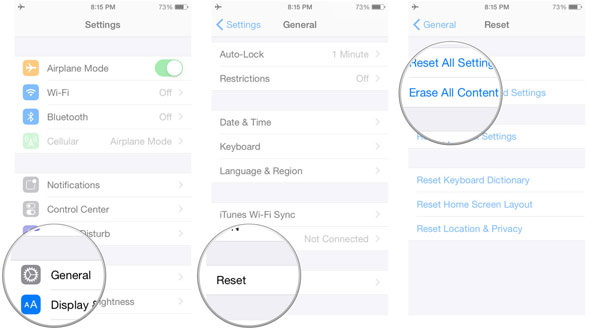 Fix 8: Check for App Updates
Examine the App Store to ascertain whether the application responsible for your iPhone's sporadic beeping has an available update. Developers regularly release updates to rectify glitches and address prevalent issues. To verify app updates, you can:
Launch the App Store and select your "Account" icon situated in the upper right-hand corner of the display. (App Store keeps asking for a password?)
Scroll down to locate the app updates section.
Press "Update" next to any app you wish to update or opt for "Update All" at the top of the list.
Fix 9: Update iOS to Its Latest Version
Given that an older iOS version might hinder your iPhone's optimal functioning, resulting in beeping, it becomes imperative to update your device to the latest iOS version. How do I stop my phone from beeping by updating iOS:
Navigate to "General" > "Software Update".
If updates are available, they will be displayed in this section.
Proceed by selecting "Download and Install" to initiate the download process. During the task, ensure your iPhone is charging and placed within a stable Wi-Fi environment.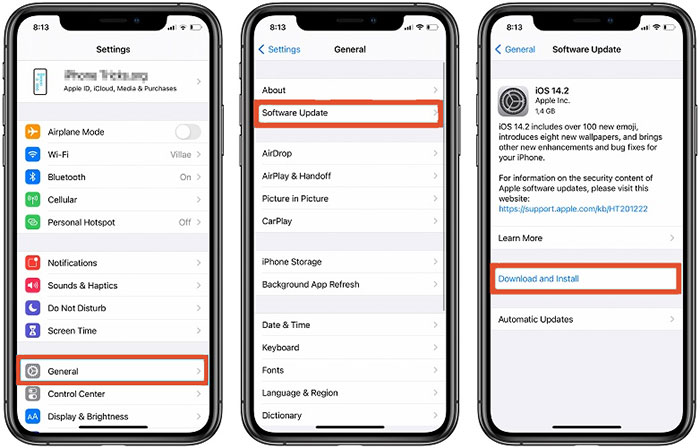 Fix 10: Restart Your iPhone
If the beeping stems from a minor software glitch, try restarting your iPhone:
Hold the "Side + Volume Down" buttons until a slider appears.
Slide it to turn off the device. Wait a few seconds.
Turn on the iPhone to check if the issue lasts.
Part 3: iPhone Still Beeping? Try the Ultimate Way [Productive]
Designed by a team of skilled experts, iOS System Recovery is committed to restoring your iOS device to its regular state, even if you encounter issues extending beyond unusual chirping noises from your iPhone. It holds a prominent position on the list of premier iPhone repair software, as recognized by numerous software specialists. This tool possesses the capability to comprehensively address nearly all iOS problems, including issues with the device, phone screen, iOS modes, and iTunes.
How may iOS System Recovery aid you in?
Fix iPhone keeps beeping in minutes while retaining your data intact.
Troubleshoot a broad range of system-related concerns, encompassing problems like iPhone stuck on Apple logo storage full, iPhone stuck on hello screen, iPhone overheating when charging, 9039 error iTunes, and a lot more.
You are given the choice to either upgrade or downgrade iOS appropriately.
Present two repair modes designed to proficiently handle system issues.
Apply to overall Apple devices, including iPhone 14/14 Plus/14 Pro (Max), iPhone 13/13 Pro (Max)/13 mini/12/12 Pro (Max)/12 mini, iPhone 11/11 Pro/11 Pro Max, iPhone X/XR/Xs/Xs Max, iPhone 8/8 Plus, iPhone 7/7 Plus, iPhone 6/6S/6 Plus, iPod touch, iPad, etc.
It won't expose your privacy.
Here are the full steps for how to fix the iPhone making weird beeping noise with iOS System Recovery:
Step 1. Start the program and link your iPhone to your computer
Get the utility for free by downloading it onto your computer. Connect your iPhone to the computer via a USB cable. Then, go to "More tools" > "iOS System Recovery".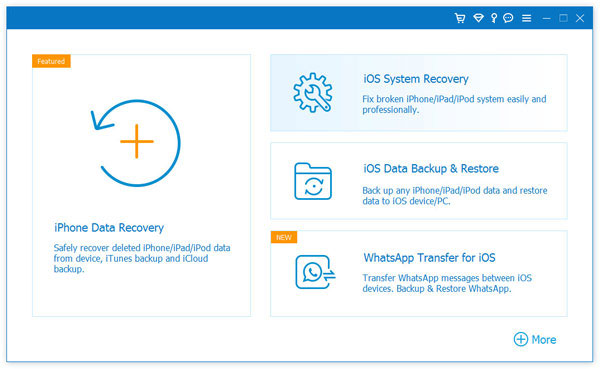 Step 2. Activate recovery mode on your iPhone
Begin the scanning process of your iDevice by tapping "Start". The program will exhibit your iPhone's particulars on the screen. Examine the details and follow the instructions shown to access either Recovery or DFU mode.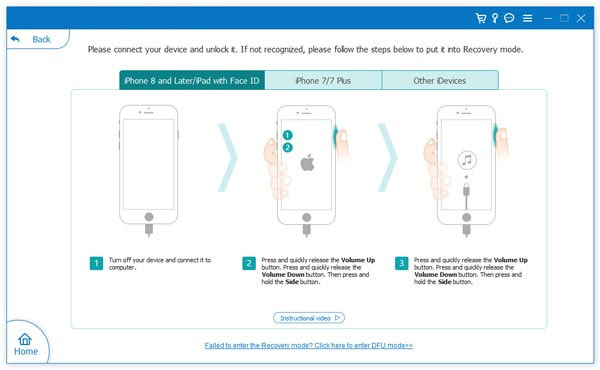 Step 3. Fix iPhone keeps beeping instantly
When your phone is in the selected mode, click "Repair" to mend the unresponsive lower part of your iPhone's screen. The software will automatically acquire the necessary firmware and address the issue.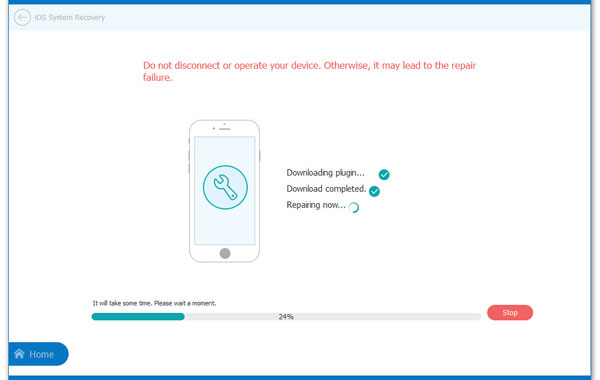 Conclusion
There is no doubt that all of the above methods are worth trying. However, among the array of avenues, one stands out as the ultimate fix: iOS System Recovery. This powerful tool has earned its reputation as a top-tier iPhone repair software recommended by software users alike. With its capability to resolve a variety of iOS-related issues, including the persistent beeping problem, this utility emerges as a reliable and comprehensive solution to put your iPhone back on track.
Related Articles:
iPhone Screen Black and White? 9 Effective Solutions for You
iPhone Unavailable Try Again in 15 Minutes? 4 Common Solutions & 1 Ultimate Way
4 Essential Skills to Sync Messages from iPhone to MacBook [In-depth Guide]
Change SIM Card on iPhone: Here's Everything You Want to Know
How Long Does It Take to Transfer Data from iPhone to iPhone 14/13/12/11/X?
iPhone Touch Screen Not Working/Responding? 10 Troubleshooting Tips for You