How to Get Pictures off iPhone? 5 Solutions in 2023
I have no memory left on my iPhone because I have so many pictures on my iPhone X. I tried going into my iTunes on my MacBook Pro, but I can't seem to get the photos off my iPhone. I deselected photos on the info page, and hit apply and then sync...I have tried so many things I am getting so frustrated. Please help if anyone knows how to get photos off iPhone....thanks.
Many people choose to use the iPhone, not only because of the outstanding performance of the iOS system, but also because capturing photos from the iPhone camera is unmatched by any other device. iPhone cameras come out with excellent quality and top-notch technology inbuilt. Therefore, even if some users have transferred from iPhone to other devices, they still want to stick with these memorable iPhone photos.
So, how do I get photos off my iPhone? Today, you will learn five ways on how to get pictures off iPhone. Let's go through each of them in-depth.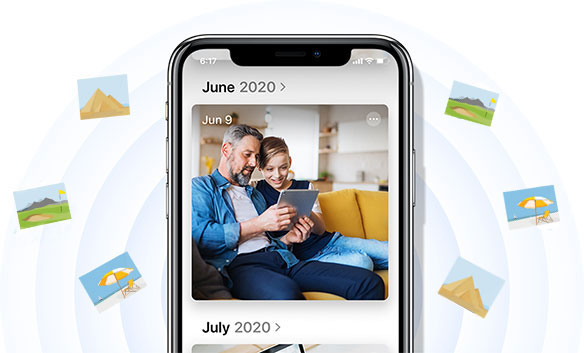 Part 1. Best Way to Get Photos off iPhone with Assistant for iOS
If you want to to get photos off iPhone and save them on your Windows or Mac computer with ease, then you can try this method with a third-party tool, MobiKin Assistant for iOS. It is able to transfer photos from iPhone/iPad/iPod to computer without iTunes. The software is loaded with wonderful iPhone photos managing features that will make you fall in love with the Assistant for iOS.
Why recommend MobiKin Assistant for iOS first?
Offer the easiest way to get photos off iPhone to PC/Mac without launching iTunes.
Transfer, manage, export/import your Photos, Video, Song, eBook, Contacts, Text Messages, Notes, Safari Bookmarks, Voice Memo, Podcast, Ringtone, Playlist, etc.
Supports backup and restore data between iPhone, iPad or iPod, and iTunes directly.
Fully compatible with the latest iOS versions.
Compatible with almost all models of iPhone, iPad and iPod, including iPhone 12/12 mini/12 Pro (Max), iPhone 11/11 Pro Max, iPhone Xs, iPhone Xs Max, iPhone XR, iPhone X, iPhone 9, iPhone 9 Plus, iPhone 8, iPhone 7, iPhone 6S/6, etc.
To use Assistant for iOS to get all photos off iPhone, all that you need are iPhone, USB cable and Assistant for iOS.
How Do I Get Pictures off My iPhone Using Assistant for iOS?
Firstly, install and launch Assistant for iOS on your computer. Connect your iPhone to your computer via a USB cable. Wait until it detects the connected iPhone, and you can see an interface like below: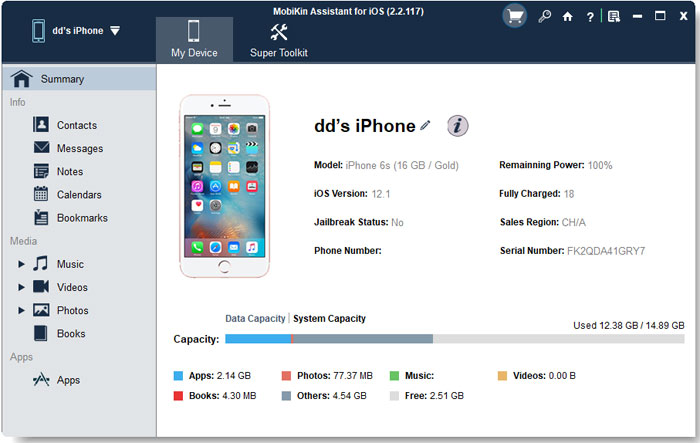 Secondly, choose the "Photos" category in the left sidebar, and all photos on your iPhone will be scanned out. Now, you can preview and select the photos you want to export to the computer.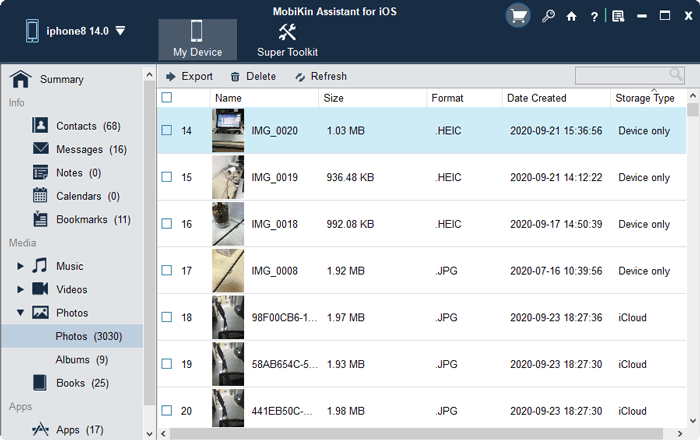 Finally, click the "Export" button from the top menu and choose a location on your computer to get iPhone photos to the computer. OK, you have finished the process to get all photos off iPhone.
Video guide: How to Transfer Photos from iPhone to Computer?
Can't Miss:
Part 2. How to Get Pictures off iPhone via Photos App
Both Mac and Windows 10 computer have Photos app inbuilt, which allows you to get pictures off iPhone on your PC or Mac without installing extra software.
How to get pictures off iPhone to PC?
Link your iPhone to the Windows 10 PC using a suitable USB cable, and allow your iPhone to trust the computer.
Go to the Start menu from the lower-left corner of the computer screen to run the Photos app.
In the Photos app, click the "Import" button from the upper-right corner and choose "from a USB Device". Then, the Photos app will start listing all photos and videos on your iPhone.
Select the photos you want and click the "Import selected" button. After that, all the selected photos will be transferred from your iPhone to PC.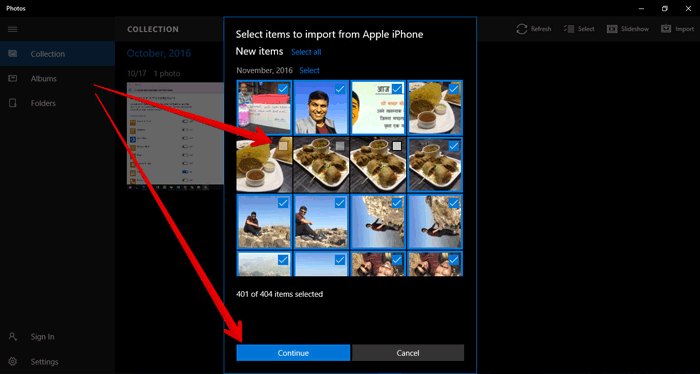 How to take photos off iPhone to Mac?
Run the Photos app on your Mac.
Plug your iPhone into the Mac via USB cable and click the "Import" button from the Photos app.
Preview and select the photos you want to import to Mac.
Press on the "Import Selected" or "Import All New Photos" option to transfer photos from iPhone to Mac.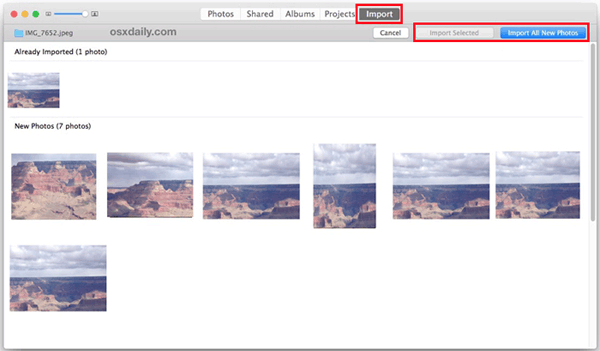 Part 3. How to Take Photos off iPhone with iCloud
Using iCloud to take photos off iPhone is indirect, but it is workable. It is suitable for those who want to take photos off iPhone without a USB cable. What you need to do is logging in to iCloud with the same account on your iPhone and PC/Mac.
How do I take pictures off my iPhone to PC with iCloud:
Connect your iPhone to a WiFi network, open "Settings" > "Photos" and enable the "iCloud Photos Library" option. Then, your iPhone photos will be synced to iCloud.
Download and install the iCloud for Windows program on your PC.
Log into iCloud using your Apple ID and password that you use on your iPhone.
Check the "Photos", "My Photo Stream" and "Upload new photos from my PC" options.

Click "Done" and then "Apply". Then, all photos in your iCloud will be downloaded to your Windows PC.
How do I take pictures off my iPhone to Mac with iCloud:
Follow the first step of the above operation on the PC to synchronize the photos on the iPhone to iCloud.

On your Mac, run the Photos app and go to the top-left corner to click the "Photos" option.
Go to "System Preferences" > "iCloud" and select "iCloud Photo Library" (or "iCloud Photos" in macOS Mojave).
Select your desired photos and download them to your Mac from iCloud.
Read Also:
Part 4. How to Pull Photos off iPhone via AirDrop
I believe Apple users are familiar with AirDrop. It is a tool similar to Bluetooth that realizes the sharing of photos, videos, websites and locations through successful pairing between two devices. Here, you can also use AirDrop to export photos from iPhone to Mac.
Enable AirDrop on your iPhone and Mac. (On your iPhone, swipe up or down to display the Control Center. Toggle on the AirDrop icon and turn on WiFi and Bluetooth. On your Mac, open the Finder app and tap the AirDrop icon from the top left corner.)
Set "Allow me to be discoverable" by "Everyone" or "Contacts Only".
On your iPhone, open the Photos app, select the photos you need and tap the "Share" icon (the box with the up arrow).
Choose the AirDrop icon from the pop-up window and hit on the name of your Mac.
On your Mac, accept the photos transferred and they will be saved to the Downloads folder on your Mac.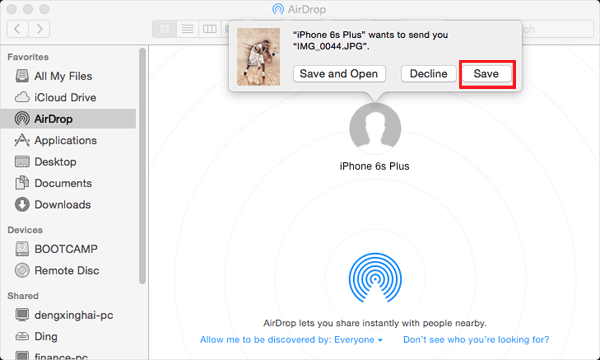 Part 5. How to Get Photos off iPhone Using Email
Using email is a very flexible way to get photos off iPhone because you can store photos in any location, as long as mail is available there.
Open the Photo app on your iPhone, find the photos you want, tap the "Select" button on the top right corner, and mark the pictures you wish to get off.
After the photos selection, you can click the "Share" button and choose the Mail function to send the photos to your Email box or other's Email box.

Log in to the receiver's Email on other devices, your PC as an example, and download photos from email to your computer.
Sum Up
In summary, MobiKin Assistant for iOS is the best tool to help you easily solve various problems related to iOS data management and transmission. Its simple and easy-to-use interface allows anyone to use it without encountering any difficulties. If you just want to get existing photos off iPhone, the above methods are enough. However, if you want to get deleted/lost pictures off iPhone, you need to skip to how to recover deleted photos from iPhone.
Related Articles
Easy Way to Backup iPhone Contacts to Computer/PC
Transfer Music from iPod touch/nano/shuffle to Mac
3 Best Ways to Backup and Restore iPhone (#3 is Excellent)
How to Backup Text Messages on iPhone Effectively?
How to Transfer Voice Memos from iPhone to PC
How to Transfer Music/Songs from iPad to Computer
Different Ways to Backup iPhone 12/11/Xs/Xs Max or iPhone 8/7