How Apple iCloud Works on iPhone, iPad and iPod touch?
If you are an iPhone, iPod touch, iPad or Mac user, chances are that you have come across or even heard about the iCloud service. Though considered to be among the most commonly used in Apple services, iCloud is still a mystery to some iDevice users. However, this will no longer be the case for you once you read this unique yet highly comprehensive article on how Apple iCloud works on iPhone, iPad and iPod touch to the very end.
Can't Miss:
How to Export iCloud Contacts to CSV Format
How to Set up and Use iCloud for Windows
What is iCloud?
iCloud is a leading (Apple-based) cloud storage service that provides you with an easy way to securely store and even sync all your private information including photos, videos, apps, music and documents among others across multiple devices. Apple allows you to authorize a maximum of 10 devices (iPod touch, Mac, iPad, iPhone and even Windows computer) to access the leading cloud storage service.
By default, Apple provides you with a maximum of only 5GB free space to use on iCloud. However, this is not entirely fixed as you can still choose to purchase extra iCloud storage space to fit your storage needs. It is also crucial to remember that iCloud also provides you with unlimited free storage for anything you purchase on the iTunes Store. The beneficial service has been designed to take daily backups of your iOS devices whenever it is connected to a working wireless or internet connection.
The stored backup is usually used to restore your Apple gadget whenever there is a problem. All the content that is stored on iCloud is very secure. This is because your files are usually encrypted before being stored in the cloud. Two-factor authentication is another essential security enhancement that also plays a major role in securing your private data. It is possible to view your iCloud files even when you are far from your synced devices.
You can do this by logging into the iCloud (icloud.com) website on any given PC or handheld device's web browser. You can also access other essential iCloud services like Contacts, Notes, Find My iPhone, Mail, and Calendar while using the official iCloud.com (iCloud) website.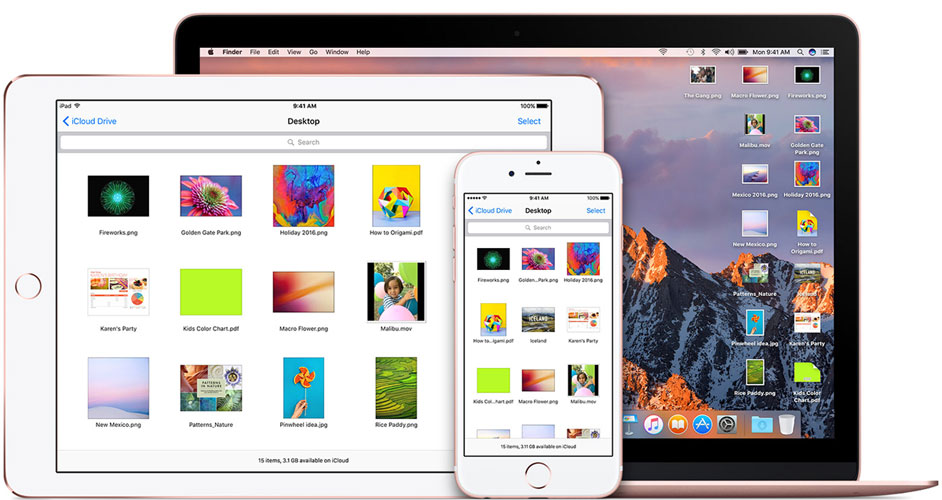 How Apple iCloud Works on iPhone, iPad and iPod touch?
In order to use iCloud, you are required to have a working Internet/wireless connection, an active "iTunes" account, and an iDevice or compatible personal computer (Windows/Mac). You can then proceed to set up your iCloud account simply by entering your official Apple ID and unique password on all the devices that you own.
Activating the iCloud service will ensure that all your personal files and data are stored in the cloud, synced and then automatically downloaded to all the other connected devices. That means any changes you make on one of your gadgets will be automatically reflected onto the others almost immediately.
Key Features of iClud
1. iCloud Drive
iCloud Drive allows you to easily yet securely store all your personal files in the cloud (iCloud) while also making it possible to access the same files on your Windows or Mac computer, iPhone, iPod touch or iPad. The MacOS Sierra operating system makes it possible to automatically store your PC's documents and desktop folders in iCloud Drive. iDevices, and you're also allowed to automatically store all the relevant information in iCloud Drive.
2. iCloud Photo Library
This is an essential feature that automatically uploads any photo you take on your iOS device to iCloud. This alone frees up even more space on your iDevice. It is, however, important to remember that you can only store a maximum of 1000 photos for 30 days in iCloud. Under iCloud Photo Library is the "iCloud Photo Sharing" option that makes it possible for iOS device users to share the videos and images you have captured in your gadget with your friends and family.
3. Family Sharing
You can use the Family Sharing iCloud feature to share all your iTunes, App Store, and iBooks purchases, calendars and family photos among other files with up to six family members. Purchasing an "Apple Music" family membership also automatically provides the six members full access to the Apple Music service.
4. Find My iPad, iPhone or Mac
This amazing feature provides you with a super effective way to access, track, locate and even lock your Apple gadget. Apart from this, you can also force the missing device to ring uncontrollably or even remotely wipe it whenever you are concerned that your private data might fall into the wrong hands.
To minimize theft, Apple has made it mandatory for you to enter your default ID and unique password whenever you want to reactivate an iPhone, iPad or iPod that was remotely wiped.
5. iTunes Match
The iTunes Match feature scans all the songs that are on your device and uploads them to Apple iCloud. iTunes Match can automatically match up to 25,000 songs. iTunes Match, which costs $25 per year, uploads all the matched songs in the highest possible quality (256 kbps) and even supports multiple standard audio file formats.
6. Wallet
This Apple utility which was previously known as "Passbook" is a super convenient way for you to store all your movie tickets, precious coupons, boarding tickets and other finance-related passes. Some of the passes make use of a unique location or time-based technology that makes them automatically appear whenever they are needed.
Related Articles:
How to Delete Duplicate Files from iCloud
How to Download iCloud Backups to PC
Everything You Should Know about iTunes WiFi Sync
iPhone Won't Connect to WiFi, How to Fix It? [Solved]
How to Transfer Samsung/Android Data Wirelessly
How to Remove iCloud Account from iPhone/iPad without Password? [Fixed]