How to Export iCloud Contacts to CSV Format?
It is no doubt that contacts could be the most important data in any types of smart phones, and sometimes people may wish to export these contact information to a simple format and saved on desktop computer for editing, viewing or other using. Then, CSV format is one of the best choices. Here, we have summarized several major reasons that why you need to export contacts to CSV format, and listed them as below:
Can't Miss: How to Sync iCloud Contacts with Google
1. Back up contacts: Even though iPhone have claimed times by times that data on their device can regain the best protection by using iTunes or iCloud. But the facts have proved that iPhone data is still facing a high risk of data losing due to lots of reasons. So as the most important information on your iPhone, exporting contacts from iPhone to computer could be a best way to backup these crucial data to avoid data losing, right?
2. Sync contacts to iPhone: Sometimes you may wish to sync contacts to iPhone, then CSV format could be an ideal format for syncing contacts to iPhone devices, and this is also one of the main reasons that people choose to export contacts and save as CSV format.
3. Simple format to study: You know that CSV format is easy to open with comma, so it can be easily read at any devices.
4. ...
Now, the problem is how to export iCloud contacts to CSV format? You may know that iPhone users are not allowed to get access to iCloud backups on the desktop computer, and you can't export contacts from iCloud to other devices directly, then what will you do? How to reach your goal? Fortunately, you can get a tool called MobiKin Doctor for iOS (Windows/Mac) and use it to help you get access to the iCloud contacts and export them to your desktop computer as CSV format.
See Also: How to Backup iOS Files with iCloud Alternative Software
How Can I Move, Copy or Export Contacts from iCloud to CSV?
Step 1. Download and install the program on your computer, then launch it. Here, you can directly choose "Restore from iCloud Data" and login into your iCloud account.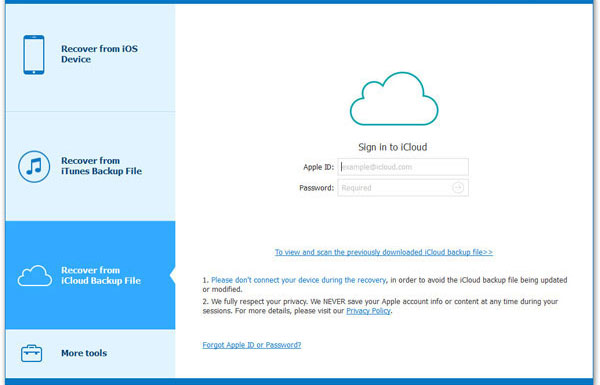 Step 2. Go through the backup list in the program and select the one you wish to get contacts from it. Hit "Start Scan" button and decide which kinds of data you wish to scan.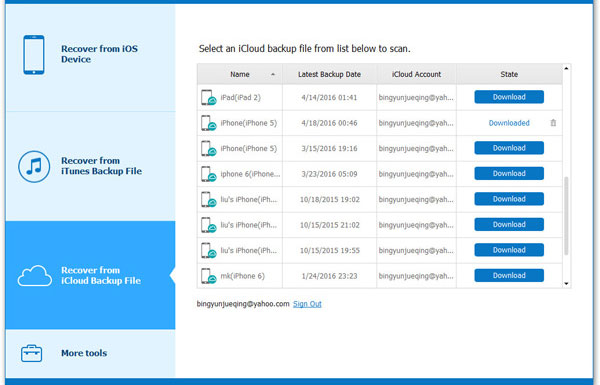 Step 3. Preview contacts info in the program and click "Recover" button to save them on your desktop computer as CSV format.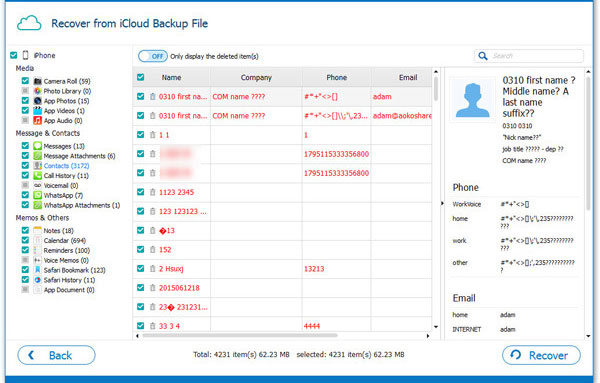 Related Articles:
How to Delete Duplicate Files from iCloud
How to Transfer Music from iPhone to iCloud
Everything You Should Know about iTunes WiFi Sync
iPhone Won't Connect to WiFi, How to Fix It? [Solved]
How to Transfer Samsung/Android Data Wirelessly
How to Remove iCloud Account from iPhone/iPad without Password? [Fixed]