How to Effectively Sync iCloud Contacts with Google?
You may wish to sync iCloud contacts to Google account or devices, so that you can finish the inevitable switch from iPhone to Android or for other reasons, right? For most people, they think that it is impossible to sync data between iCloud and Google due to the different operating systems or security limitations, but now, technology has made everything convenient, so syncing contacts from iCloud to Google could not be a trouble thing for every users, and it is also no more like traditional syncing where you will have to spend lots of time. Too much 3rd-party applications allows you to reach the goal at ease. In this article, we could like to introduce two different ways to help you transfer iCloud contacts with Google, and you can compare them and decide which one is better according to your own needs.
See Also: How to Backup iPhone Contacts to iCloud
How Do I Sync Contacts from iCloud to Google Manually?
iCloud is a popular Apple-based cloud storage service that allows you to securely store and sync your private information across multiple iOS devices. This section is going to show you how to manually sync your contacts with Google using this amazing cloud storage service.
Step 1. On your personal computer, visit the official iCloud website (www.icloud.com) and then use your unique Apple ID and secret password to log in.
Step 2. Once you have successfully logged in, select the "Contacts" option and then proceed to click on "Settings." You will be then provided with a drop-down menu which you can use to click on the "Export vCard" feature. Kindly select and memorize the appropriate export location as you may need it at some point.
Step 3. Visit the URL "www.google.com/contacts" and enter your correct username and secret password to successfully log in to "Google Contacts".
Step 4. Locate the "More" option on your web browser's homepage and click on it. This will then redirect you to a new window from which you can select the "Import" option. Kindly proceed to choose the previously downloaded vCard when prompted.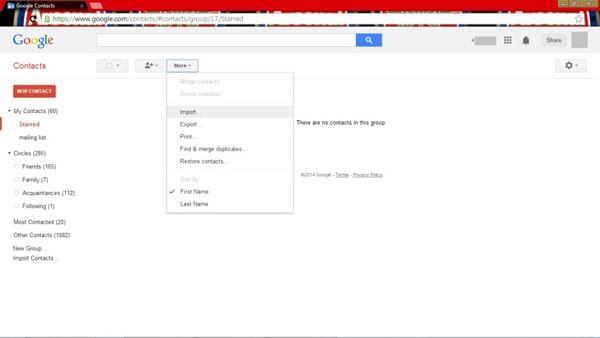 Finally, you can log in to Google on your new Android device and patiently wait as your iCloud contacts are copied to it.
Can't Miss:
How to Sync Google Contacts with iPhone
How to Sync iPhone Contacts to Gmail
How to Sync iCloud Contacts to Google with Phone Transfer?
There are various reputable third party programs that can be used to sync iCloud contacts with Google. Here, we could like to strongly recommend MobiKin Transfer for Mobile as your final option. With it, you can easily download iCloud backups to your new Android Google phone as you like.
Something about Transfer for Mobile
It is a popular program that has been proven to provide you with an easier way to sync your iCloud contacts with Google. This beneficial tool can also be used to sync multiple information including photos, music, messages, videos, apps, calendars and call logs among others.
Below is the detailed tutorial for your reference:
Step 1. Download and luanch the program on your computer, then choose "Restore Data from Backups" and select "iCloud" as your imported file type.
Step 2. Connect your Google device to the computer, and login into your iCloud account in the program directly. Here, you'll get a list of all iCloud backups about your device, and choose one and begin to scan for files.
Step 3. Preview and select "Contacts" after the scanning. Then hit "Start Copy" button to transfer contacts from iCloud to your connected Android devices.
Step 4. Now, you can go to the "Accounts" section located in your android device's stock "Settings" app and tap on the "Google" icon. This will, in turn, redirect you to a new window from where you can sync your new contacts, simply by selecting the appropriate email and tapping on the "Sync All" button.
Related Articles:
Everything You Should Know about iTunes WiFi Sync
iPhone Won't Connect to WiFi, How to Fix It? [Solved]
How to Transfer Samsung/Android Data Wirelessly
How to Remove iCloud Account from iPhone/iPad without Password? [Fixed]
How to Transfer iPhone Files to PC without iTunes Easily?
[Easy Guide] How to Transfer Data from iPhone to iPhone without iCloud?