[Marvelous] Top 8 iCloud Alternatives for Backing Up iPhone, iPad & iPod
Most iDevice users may be acquainted with iCloud now, and many of them sync the significant files from their iPhone/iPad/iPod to it because of its convenience. However, many people are content to choose an iCloud alternative due to the defects of iCloud. For instance, it cannot be used to preview the backup files, cannot restore specific data, limited in free storage, not safe, iCloud backup failed and often runs with slow speed, etc.
Thus, it is imperative to find an iCloud alternative, so as to secure your phone data and get a good user experience. OK, here are top 8 iCloud backup alternative below, and you can choose a suitable one as you like.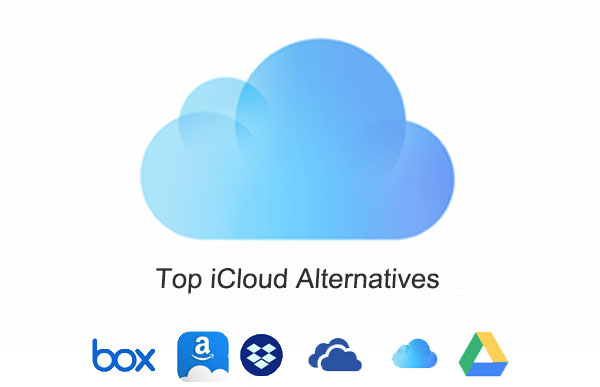 Top 1: Best iCloud Alternative - MobiKin Assistant for iOS
Actually, bright guys will back up the files in case of the possible accidents. Aside from backing up iOS data with iCloud to upload the files to the cloud service, you may choose to use iTunes instead. But there are also some similar shortcomings as iCloud concerning iTunes service. Fortunately, here you can get to know the best iTunes or iCloud alternative - MobiKin Assistant for iOS (Windows/Mac). It is smart enough to make backups of iOS files on computer and can be used to manage your iDevices without a hitch.
The key features of MobiKin Assistant for iOS are as follows:
Detect the your device automatically and perform easy and quick data backup and restoration within one click.
Instantly transfer data from iOS devices to computer without data loss, and vice versa.
Manage as many as 14 types of files, including contacts, SMS, pictures, songs, videos, books, safari, notes, playlists, etc.
Transfer contacts and back up text messages from iPhone to computer in various formats for further use.
Freely manage the transferred iOS contents, including deleting, removing, or adding files from your computer.
Perform tasks on Windows 10/8/7/XP/Vista and Mac OS X 10.9 or higher.
Work well with various iOS devices including iPhone 13/12/11/11 Pro/X/XR/XS/SE/8/7/6/5, iPad Pro, iPad mini, iPad Air, and iPod touch, iPod classic and so on.
Deliver a free trial, and $29.95 for one-year license and $39.95 for lifetime.
To try it out, you can click the following icon of Windows or Mac as required.
Now, suppose you want to back up your iPhone to computer via MobiKin Assistant for iOS, just follow the brief steps please.
Step 1. Connect your iPhone to computer
Download and install the software on your computer. Use a USB cable to link your device to PC and run the program. The software will detect your device. Then you will see an interface like this with many categories list on the left column and the main parameters of your device on the right panel.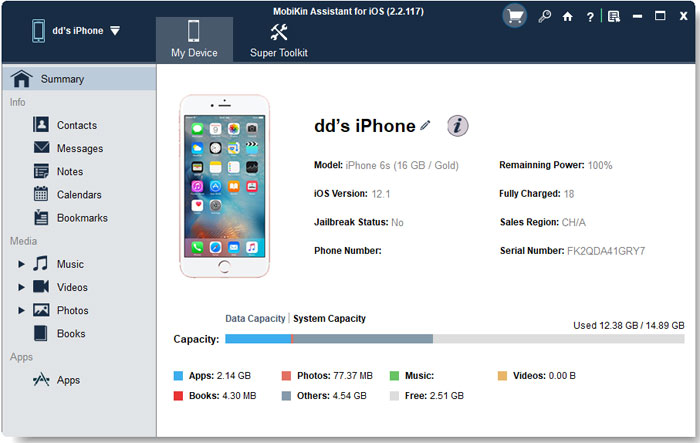 Step 2. Back up your iPhone data
Click the option according to the types of files you want to transfer and then you will preview the files with detailed information on the right panel. Mark the files you want to back up and finally hit the "Export" button on the top panel. You may search the wanted files on the search box in the top right corner.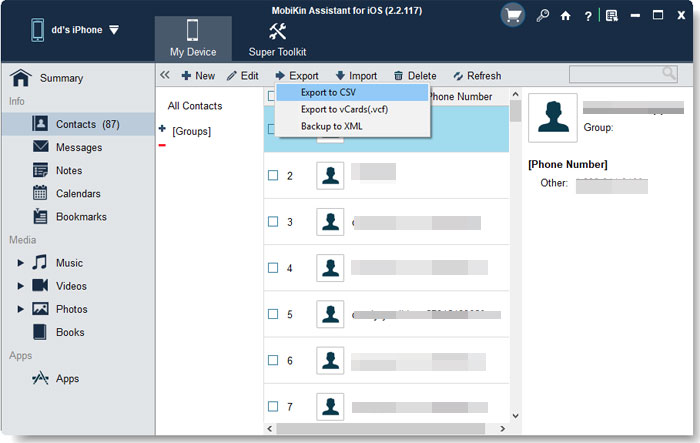 You will know more functions if you download the software and use it by yourself.
Note: If you want to back up iPhone data with one click, please go to "Super Toolkit" > "iTunes Backup & Restore" > "Backup" to back up your iPhone data to computer wholly. But please note this function doesn't allow you to back up iPhone music and videos.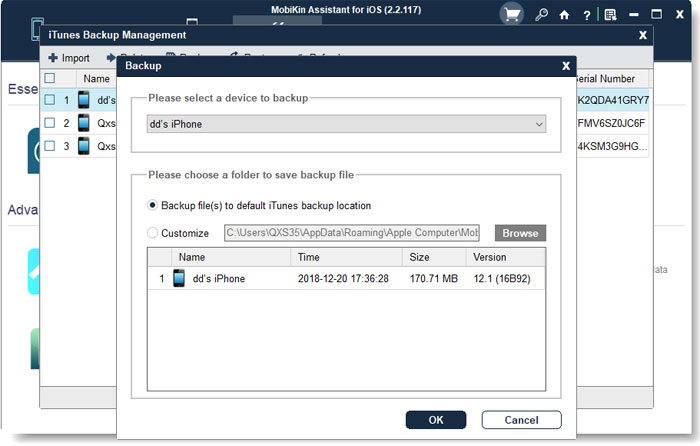 Top 2: iCloud Backup Alternative - Google Drive
With desirable features for data sharing and management, Google Drive is an all-around cloud storage for its users, running on iOS, Android, Mac and Windows devices. It can be used to share data like videos, music, photos and Microsoft office files, etc.
Key features: it has built-in tools for presentation, spreadsheet, and writing for users. Besides, it is easy to select files and folders to sync, but its paid storage subscriptions are not flexible.
Price: 15GB free storage space, and more storage from $1.99 per month.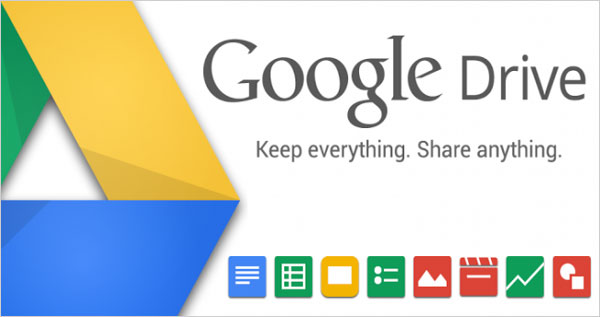 More Related:
Top 3: iCloud/iPhone Backup Alternative - SugarSync
SugarSync can securely sync and copy data from one iDevice to another, helping you enjoy seamless data backup across iDevices with minimal effort. It helps process data like pictures, music, movies and document files, etc. with tiff, png, bmp, avi, wmv, mpeg, mp4, m4v, mov, asf and other common formats.
Key features: it's simple to back up files on your iOS devices and remotely wipe them for whatever reason. However, you cannot select a backup type or change your account on it.
Price: free 30-day trial, and 39.99 per month afterwards.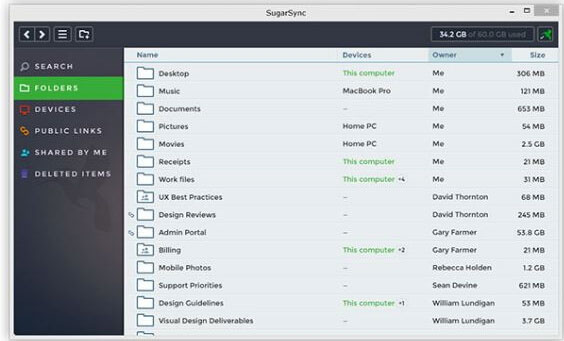 Top 4: Alternatives to iCloud - OneDrive
Integrated with Microsoft Office software, OneDrive is able to share almost all the multimedia files taken with your iOS devices. It allows you to select the specific files or folders to share with others or send them with links.
Key features: assuming you take Office 365 days with OneDrive, you can upload files for editing cooperatively in time. But it gets a slight delay on each action with its web version, and you cannot see the previous versions or deleted files with its iOS version.
Price: its free storage is 15 GB, and for more you need to pay for at least $1.99 per month.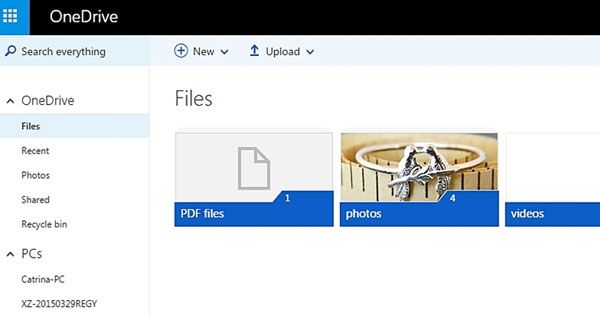 See Also:
Top 5: iCloud Alternative - pCloud
Being able to share HD videos, high resolution images, FLAC music files, and documents with no pesky file size restrictions, pCloud can be used on cross-platform like Windows, Mac, Linux, Android, or iOS.
Key features: as a network drive, it owns a rewind option, which can free up to 15 days back timely, but without online editing function. Moreover, its end-to-end encryption feature is only available for premium users.
Price: 10G free storage space for a month, and more storage from $3.99 p/m.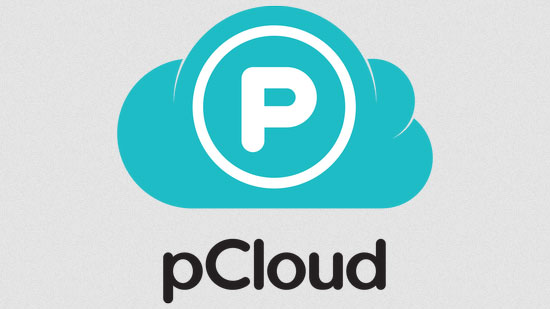 Top 6: iCloud Backup Alternative - Box
Running on Windows, OS X, iOS, Android, BlackBerry and Windows Phones, Box is at the service of backing up photos, videos, music, movies, and documents.
Key features: it offers sharing and privacy features like the options of advanced sharing, task assignment, notifications. And you can also search for stuff like PDF, PowerPoint, Excel and Word. But it is not available for backing up office works.
Price: enjoy 10GB of free storage, but only 250MB per file, and can get more storage with £4/$5 a month.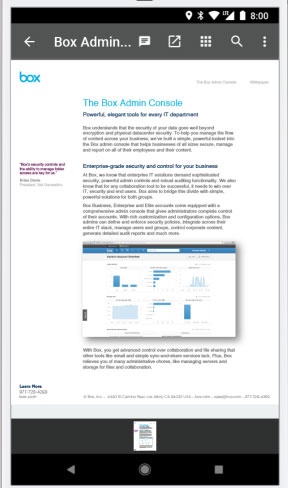 Top 7: Alternatives to iCloud - Dropbox
Dropbox, a handy tool, can help sync data like all document files and most photo and video data (jpg, png, gif, jpeg, bmp, 3gp, wmv, mp4, rm, avi, flv, rmvb, etc). You can also use it to share them with other people freely.
Key features: you are allowed to click on the folder you need to choose to enjoy a folder with your friend by sharing it. And it can also be used to send the links of the files to the people you want to share the data with. Yet, it restricts only to 3 devices for free accounts and has no privacy guarantee sometimes.
Price: free to get 2GB storage space, and more storage from $9.99 per 30 days.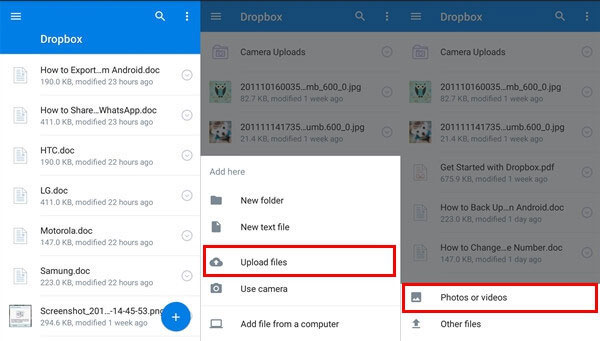 Top 8: iCloud/iPhone Alternative - MediaFire
As a neat tool, MediaFire can be used to drag and drop photos, music, videos and documents directly to upload them with ease.
Key features: besides adding text, arrows, and other items, you can also take a screenshot with a PNG format and exporting them for printing instantly. And it is easy to share a file with anyone over the internet with a URL. Nevertheless, you cannot check all the saved data on it.
Price: 12 GB free storage for each user, $4.49 a month (1TB) and monthly $49.99 (100TB) for business purpose.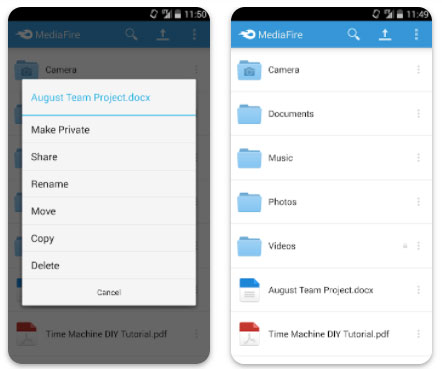 Words in the End
Now, we have illustrated top 8 iCloud alternatives at large. OK, have you got the gist of them? Actually, before you update the iPhone to the latest OS, restore factory setting or do other vital operations, it is necessary to back up the data of your iPhone, iPad or iPod beforehand.
In that case, your contacts, SMS, photos, video, documents and other contents require a well-balanced backup manager - MobiKin Assistant for iOS, which security and specialty are beyond the reach of that of other tools or services. To be frank, I hold the idea that you won't be at the risk of data loss on iDevices without backup anytime.
Related Articles:
iPhone Music Transfer: How to Transfer Music from iPhone to iCloud?
How to Transfer Photos from iPhone to Samsung? [2022]
Can't Delete Photos from iPhone/iPad? Here are Solutions!
Top 4 Ways on How to Transfer Photos from Laptop to iPhone
How to Recover Recorded Videos from iPhone 13/12/11/11 Pro?
[Top 4 Ways] How to Transfer Contacts from iPhone to Computer