Methods to Freeze Screen While Sharing Photos with Friends- For iOS & Android
No matter you use an iPhone or Android device, you might save various photos on your phone, which may be taken by the camera on your device or be downloaded from some applications. So you can share these pictures with your friends while joining a party or meeting in a coffee house. This is could be good thing but you may become joyless if your friends swipe left and right to view other images without your permission. Therefore, we will tell you how to freeze the phone screen so that you are able to protect your privacy as well as maintain a good relationship with your friends.
Part 1. The Reason Why We Need to Freeze the Phone Screen
The reasons why we need to freeze the screen of our iPhone or Android mobile phones are countless. But the most important one would be privacy protection. Except for sharing photos, you might also wish to keep your secrets in these situations: sharing some funny news with your friends face to face, showing some notifications to your colleagues or other cases like that. And under these circumstances, freezing the screen could prevent your privacy from reveal. Thus, it is very essential.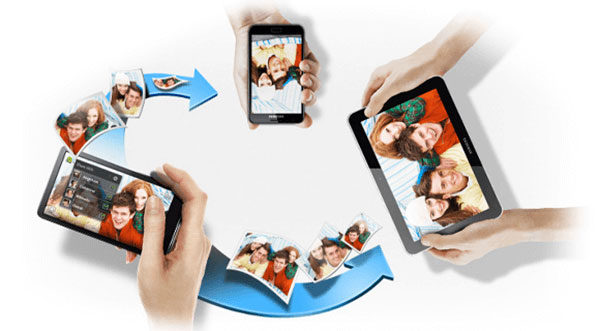 Part 2. How to Freeze Screen on iPhone?
If you are iOS users, you are lucky cause the freezing process is very simple on iPhone. To freeze iPhone screen, you only need to enable the Guided Access on your phone which helps you to focus on a task when you use the device. After turning on the feature, you friends will be able to see nothing on your phone except the one you want to show her/him. You can go with the following steps to find out the function and try to freeze your iPhone screen.
Step 1. Navigate to Settings> General> Accessibility, then scroll down to the bottom and you can see "Guided Access" option. Just click on it.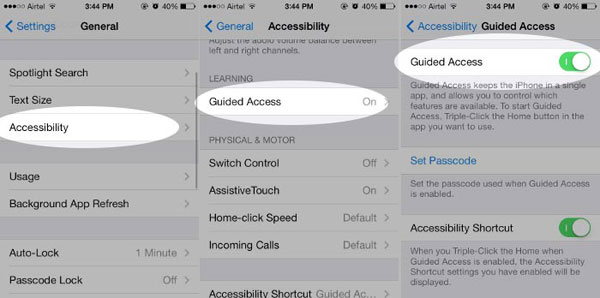 Step 2. Slip the slider to turn on both "Guided Access" and "Accessibility Shortcut". Click the Home button for three times to activate the "Guided Access" feature. Then you ought to type your passcode as required. After that, you will see the interface of Guided Access.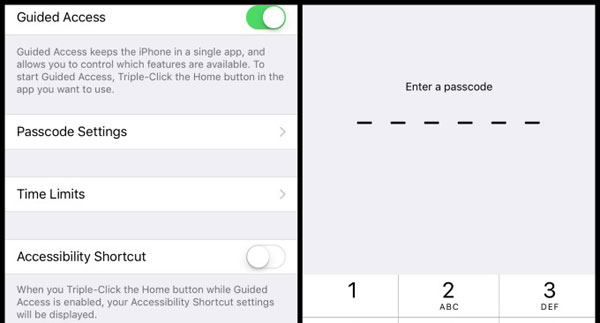 Step 3. Select "Options" and flip "Touch" off. Next tap on "Resume" and your screen will be frozen. If you want to finish the freeze, you can triple-click the Home button and enter the passcode again. Then tap "End" to quit the feature.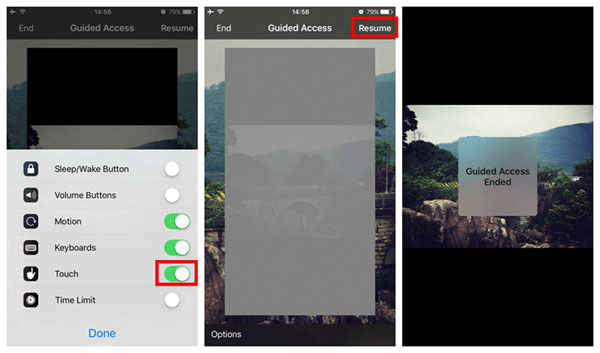 Part 3. Method to Freeze Android Screen
As for Android users, there is no a direct way to freeze the phone screen. So you are suggested to use a third-party software- Ninja Snap which is designed to prevent photos from being swiped left and right. It is not only able to free photos from being rummaged, but also remind those who like rummage to stop their behavior.
The operation is quite simple- showing your friends the photos directly in the program or opening the photo by sharing to the tool. And when your friends try to swipe the screen, they will only be able to see their own faces captured by the front camera. As thus, you can protect your privacy as well as tell your friends not to rummage your photos next time.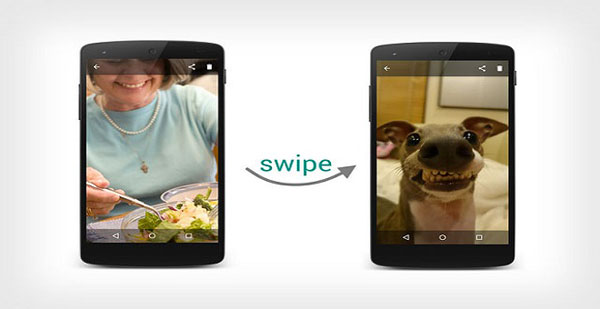 Related Articles:
Photo Editing Apps for iPhone You May Not Know
How to Transfer Photos from iPhone to Computer/PC?
6 Ways to Transfer Photos from Computer to iPhone Effectively
Easy Ways to Transfer Files from Lenovo to iPhone
How to View iPhone Text Messages on Computer/Mac?