How to Jailbreak iPhone 6/5S/5/4S/4 Freely?
Apple iPhones continue to be the most popular among consumers but at the same time iOS is one of the most restricted operating systems. If you choose to jailbreak it to enjoy more freedom, you are not alone. Many users like to do it without damaging their devices. The process of jail breaking into it varies slightly based on the version of the iOS but with many tools available to get the job done, it's not as complicated as you might think.
Preparation
To begin the detailed process, you'd better to backup your iPhone data to iCloud, iTunes or other security places. Below is some steps of backing up iPhone data for your reference.
1.Before you do any action, make sure you create a backup for your original iPhone's operating system. If anything goes wrong, you can use the system image to replace it and get it working again.
2.Take a backup going to settings page -> iCloud -> backup feature. Just click on backup now and it will instantly create one for you on the cloud, for safety purposes.
3.Disable any passcode that you might use on your phone as it may cause trouble later. Find Touch ID and Passcode within settings to disable it before you proceed.
4.Find the option to enable your airplane mode that you do while traveling. It's found in the control center.
5.Download iTunes version 12 on your Windows PC or Mac as it is mandatory.
If you wish to backup all iPhone contents on desktop computer, you can take a free trial on the best iPhone Backup Software.
Steps on Jailbreaking iPhone in Details
- If you're using iOS 8.1 or later, you can jailbreak your iPhone as follows:
The latest versions iOS 8 and iOS 8.1 can be jailbroken by using a special program named the Pangu. It is available for both Windows operating system and Mac OS X. You can use it for iPad as well as other iOS devices as well running on these versions.
Step 1. Download the tool named Pangu version 1.1 from the specified website link: https://en.pangu.io/, then run it.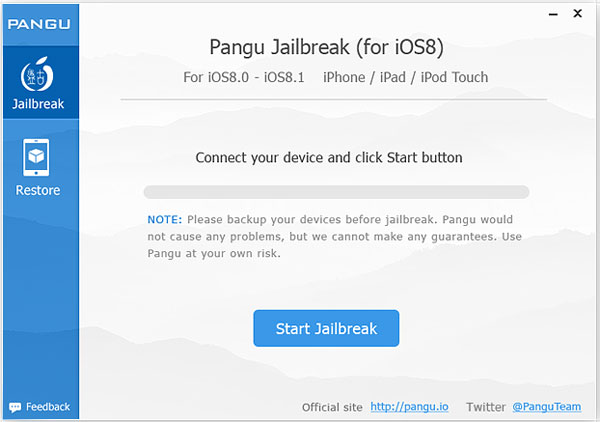 Step 2. In Windows, click on use it as administrator option and then connect your iOS device to your computer or Mac as you do to transfer files using the cable. Pangu will automatically recognize your device. you can feel freely to click on the "Start Jailbreak" icon on the main interface just like the above picture.
Step 3. Proceed by clicking on "already did", and then please be patient as the process continues. The tool may take some time to be completely ready. Once jail breaking is completed, it will automatically restart your iPhone.
Tips: Pangu will automatically install Cydia in your phone. Click on it to ready the file system before you could start using the jail broken features available now.
- If your iPhone is running on iOS 7.1, you can follow below steps:
For phones and tablets running on the older generation iOS 7.1 and later, the process is slightly different.
Download Pangu older version from this link: https://en.7.pangu.io/.
- Please wait for the tool to complete doing its job after which it will restart your device to get it running properly. The tool is compatible with devices including iPad, iPad Air, iPad Mini, iPhone 5, 5S, 4 and 4S as well as iPod touch.
- If you own a device older than iPhone 4 which runs on iOS 6 or older, the process is bit more complicated than simply using Pangu to jailbreak it for you. Be prepared to do a lot of technical stuff but the easier way is to upgrade your device to iOS 7.1 so that the tool can do it for you. It's much easier, safer and saves a lot of time.
- Common Errors and Fixes
1.Even after repetitive tries, if your iPhone doesn't get jail broken by pangu, you can switch on airplane mode, and switch it off again which might get it work.
2.Restart your phone or tablet. Do the same for your Windows computer or Mac, as some users have reported the method works for them.
3.A restore feature is provided in the Pangu tool. Use it to bring the same ROM back to your phone or restore the files from the cloud that you backed up before. Devices respond better when they are reverted back to their original status before being jail broken again.
A jailbreak allows the iPhone to access outdated apps, bypass unwanted restrictions, recover lost data from iPhone directly, get more customization options and a lot of interesting new features. It is fun and will allow you to have the best experience the Apple device has to offer. Keep trying until you get the desired results.
Related Articles
Tips to Transfer or Copy Contacts from iPhone to Computer
How to Transfer Music or Songs from iPod to iPhone