My iPhone Touch ID Not Working, Help!
Touch ID is a fingerprint recognition feature which is designed and released by Apple Inc. and is currently employed in iPhone 5s and the newer generations. With it, users are allowed to unlock the phone by recognizing the fingerprint that they have set before, which is quite convenient and time-saving. However, some users have met the situation that iPhone Touch ID not working which results in the failure of unlocking process. If they forget their passcode as well, it would be a nightmare. To help you get rid of this kind of awkward situation, this article will introduce you the reasons and solutions of this issue.
Part 1. What Causes the iPhone Touch ID Not Working?
Part 2. Solutions to Fix iPhone Touch ID Not Working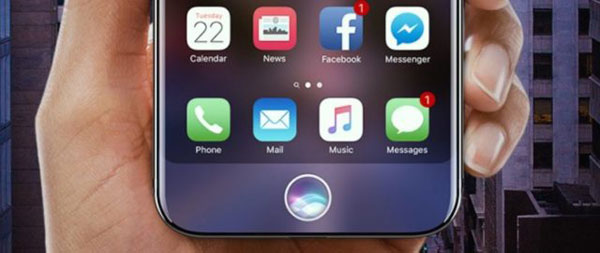 Part 1. What Causes the iPhone Touch ID Not Working?
iPhone Touch ID not working could be an annoying problem and you might want to know what causes this issue. Here several main and common factors that create this problem will be introduced.
- Your finger is covered with water, oil or something like that, which would affect the recognition.
- The Home button on iPhone is not clear.
- The Touch ID feature is turned off.
- iOS version update may disable the fingerprint that you have recorded before.
Part 2. Solutions to Fix iPhone Touch ID Not Working
Is there any easy solution to fix iPhone Touch ID not working issue? The answer must be "Yes". You have several choices to settle this problem. They won't be difficult to understand and operate so just take a look and follow the methods to fix your iPhone Touch ID.
See also:
How to Deal with A Locked iPhone?

1. Keep the Home button and your finger clean and dry
Touch ID is used to unlock your iPhone by recognizing your fingerprint. When you lay down your finger on the home button, the touch sensor will picture and read the fingerprint. If there is dirt covers the Home button or your finger, the fingerprint that the sensor received could be different from the one you have saved so you are unable to unlock your phone. In this case, you are suggested to keep the Home button and your finger dry and clean when you want to open your phone via Touch ID.
2. Toggle Touch ID & Passcode
It is possible that you have turned off the Touch ID feature on your iPhone. When you disable this feature, it is improbable for you to use the Touch ID on iPhone. To check the status of this feature, you could go to Settings and tap on Touch ID & Passcode option. Then enter the Passcode to check the iPhone Unlock is on or off. If it is off, you should swipe the button to turn it on, If the feature is on already, you could disable it at first and then turn it back on.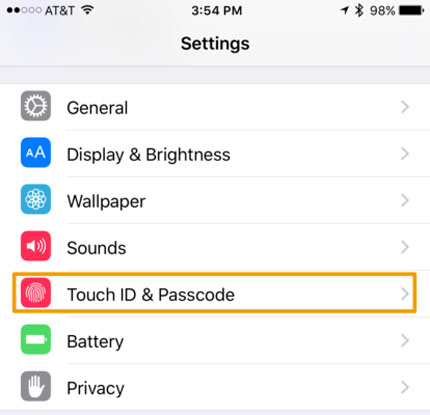 3. Reset Touch ID
Another possibility of iPhone Touch ID not working is that you have set up the Touch ID incorrectly from the begging. Therefore, it is a good idea to delete your original fingerprint and add a new one in your iPhone. To achieve this goal, you can go to "Settings" application and select "Touch ID & Passcode". Then type in your passcode as required and you will see the fingerprint that you have saved before. Just elect the one you want to remove and click on "Delete Fingerprint". After removing the old fingerprint, you could tap on "Add a Fingerprint" to re-add the fingerprint.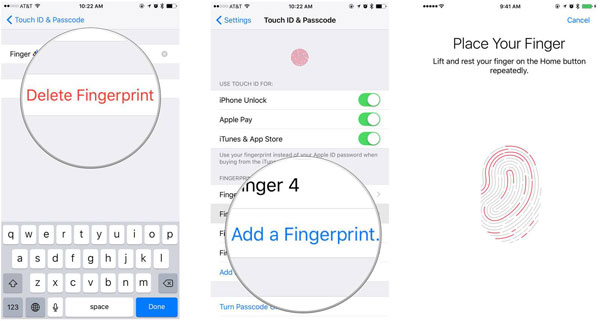 4. Restart iPhone
The next method to fix the issue is to restart your iPhone. You may see this method in many iPhone errors like the unsuccessful connection between iPhone and internet, iPhone won't backup to iTunes and so on. It is the most basic way to solve iPhone issues so that you can have a try. Just press and hold the Power button and drag the slider to turn off your iPhone when you see it. After a few minutes, press and hold the Sleep/Wake button once again to reboot your device.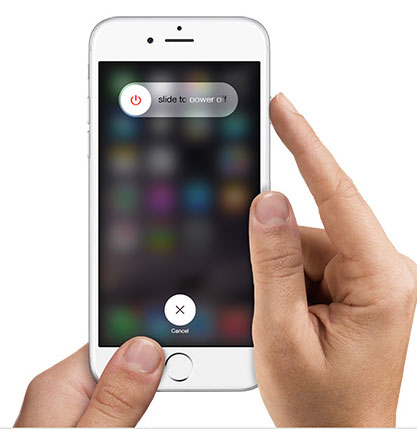 5. Erase your iPhone
After trying all the methods listed above but the Touch ID still cannot work, you could make an attempt to erase your phone. This means would delete all the settings and data on your phone. Therefore, it is better for you to backup your files by iTunes or other softwares before performing this method. When you finish the backup, you can follow the steps below:
- Go to Settings> General> Reset> Reset All Contents and Settings.
- Enter the passcode as required.
- Tap on Erase iPhone when a pop-up message appears to ask you confirm your action.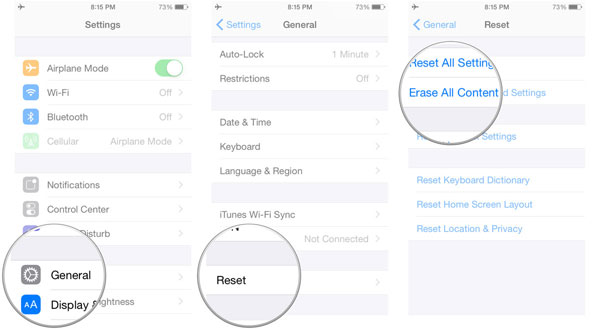 6. Restore iPhone
The last means to fix iPhone Touch ID not working problem is restoring iPhone. It would wipe everything on your phone as well. Thus, do not forget to backup the significant data on your phone. For restoring iPhone, you need to launch iTunes on your computer and connect your iPhone to computer. Then you could see the Summary on the interface, tap on it and click Restore iPhone. Now iTunes will download the firmware first. And finally set up your device as new once the process is completed.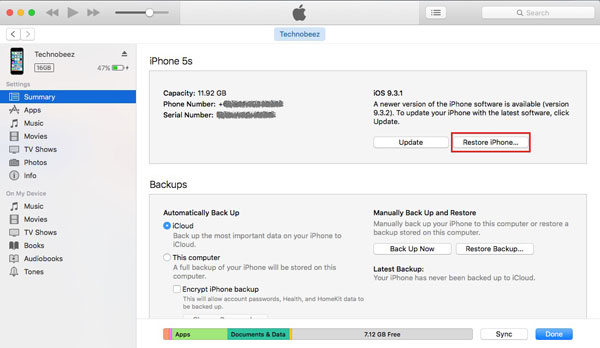 Related Articles:
How to Fix iPhone Won't Connect to Internet?