6 Useful Methods to Control iPhone from PC in 2023
Many people want to mirror and control iPhone on PC, so that even if your phone is not in front of you, you can remotely access iPhone from computer, and use iPhone through PC with a mouse and keyboard. Unfortunately, neither PCs nor iPhones come pre-installed with features that allow remote access. This means that you need to resort to third-party screen mirroring tools to achieve your purpose.
We've tested and listed some great programs, and described in detail how to use these apps to let you control your iPhone from your desktop without the need for a remote jailbreak. Read on to learn more.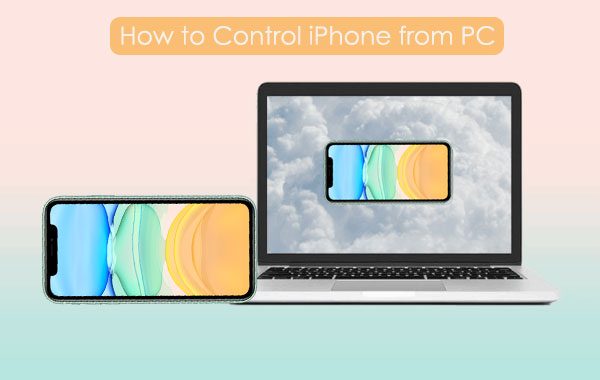 Way 1: How to Control iPhone from PC with Screen Mirror
If you want to control your iPhone directly from PC without going through complicated operations, then using professional screen mirroring software - Screen Mirror is your best choice. It enables you to cast the screen of your iPhone or Android phone to a PC, allowing you to use the mouse and keyboard to remotely access iPhone from computer.
What Can You Benefit from Screen Mirror?
Directly control iPhone and Android phone from PC.
Mirror iPhone and Android phone's screen on the big screen of the PC.
Play phone games or manage social apps on PC fluently with the keyboard and mouse.
View multiple notifications on a computer screen simultaneously without your phone.
Work for various iOS and Android devices, including iPhone 14/14 Pro/13/13 Pro (Max)/13 mini/12/12 Pro (Max)/12 mini, iPhone 11/11 Pro/11 Pro Max, iPhone X/XR/Xs/Xs Max, iPhone 8/8 Plus, iPhone 7/7 Plus, iPhone 6/6S/6 Plus, iPod touch, iPad, Samsung, Huawei, LG, Xiaomi, Motorola, Vivo, OPPO, Sony, etc.
It won't let out your privacy.

How to Control iPhone from PC via Screen Mirror?
Step 1. Download and launch Screen Mirror on your PC. Connect your iPhone and the PC with the same WiFi network, and select "iOS" on the app.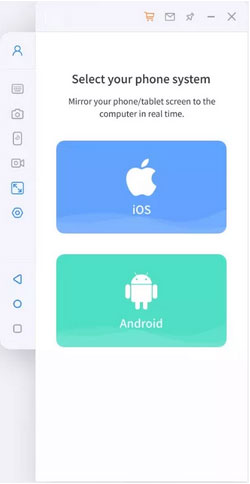 Step 2. Go to "Control Center" on your iPhone and choose "Screen Mirroring".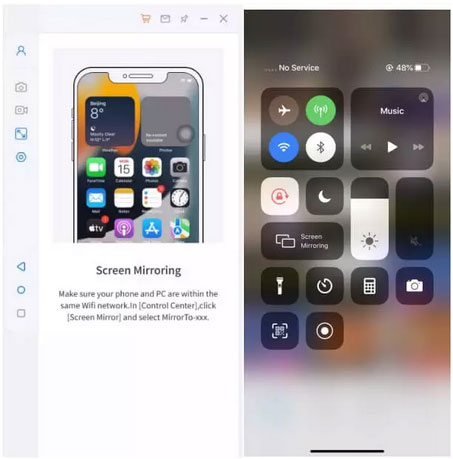 Step 3. Go to "Settings" > "Bluetooth" to pair the phone and the computer via Bluetooth. After that, you can control iPhone from computer instantly.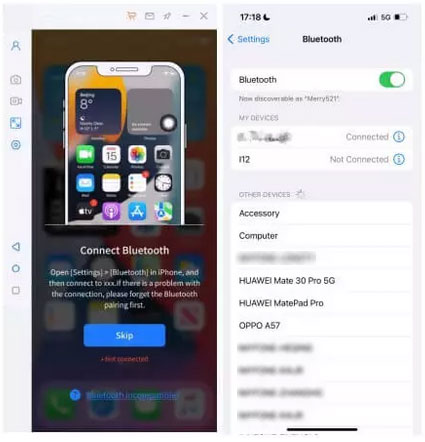 Before using this method, please make sure that your computer's Bluetooth supports screen casting. Otherwise, you can move to other methods, or buy an additional USB Bluetooth Adapter for PC.
You May Like:
Way 2: How to Control iPhone via PC with ISL Light
If you want to control your iOS device directly from your Linux PC or Windows, then ISL Light is your ideal choice. As a remote desktop application, it allows you to remotely access and manage your device with the help of a computer, ideal for those who want to troubleshoot iPhone problems as well as manage large amounts of data and configure devices.
How to control your iPhone from your desktop with ISL Light?
First, download ISL Light for your computer, and other ISL Light apps for your iPhone.
After the download is complete, install and open this software on your PC. Then go to your iPhone and run the app.

Next, connect your iPhone to the computer by sharing session code. Once connected, you can access your iPhone on your computer via Wi-Fi, 3G, or LTE.

Now you can control your iPhone directly from your computer, such as taking real-time screenshots, chatting with iPhone users remotely, and more.
Way 3: How to Use iPhone through PC with Chrome Remote Desktop
In the past, the Chrome Remote Desktop extension was developed for Android users. But later, to cater to iOS users, this extension was allowed to be used on iOS devices. It allows you to access content on remote devices, transfer files, text chat, and more from your main computer. Before you start, you need to make sure your PC has the latest version of Chrome.
How do I control my iPhone from my computer with Chrome Remote Desktop extension:
Install the Chrome Remote Desktop app on your computer and its free iOS version on your iPhone.
After installation is complete, connect your iPhone and computer to the same Wi-Fi network. Or you can use a data cable to connect the two devices.
Once connected, you can remotely access and control your iPhone from your computer. You can play videos from your iPhone on your computer, create documents, configure applications, and more.
See More:
Way 4: How to Control iPhone from Computer with Veency
Another software that can help you mirror and control iPhone on PC is Veency, which supports screen sharing and allows users to access all the functions on the phone from the computer, including locking and unlocking iPhone, launching browsers and apps, etc. However, this tool only works on jailbroken devices. If your iPhone is jailbroken, you can use this tool to control your iPhone on Windows, Linux and Mac.
How to access iPhone from PC with Veency:
Launch Cydia on your jailbroken iPhone and update any required repositories.
Install the Veency app on your iPhone. Then, click "Restart Springboard" and wait for Cydia to run.
Find the Veency entry in your iPhone's Settings app, toggle "Show Cursor" to ON, and you'll be able to remotely control your jailbroken iPhone.
Connect your iPhone and PC to the same WiFi network. Go to Settings > Wi-Fi on your iPhone, tap the little "i" next to the network, find and remember your IP address.

Go to your PC, launch the VNC viewer, and enter the IP address you just wrote down. Then, you'll see your iPhone show up on your PC display. Now, you can completely control your iPhone from your PC.
Way 5: How to Control iPhone from Desktop with ApowerMirror
ApowerMirror is a popular screen mirroring program that allows you to quickly cast your iPhone or Android device to your PC in simple steps. It lets you send and receive messages on your PC, run mobile apps, and play mobile games using your keyboard and mouse.
Here are the simple steps you should follow to control iPhone from computer with ApowerMirror.
Download this app on both your iPhone and PC. Make sure your PC has Bluetooth capability. If not, you may need to purchase an external adapter.
Pair the iPhone and PC via Bluetooth.

Once the Bluetooth pairing is successful, you can control your iPhone from the PC without jailbreaking.
Way 6: How to Remotely Access iPhone from Computer with TeamViewer
We have another remote control solution - using TeamViewer. This app doesn't need bluetooth or WiFi, just mirror your iPhone to PC with an auto-generated ID. It provides a screen sharing feature that allows you to share your iPhone's screen with your friends and family.
How to control iPhone from PC with TeamViewer.
Download this app on your iPhone. After installing and launching it, it will generate an ID for your iPhone.
Open the software on your PC and click "Remote Control".
Enter the ID that was generated on the iPhone earlier on the PC, and tap "Connect".

To enable the "Screen Mirroring" function on your iPhone, you can pull down the phone screen, open the "Control Center" and choose "Screen Mirroring".
After completing the above steps, you can share your iPhone screen on your PC, or even across multiple devices.
In Conclusion
If you want to remote control iPhone from PC via USB,WiFi, Bluetooth or code, the above are simple and safe solutions you can try. Finding valuable software is not an easy task. After several tests, we can pat on the chest and guarantee that Screen Mirror is the most trustworthy software that allows you to display the iPhone screen and control your iPhone on PC . If you have more ideas for controlling iPhone to PC, please share in the comments.

Related Articles:
How to Control iPhone with Broken Screen Effortlessly? [Ultimate Guide]
QuickTime Screen Recording Not Working on Mac? How to Fix It
How to Record iPhone Screen without Jailbreak?
[Full Guide] How to Transfer Videos from PC/Mac to iPhone?
iPhone Black Screen of Death? 9 Fixes Help You Resolve This Issue Easily