iPhone 14 - Release Date, Price, Specs, and Everything You Care About
At 10:00 a.m. Pacific time on September 7, 2022, Apple held its autumn release conference, indicating that its new products, such as the iPhone 14 series, Apple Watch Series 8, and AirPods Pro would be unveiled. At this press, the most eye-catching scenery is still the new iPhone 14. As you know, the latest version of iDevices is always favored by a host of Apple fans. And it's no wonder that this conference is sort of a tech feast. Well, here is everything Apple just announced at its latest iPhone 14 event. Next, we shall round up the important content, which includes iPhone 14's names, release date, price, new features, design, display, cameras, specs, battery, and many more.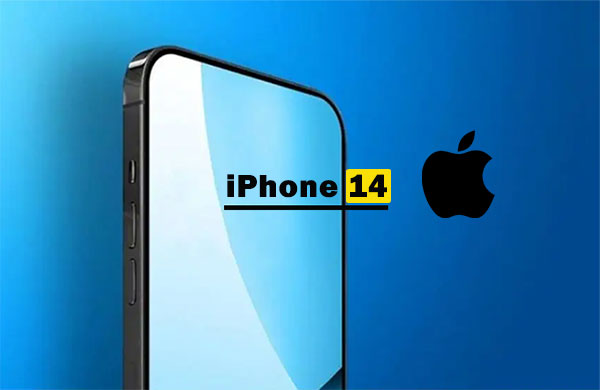 Part 1: iPhone 14 Names
iPhone 14, iPhone 14 Plus, iPhone 14 Pro, and iPhone 14 Pro Max.
Part 2: iPhone 14 Release Date, Price & Availability
Release Date: September 16, 2022
Price: The iPhone 14 starts at $799, and the iPhone 14 Plus is $899, iPhone 14 Pro will start at $1,099 and the iPhone 14 Pro Max will start at $1,199
Availability: The iPhone 14 and iPhone 14 Plus will be available for pre-order starting on September 9, with full availability on September 16 for the iPhone 14, and October 7 for the iPhone 14 Plus. The iPhone 14 Pro and Pro Max will be available for pre-order on September 9 with availability on September 16.
Can't Miss:
Part 3: iPhone 14 New Features
The iPhone 14 features a 6.1-inch OLED display and the iPhone 14 Plus grows that to 6.7 inches. Yes, the iPhone mini looks dead.
The iPhone 14 Plus promises the best battery life ever on an iPhone.
Emergency SOS via satellite functionality can be used to communicate when you're out of cellular range. Launches in November and will be free for two years.
The A15 Bionic chip is borrowed form the iPhone 13 Pro and gives you a 5-core GPU for 18% faster performance.
The new 12MP main camera has a bigger sensor (1.9 microns and 49% low-light improvement.
Photonic Engine: Enhanced image pipeline to deliver better low light photos. 2x improvement on front camera, 2x on ultra wide and 2.5 on main camera., so you'll get much better detail and color.
Big improvement to video: advanced stabilization mode, Action mode is new and can be toggled on for smooth video. No gimbal required.
The iPhone 14 support eSIM only, so there's not SIM card tray.
The iPhone 14 offers crash detection, just like the new Apple Watch 8.
Apple is working on a way to put the hardware for Face ID under the display to get rid of the notch.
An always-on display which doesn't turn off when it's not in use.
Apple also introduced a new low-power mode to make the battery life last longer.
It uses Apple's latest A16 Bionic chip, which Apple says was built on a 4-nanometer process.
A 48-megapixel camera thanks to a bigger sensor.
Better low-light photography.
Redesigned flash.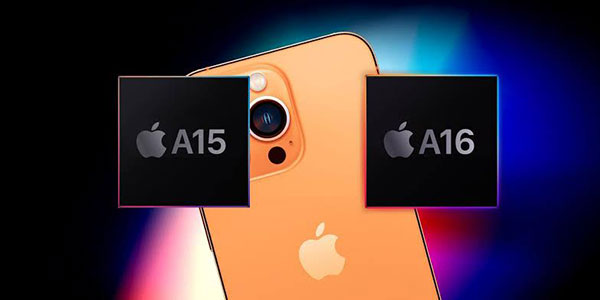 Part 4: iPhone 14 Color, Design & Display
Color: available in deep purple, silver, gold, and space black.
Design: iPhone 14 Pro and iPhone 14 Pro Max feature a beautiful surgical-grade stainless steel and textured matte glass design in four stunning colors. Available in 6.1-inch and 6.7-inch sizes,1 both models include a new Super Retina XDR display with ProMotion that features the Always-On display for the first time ever on iPhone, enabled by a new 1Hz refresh rate and multiple power-efficient technologies. This makes the new Lock Screen even more useful, keeping the time, widgets, and Live Activities available at a glance.
The advanced display also brings the same peak HDR brightness level as Pro Display XDR, and the highest outdoor peak brightness in a smartphone: up to 2000 nits, which is twice as bright as iPhone 13 Pro. iPhone 14 Pro and iPhone 14 Pro Max also continue to offer industry-leading durability features with the Ceramic Shield front cover — tougher than any smartphone glass — and are protected from common spills and accidents with water and dust resistance.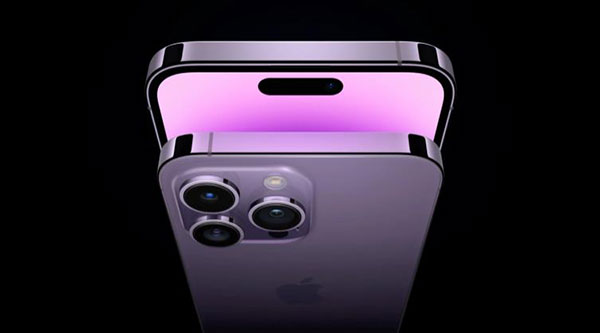 Display: Speaking of the iPhone 14 Pro's display technology, this will be the year that Apple finally adds always-on display support to the iPhone lineup. The company is reportedly planning to add always-on display support to the iPhone 14 Pro and iPhone 14 Pro Max. This would allow users to see glanceable information on their iPhone display, even when it's powered off. You may be wondering why the iPhone 13 Pro and iPhone 13 Pro Max can't have this always-on display functionality.
The key is that the iPhone 14 Pro models will have an updated ProMotion display technology that allows it to scale all the way down to a 1Hz refresh rate. The existing ProMotion displays used by Apple can scale down to a minimum of 10Hz.
See Also:
Part 5: iPhone 14 Cameras
The iPhone 14 received some big camera upgrades. The main sensor is much larger with bigger pixels (1.9 microns), and with the faster f/1.5 aperture and sensor-shift image stabilization, the iPhone 14 enjoys a 49% improvement in low-light performance. Night mode even gets a bump with the exposure now twice as fast.
As for the ultrawide, Apple didn't share too much on its specs, leading us to think it might be the same as the iPhone 13. (Meanwhile, the iPhone 14 Pro got a big ultrawide upgrade.) However, the front camera (f/1.9) received an update with a hybrid focusing system thanks to TrueDepth and autofocus.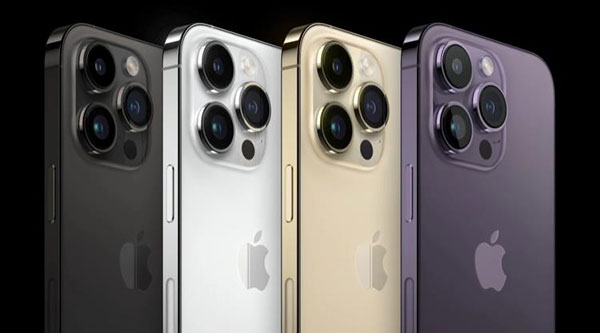 We also got to hear about adjustments to Deep Fusion, which is Apple's technology that combines multiple frames at different exposures into one image in mid- to low-light situations. With iPhone 14, Deep Fusion is applied earlier in the process with uncompressed images.
Apple also introduced Action mode for the iPhone 14, which offers much more advanced stabilization for video, with the phone maker stating you may not even need a gimbal. That's a lofty claim, but Action mode sure looks cool. Situational, much like Cinematic mode last year, but neat all the same. The pro camera system on iPhone 14 Pro and iPhone 14 Pro Max pushes the boundaries of what's possible in a smartphone, empowering every user — casual or professional — to capture the best photos and video.
iPhone 14 Pro takes computational photography even further with Photonic Engine, offering a giant leap for mid- to low-light performance in photos across all cameras through a deep integration of hardware and software: up to 2x on the Main camera, up to 3x on the Ultra Wide camera, up to 2x on the Telephoto camera, and up to 2x on the TrueDepth camera. Photonic Engine enables this dramatic increase in quality by applying Deep Fusion earlier in the imaging process to deliver extraordinary detail, and preserve subtle textures, provide better color, and maintain more information in a photo.
For the first time ever, the Pro lineup features a new 48MP Main camera with a quad-pixel sensor that adapts to the photo being captured, and features second-generation sensor-shift optical image stabilization. For most photos, the quad-pixel sensor combines every four pixels into one large quad pixel equivalent to 2.44 μm, resulting in amazing low-light capture and keeping photo size at a practical 12MP.
The quad-pixel sensor also enables a 2x Telephoto option that uses the middle 12 megapixels of the sensor for full-resolution photos and 4K videos with no digital zoom. This delivers optical quality at a familiar focal length, which is great for features like Portrait mode. It also brings benefits to pro workflows, optimizing for detail in ProRAW. And with a new machine learning model designed specifically for the quad-pixel sensor, iPhone now shoots ProRAW at 48MP with an unprecedented level of detail, enabling new creative workflows for pro users.
Part 6: iPhone 14 Specs & Battery
Specs: the iPhone 14 did not get the new A16 Bionic chipset, which is a Pro exclusive this year. Instead, the iPhone 14 and iPhone 14 Plus get the higher-end A15 Bionic that we saw in the iPhone 13 Pro last year. That means it has the same 6-core CPU 16-core Neural Engine, but the iPhone 14 now enjoys a 5-core GPU for boosted gaming performance.We don't know how much RAM the iPhone 14 has just yet, but perhaps Apple will reveal that information soon.
Big upgrades here include a new camera system, complete with a focus on low-light performance, better stabilisation for video and a bigger wide sensor that now packs a much faster f/1.5 aperture lens.
Battery: Apple never talks about battery size, but it did say the iPhone 14 has the best battery life ever on an iPhone. We'll have to assume that means at least 15 hours but could mean a day or more of video playback. Obviously, I'd need to test these claims. The phone still supports MagSafe wireless charging but did not, it seems, get any sort of fast-charging bump. iPhone 14 Plus boasts the best battery life ever in an iPhone.3 Both models have an updated internal design for better thermal performance.
With iOS 16 beta 5, Apple added the iPhone's battery percentage inside the battery icon. While many iPhone models will be able to take advantage of this new look. As for battery life, Apple touts "all day" longevity for the iPhone 14, which is nebulous at best. Luckily, the iPhone 13 had pretty good battery life, so we're not all that concerned.
The more interesting tidbit is that Apple said the iPhone 14 Plus has the best battery life of any iPhone to date, which is a bold claim. We'll have to see. We also didn't get to hear about charging wattage, which we found odd.
Part 7: iPhone 14 Satellite Connectivity & Crash Detection
Satellite Connectivity: As rumored, the iPhone 14 series has a new satellite connectivity feature called Emergency SOS. This is an emergency feature that allows the device to connect directly to a satellite in an emergency situation. The feature will guide you through pointing the camera in the right direction to send a message, and the software will prompt users for information that could help emergency services assess the situation that the user is in. This feature will be available to users in the U.S. and Canada in November and will be free for two years.
Satellite connectivity will be available only in the US and Canada starting in November. Apple says that the service will be offered free for two years for iPhone 14 buyers. After that, there will be a cost to enable satellite connectivity, but the price is unclear.
Crash Detection: Crash Detection, which uses the iPhone's sensors to detect a car crash and alert emergency services. Crash Detection, thankfully, is available on the non-Pro models too. Apple has focused on emergency services with the iPhone 14, adding crash detection to its popular iOS device. The models have a new high-dynamic range gyroscope and dual-core accelerometer that can detect up to 256 Gs.
A new iPhone 14 feature that uses motion sensors to detect a car accident and automatically call the emergency services.
Extra: Transfer Data to New iPhone 14
Now, you can't wait to get your hands on the iPhone 14. Calm down, you should first think about how to transfer important data from old device to new iPhone 14. Here, you cannot miss MobiKin Transfer for Mobile, this efficient and secure data transfer software. It allows you to transfer all data from one device to another with one click, without compromising the quality of the data.
Transfer for Mobile supports almost all Android and iOS devices. So, whether you want to transfer data from Android phone to iPhone 14 or iPhone to iPhone 14, Transfer for Mobile can do the job perfectly.
Core Features of MobiKin Transfer for Mobile:
Transfer data from iPhone/Android phone to iPhone 14 with one click.
Support to transfer data from iPhone to iPhone, Android to iPhone, iPhone to Android and Android to Android.
Transfer more than 12 different types of data, including contacts, notes, calendars, bookmarks, books, call logs, text messages, photos, music, documents, videos and apps, between two devices.
Simple to use, retains the quality of your data, and requires no internet connection.
How to transfer data to new iPhone 14 with Transfer for Mobile
Step 1: Download, install and run the MobiKin Transfer for Mobile on your PC or Mac computer. Connect the new iPhone 14 and your old phone, be it Android or iPhone to the computer with USB cords.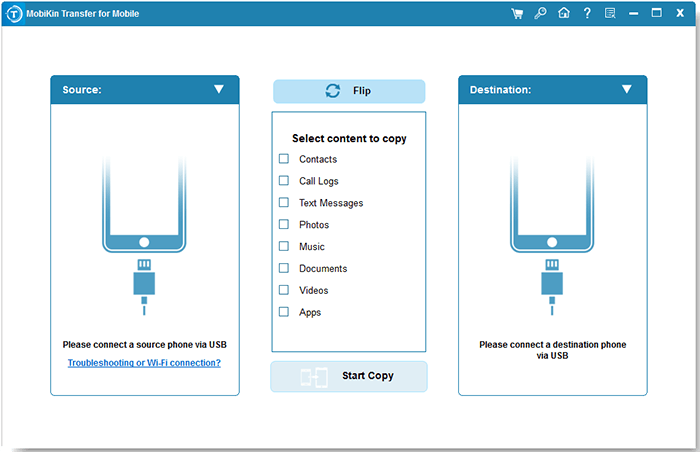 Step 2: Make sure the old phone is the "Source" device and the new iPhone 14 the "Destination" device. You can click "Flip" to change their positions if they are wrongly placed.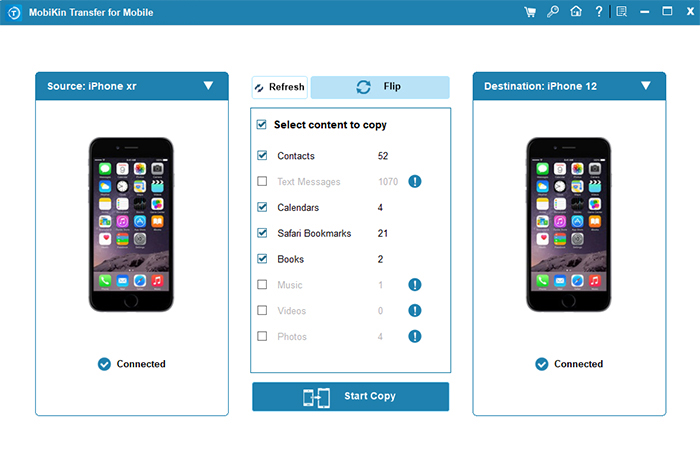 Step 3: All transferable file types are listed in the center of the screen. Tick the checkboxes of the category of data you want to transfer to the new iPhone 14, and then click "Start Copy" to begin the transfer process.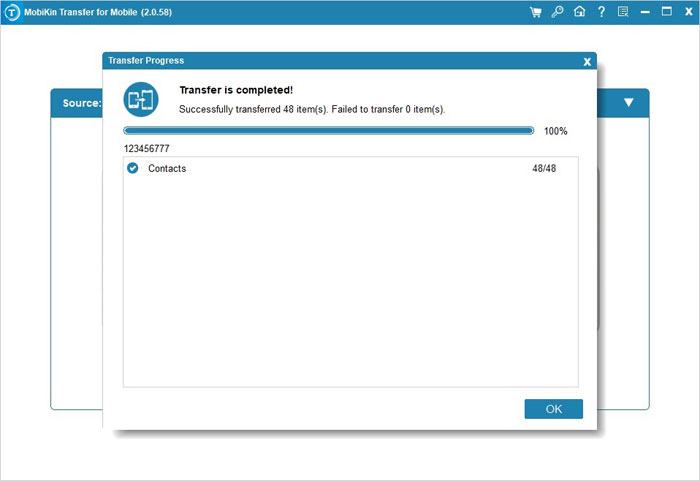 Transfer for Mobile completes the data transfer quickly. After that, you can disconnect the phones from the computer.
Final Words
The above are just a few aspects that everyone cares about and curious about about the iPhone 14. Now you should have a more comprehensive understanding of this new product, and have a clear judgment on whether to buy it or not. For users who decide to start with the iPhone 14, it is a wise choice to download Transfer for Mobile by the way, it is an excellent tool to help you complete the seamless transfer of data between two devices.
Related Articles:
How to Sync Contacts from iPhone to iPad? 4 Ways for You!
How to Transfer Photos from iPhone to Samsung? [9 Ways in 2022]
Can't Delete Photos from iPhone/iPad? Here are Solutions!
Top 4 Ways on How to Transfer Photos from Laptop to iPhone
How to Erase or Wipe iPhone 14/13/12/11/X/XR without iTunes?
[Solved] How to Recover Deleted SMS from iPhone 14/13/12/11/X/Xs/8/7?