How to Sync Outlook with iCloud?
If your desktop computer is running on a Windows operating system, then we guess that you're not strange with Microsoft Outlook, right? As it is known to all that, MS Office Outlook is always used to help their users to send/receive emails, manage contacts info, write schedules with calendar features, and so on. And it works well all the time and regains lots of warming welcomed from all kinds of people around the world. However, with the popularity of Apple's iDevice, and the frequently using of smart phones, more and more people wish to sync the outlook info with their iPhone or iPad for convenient using in the daily life and work.
Actually, when you need to manage multiple devices with varying contacts, emails and more, choosing to download iCloud Control Panel for Windows to sync your outlook info with iCloud seems to be a nice option under this circumstances. Never mind, the whole process is really easy, you can follow the below steps to reach your goal of syncing outlook with iCloud directly.
See Also: How to Sync Contacts with iPhone
Steps to Sync Outlook with iCloud for Windows
Step 1. Download iCloud control panel on your desktop computer, and launch it. Here, you'll be required to login into your iCloud account by entering your iCloud ID and password.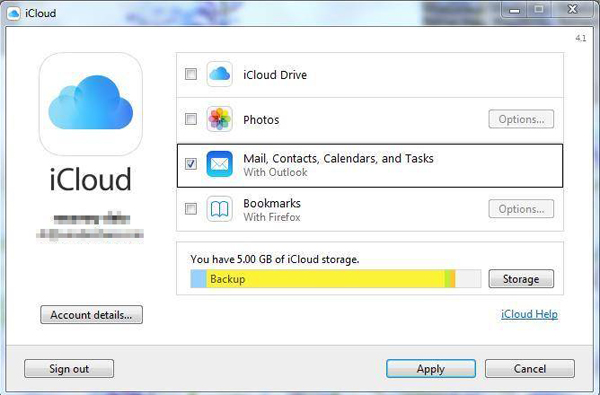 Step 2. After entering the main interface of the iCloud, you can click on "Contacts, calendars & tasks with outlook". Then click "Apply" button and wait for a few seconds.
Step 3. When the above steps is finished, you can find the outlook contacts, calendars and other info are available on your iCloud. At present, you can go to your iPhone and enter the "Settings", login into your iCloud account on it and turn on contacts and calendars for the sake of syncing your iPhone with the outlook details.
Note: You need to ensure that the iCloud outlook add-in is turned on in your outlook program, and if it is not turned on, you can follow the below steps:
for Outlook 2010 and Later
- Open the File menu and check the "Options" in the left panel.
- Here, a pop-up window will appear, you only need to click on the "add-ins" option in the left panel.
- Select the iCloud outlook add-in from the list.
for Outlook 2007
- Go to the tools section and choose trust center.
- In the left panel, select the option of "Add-ins".
- Go through the active add-ins section and select "iCloud outlook add-ins".
Can't Miss:
How to Export iCloud Contacts to CSV Format
How to Sync iCloud with Outlook Easily?
Sometimes you may wish to sync iCloud contacts or calendars with Outlook, then you can also use the iCloud control panel to reach your goal. Below is the detailed steps:
- Start Menu > Control Panels > iCloud to enter the iCloud control panels on your Windows computer. Or you can directly download and install the Windows version on your PC, and directly launch it.
- In the control panel, you can see lots of options like "Mail with Outlook", "Contacts with Outlook", "Calendars & Tasks with Outlook", etc. for your reference. Just tick the types of files you wish to sync with Outlook.
- Click "Apply" button and wait for the end of syncing.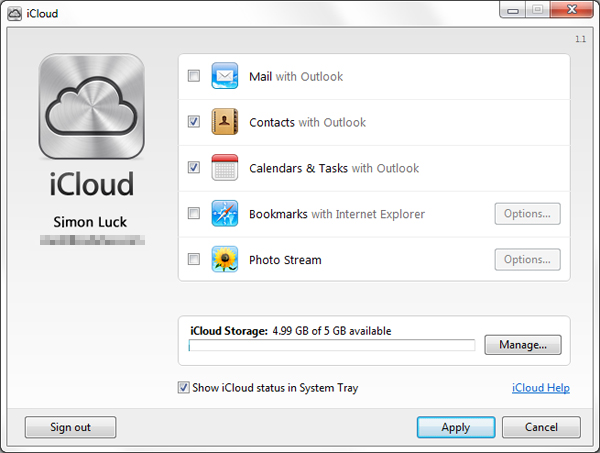 Note: Mail, contacts, calendars and tasks are only synced with Outlook 2007 or later version.
Related Articles:
How to Delete Photos from iCloud Backups
How to Transfer Music from iPhone to iCloud
How to Remove iCloud Account from iPhone/iPad without Password? [Fixed]
How to Transfer iPhone Files to PC without iTunes Easily?
[Easy Guide] How to Transfer Data from iPhone to iPhone without iCloud?