Forgot iPhone Passcode? Here're 5 Feasible Methods to Unlock It
Apple takes data protection on its devices very seriously. If you have set a password on your iPhone, whether Face ID or Touch ID, it is impossible for an unauthorized person to access the files. This will be a super way to safeguard your iPhone from being hacked. However, it also implies that you will be locked out when you forget the passcode.
Forgot iPhone passcode? Well, it is a very common occurrence. But that shouldn't worry you. We have crafted this guide to teach you how to unlock an iPhone when you forgot the password. The methods outlined here are simple to implement and will help you regain access to your device. Just follow this guide till the end to learn them.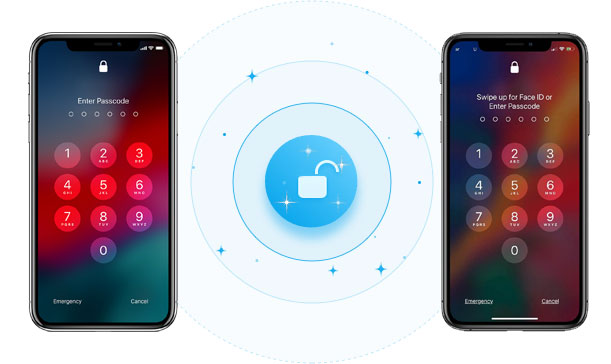 Method 1. How to Unlock iPhone Passcode via Recovery Mode
An official way to unlock iPhones whenever you forget passcodes is to put the device into recovery mode and restore it. Thus, if you want to access a locked or disabled iPhone when you forgot iPhone password, recovery mode could be a better solution. All data on your device will be erased, thus removing the lock screen password too. Once done, you can set up your iPhone and use it as usual.
Check the steps to unlock the iPhone through recovery mode when forgot passcode on iPhone:
Start by installing the latest iTunes version on PC/Mac. Plug in your iPhone to your computer with USB.
Hold the Home key on the iPhone until the iTunes logo appears on the screen.
iPhones with Face ID: Press the Volume Up key and quickly release it. Press the Volume Down key and release it quickly. Now press the Top key till the phone boots into recovery mode.
iPhones with Home buttons: Press Home + Top/Side keys together. Continue pressing them till the recovery mode appears.
Now, launch iTunes on your computer. iTunes will detect your device and then ask you to restore the device. When done, you may set up the device.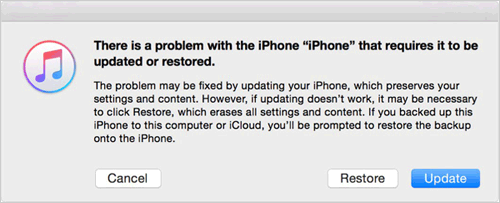 Related Posts:
Method 2. How to Unlock Forgotten iPhone Password with Find My iPhone
Find My iPhone is a great feature that can help in iPhone passcode recovery. It enables users to erase everything on their iPhones, including passwords. This is an easier solution to regain access to your locked iPhone. However, before using it, you must have logged into your iPhone with an Apple ID and still remember it. Also, Find My iPhone should have been enabled on your iPhone, and the phone should be connected to an internet connection.
After that, follow these steps to unlock the iPhone passcode:
Head to the iCloud website on your computer, then sign into the iCloud website with an Apple ID and the passcode you used on the locked device.
Select the "Find My" option, then tap on "All Devices" to check all devices linked to Apple ID.
Choose your locked iPhone device, and you'll find several options displayed, such as "Play Sound", "Lock", or "Erase iPhone".
Tap on the "Erase iPhone" tab to erase your iPhone.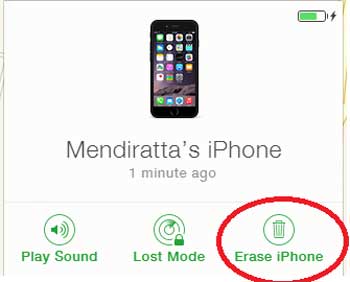 Further Reading:
Method 3. How to Unlock iPhone via iPhone's Erase Feature
Apple has introduced a new feature for iOS 15.2, known as security lockout, that enables users to unlock iOS devices without a computer or iTunes. After you've entered the wrong password seven times, your device will show Security Lockout with the Erase iPhone icon at the lower right section of the screen. From there, you have to click on this option and proceed to unlock your phone.
Here are the steps to unlock an iPhone device using the Erase feature:
Enter the wrong passcode seven times until you see a warning message on the screen asking you to retry. After the 9th time, you will be directed to the Security lockout interface. You will see the "Erase iPhone" tab at the bottom right.
Click on "Erase iPhone" and click on it again to confirm.
Enter the Apple ID passcode, and you'll be logged out of Apple ID on the device.
Choose "Erase iPhone" option to delete all files on your iPhone.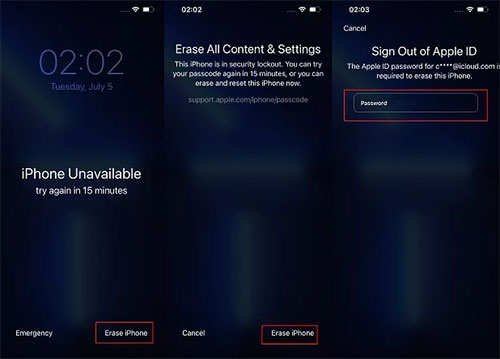 Your device will reboot and start into its usual iOS setup procedure. Just follow the instructions on the screen to set it up again and restore iPhone files from the backup to create another password.
Method 4. How to Unlock Forgotten iPhone Password by Restoring with iTunes
If you cannot use the Security Lockout due to network or iOS version restrictions, you can use iTunes instead. It is easy, but ensure you've previously saved your iPhone with iTunes. Otherwise, you'll be requested to enter the password while connecting it to iTunes, which will most likely fail.
How to reset your iPhone when you forgot your password via iTunes:
Link your locked iPhone to a computer with a lightning cable and open iTunes on the PC.
After opening iTunes, it automatically syncs the device. However, if it does not, tap "View" and click on "Show Sidebar". Your device will be shown in the left panel.
Head to "Device" on the left panel after syncing and backing up your device with iTunes. Tap on the "Summary" tab, then proceed to "Restore iPhone" and reset your locked iPhone.
When done restoring, the device will be erased and unlocked. At last, tap on the "Restore Backup" button to restore it from iTunes backup and reset another passcode.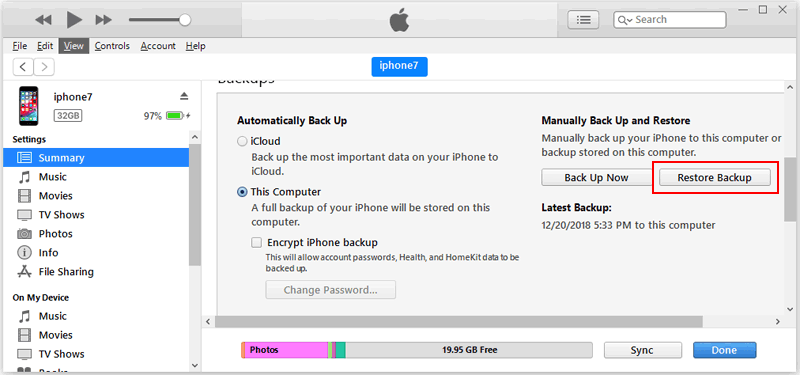 Method 5. How to Unlock iPhone when You Forgot the Password via iOS Unlock
The above methods need you to unlock your iPhone manually, which can be troublesome for some. Why not let the iOS unlocker tool do the job for you? If you forgot your iPhone passcode, don't sweat it. iOS Unlock is a reliable and professional tool that unlocks iOS devices in a snap. The major plus of using this tool is its simplicity. Compared to other methods, it is the simplest and allows users to unlock iOS devices without effort.
The tool removes all screen locks, like 4-digit or 6-digit passwords, alphanumeric passcodes, Face/Touch ID, etc., in a few minutes.
iOS Unlock is remarkable for these factors:
Removes any screen locks on your iPhone/iPad/iPod Touch, including 4-digit or 6-digit passwords, alphanumeric passcodes, Face/Touch ID, etc.
Bypass MDM locks and screen time without data loss.
Removes iCloud activation locks & Apple ID without a passcode.
Intuitive interface that is simple to navigate.
Supports the latest iOS 16 and iPhone 14.
A few steps are needed to unlock your iPhone.
Doesn't need technical skills.
Work well with practically all iDevices, such as iPhone 14/13/12/11/11 Pro (Max), iPhone X/XS/XR/XS Max, iPhone 8/8 Plus, iPhone 7/7 Plus, iPhone 6/6S/6 Plus, iPad Pro/mini/Air, iPod touch, etc.
I can't remember my iPhone passcode? iOS Unlock is here for you. Below are steps to remove the iPhone lock easily:
Step 1. Launch iOS Unlock and connect your iPhone
After installing the tool on your computer, launch it and head to Toolbox. Here, choose "Screen Unlock", then "iOS". Take a lightning cable and connect the iPhone to the computer.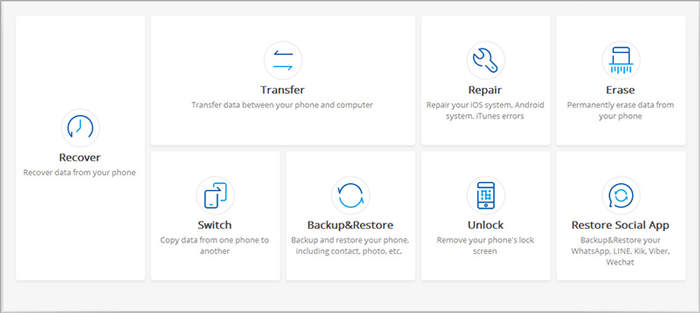 Step 2. Put the iPhone into Recovery Mode
Choose "Unlock iOS Screen" from the next screen and hit the "Start" button to start the iOS unlocking process. Boot the phone into recovery mode using the onscreen instructions.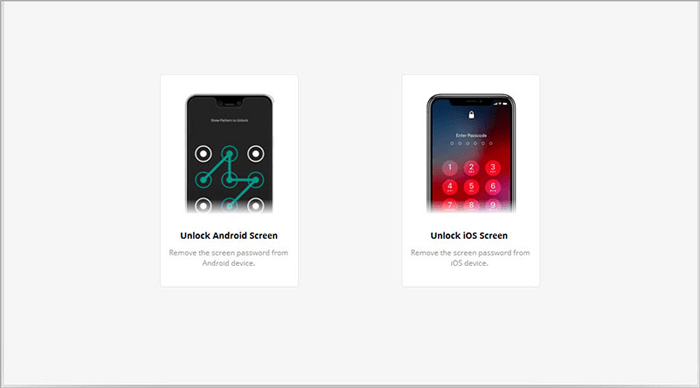 Step 3. Step 3. Confirm iPhone Details and Download the Right Firmware
After booting the phone into recovery mode, choose your device's Model and System Version. Hit "Start" after that. On the next screen, the firmware will start downloading. Wait for the process to finish and be verified.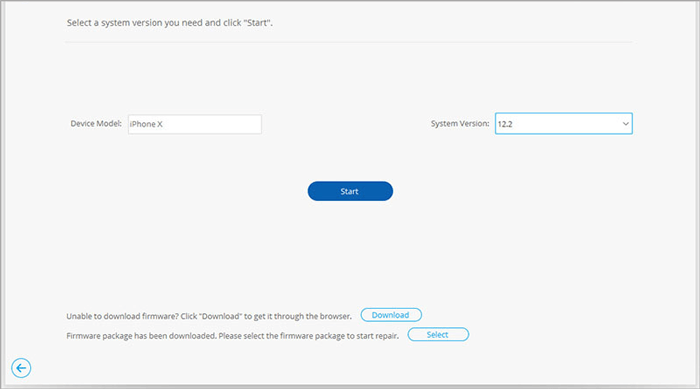 Step 4. Unlock your iPhone
Now, choose "Unlock Now" to execute the process of unlocking the iPhone. Enter the code on the screen and hit the "Unlock" button to continue. Once done, hit "Done". Your iPhone will now be unlocked.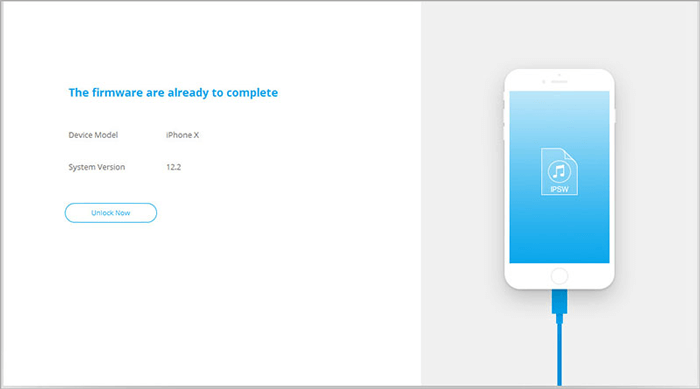 Final Thoughts
What to do if you forgot your iPhone password? This article has illustrated the best methods to unlock a forgotten iPhone passcode. iOS Unlock is the quickest solution to get into your locked iPhone. Though other methods stated above can also be useful, they entail some requirements which can make the process unsuccessful. So, give iOS Unlock a try.
Related Articles:
How to Restore iPhone without Passcode Differently
How to Factory Reset iPhone without Passcode?
Complete Guide about Gmail Password Recovery
3 Verified Ways of How to Back Up Locked/Disabled iPhone
Locked out of iPad? 6 Easy Ways Help You Unlock iPad without Password
Tips & Tricks to Remove Swipe Screen to Unlock Android Phone