3 Practical Ways to Find Loved Songs on Apple Music on iPhone [Quick]
"I couldn't notice my loved songs from the playlist on my iPhone, but maybe there's any opportunity to see it with all songs where I mark "Like" on Apple Music? Thank you!" -- from Apple Support Community.
With Apple Music, users can keep track of any songs they are fascinated by without effort. And usually, all they need to do is label the items as "loved" by pressing the "love" or "heart" avatar. But for some reason, this streaming service doesn't always show you a list of your loved music there. Then how to find loved songs on Apple Music on iPhone?
OK, this guide will show you how to see or create a playlist with all digital music tracks you've marked as "love" (How to remove a playlist from an iPhone after creating a new one?). There is a catch, and we shall dig deeper now.

Part 1: Why Can't You See Songs You've Loved on Apple Music
The music that appears inside the playlist will be the one you marked "loved" and added to your Apple Music library. If you find Apple Music loved songs are not in the library. Probably, you didn't add those items to the destination.
Therefore, is it a laborious job to get it resolved quickly when you lose track of your liked music file on Apple Music? Well, although the app doesn't store the songs that you have marked "love" on, making some changes to some tools could let you view loved songs on Apple Music.
Click to Learn:
Part 2: How to Find Loved Songs on Apple Music on iPhone via iTunes Smart Playlist
Where can I find my loved songs on Apple music? Well, If you have added the songs to the Apple Music library, you can see the files by checking Smart Playlist. As you might know, this feature has been added to iTunes 3 and up, with which you can easily grab all your loved songs on Apple Music on your iPhone 13/12/11/X/8/7.
How to see or access your loved/liked songs on Apple music via iTunes Smart Playlist?
Open the most recent version of iTunes on a computer.
Tap "File" from the menu bar and click "New".
Click "Smart Playlist". (How to transfer playlist from iTunes to iPhone?)

Select "Match" and choose "music" from the pull-down list.
Next, choose "Artist", "is", and "Loved".
Check your liked songs on Apple music.
Want to filter music based on factors like artist, album, genre, category, time, date, etc.? Just search for songs by choosing criteria from the screen. And Smart Playlist also lets you add more rules by clicking the "+" icon.
Part 3: How to See Loved Songs on Apple Music on iPhone via Mac
Likewise, with the aid of Smart Playlist in Apple Music, you can do the job on a Mac/MacBook/iMac. And the "loved" songs also should be added to the library in the first place. Moreover, this service on macOS can fix how to listen to loved songs on Apple music by being marked as the "love"/"heart" icon.
How to check loved songs on Apple music via Mac?
Launch the Apple Music app on your Mac.
Head to "File" > "New" > "Smart Playlist".
Provide the app with preferred criteria for choosing and adding music files to Apple Music's playlist.
Go to the "Match for the following rule" to check "Artist".
To add all your liked songs to the playlist, choose "Love" > "Loved".
Set up the rule for all your loved songs.
Place a checkmark on "Live updating".
The Music app will take on a new "Playlist", and you can rename it as you please.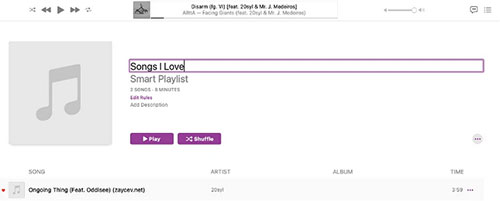 Know More:
Part 4: How to View Loved Songs on Apple Music on iPhone by Requesting Loved Songs from Apple
Do you want to get all your Apple media content directly, including the loved songs, on your iPhone? Requesting such hard data from Apple makes it convenient for you to complete it. Here's how to look at liked songs on Apple music from Apple:
Sign in to your Apple ID after going to privacy.apple.com. (How to remove Apple ID from an iPhone if I forgot it?)
Proceed to "Data and Privacy" and request and get a copy of your data.
Choose "Apple Media services information" > "Continue".
Set the file size to download and tap "Complete request".

After that, you will receive an email from Apple.
Open the email from a computer's browser and choose "Get your data".
Press "Download" nearby "Apple Media Services information".
Launch the ZIP within "apple-media-services. zips".
Select "Apple Music Likes and Dislikes.csv".
Open the file through a spreadsheet program to get a list of songs you loved on Apple Music.
Part 5: More Tricks about Apple Music on iPhone
Trick 1: How to create a playlist of your loved songs on your iPhone?
Open Apple Music and go to its "Library".
Navigate to "New Playlist" and rename it.
Go to "Add Music" and add tracks you loved from the library.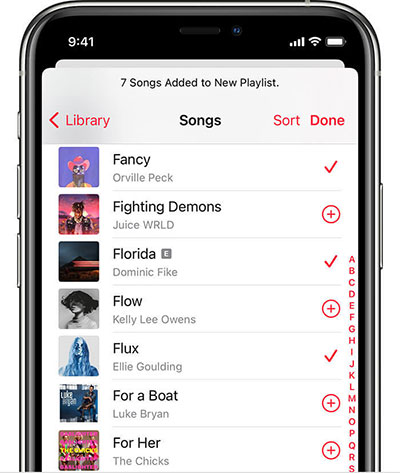 Trick 2: How to play loved songs from the newly created smart playlist?
Open Apple Music and find "Songs I Love" from the "Playlist" section.
Check all your loved songs on any iDevices in the list.
Sync Apple playlists via iCloud.
Locate this playlist on your iPhone.
Start Apple Music on this iPhone.
Tap the "Library" section when the app is started.
Next, choose "Playlists".
Press the playlist that appeared just now.
Trick 3: How to mark music you love on Mac?
Right-click the song and select "Love" from Apple Music.
If you mark the music you like in Apple Music, the data should be added to the library before adding it to Smart Playlist.
Tap the "plus" icon if the library doesn't house the songs.
Right-click the songs and select "Love".
Trick 4: How to Find Apple Music Most Played Songs on Mac?
On a Mac, go to the Apple Music app.
Click the left sidebar with the "Top 25 Most Played" playlist. (If you use a PC, open iTunes and check the most-played music as above.)
Last Words
That's all you ought to know about how to access liked songs on Apple Music in a few easy ways. And the quick tricks we just mentioned above may get you through any painful time. To be honest, we hope your favorite songs on Apple Music you find can bring you comfort when you are in a good mood or depressed. Finally, if you find this passage helpful, please share it with your friends and family. Thank you!
Related Articles:
9 Easy Ways to Fix "Music Disappeared from iPhone/iTunes Library"
How to Transfer Ringtones from iPhone to iTunes Library? [Way 1 Is the Best]
5 Ultimate Ways to Transfer Music from iPad to iPhone 14/13/12/11/Xs Max?
Can I Delete Songs from iPhone But Keep Them on iTunes? Of Course, You Can!
3 Easy Ways to Transfer Music from CD to iPhone 14/13/12/11/XR/Xs/8/7
[SOLVED] 5 Ways to Sync Music Between Android Phone/Tablet and Computer