How to Transfer iTunes Music to Android (5 Proven Ways in 2023)
iTunes is still one of the important "Music Libraries", though it has few advantages over many other music tools. If you used to have an iPhone, you might have purchased and stored a lot of music collections in iTunes. While switching to an Android device, syncing your iTunes songs to the new gadget can be a nuisance, as you cannot run iTunes for Android data sync.
But actually, there are many ways to fix how to transfer music from iTunes to Android. This page will select and detail 5 proven methods to get this query settled.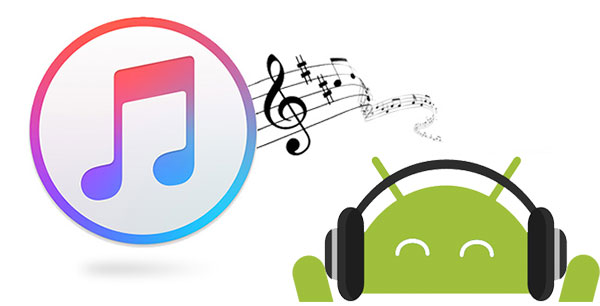 Way 1: How to Put iTunes Music on Android by Drag & Drop
It may not be difficult for you to transfer music from iTunes library to iPhone, but what if the recipient is an Android phone? Well, it's simple as well. Yet, the procedure is rather bland, especially for those who want to transfer specific songs instead of all the items. Plus, the album art and track metadata of the original music may be lost after the transfer.
How to get music from iTunes to Android by drag and drop?
Create a new folder on your computer.
Copy the music files to paste them into this folder.
Attach your Android phone to your computer through a USB cable.
Now, you may need to adjust your device to move files via USB. This option should appear from the phone's notification bar.
On your computer, open the File Explorer and go to the folder of "C:\Users\<yourusername>\Music\iTunes\iTunes Media\".
Copy the music folder and paste them to the corresponding location of your Android device.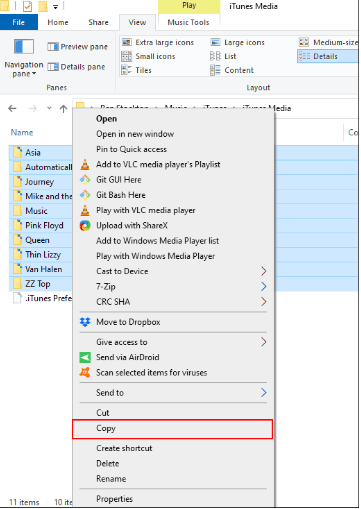 Check if You Need:
Way 2: How to Transfer Music from iTunes to Android with iTunes to Android Transfer
Is there a program that can break down the barriers between platforms and allow its users to choose iTunes backup files to transfer to Android phones? Of course, the full-fledged tool - iTunes to Android Transfer is the just one, specially designed for Android users. Apart from enabling you to back up and restore Android data, it can also migrate the backup files of iTunes/iCloud to any Android smartphone without a hitch.
Note: You cannot restore the data with it if your Android device doesn't support the corresponding file types.
Main Characteristics of iTunes to Android Transfer:
Restore iTunes/iCloud backup files to Android or iOS devices.
You are allowed to preview and select the data types you want to restore.
One-click to back up your Android device selectively.
Run smoothly on 8000+ Android and iOS devices, covering Samsung, Huawei, Sony, Motorola, LG, Xiaomi, OPPO, Vivo, HTC, Google, etc.
It never tracks any personal data from its users.
This is the best alternative to iTunes for Android phones. Simply download it, and let's start our music transfer journey now.
How to get iTunes music on Android using this iTunes to Android Transfer?
Step 1. Link your Android phone to a computer
After the download, please install and run the program on your computer. Select "Phone Backup" from all the features. Then, connect your Android phone to the computer with a USB cable. When the connection is made, tap "Restore" from the main interface.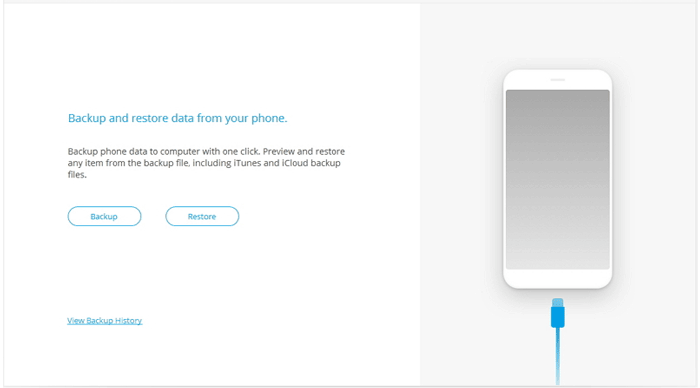 Step 2. Select the "Restore from iTunes backup" section
Choose "Restore from iTunes backup" from the left menu. The program will then detect the location of iTunes backup files and display them one by one on its screen.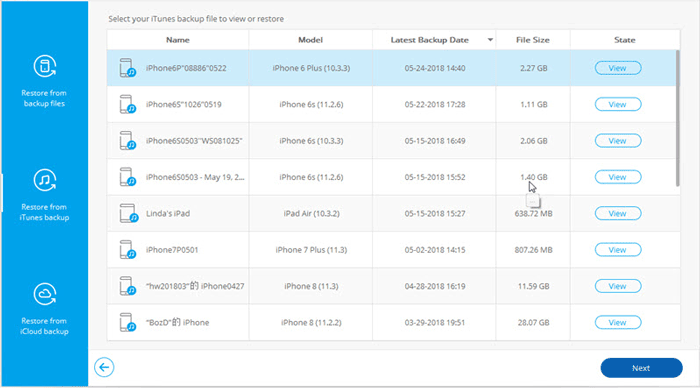 Step 3. Choose music from iTunes backup for restoring
Select one of the iTunes backup files you want, and click "View". The software will detect and list all the specific data types. Opt for "Music" from the left sidebar and mark your desired songs before tapping "Restore to Device".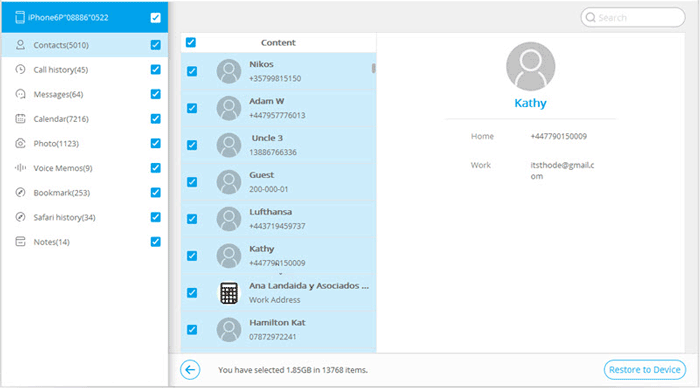 Finally, from the pop-up window, choose the linked Android device and click "Continue" to start restoring iTunes backup to your Android phone. Done!
Way 3: How to Transfer iTunes Music to Android Using Apple Music
As you may know, we cannot install iTunes on Android phones, but Apple offers the Apple Music app for Android instead. To do the task with this tool, you should ensure that iTunes on your computer and Apple Music on your Android phone are logged in with the same Apple ID.
How to transfer iTunes library to Android via Apple Music?
Step 1. Run iTunes on your computer and head to Edit > Preferences. From the General tab, tick on "iCloud Music Library" and click "OK".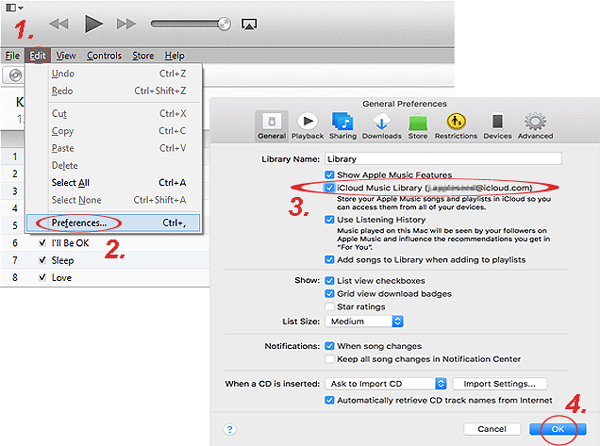 Step 2. Download and install the Apple Music app on your Android phone. Log in with your Apple ID, and your iTunes music should then be available to stream.
If you cannot find your iTunes music, you can update the Apple Music app to the latest version. Next, refresh your iCloud library by heading to File > Library > Update iCloud Music Library.
Further Reading:
Way 4: How to Sync iTunes Music to Android via Google Play Music
Syncing your entire iTunes library to the cloud, Google Play Music lets you access and listen to the music on your Android device. However, Google Play Music works for only DRM-free music on your iTunes library, and its service is available in limited geographic locations.
To transfer songs from iTunes to Android via Google Play Music:
Step 1. Go to play.google.com and log in to your Gmail account.
Step 2. After that, choose the "Upload music" section at the left panel from the browser window.
Step 3. You'll now find an option highlighting "Download Music Manager". Press it to download the Manager.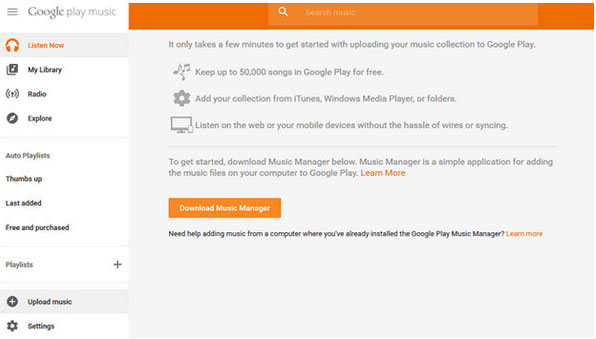 Step 4. Open the program and then select "Upload songs to Google Play" > "Next".
Step 5. The tool will ask you the location you want the songs to transfer from. And it will scan the location for all the music files. Just select the iTunes option and have the app run a deep scan.
Step 6. Once scanned and added files to the Google Play Music, Music Manager will soon upload all music files to the Google Play Library. That means your Android device is now synced with Google Play Music.
Way 5: How to Move iTunes Music to Android with doubleTwist Sync
doubleTwist allows you to transfer music, videos, playlists, etc., from iTunes to your Android phone. To ensure a faster transfer, it's recommended that you connect your Android to a computer via USB other than AirSync (WiFi). After the migration, you can find the Music folder in the internal memory of your Android device.
How to transfer music from iTunes to Android with doubleTwist Sync?
Install and launch doubleTwist after you download it on your computer.
Connect your Android device to this computer with a USB cable.
Choose the USB Mass Storage mode (or MTP) from the notification tray.
Your device will then be recognized, which will take you to a syncing window.
On the "Music" tab of doubleTwist's screen, place a checkmark nearby "Sync music".
Choose the sections like playlists, albums, artists, and genres to sent to your Android device.
Press "Sync now" at the bottom-right corner to begin moving your music to the mobile phone.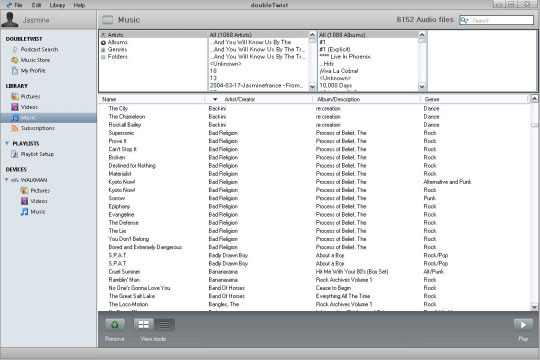 Comprehensive Reviews:
So, what conclusions can we draw from this article? OK, here they are:
The most proficient method is to use iTunes to Android Transfer. That's because it allows you to rapidly and securely move any songs from any iTunes backups to almost all Android phones without doing destruction to your music's original quality.
Streaming music from iTunes to Android is the least technically challenging way, but the process is tedious, and the quality of the music may be damaged.
It's easy to use Google Play Music and Apple Music, but they have country and region restrictions, and the latter requires a monthly subscription.
doubleTwist only supports multimedia files, and it's not compatible with some Android devices.
Related Articles:
How to Transfer Music between Windows Media Player and iTunes?
How to Transfer Music from Flash Drive to iTunes Easily?
4 Tips to Delete Music from iPhone But Not iTunes
How to Transfer Music from Computer to Android? (6 Best Ways)
How to Restore iTunes Backup to Samsung Galaxy