How to Fix Gmail on iPhone Not Working? [Solved]
You are very sure of your Gmail address and password, but it is not ready to open on your iPhone. Well, definitely you will think Gmail is not working on your iPhone. This is a problem that can arise when you are in dire need of a specific email. This can be both irritating and annoying, especially when you are in an urgent situation - the reason is that you will not be able to contact anyone. Therefore, this content should help you know how to fix the problem that Gmail on iPhone not working.
Common Gmail Not Working Errors on iPhone
Normally, the Gmail not working issue includes the following errors:
1. Cannot log into the account - This problem is associated with the security as well as the lack of good explanations. To protect your account, sometimes Google would prevent you from logging into the account without explanation. For example, one could have relocated to a new place, but you realize your Gmail which was working perfectly before you relocated is not loading on your iPad or iPhone now. Well, the reason for this situation is that Google noticed that you tried to connect from a new location and considered that an unknown individual attempted to hack into your email.
2. Cannot Get Mail - The connection to the server failed.
3. Cannot Get Mail - The user name or password is incorrect.
4. Cannot Get Mail - The mail server is not responding. Verify that you have entered the correct account info in Mail settings.
5. Cannot Send Mail - An error occurred while delivering this message.
6. Cannot Connect Using SSL - Do you want to try setting up the account without SSL?
7. IMAP server stops responding.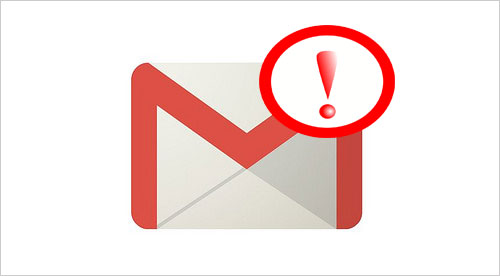 See also:
How to Sync iPhone Contacts to Gmail Easily?
Wanna Transfer Gmail Contacts to iPhone? Means are Here!
How to Fix Gmail Not Working with iPhone?
If you are undergoing this type of challenge - your Gmail can't go through, then you can follow the methods below to learn how to go about it.
Solution 1. Do Alerts Checks on Gmail Website
When the Gmail App on your iPhone or iPad cannot give you fine details, you can try to login to the Gmail website for gaining a better idea of what could be happening. Here you can make use of a computer as it will be easier to navigate through the Gmail website with a wider screen. (Note that this process will effectively work on iPad and iPhone as well.)
Here are the detailed steps:
- Open Safari, Chrome, or any other internet browser supported by your iPhone.
- Go to gmail.com and key in your email address and the password. Then you will notice a pop-up requesting you to download the App. Just tap on the small mobile Gmail site link that is located at the bottom of the screen.

- Once you are logged in, you will notice an alert in your inbox informing that an attempt on a sign in had been blocked. So you should click on the link on the email and allow Google to know that it was you who made the sign-up attempt.
Solution 2. Review the Recent Devices on Google's Website
If you have not received an email regarding a blocked attempt on sign-in, it will be a good idea that you visit a section known as the "Device and activity & notifications" located on Google's My Account Website. Here, you will have a chance to go through all the recent devices which have attempted to sign in to your account and of course unblock all those which were yours. After convincing Google that you're the one who attempted to sign into your account, your email will start to load on your iPad or iPhone.

Solution 3. Conduct a CAPTCHA Reset
In case you don't receive any email, you should do a CAPTCHA reset. This helps to loosen Google's tight security put in place to allow your new device to connect to the Gmail without relaying any alert. Reason being Google assumes someone could be trying to hack your account.
You can execute this by:
- Visiting the CAPTCHA Reset Page and sign in using your Google details.
- Once you do this, sign into the same device which you originally attempted to use.
After you're done, you should be able to normally use your Gmail. In addition, this will allow Google to remember your device, so you will not land into problems in the future.
Solution 4. Always Ensure the IMAP is Active
If the technology Gmail (IMAP) used to deliver mails to your device is disabled on the Gmail settings, it could be the reason your Gmail is not working on your iPhone or iPad. That is to say, if IMAP is switched off on the Gmail.com, you may not be able to receive emails from the server. Therefore, you should ensure the IMAP for your Gmail is enabled.
You can also click to learn:
How to Access Gmail by Using IMAP from iPhone?
Solution 5. Delete Your Gmail Account from Your iPhone and Have it Freshly Set Up
Supposed that you are unable to login into your Gmail on website and you have verified that your device is not blocked on the device activity & notifications, the CAPTCHA reset is done, and you're sure that IMAP is active, it should be the right time you try the modern version, that is "unplug it" and then "plug it back in" solution. In other words, you need to get rid of the Gmail account from the iPhone and set it up again.
In most cases, all the contents of Gmail are preserved inside its servers. This means when your Gmail account is removed from iPhone, nothing will be deleted from the server itself. Once the Gmail account is set up on your iPhone, all your contacts, emails, and notes will be recovered.
Note: If you are using the older version of the mail delivery system known as POP, it can delete the email on your server once it is downloaded on your iPhone. Therefore, please login into gmail.com and ensure your emails are there before you delete your Gmail account.
Steps on How to Remove and Re-add Gmail Account
1. In order to remove the Gmail account from your iPhone: (Click to learn how to remove Gmail account from Android>>)
- Visit "Settings" and choose "Mail, Contacts, Calendar".
- Click on your Gmail account and tap "Delete Account".
- Choose "Delete from my iPhone".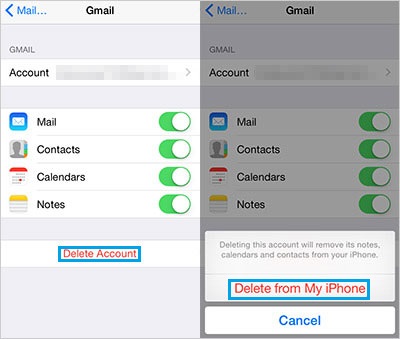 2. Re-add a Gmail account to your iPhone:
- Proceed to "Settings" and click on "Mail, Contacts, Calendar".
- Tap on "Add Account" > "Google" and then key in your account information.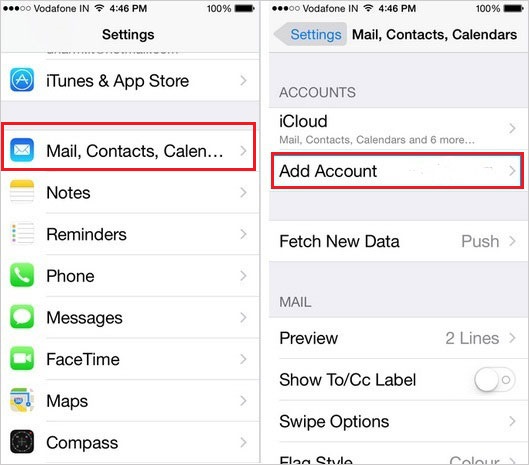 The Bottom Line
Therefore, with the above steps, you should be able to fix problems related to Gmail not working on your iPhone. And now no one around you should struggle with a problem of Gmail that does not work on their iPhones. If you encounter any problem during the fixing process, please feel free to contact us.
Related Articles:
3 Methods to Update iPhone without iTunes [iOS 14.6/13 Supported]
4 Methods to Recover Deleted/Old Kik Messages on iPhone in Minutes
How to Recover Deleted Contacts from Gmail/Outlook?
Backup Android Text Messages to Gmail
How to Reset Your Gmail Password on Android in Less than 5 Minutes?
Google Contacts Sync - How to Sync Contacts from Gmail to Android Cell Phone?