2 Ways to Set Up Gmail on iPhone
It is known to all that Gmail plays a more and more important role in our lives. With this service, we are able to sync data between Gmail and iPhone easily, such as moving Gmail contacts to iPhone or transferring iPhone contacts to Gmail, etc. In addition, people can use it to send homework, working documents, photos or other files to teachers, colleagues, friends or families. However, it is too inconvenient to arrange the Gmail on computer. Therefore, people tend to add their Gmail account to iPhone now so that they can accomplish the management on their device easily.
To set up Gmail on iPhone, you have two choices: using Mail app or Gmail app on your iPhone. And now let's learn how to set it up on iPhone!
Part 1. Add Gmail Account to Mail App
iPhone users must know that there is an inbuilt Mail application on your device. This program allows you to add different kinds of email in it, including Gmail, Yahoo, Exchange and other emails. So, the first method here is to add your Gmail account to Mail app. The process will be listed step by step below and you can use it as a reference.
Step 1. Click on Settings icon on iPhone and then select Mail, Contacts, Calendars option in this section. Next, find out Accounts tab and elect Add Account. After the selection, you will see several emails are displayed on the screen. Just choose Google.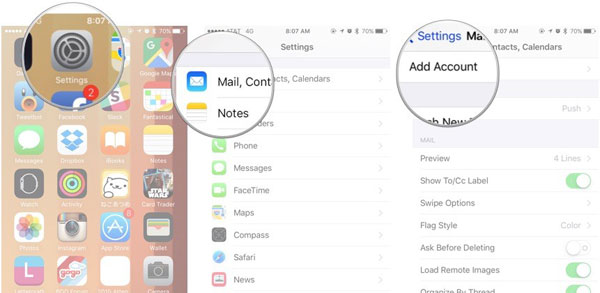 Step 2. The service will ask you to fill in the information of your account like name, email address and password. Just type in the information as required and tap on Next to go to the next step.
Step 3. Now you can choose to sync your mail, contacts, calendars and notes from Google mail to your iPhone. Then tap on Save on the tip right corner to go in.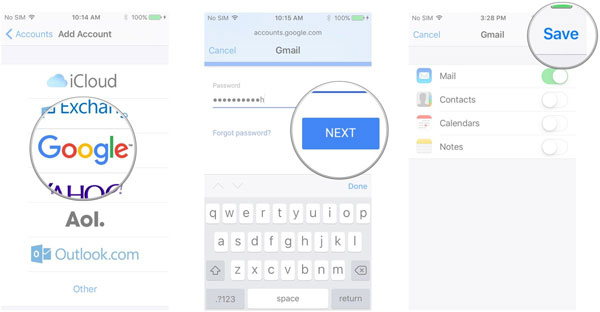 Step 4. Go back to Home screen and launch the Mail again to enter Gmail. And now you can read, write, send and receive emails on your iPhone.
If you want to make adjustments of the Gmail account that you have set up just now, you can go to Settings> Mail, Contacts, Calendars> Gmail> Advanced to adjust the account easily.
Part 2. Use Gmail App on iPhone
Except for making use of Mail app, you can download and install a Gmail software on your phone and set it up in the app directly. This means would be more immediate since you can enter the Google mail straightway. You can go with the following process to have a try.
Step 1. Run the installed Gmail app on your phone. And then you need to log in your Google account to enter and use it.
Step 2. If you want to manage the account, you can tap on Manage Accounts to show all the accounts that you have logged in recently. Then click on Add Account and follow the instruction to type in your account name and passcode. Finally tap Sign In to complete the login.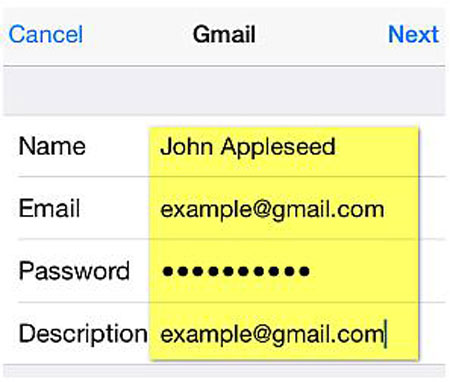 Now you can send or receive emails to/from your friends or families freely. What's more, you are able to send the data on your iPhone to your Gmail to backup them. But the space of Gmail is limited and you can click here to get more methods to make a backup for your iPhone if you really want to save the data.
Related Articles:
Full Guide on How to Set Up Email & Voicemail on iPhone
How to Email iPhone Photos/Videos?
What if iPhone Won't Restore? Here Are the Full List of Fixes
[Solved] iPhone Lost Contacts after iOS 17 Update? Here's the Fix!
[Full Guide] How to Erase iPhone without Password Permanently?