How to Remove Gmail Account from Android?
Help: I don't want to receive email on my Android device, so how do I remove my Gmail account from it?
I realize that I need to have my Gmail account associated to the device, and that I would need to reset the phone to factory settings in order to remove this main account. So do I have any other options?
It is understandable that users want to remove Gmail account from Android phone since the uninterrupted emails from unknown sender would make us whiny especially when the phone storage space of your device is not so sufficient. And in order to delete the account, some users are suggested to factory reset their mobile phones. This is an effective to completely remove the Google account on your phone but all the data on it will be erased at the same time. Hence, you are recommended to use another gentle way to accomplish the removing process. Just read on to get it.
What Will Happen After Removing Gmail Account from Android?
Before removing the Google account from your Android phone, you'd better know the consequences of the deletion then you can make a wiser decision. After deleting the Gmail account on your phone, you will:
* Unable to send and receive the emails in Gmail on your phone anymore;
* Cannot use the service that is related to the Gmail account, such as Google Play Store, Google Map, Google music, etc.;
* Lose the data that is connected to your account, including the records, photos, emails, contacts or other files;
* Not be allowed to reach the contents you purchased on Google Play and YouTube anymore;
* Lose the information that you have kept in Google Chrome like bookmarks;
* Cannot backup your Android data via Google auto-backup now.
See also:
Tutorial on How to Bypass Google Account Verification on Samsung
Guide on How to Add Cards to Google Now
A Safe Way to Delete Gmail Account on Android
If you are sure that it is not a problem for you to delete the Gmail account, you can begin the deletion now. Here, the means we would like to introduce to remove the Gmail account is basic and safe. By using this way, you will only erase the account and the files that are linked to it on your phone so you can perform it without any worry. The detailed steps are as below:
Step 1. Launch the Settings application on the Home screen and then select Accounts in this section.
Step 2. Now you will see several accounts are listed on the screen. You can tap on Google here and choose your account.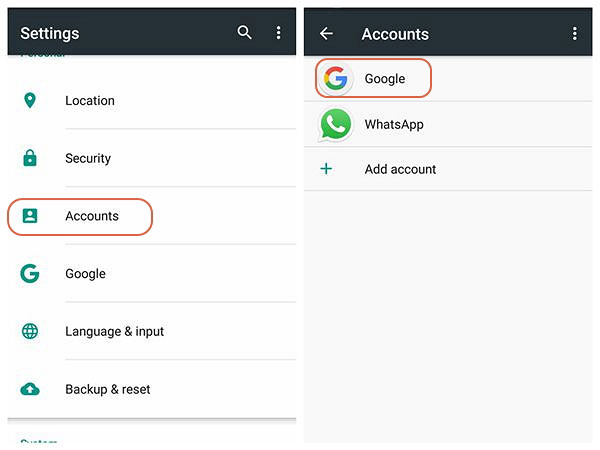 Step 3. Next, you need to click the menu icon, namely the "..." icon at the top right corner. This will bring a window with two options. Just elect Remove account in the window.
Step 4. Then you should confirm your option by taping on the Remove account icon in the pop-up window. Now the Gmail account is deleted on your phone and all the files in it will be removed from the device as well.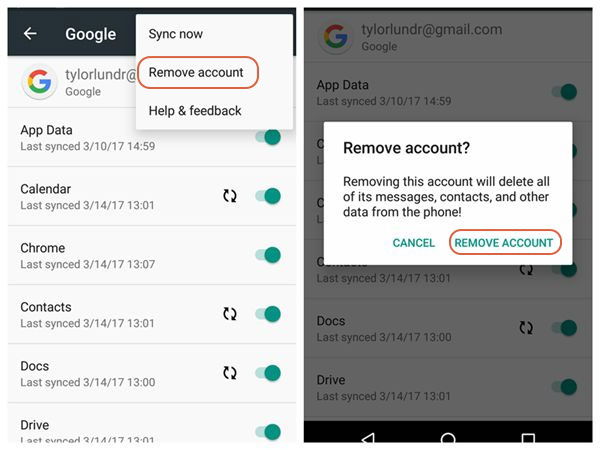 If you need to add the account back to your Android phone one day, you can click here to get the tutorial on how to add Google account on Android without ant hassle.
What Would Stop You from Removing the Account?
It seems that the removing process is very easy to perform, but it could become a hard task sometimes- some issues will stop you from removing the Gmail account. To help you fix these issues, we would introduce several common problems about Google account deletion and their solutions.
Case 1. Cannot see the menu icon in Step 3
Some users say that they are unable to see the "..." icon in Step 3. In this case, you can attempt to:
- Get rid of the sign-in request notification if there is any one.
- Navigate to the Gallery App on your phone and then click on the Menu button. Then you need to select the option Connect to Display so you can turn off the Picasa option. After that, you can go to Settings to remove your Google account again.
Notice: You can switch the Picasa option back on when you get rid of the useless accounts or you will be unable to see your Google+/Picasa photos in Gallery.
- Try to long press on the account on the account screen. Or you can hit the menu button on the account screen to see whether you can get an extra menu.
- Visit Settings> General> Security> Device Administrators to figure out if there is anything is associated with the account. If there is, you need to disconnect them first and then go back to check whether you can see the menu icon now.
Case 2. Fail to remove the primary Gmail account from your phone
In some cases, you may have trouble removing the primary Gmail account from your phone. That's because the account is used since the phone was first set up and it is tied into many applications on your phone. Hence, if you want to remove the account in this case, you need to factory reset the device. This solution will remove wipe all the files and settings on your phone so you'd better backup your device beforehand.
To factory reset your phone, you can go to Settings> Backup & Reset> Factory Data Reset to erase the data on your phone.
Case 3. Receive a messages saying "Unfortunately Settings has stopped"
During the removing process, users may receive a message prompts you that "Unfortunately Settings has stopped". If you encounter such a situation, you can refer to this article to solve the problem.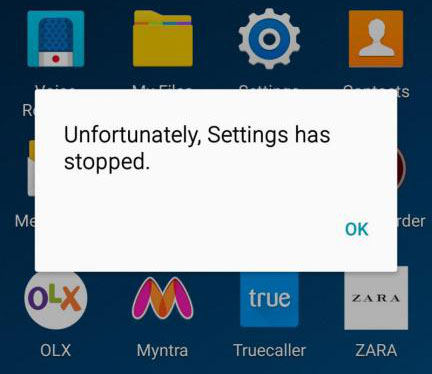 Related Articles:
Google Backup Not Working, How to Fix It?