iPhone Touch Screen Not Working/Responding? 10 Troubleshooting Tips for You
Have you ever bumped up into the iPhone touch screen not working after a device update or restore? (Is the iPhone stuck on the restore screen?) You know how disappointing it could be. Ironically, with a powerful iPhone, you can't even control any apps on it, leaving a white elephant for unknown reasons.
Don't worry! You are not alone. Many iPhone users have encountered this problem, and there are some possible solutions to fix it. In this post, we will take you through 10 fixes that can help you out when your iPhone touch screen is not responding to touch. Let's get straight to the point now.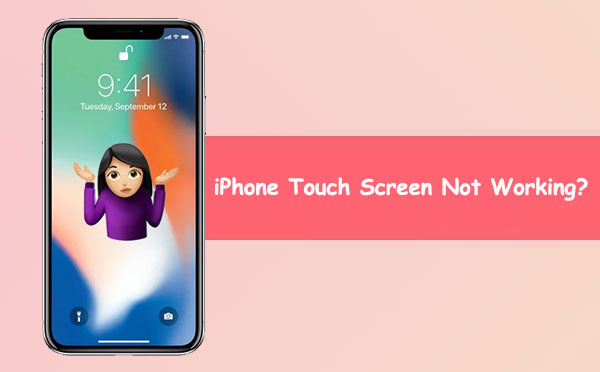 Part 1: Fix iPhone Touch Screen Not Working with 9 Quick Methods
Generally, a software glitch, hardware issue, dirty screen, or faulty accessory might be the possible cause as to "why is my iPhone screen not responding to my touch". So, we shall cover how to get an iPhone/iPad screen to work in a few possible solutions.
Method 1: Remove your screen protector and other accessories
Take off the screen protector or case on your screen when your iPhone touch screen won't work. Some screen protectors may be too thick and interfere with the touchscreen's sensitivity. The iPhone's touchscreen works best in certain conditions and may malfunction if you use accessories that affect its performance. Assuming your screen works better without an accessory, you may need to change your outlet, cable, or charger.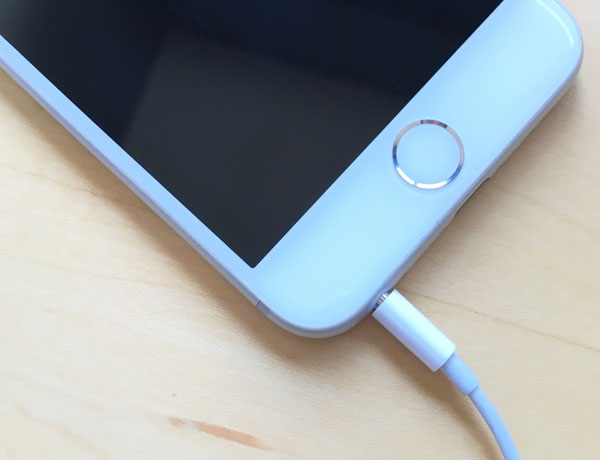 Click to See:
Method 2: Clean and dry the iPhone screen
The touch screen works by sensing the electrical conductance of your fingertips. Anything that affects electricity can cause problems, such as dirt, grime, or moisture. If your screen is wet, dry it well and try again. Plus, the iPhone touch screen stopped working if you had common gloves or mittens on your fingers.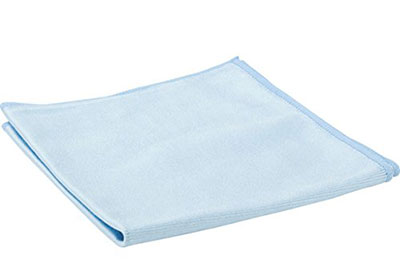 Method 3: Free up iOS storage
Your iPhone touch screen may not work well if the device is full of files and folders that slow it down. You probably feel frustrated by the sluggish response. Then how to fix an unresponsive iPhone screen by freeing up iOS storage?
Go to your iPhone "Settings" > "General" > "iPhone Storage".
Tap any app you want to remove and tap "Offload App". (Any other means to free up space on your iPhone?)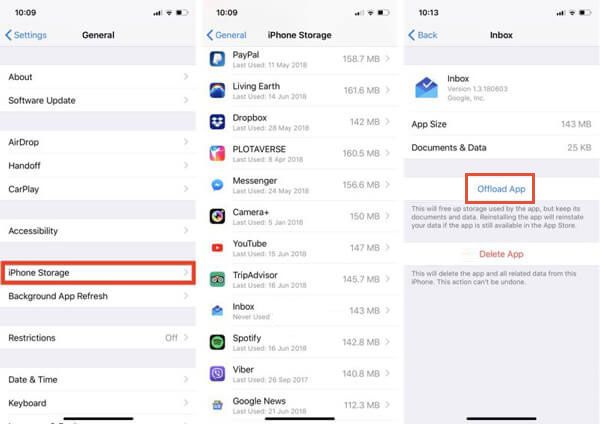 Method 4: Change 3D touch settings
Go to "Settings" on your iPhone.
Proceed to "General" > "Accessibility" > "3D Touch".
Choose between "Light", "Medium", or "Firm sensitivity" for 3D Touch.
Optionally, just turn off the option by toggling the switch.
Method 5: Update your iPhone
Updating your iPhone may help troubleshoot some software issues that cause your touchscreen to be unresponsive. You can now update your device by connecting it to a computer you usually use.
How do I fix an unresponsive touch screen iPhone by updating iPhone OS:
Connect your iPhone to your computer with a USB cable.
On macOS Catalina 10.15 or higher, open Finder; for macOS Mojave 10.14 and earlier or Windows, run the latest version of iTunes.
Your iPhone should show up in the sidebar of the tool.
Click on it and tap "Update" to download and install the latest iOS update.

If you see a message on your iPhone to "Trust" this computer, please tap it and continue with the update.
Assuming the update gets stuck, you can try backing up and restoring your iPhone on this computer.
You May Want to Know:
Method 6: Check the orientation lock
Double-tap the "Home" button to open the multitasking screen.
Swipe right to see the device's controls.
On the left side, you will see a button with a rotating arrow symbol.
Lock the orientation by touching the button to fix the iPhone touch screen not working properly.
Method 7: Restart or force restart your iPhone
How to restart iPhone when touch is not working? This is not tricky, but it doesn't always work. Often, you may need to perform a force reboot on your iPhone as well. Here's how:
For iPhone 6, 7, 8, or SE (2nd or 3rd generation), press and hold the "Side" button until the power-off slider appears; drag the slider if you can; otherwise, please force reboot your iPhone by pressing and holding both the "Side" and "Volume Down" button simultaneously.
For iPhone X, XS, XR, or 11, press and quickly release the "Volume Up" button; press and quickly release the "Volume Down" button; do the same with the "Side" button until you see the Apple logo; this will force restart your device.
For iPhone 12 or 13, press and release the "Volume Up" button; press and quickly release the "Volume Down" button; press and hold both the "Side" and either "Volume" buttons until you see a slider on your screen; drag it if you can; otherwise, force restart your smartphone by pressing and holding both buttons until you find an Apple logo.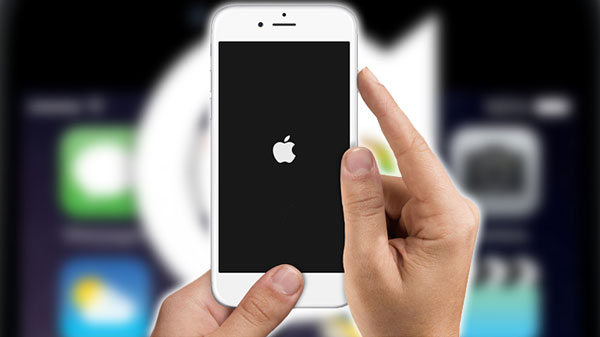 Method 8: Factory reset your iPhone
A factory data reset may help you get rid of the iPhone touch screen not working after the iOS update. When it happens, you will erase all your personal settings, files, and changes on your phone. And it will be set to factory settings. To do it, you can:
Plug your iPhone into your computer with USB. (Want to factory reset an iPhone without a computer?)
Start iTunes (or Finder if you use a Mac with MacOS 10.15 or higher).
Press and release these buttons in order: "Volume Up", "Volume Down", and "Side" (for iPhone 8 or later). Or press and hold "Volume Down" and "Side"(for iPhone 7). Or do the same on "Home" and "Side" together (for iPhone 6 or older).
On a PC, click on the "device" icon in the top left of iTunes. Then click "Summary" > "Restore". On a Mac, choose "Restore" when you see the option to "Restore" or "Update" your iPhone.
Finally, follow the instructions to complete the factory reset.
Method 9: Contact Apple Support
What to do when iPhone touch screen is not working after all the quick fixes? Given that, your device probably has a hardware issue. Call Apple's customer support and check if they can fix or replace it. Still, this isn't the last resort. Keep reading to get the ultimate solution now.
Part 2: Fix iPhone Screen Not Responding to Touch without Losing Data
If the "iPhone screen unresponsive to touch" persists, you may want to fix it quickly and maintain your iOS data afterward. Well, in this regard, iOS System Recovery can help you do that in seconds. Overall, this intelligent program can resolve over 50 problems with iTunes, iOS modes, devices, and screens. Before knowing how it works, let's have a quick look at this product.
Superb features of iOS System Recovery:
Fix the iPhone touch screen not working while keeping all iOS data.
Solve 50+ iOS problems, such as iPhone black/white/red/purple/yellow screen of death, battery draining faster, iPhone stuck on the loading screen, various iTunes errors, etc.
Let you choose from two repair modes for iOS repair.
Change the current iOS version up or down.
Play functions on virtually all iOS devices, including iPhone 14/14 Plus/14 Pro (Max), iPhone 13/13 Pro (Max)/13 mini/12/12 Pro (Max)/12 mini, iPhone 11/11 Pro/11 Pro Max, iPhone X/XR/Xs/Xs Max, iPhone 8/8 Plus, iPhone 7/7 Plus, iPhone 6/6S/6 Plus, iPod touch, iPad, etc.
It won't let out your privacy.
Step 1. Go for the "iOS System Recovery" section
Download and open iOS System Recovery on your PC/Mac. Connect your iPhone to the computer via USB. Then click "More tools" > "iOS System Recovery".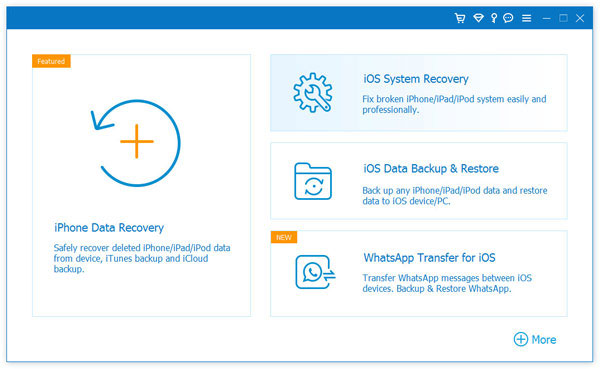 Step 2. Confirm iPhone info and boot it into Recovery or DFU mode
Tap "Start" to scan your iPhone. It will show your iDevice info on the screen. Next, check the info and follow the hints to put your iPhone in either Recovery mode or DFU mode.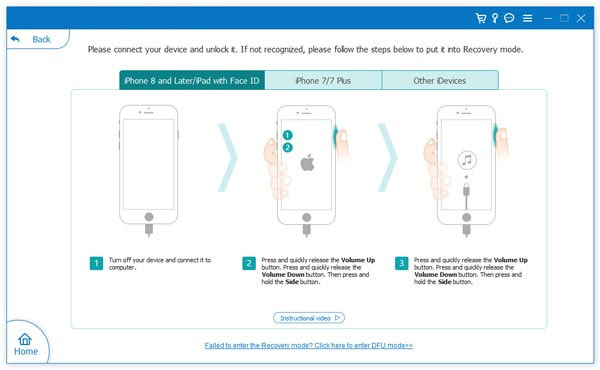 Step 3. Fix the iPhone touch screen not working in no time
Click "Repair" to fix the iPhone touch screen not responding to touch. It will download the firmware first. And after that, it can quickly troubleshoot your device's touch screen automatically.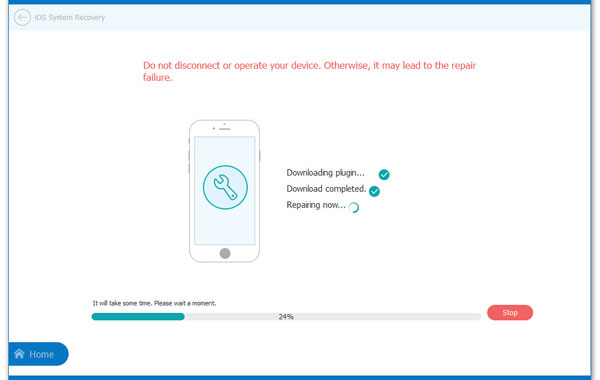 Conclusion & Bonus Tip: How to Avoid "iPhone Screen Unresponsive to Touch" Next Time?
Above is the basic and advanced troubleshooting tips to fix unresponsive iPhone screen. If there are no hardware problems on your iPhone, iOS System Recovery is the fastest and most reliable solution for you, as we mentioned earlier. Lastly, here are some more tricks to minimize the probability of "iPhone touch screen not working":
Clean the iPhone screen with a soft cloth.
Keep your fingers dry and remove any accessories regularly.
Adjust your device's touchscreen sensitivity settings.
Force restart your iPhone periodically.
Update, delete, or reinstall problematic apps.
Free up some space on your iPhone if it's almost full.
Keep the iPhone OS up to date.
Restore your iPhone with iTunes or Finder as required.
Related Articles:
Top 4 Solutions to Fix iPhone Unavailable without Data Loss
Fix "Android Touch Screen Not Working - Can't Unlock" Issues in 12 Methods
Can't Sign in to Apple ID? 13 Methods 99% People Don't Know.
5 Popular Methods to Screen Mirror iPhone to Samsung TV
How to Recover Data from a Broken iPhone Easily? [4 Proven Ways]
Top 8 MP4 Screen Recorders: Which One Do You Like Best? [Pros, Cons, Reviews]