How Long Does It Take to Transfer Data from iPhone to iPhone 14/13/12/11/X?
"How long does it take to transfer data to my new iPhone? It's been over 1 hour now" -- from Apple Support Community
64 GB is a humble memory configuration for an Apple iPhone. (Your iPhone storage is full?) Even so, when you switch your phone content with that kind to a new one, you may still be unable to see the transfer result prompt after a long wait. Thus, how long to transfer iPhone to iPhone, after all?
OK, this article will tell you the estimated time of completion it takes using different transmission methods, the reasons for this phenomenon, how to solve this dilemma, and how to use professional 3rd-party software to improve transfer efficiency.
Part 1: How Long to Transfer iPhone to iPhone?
The time it takes to transfer data from iPhone to iPhone depends on several factors, such as the amount of data to be transferred, the speed of the Internet connection, and the method used for moving data. Below imagine that the size of the data you want to transfer is approximately 64 GB, and we give the estimated completion time when the devices have a normal virtual or physical connection.
How long does it take to transfer/switch iPhones?
| | | |
| --- | --- | --- |
| Options | Data Size | Completion Time |
| Transfer with MobiKin Transfer for Mobile | 64 GB | Around 30 minutes |
| Transfer with Quick Start | 64 GB | More than 1 hour |
| Transfer with iTunes | 64 GB | 40 minutes or so |
| Transfer with iCloud | 64 GB | About 2 hours |
| Transfer with AirDrop | 64 GB | Between 1-2 hours |
Related Resources:
Part 2: Why Does Transferring Data to New iPhone Take So Long
Although data size and network speed are important factors affecting transfer time, there are other factors to consider when transferring data between iPhones. We need to identify these indicators to understand their impact on transmission speed. To understand the reasons for this delay, let's explore "Why is my iPhone transfer taking so long":
When transferring a lot of data, such as photos, videos, music, and apps, the process takes a significant amount of time to complete.
The speed of your Internet connection, whether over Wi-Fi or cellular data, can impact the transfer time.
Encryption can also slow the transfer process, as the data needs to be decrypted before it can be transferred.
If your old iPhone runs an older iOS version other than the new one, the migration may take longer.
Inadequate storage space on the new iPhone can cause the transfer to stop or fail.
Apps that contain a lot of data can also prolong the transfer time between devices.
Part 3: What If the iPhone Transfer Takes Too Long? (7 Possible Solutions)
We just detailed "How long does iPhone transfer take" and what the key contributors are bringing it forward. Next, let's explore how to fix this issue with the most effective methods:
Solution 1. Keep iPhones within Close Range
To transfer data between iPhones, ensure that both devices are in close proximity within the Wi-Fi range. However, please don't put them directly on top of each other to avoid damage. Also, make sure that both phones are turned on. It may seem obvious, but one of the iPhones may have been turned off without your knowledge. Both smartphones need to be turned on for communication to occur.
Solution 2. Charge Both Devices
Prior to initiating the data transfer, ensure both iPhones have a charge of at least 50%. If not, there may be delays in copying data between them. Therefore, plug both devices into electrical outlets during the transfer to prevent the battery from draining. (iPhone battery draining fast?)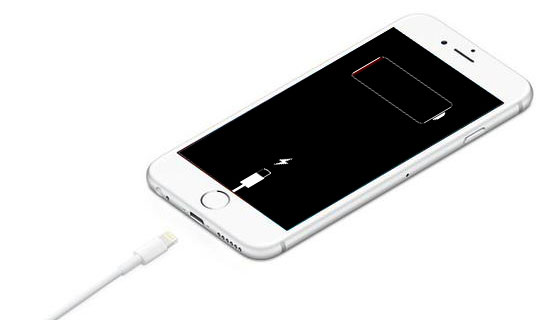 Solution 3. Connect to a Good Wi-Fi Network
To avoid delays during data transfer, it's vital to maintain a stable Internet connection. Check the network connection status periodically by looking at your router or notification bar on your iPhone 14/13/12/11/X/8. Poor bandwidth can cause the transfer process to slow down significantly. Once a stable connection is established, you can continue transferring data without interruptions.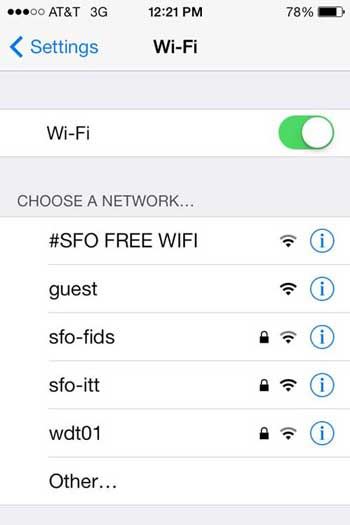 Solution 4. Try USB Connection
If the wireless transfer takes so long or even fails, you can pick a USB cord to connect your iPhone to a computer and try another transfer method. It's important to ensure all cables are properly installed and functioning when transferring data to a new iPhone.
Solution 5. Enable Airplane Mode
If Airplane Mode is enabled on your new iPhone, you may not be able to transfer data to it. It's easy to check the device's status as it's indicated by an icon in the notification tray. After disabling this Mode, you can immediately start transferring data without needing to restart the device or iOS.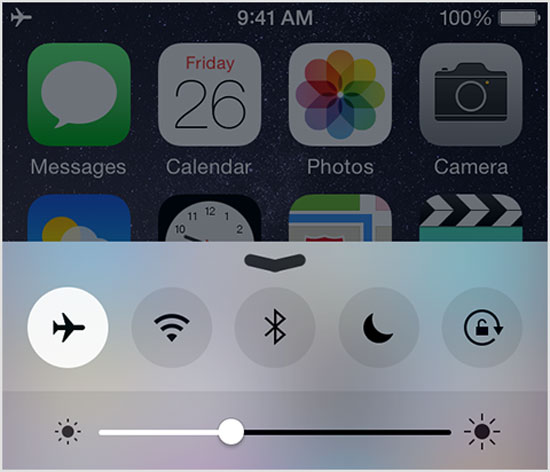 Solution 6. Force Restart Your iPhones
For iPhone 8 or later: Press the "Volume Up" key and quickly release it, then press the "Volume Down" button and quickly release it. Press and hold the "Side" button until the Apple logo appears.
For iPhone 7 or 7 Plus: Press and hold the "Volume Down" button and "Sleep"/"Wake" button until the Apple logo turns up, then release the buttons.
For iPhone 6, 6S Plus, or older: Press and hold both the "Sleep"/"Wake" and "Home" keys for several seconds until the Apple logo appears; then, release the buttons.
Solution 7. Keep iOS Updated
Make sure that your iPhones are running the latest version of iOS. Updating to a new system version can help improve software performance and fix bugs. You can check if your iPhone is up-to-date by going to "Settings" > "General" > "Software Update" > "Download and Install".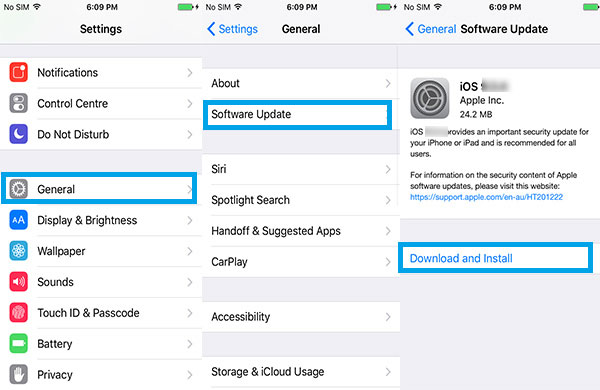 Extended Reading:
Part 4: How to Transfer Data from iPhone to iPhone Skillfully [Quick & Seamless]
Do you want to set up a secure connection and transfer content to another iPhone in the shortest possible time? Try the software - MobiKin Transfer for Mobile (Win and Mac) mentioned in the first section. This is a phone-to-phone transfer program that can transfer data between almost any two mobile phones. It's easy to handle and live up to your every effort. All in all, it's a preferred tool for iPhone cloning and ensures a smooth transfer process with satisfactory results.
Best phone transfer software - MobiKin Transfer for Mobile:
Transfer data from iPhone to iPhone without interruption.
Easily copy items between different platforms, such as Android to iPhone, iPhone to Android, Android to Android, and iPhone to iPhone.
Support for various types of files, including contacts, text messages, call logs, music, notes, books, bookmarks, documents, videos, photos, apps, etc.
Guarantee a seamless migration process while maintaining the original data quality.
Work well with almost all Apple devices, including iPhone 14/14 Plus/14 Pro (Max), iPhone 13/13 Pro (Max)/13 mini/12/12 Pro (Max)/12 mini, iPhone 11/11 Pro/11 Pro Max, iPhone X/XR/Xs/Xs Max, iPhone 8/8 Plus, iPhone 7/7 Plus, iPhone 6/6S/6 Plus, iPod touch, iPad, etc.
It won't disclose your privacy.
Free download this program and follow the drill below to transfer data from iPhone to iPhone fluently:
Step 1. Launch Transfer for Mobile
Start by installing and running the utility on your computer. Then, connect both iPhones to your computer using two USB cables. When a popup message asks you to trust this computer, click "Trust" to make the connection.
Step 2. Confirm the Sending and Receiving Device
The program will automatically recognize your devices and display them as "Source iPhone" and "Destination iPhone". Confirm that the devices are in the correct positions. If not, click "Flip" to switch them.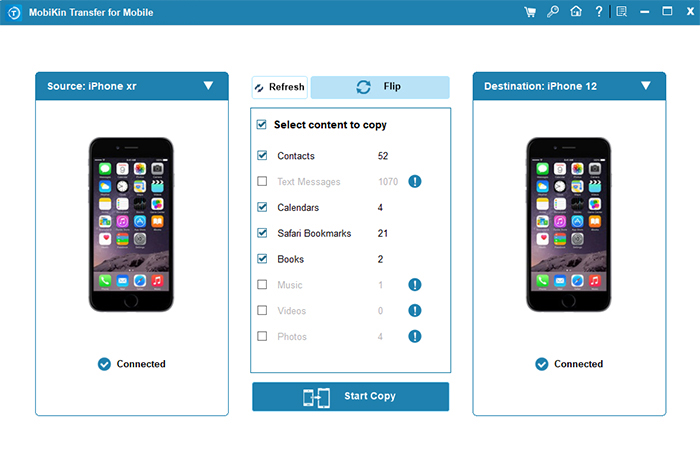 Step 3. Transfer Files from iPhone to iPhone
Select the data types you wish to transfer by checking the corresponding boxes in the middle of the screen. At last, click "Start Copy" to instantly transfer the data from the source iPhone to the destination one.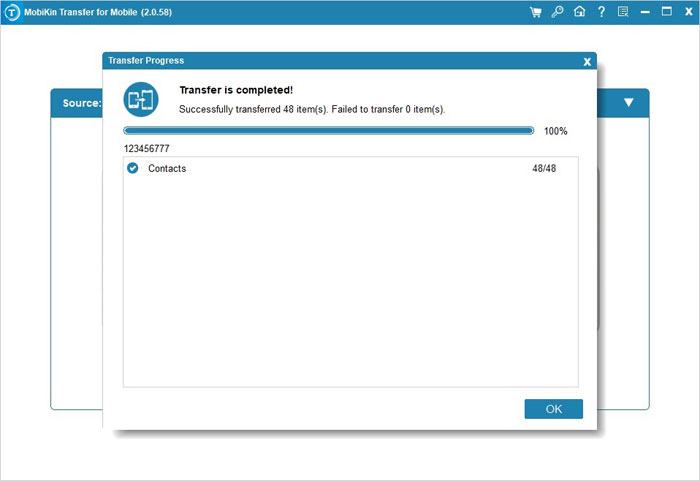 Closing Words
In summary, this passage illustrates how long to transfer data to new iPhone. And it is clear that MobiKin Transfer for Mobile outperforms traditional transfer methods mainly because of its efficiency.
In addition, as a dedicated 3rd-party product, it enjoys some strengths, such as easy connection and operation, end-to-end migration from phone to phone without uploading the content to the cloud server, and almost no transmission failure. Actions speak louder than words! Just download the program and give it a shot now.
Related Articles:
How Long Does It Take to Back Up iPhone to iCloud/iTunes? Here's The Answer
Authoritative Answer: How Long Does It Take to Restore an iPhone?
3 Popular Ways to Check Location History on iPhone 14/13/12/11/X/8/7
How to Fix the Bottom Half of iPhone Screen Not Working? [Practical Guide]
9 Quick Solutions to Troubleshoot Messages Didn't Transfer to New iPhone
How to Transfer WhatsApp Data from iPhone to iPhone? [Updated in 2023]