Things You Must Know about "Reset All Settings" on iPhone
If you are an iPhone user, what are you suggested to do when your device is out of order? Maybe one of the most familiar answers that you are given could be "Reset All Settings" on your phone. So, you might have reset the settings on your iPhone for several times but do you really know what it is and what does it mean? Supposing you are still confused about this problem, you can read this article to get a full tutorial about it, which can make you have a better understanding on "Reset All Settings".
Part 1. What is iPhone "Reset All Settings"?
As the name implies, it is to reset all the settings on your iPhone to make your device run normally. But this operation would only reset the system settings and no any file, document or application would lose during the resetting process. So you can just choose to reset the setting on your device when something wrong with it. But you are still suggested to backup your iPhone regularly in case of accidental data loss.
Nonetheless, it is different from "Erase All Contents and Settings" and "Reset Network Settings" so you need to pay attention to them.
As for "Erase All Contents and Settings", it will completely wipe your iPhone, including data and settings. Namely, it will reset everything on your phone and you would lose your files if you choose this option. This could be your last choice when you meet a serious error on your iPhone and cannot fix it.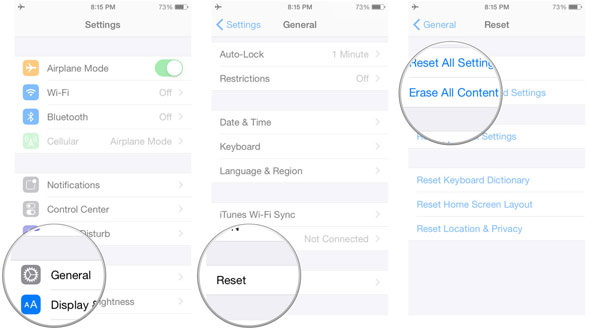 As for "Reset Network Settings", it will erase all the Wi-fi usernames and passwords that your iPhone have connected to. It is usually used when the network does not work well or fails to be connected. It could be a helpful method to fix iPhone network problems.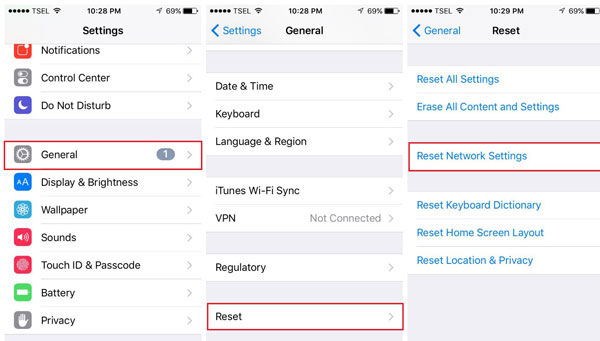 Part 2. Things You Should Know before Reset Your iPhone
Before resetting your iPhone, you must know some tips about iPhone resetting so that you can choose the right option to solve the problem.
1. Normally, you are not suggested to erase all contents of your device unless you want to throw it away or sell it. If you meet some problems and want to fix them, you can choose reset all settings.
2. You'd better write down some important or favorite settings before resetting cause "Reset All Settings" will erase all the settings like the connected Wi-fi.
3. Remember to reconfigure your privacy setting immediately after you accomplish the reset.
4. It is imperative for you to backup your data before the reset in case you press the wrong button and delete the files mistakenly.
5. There might be something wrong with your device if the reset process takes more than 10 minutes.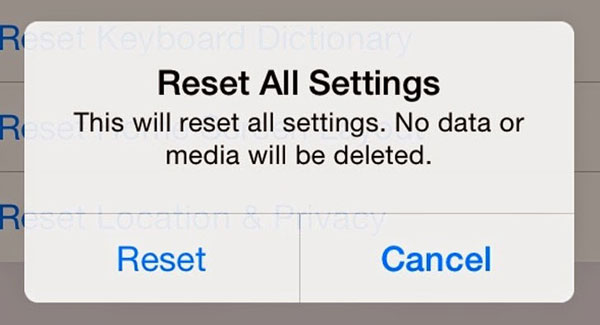 Part 3. How to "Reset All Settings" on iPhone?
No matter whether you need to reset your iPhone or not now, it is essential for you to know the detailed steps of this operation so that you can fix some minor problem by yourself. Here are the steps for your reference:
1. Click on Settings on the iPhone screen.
2. When you enter the "Settings" interface, find out the "General" option and tap on it.
3. Tap "Reset" under the "General" folder.
4. After that, a list of options will be displayed on the screen. Just select "Reset All Settings" and your device will ask you to confirm your choice. Here you need to click on "Reset All Settings" once again. Then you should wait for no more than 10 minutes and all the settings on your device, including network settings, Wi-fi settings, etc. would be erased.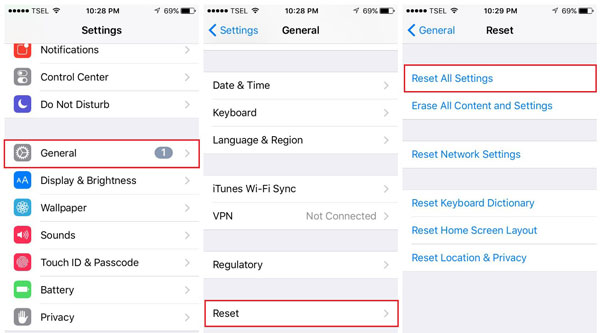 Part 4. The Recommended Way to Recover the Deleted Data on iPhone
During the resetting process, you won't lose any data on your device but what if you remove some files you want by accident and you do not do any backup before? In this case, knowing at least one means to retrieve the deleted data from iPhone is recommended and indispensable. You can choose MobiKin Doctor for iOS (Win & Mac) to help you.
What This Tool Do for You?
* Recover data from iDevice directly or restore data from iTunes backup.
* Retrieve up to 10 types of file from iDevice, such as contacts, SMS, safari, notes, calendar, voice memos, photos, etc.
* Compatible with almost all generations of iDevice, including iPhone X/8 Plus/8/7/6, iPad Air, iPad 2, iPod touch, iPod nano and so on.
* Get back data from iDevice on various situations: accidental deletion, factory resetting, jailbreak, damage or loss.
Here is how to restore iPhoen deleted data:
1. Use USB cable to link your iPhone to the computer. Then you can choose the mode you need- Recover from iOS Device or Recover from iTunes Backup Files.
Notice: if you want to recover the data from iPhone directly, you need to jailbreak your device at first.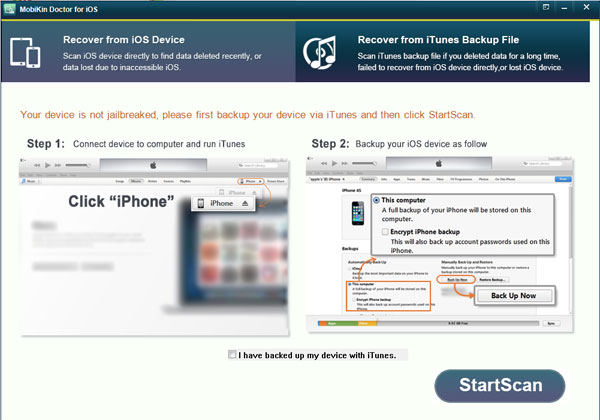 2. When your iPhone is recognized, the tool will auto-scan all the data on your device and list them in categories.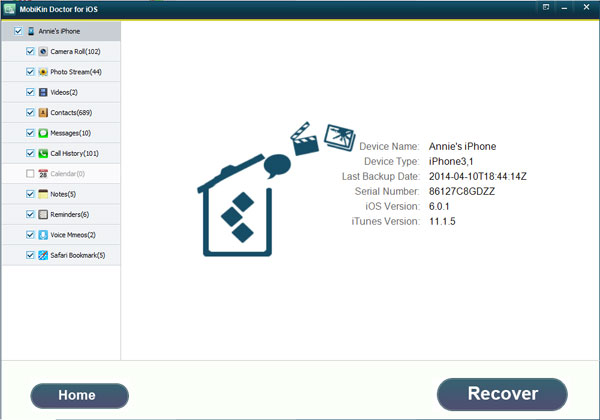 Click the folder that you want to get back in the left panel to locate the specific contents of this file in the right pane.
Attention: only register users are able to preview all details.
3. Tick your wanted data and hit "Recover" button to get back and save them on your computer.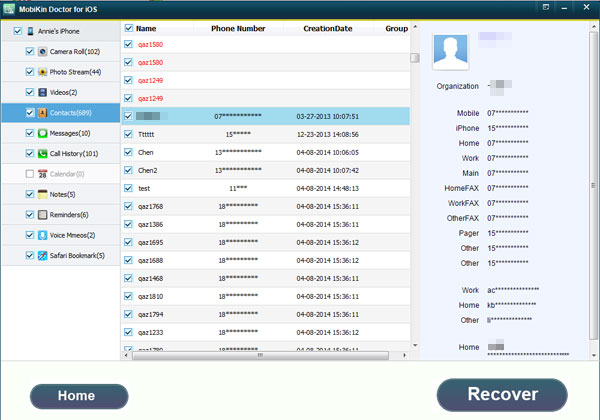 Related Articles: