[Solved] iPhone Text Messages Disappeared on iPhone [8 Methods]
"I have an iPhone 13. It was backed up one week ago. Yesterday, several iPhone text messages disappeared. I restarted the phone. I turned iMessage on and off. I turned SMS and MMS messaging on and off too. However none of the message threads returned. Does anyone have any ideas on what the issue is or a fix?"
-- from discussions.apple.com
Users of iPhone have reported instances of disappearing text messages on iPhone across the years of 2023/2022. Issues ranged from text message loss post-iPhone updates to instances where messages vanished after device restarts, and even scenarios where messages inexplicably disappeared. To aid in resolving this issue, we've gathered multiple effective solutions. This article details 5 straightforward methods to address the problem of disappearing iPhone text messages, along with efficient strategies for recovering lost text messages. If you've experienced the text messages disappeared on iPhone, continue reading for comprehensive guidance on recovering all your lost iPhone messages.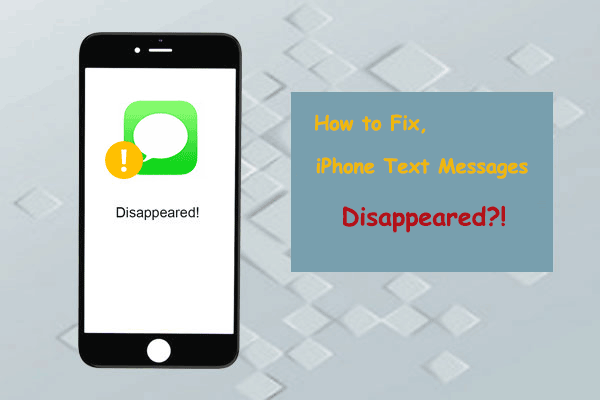 Part 1. Why Are Some of My Text Messages Missing on iPhone?
iPhone 15/14/13/12/11/X messages disappearing often result from various factors, such as issues with iOS updates, problems with iCloud synchronization, and similar reasons. The absence of images within text messages could occur because the iPhone messages index without displaying the attachments. Furthermore, some users have experienced message loss due to a full iPhone storage. Continue reading to understand the causes in detail:
Misconfiguration of message retention settings is a prevalent reason. Altering from the default "Forever" to a shorter duration like "30 days" or "1 year" leads older text messages and iMessages to vanish from your iPhone.
Accidental loss of text messages is a common occurrence. While trying to clear a specific message conversation from the inbox, inadvertently deleting another conversation thread often happens.
Although most iOS updates proceed smoothly, unexpected bugs may affect your iPhone, resulting in messages disappearing from your inbox. Restoring from a backup containing the necessary texts is advisable in such scenarios.
Full iPhone storage prevents sending and receiving new text messages, resulting in new text message disappeared on iphone, that's why many people complained - "I sent a text message and it disappeared on iPhone".
Unexpected disappearance of iPhone text messages and iMessages occurs for reasons that are often unknown.
Can't Miss:
Part 2. How to Fix iPhone Text Messages Disappeared Issue
Since there are multiple reasons why iPhone texts disappeared, it is recommended to start with simple fixes to narrow down the problem. Here, we will introduce five methods to fix iPhone text messages disappeared 2023. (iPhone messages disappeared but still taking up space?)
Fix 1: Keep Messages Forever
If you notice your older messages disappearing while the newer ones remain, it might indicate an issue with your Message settings. Adjusting the message retention settings from "30 Days" or "1 Year" back to "Forever" prevents automatic deletion of older messages. To rectify this:
Navigate to the "Settings" app on your iPhone and access "Messages."
Select the "Keep Messages" option and set it to "Forever."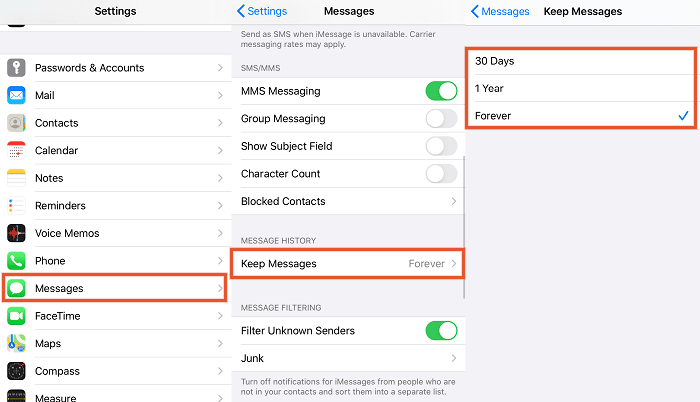 This change ensures your device retains all messages without automatic deletion.
Fix 2: Restart your iPhone
If your iPhone messages vanish or the Messages app becomes unresponsive, a simple device restart may resolve the issue. Follow these steps to restart your device based on the iPhone model:
For iPhone X or later: Press and hold the "Side" and either "Volume" button until the shutdown option appears. Drag the slider to turn off your iPhone, then press and hold the "Side" button to power it on.
For iPhone 8 Plus/8 or earlier: Unlock your iPhone, press and hold the "Power" button until the power off slider appears. Drag the slider to turn off the iPhone, then press and hold the "Power" button to turn it on.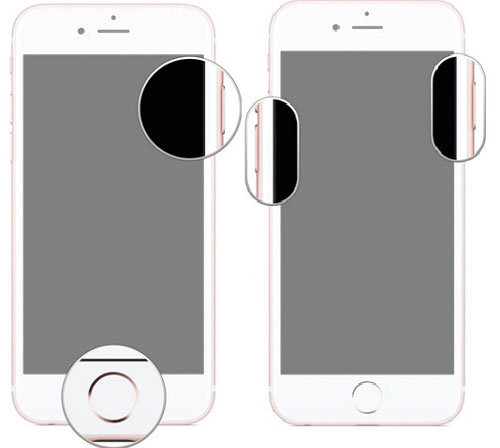 Fix 3: Turning off "iMessages and "MMS messaging" and then on
At times, iMessage/MMS messages disappeared on iPhone due to server issues or poor service.
To address this: Access Settings > Messages. Toggle off "iMessage" and "MMS Messaging," wait for 15 seconds, and toggle them back on.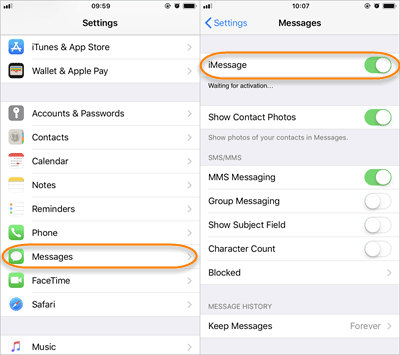 Fix 4: Enable Airplane Mode
To quickly address missing messages on your iPhone, try activating Airplane Mode. Access the "Control Center" and enable "Airplane Mode" for a brief period. Keep the device in Airplane Mode, then disable it. Check your messages to see if the deleted messages are restored.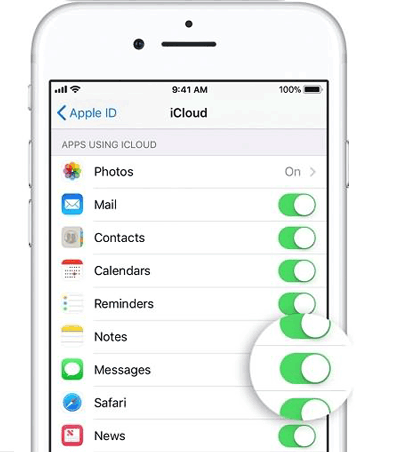 Fix 5. Update Your iPhone to the Latest iOS Version
To prevent occasional unexpected errors on your iPhone, it's important to keep your iOS version up to date. If the earlier fixes haven't resolved the text thread disappeared on iPhone issue, verify if there are any available software updates for your device.
Check for software updates within your iPhone by navigating to "Settings" > "General" > "Software Updates". If there are updates waiting, your device will display them in this section. Simply install these updates to rectify the issue.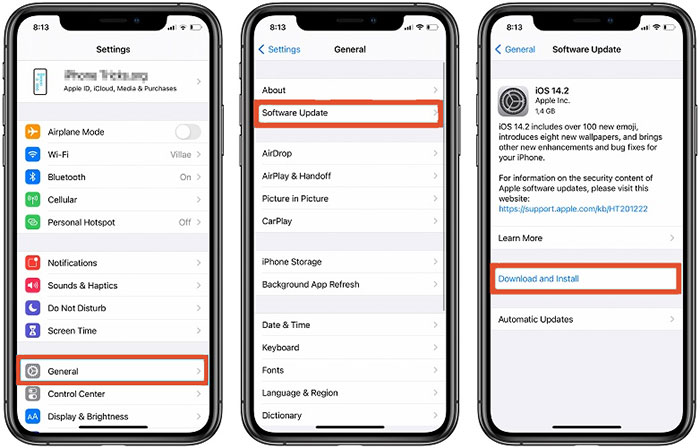 Can't Miss:
Part 3. How to Get Back Missing Text Messages on iPhone
Way 1: Recover Disappeared iPhone iMessage/Messages from iCloud Backup
If your iOS device is set to automatically back up all data through iCloud, you can attempt to retrieve lost or vanished iPhone messages from an iCloud backup.
Access the "Settings" app on your iPhone and select the "General" option.
Step 2: Scroll and tap "Reset," then choose "Erase All Content and Settings." This action results in the complete erasure of the original iPhone data.
Step 3: Power on your iPhone and, on the Apps & Data screen, select "Restore from iCloud backup."
Step 4: Choose the most recent iCloud backup, which might contain the missing text messages. Proceed to restore your iPhone using this backup file. For further information on accessing iCloud backups, please refer to additional details.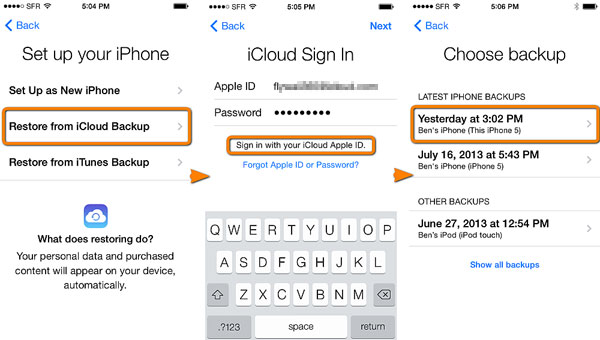 Way 2: Recover Disappeared iMessage/Messages without Backup
Regaining lost messages without an iPhone backup can be challenging, but it's not an impossible task. Despite the absence of a backup, there is still a chance to retrieve lost data using specialized iPhone data recovery applications such as MobiKin Doctor for iOS. This tool can conduct a thorough scan of your iPhone, uncovering hidden data (provided they haven't been overwritten), and enabling you to preview lost messages before recovery.
Here's how to recover missing messages on iPhone without a backup:
Step 1: Download the Free Trial of Doctor for iOS on your computer and launch the application. Click on the "Recover from iOS Device" mode and connect your iPhone to the computer.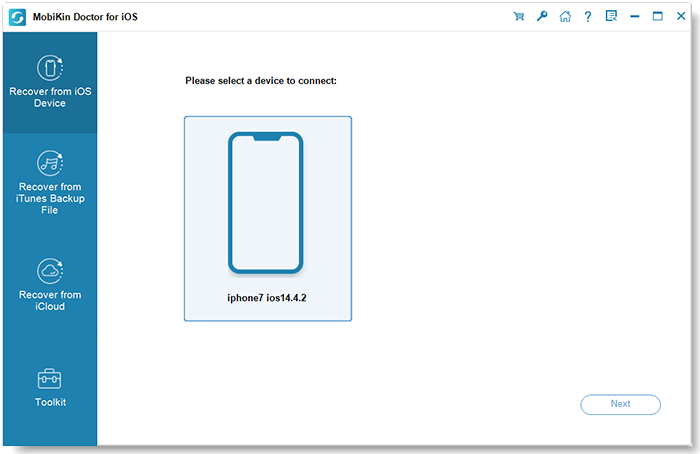 Step 2: Select "Messages" and proceed by clicking "Start Scan." The software will swiftly scan your iPhone, identifying both deleted/missing and existing messages or message attachments.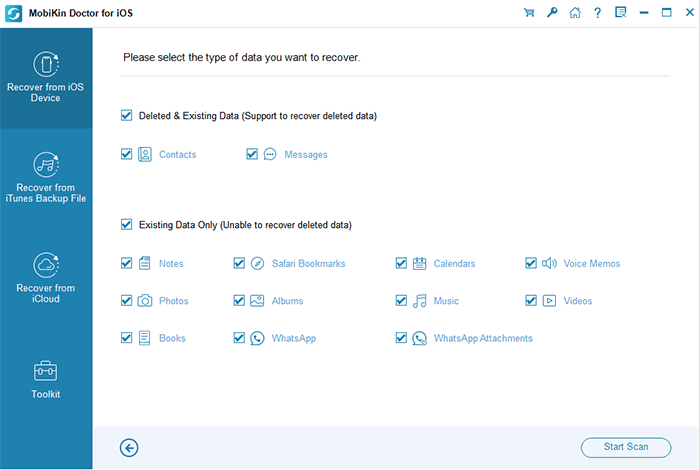 Step 3: Review the scanned messages and choose the ones you wish to recover. Click the "Recover to Computer" button to restore the selected messages.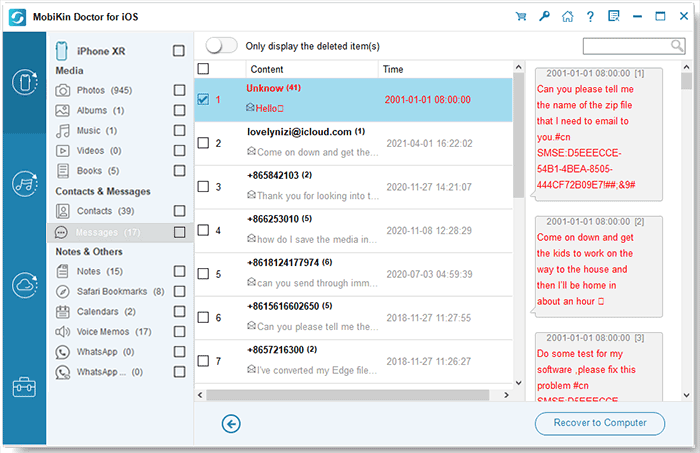 Way 3: Restore iMessage Disappeared on iPhone from iTunes Backup
For individuals who have previously backed up their iPhone using iTunes, it's possible for iPhone messages to be stored within the iTunes backup file, enabling the restoration of lost data. However, the challenge lies in the inability to preview message conversations within the iTunes backup before initiating the restoration process. This limitation can potentially lead to the restoration of the wrong backup, posing a risk.
To facilitate a preview of restorable messages, we'll utilize Doctor for iOS to assist in previewing and recovering messages to your iPhone.
Step 1: Download, install, and launch Doctor for iOS on your computer. Opt for the "Recover from iTunes Backup" mode, allowing the product to identify all available iTunes backups on your computer.
Step 2: Choose the specific backup you intend to restore and click the "Start Scan" icon to initiate the scanning process for this backup.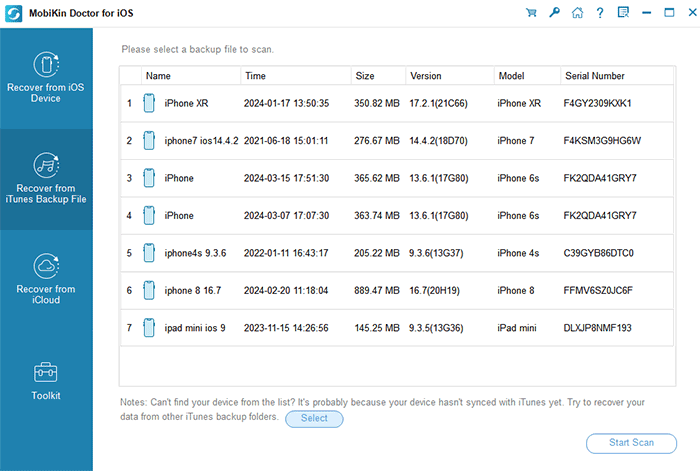 Step 3: Select "Messages" and any other desired types of iOS content for recovery. Click "Start Scan" to commence scanning your iTunes backup.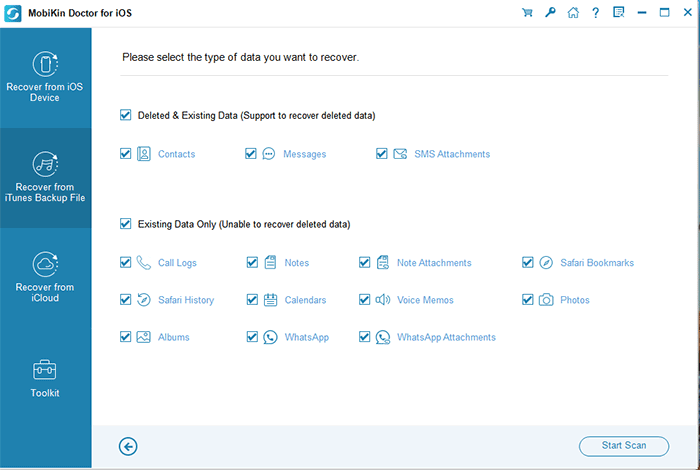 Step 4: Preview and select the messages you wish to retrieve. Finally, initiate the iPhone SMS recovery by clicking "Recover to Computer."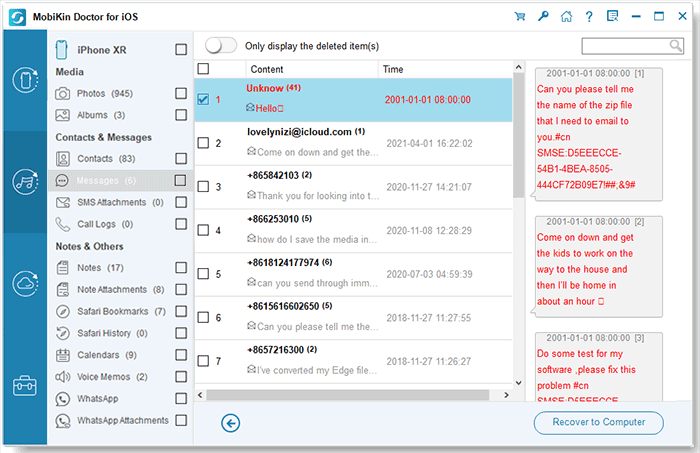 Part 4: How to Avoid Disappearing Text Messages on iPhone
We previously covered the topic of "Why did my text messages disappear" and the procedures for recovering lost text messages from iPhone. Moving forward, it is advisable to implement measures to prevent a recurrence of such incidents.
1. Back up iPhone or iPhone Messages Regularly
It's crucial to consistently back up your device before performing tasks such as syncing, restoring, or updating to a new iOS version. This ensures that each time you engage in an iPhone update to a new iOS iteration (like iOS 17 or iOS 16), restore your iPhone, or sync with iTunes, you have a secure backup. As a result, you'll have access to iPhone backup files and the capability to restore lost data if iMessages or other iPhone data are inadvertently lost.
2. Make sure you have enough iPhone storage space
Inadequate iPhone storage space could lead to issues like backup or restore failure, unsuccessful software updates, or data loss. Prior to initiating a restore or update, it's essential to ensure sufficient storage on your iPhone. Should you face storage constraints, you can learn more about creating additional space by referring to this guide: "6 Ways to Free Up Space on Your iPhone."
Conclusion
The above are 10 effective solutions to the problem of "iPhone text messages disappeared". If you know the cause of the problem, you can choose the corresponding solution to solve it, which will improve your success rate and efficiency in solving the problem.
Please keep in mind that if you forget to back up your iPhone, you must try MobiKin Doctor for iOS, a tool that can directly restore deleted files from your device without a backup. Finally, in order to prevent this kind of incident from happening again, we still recommend that you back up your iPhone regularly.
Related Articles:
How to Recover Lost Data from iPhone 15/14/13/12/11/Xs Max/8/7 Plus
DiskDigger Alternative Tool for iOS
8 Solutions to Fix Contacts Disappeared from iPhone
What if iPhone Won't Restore? Here Are the Full List of Fixes
How to Restore Contacts from iTunes Backup