Retrieve Lost Data from Water Damaged iPhone X/8 Plus/8/7/6S/6/5S
"I bought an iPhone 7 Plus last week and I really like the screen and the iOS 11 is pretty good. Just now while I was taking a shower, I put it on the toilet seat lid and let it play music. After I finished the shower, I went to fetch my iPhone when suddenly, it dropped into the toilet. I was frozen and totally at a loss at that moment. I took it out of the water immediately but it stayed in a black screen. I don't know what to do. And I suppose all my files are gone by now. Can somebody tell me how to fix this? My iPhone 7 Plus is quite new and I don't want to throw it away. Thank you so much!"
When you dropped your iPhone into water accidentally, your iPhone would be water damaged, and you may come across some situations. But first, you need to stay calm and get your iPhone out of water and power it off immediately. If it's still bright, don't use it as normal because it might get your iPhone overheating later and damage the hardware of iPhone. If the screen is black, then probably there is water in it. At this moment, you can flung it as forcibly as you can till the water inside is gone. Don't try to dry your water damaged iPhone with a hair dryer or other external drying machine right away as this can force water deeper into your iPhone. If possible, you can wrap your iPhone with a thick towel and put it into a washing machine full of clothes for dehydration. Then you can blow the iPhone by a hair dryer with cold wind and keep it dry. Next you can put the water damaged iPhone into a container of uncooked rice to dry it for a few days. Or you can take your iPhone to an Apple repairment store directly to have some professional repairs and maintenance which is strongly recommended comparing with the former method.
After your iPhone is recovered successfully, you may encounter another problem - data loss. So when your iPhone is dried, the first thing for you to do is to restore the lost data. To save time and be more effective as well as efficient, you need a third party program to help you do this. Here comes the MobiKin Doctor for iOS (Windows All) or MobiKin Doctor for iOS (Mac OS X). This software is highly spoken of by many iPhone users so you can rely on it. With its help, you are able to retrieve all the deleted or lost data including photos, videos, music, contacts, call history, text messages, safari bookmarks, books and voice memos and so forth.
Apart from iPhone X/8 Plus/8/7/6S/6/5S, any other iOS device like iPad Air/4/2/Mini, iPod touch/nano/shuffle can be compatible with the software. If you're interested in it, you can download and install the free trial version on your computer. Windows version and Mac version are both available. Here we will take Windows version as an example. Mac users can switch to the Mac version and follow the similar steps in the instructions. Now please follow me to the next part.
Tutorial 1. Recover Lost iPhone Data from Water Damage Directly
To save your time, allow me to make a brief introduction of this data recovery software. This program has two different modes: "Recover from iOS Device" and "Recover from iTunes Backup File". If you have already jailbreaked your iPod Touch or iPhone, you can choose the first mode. If your iPod is not jailbreaked, you can directly turn to the second mode.
Step 1: Link iPhone to the Computer and Start to Scan
Link your iPhone to the computer via USB cable and run the recovery software. Then you will see two modes on top of the menu. Choose "Recover from iOS device" directly and click "StartScan" button on the right bottom of the main interface. Make sure your iPhone is jailbreaked, otherwise the software cannot recognize your device. In this case, you can follow the instructions on the window shown as "Your device is not jailbreaked, please first back up your device via iTunes and then click StarScan".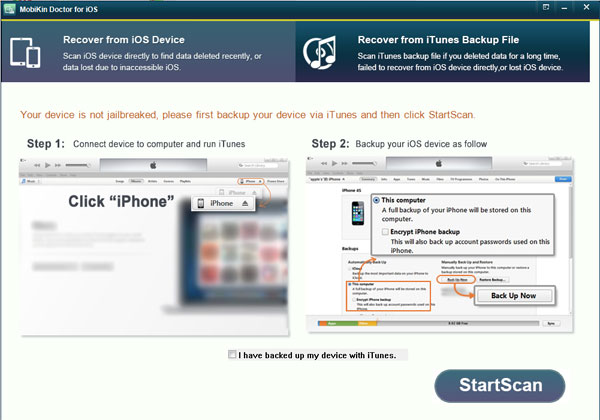 When the scanning is finished, a window below will pop up showing the basic information of your iPhone such as the folders and the parameter.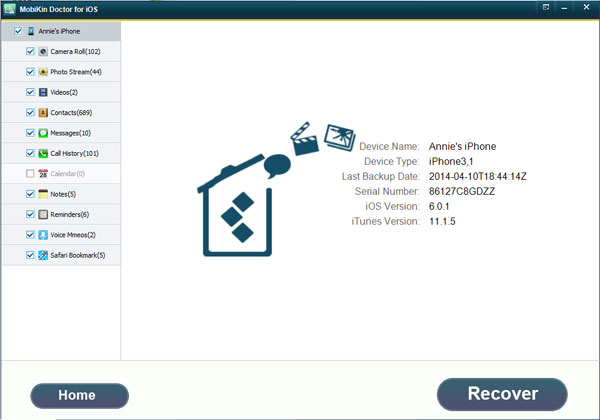 Step 2: Preview & Retrieve the Data
As you can see, 11 categories of files are shown on the left sidebar. You can choose the deleted data at your will. For example, if you want to recover contacts on your iPhone, you can click "Contacts" folder, then the items of the phone number will be displayed on the right panel. Those marked in red color were the deleted ones. Then you can tick them and hit "Recover" to save them on your computer smoothly. It's simple and clear. By that analogy, you can restore all the data on the left column completely in 2 steps.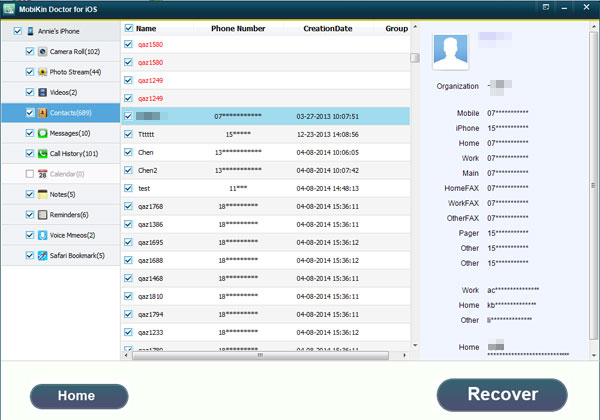 Tutorial 2. Retrieve Data from Water Damaged iPhone from iTunes Backup ?
If you already have backed up the data on iTunes before you dropped it into water. You might as well choose mode "Recover from iTunes Backup File". Using this mode, you don't have to connect your iPhone to the computer. Just follow the steps mentioned in the first tutorial after choosing the mode.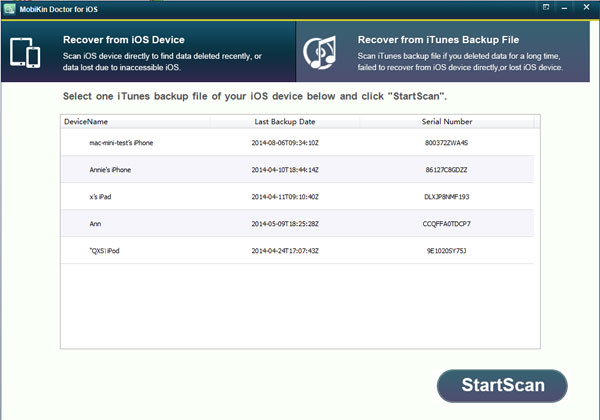 That's the two different modes of the data recovery software. With the assistance of it, I'm pretty sure that it won't be a problem if you want to retrieve any data from your iPhone any time.
Related Articles
How to Recover Deleted Notes from iPhone 6 Plus/6/5S
Tips to Recover Deleted Reminders from iPhone Easily
Easy Way to Recover Lost Data from iPhone 6