4 Efficient Ways to Get Pictures off Phone with Broken Screen
Falling your Android phone to the ground accidentally causes the screen to crack. If you are lucky enough, your phone just has a broken screen but the phone can run normally, you just need to change the broken screen; but often it doesn't work as you want, and you find that your entire phone can no longer be turned on and is completely dead. Now, what you are most worried about is how to get pictures off a broken phone? God knows how much you don't want to lose those beautiful photos you took with your family.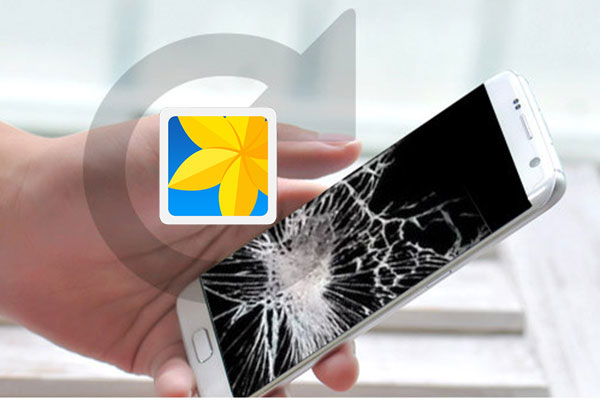 If your important photos are stored on the SD card inserted in your phone, then getting back those photos is very simple, you just need to remove the SD card and then extract the photos directly from the card. However, if this is not the case, then it is a bit of a hassle, but don't despair completely, we have other ways to help you get pictures off phone with broken screen.
Part 1. How to Get Pictures off Phone with Broken Screen via AutoPlay
If you have enabled USB debugging on your Android phone before it is broken, then, you can follow the steps below to see how to get pictures off a broken phone via AutoPlay.
Step 1: Connect your broken phone to a Windows PC with a USB cord.
Step 2: Once the connection is successful, your Android phone will be recognized by the PC and you will be popped up with an AutoPlay screen. Just choose the option of "Open folder to view files" from the AutoPlay screen.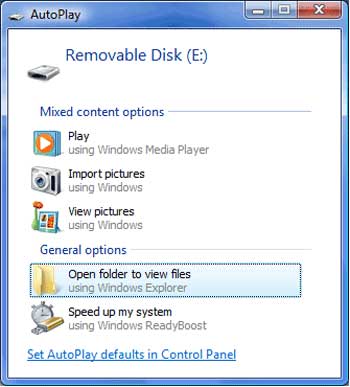 Step 3: From the new window, you can copy the photos that you want to get from your broken phone and paste them to your PC.
Pros:
It's free.
It is easy to handle without installing additional tools.
Cons:
The USB debugging must be turned ON before your broke your phone.
Only a few types of files can be recovered.
Hot Topics:
Part 2. How to Recover Photos from Phone with Broken Screen via SD Card
If you have an SD card installed on your phone, and you are used to saving photos to the SD card, then you are fortunate because when your phone cannot operate normally due to a crash or broken screen, you can still remove the SD card from the broken phone, plug in another phone, or insert the SD card to a card reader and then insert into your computer, so you can recover data from Android SD card again.
Here's how to recover photos from phone with broken screen via SD card:
Step 1: If the back cover of your phone is removable, then you can easily remove the back cover of the phone and then remove the SD card. If the back cover cannot be removed, then you need to use the needle tool to eject the micro SD card slot and then remove the SD card.
Step 2: Insert the SD card into another mobile phone that can be used normally, then you can retrieve all the data on the SD card in this phone. Of course, you can also take a card reader, insert the SD card into the card reader, then insert the card reader into the computer, and finally read the contents of the SD card on the computer.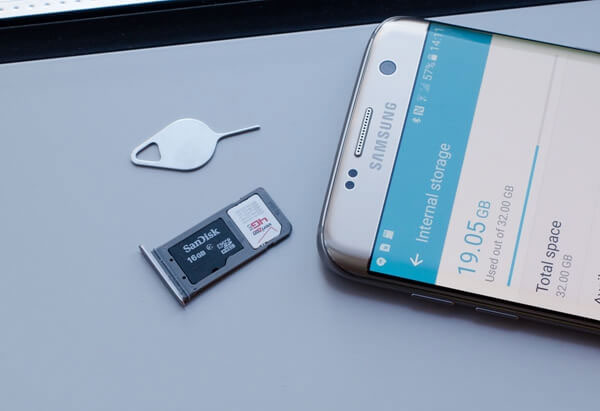 Pros:
Cons:
Only supports phones with SD card.
Only the contents on the SD card can be restored.
If your photos are not saved on the SD card, then this method is useless.
Part 3. Get Pictures from Broken Android Phone with Google Photos Backup
If you have ever backed up your photos from your Android phone to Google account using the Photos app, then, you can login to the same Google account on other devices to get pictures from broken Android phone to a normal one.
Back up photos to Google account (before your Android phone screen breaks)
Download Google Photos app on your Android phone, launch it and login your Google account.
Before you start the photos backup, you can set upload size for these photos. We suggest you choose "High quality" in order to save the Google Drive space left.
Tap on the "More" button (the three-line button) and choose "Settings" option.
Choose the option of "Backup & sync" and toggle it on. Then, all photos on your Android phone will be synced to your Google account.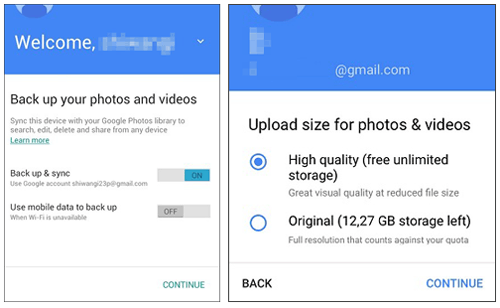 Restore photos from Google account on another device
You can open Google Photos on another device, which can be a phone or a computer, and sign in with the same Google account you used for photos backup.
Choose either "Photos" or "Albums" folder that could contain the photos you want.
Preview and select the photos you need and click on "More" > "Download" options to restore photos on your broken Android phone. (You can click to learn details about how to restore deleted files from Google Drive.)

Pros:
Free and easy.
No need for a USB data cable.
Cons:
Rely on network connection.
Once the internet connection is lost, you will not be able to recover photos.
Consume time and energy.
If you haven't backed up your photos to your Google account, then this method will not work for you.
Hot Topics:
Part 4. How to Get Pictures off A Broken Phone Using Broken Android Data Recovery
(Ultimate Way!)
In fact, the safest and most reliable way to recover photos from a broken screen Android device is to use professional Android data recovery software designed for the damaged Android phone, such as Broken Android Data Recovery. It is a widely praised Android recovery program that has helped millions of Android users successfully recover the data they want from broken Android phones.
How to Retrieve Photos from Broken Samsung Phone with Broken Android Data Recovery?
Step 1. On your computer, download and install Broken Android Data Recovery and then launch it. Connect your broken Samsung phone to the computer with a USB cable and choose "Broken Android Data Extraction" from the left side of the program interface.
Next, check the type of your Android phone issue and click "Start" button to continue.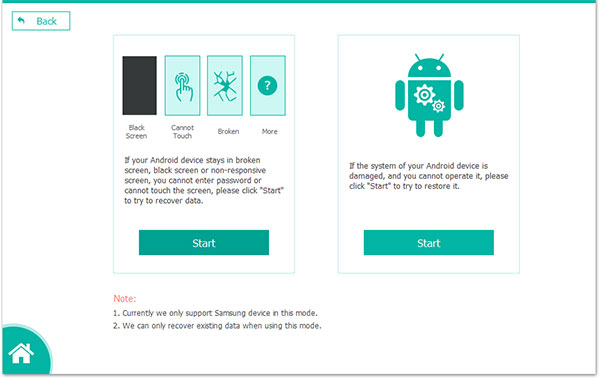 Step 2. Confirm your device info by clicking the drop-down menu to select your Device Name and Device Model. Tick off the "I agree" box and click "Confirm" option to go to the next step.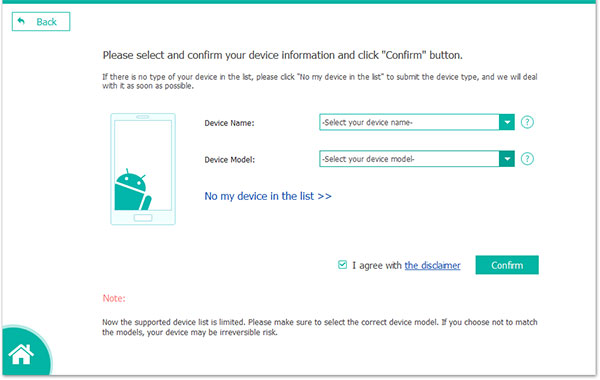 Step 3. Follow the prompts on the program interface to put your broken phone into Download mode. After that, you can click "Start" button to let the program scan your broken phone.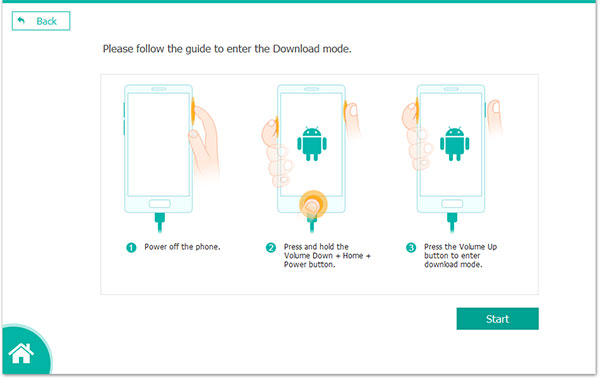 Step 4. After the scan, all files on this broken Android phone will be found and displayed in categories. You can choose the photos you want to get back and click the "Recover" button to transfer photos from broken Android to computer.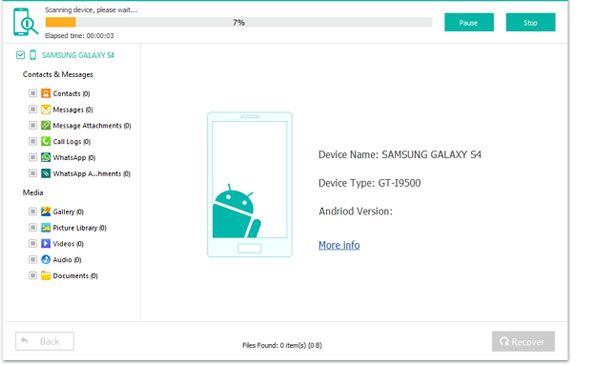 Pros:
Professional devoted to recover data from damaged phone, the ultra-high recovery rate is trustworthy.
Recover data from damaged phone without enabling USB debugging. (Want to know how to enable USB debugging on broken Android?)
Can recover many types of phone data.
Easy to use.
Can also fix many mobile phone problems.
Cons:
Not free.
Only supports a small number of Samsung devices.
Mac version is unavailable.
Related Posts:
Part 5. A Must-read before You Want to Repair A Broken Phone Yourself
If you want to save time and money and try to repair your broken Android phone yourself, then you must read the following precautions first.
1. Honestly, we do not recommend that you repair the device yourself unless you have very professional technical knowledge. Otherwise, improper operation may make the problem worse.
2. We still recommend that you contact the mobile phone manufacturer as soon as possible. If your phone is still under warranty, then you can actually save a lot of money.
3. Be sure to fully understand what went wrong with your phone before ordering the parts you want to replace.
4. You can use professional tools to help you. In fact, there are many tools on the market that can help you open and handle the hardware of your Android phone.
The Bottom Line
If your Android phone is broken, stop using it immediately and take quick action to rescue the data on the broken phone. Because if you continue to force the use of this phone when the screen of it is broken, it may cause more serious problems. Download Broken Android Data Recovery now to help you get pictures off broken phone. This software has been rated as the best software for people to recover data from damaged Android devices.
Related Articles:
Android Message Recovery - How to Retrieve Deleted Text Messages on Android
How to Access Phone with Broken Screen with PC Easily & Safely?
Made It! Recover Contacts from Broken Screen Android Phone
Top 5 Powerful Android Data Recovery Apps and Software of 2019
How to Unlock iPad without Passcode? 6 Ways to Solve It!