Dropped iPhone in Water? Here's Everything You Need to Know
What a pity that you dropped iPhone in water. Yet you'll find this is not the only case when you walk into the nearest Apple Store. At the moment of picking up the wet phone, the first thought that comes up in your mind should be powering the device off. Then remove some accessories from it and dry it out.
After that, you may want to ask, if the iPhone is seriously damaged by water, what can I do? If not, when should I turn it on? How to recover the content from the dried iPhone? Well, good questions! Now let's tackle these problems one by one.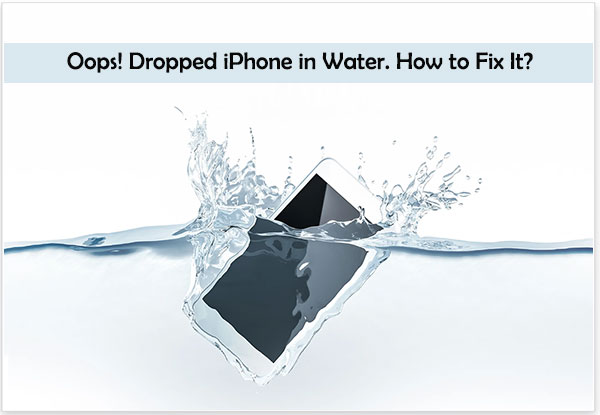 Part 1: Which iPhones Are Water-resistant?
Water-resistance is commonly judged by the IP rating system. Apple didn't disclose the ratings for iPhone until 2016. In that year, iPhone 7 was certified as IP67, indicating it would survive submersion in 1M of water for 30 minutes. And the iPhone Xs (the later version) went one step further, scoring IP68, extending the immersion to 2M.
Here's the full list of IP ratings of iPhones:
However, you dropped your iPhone in the water, toilet, pool, etc. It might still be damaged, according to some tests. This is because the liquid can be complex (different water pressure, unpurified stuff, etc.), which could affect the phone parts. Besides, waterproof won't last long. And there's no warranty for a water-damaged iPhone.
See Also:
Part 2: What to Do if I Dropped iPhone in Water (10 Quick Solutions)
Solution 1: Power off the Wet iPhone Immediately
I dropped my iPhone in water; what to do next? First, get the phone out of the water at once. Then turn it off without hesitation. To do this, press and hold the Side button with the Volume Up key and then slide to power off.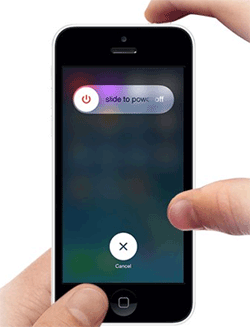 Solution 2: Take Your iPhone out of the Cover
Next, you should remove all the accessories from your iPhone. They can be the iPhone cover, screen protector, headphones, or other connectors.
Solution 3: Remove Your SIM Card
iPhone fell in the water. In addition to removing the external accessories, the SIM card should also be taken out. And after that, to prevent the possible damage to SIM caused by the corrosiveness of water, it is recommended to gently wipe the surface with an eraser. (Learn how to retrieve deleted/lost contacts from SIM card?)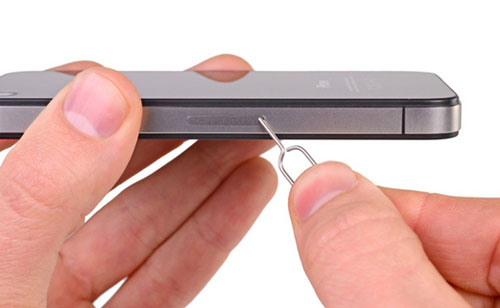 Solution 4: Ease Liquid out of the Ports
As you know, the port on your iPhone is the easiest and first place to get flooded. So do remember to tile your device and wipe the lightning or headphone ports.
Solution 5: Dry off iPhone with a Towel or a Piece of Fabric
I dropped my iPhone in the toilet. How can I wipe the visible liquid on it? Well, clear it off with a lint-free towel or fabric. In a pinch, a clean eyeglass cloth will do.
Do not use rice nor a hair-dryer to dry your iPhone, for the impurities of rice can pollute your iPhone, and excess heat from a hair-dryer could damage the device.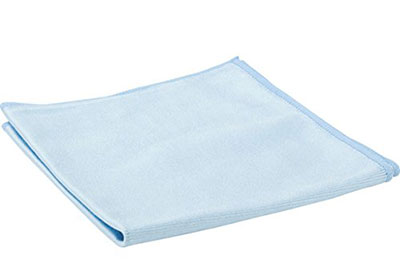 Solution 6: Dry out Your iPhone with Silica Gel
I dropped my iPhone in water. How do I dry the invisible liquid on it? OK, just do this with Silica Gel efficiently. Please put the device in it for at least 48 hours to dry out completely.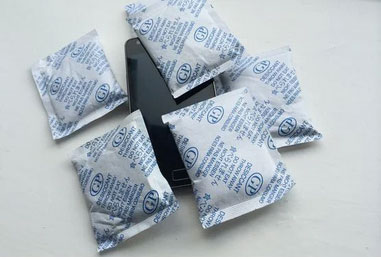 Solution 7: Take Your iPhone to Apple
Apple won't fix a water-damaged iPhone by repairing or replacing every single component but offers a replacement device instead. As we mentioned earlier, a wet iPhone is not covered by Apple's warranty.
You have to pay for an "Out of Warranty" replacement. And it doesn't cost as much as a new iPhone. Thus, if you are tired of finding ways on how to fix an iPhone that fell in water, simply take this way into account.
Further Reading:
Solution 8: Send It to 3rd-party Repair Shop
Some users may still be concerned about how to fix iPhone dropped in water, as a new iPhone or Android device is not a bargain for them. At this point, it's an option to turn to a reputable repair shop for further help.
Solution 9: Dismantle Your iPhone (DIY Repair)
iPhone fell in pool or water, and it is not heavily polluted. Given this, if you have no other option and have some knowledge of electrical maintenance, you can try to repair it by yourself. It can be tough and may easily do additional damage to your device.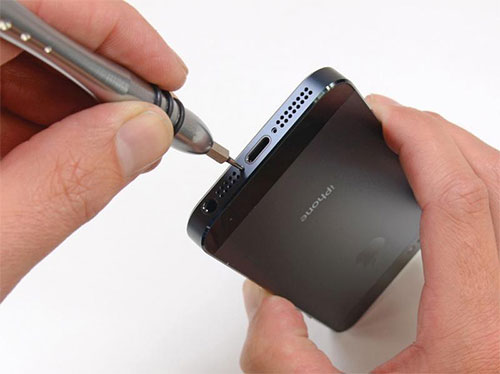 Part 3: When Should I Turn on My iPhone?
LCI (Liquid Contact Indicator), a feature on all iPhones with a circuit board, helps determine whether and how badly your phone has been damaged by water.
After dry out your iPhone, you can check whether the indicator turns red. If so, your device is water damaged. If you are lucky enough, the indicator's regular color is silver or even white. This means you can consider powering on your iPhone. If your dried iPhone doesn't turn on, click here.
Now, check out the table below to see where the LCI is on your iPhone:
Note: Apple iPhone won't keep water from getting into its speaker grille. So, once you turn on your iPhone after doing the above, you can use the free app called Sonic to eject impurities by playing a specific frequency.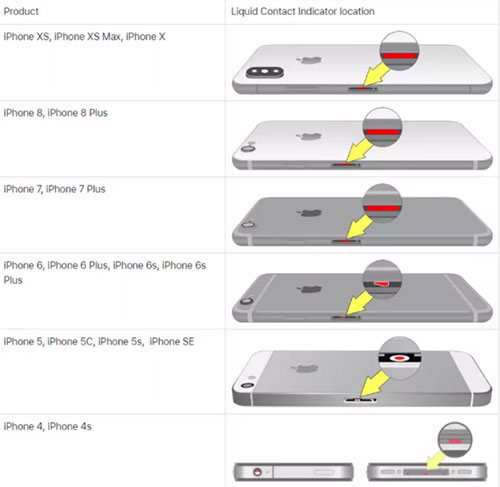 Part 4: Recover Data from Water Damaged iPhone with Professional Software
Dropped iPhone in water and then find there's no way for recovery? No need to worry about that. An iPhone Data Recovery program called MobiKin Doctor for iOS can be a great helper. It lets you access and retrieve 20+ file types on the dried or functioning iPhone.
This program also applies to the scenarios like accidental deletion, busted parts, device stuck, passcode forgotten, system problem or even iPhone stolen/lost, and so on.
Main characteristics of Doctor for iOS:
This software is highly secure and super easy to use. Now let's see how it recovers data from your iPhone that once fell into the water:
Step 1. Run Doctor for iOS on a computer
Open the program on your computer. Select "Recover from iTunes Backup File" and choose the iTunes backup file that you have make on the computer. Click "Start Scan" to scan the iTunes backup file.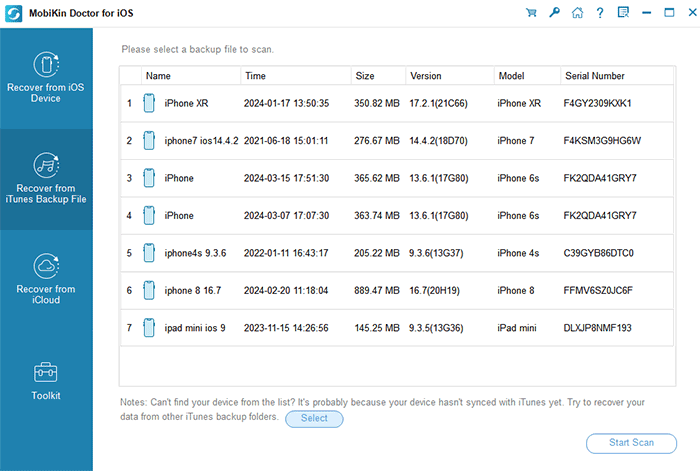 Step 2. Preview the iPhone data
Now, you will see all file types that are contained in this iTunes backup. Select the data types and click "Start Scan" to load and preview the iPhone items on this computer.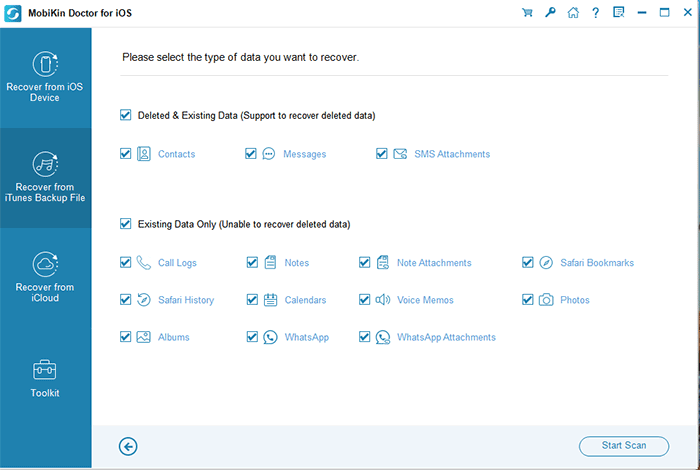 Step 3. Recover data from water-damaged iPhone
Choose what you want from the right penal and click "Recover to Computer" to retrieve data from the water-damaged iPhone.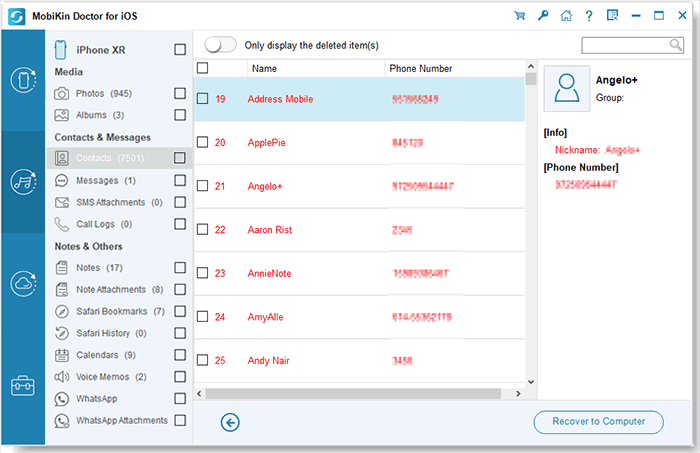 Summing Up
In brief, dropped iPhone in water, you need to pay attention to the following:
Related Articles:
How to Recover Data from Water Damaged iPhone 14/13/12/11/Xs Max/X/8?
How to Recover Data from Water Damaged Android Phone or Tablet?
Definitive Guide: How to Back Up iPhone with Broken Screen?
Top 7 iPhone Backup Extractors Review for Windows/Mac
iPhone Gets Stuck into White Apple Logo, How to Fix it?